Top 5 Costs of Logistics in 2022
Time to read:
4
minutes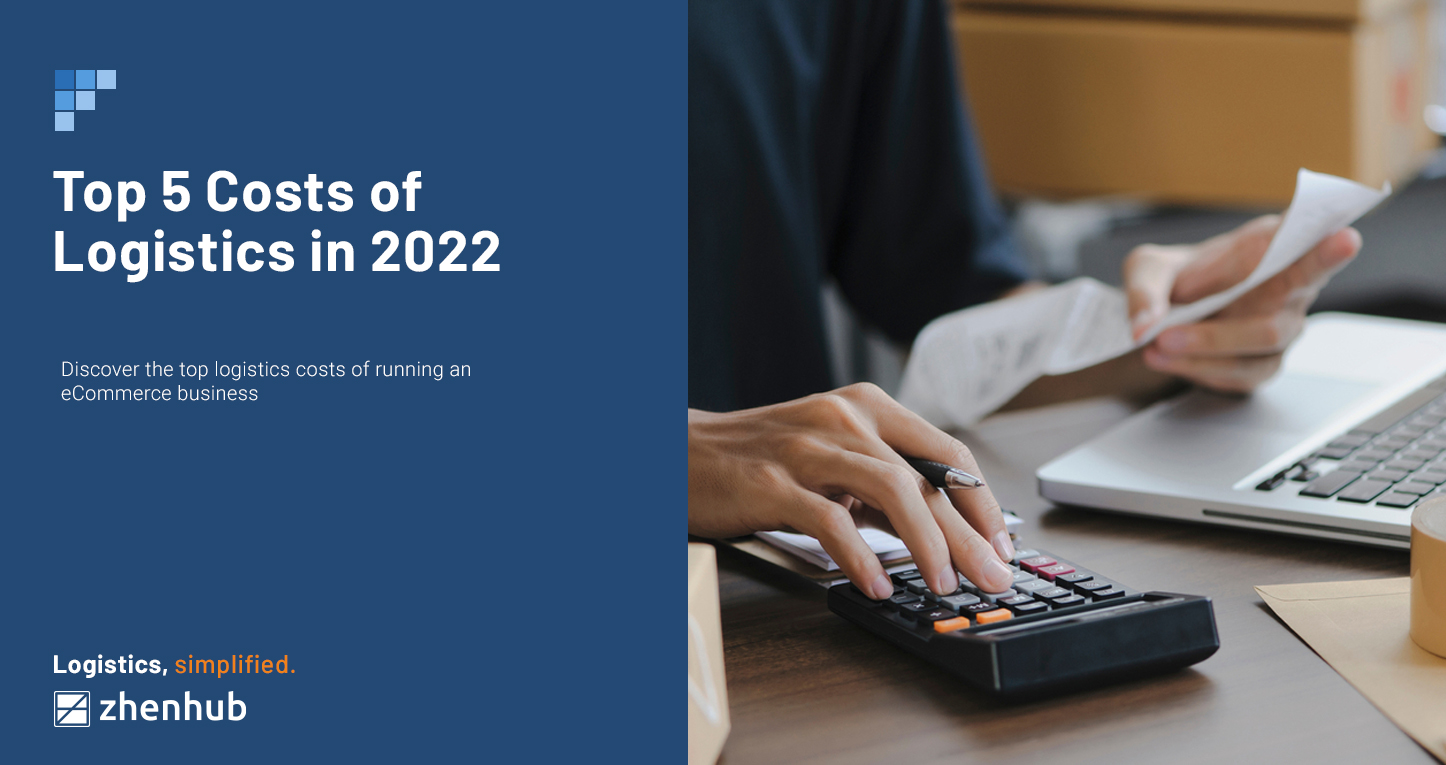 Regardless of the scale, managing a retail company involves operating on a tight budget. From product development, marketing, and branding to staffing and human resources, all arms of the operation should be cost-efficient to ensure that profit margins remain healthy. Unfortunately, especially for eCommerce operators, the costs of logistics can be challenging to manage, and they could keep rising well beyond 2022. The supply chain is constantly in flux and can quickly balloon depending on a spectrum of factors. 
Keeping the cost of logistics manageable entails more than shopping around for the most affordable carrier. Dollar savings should not come at the expense of the customer experience. The best way to reduce supply chain costs starts with knowing what makes up this considerable expense. 
What are Logistics Costs?
At its core, logistics costs refer to the amount an eCommerce operation spends to move a product along the supply chain. It includes all expenses from product sourcing to reverse logistics. It is arguably the most significant operational expenditure of eCommerce retailers – at 5 – 15% of the total overhead costs. In contrast, brick-and-mortar retail stores spend an average of less than 5% on shipping and logistics. 
Top 5 Costs of Logistics
One of the best ways to improve profit margins is to reduce supply chain expenses. Retailers can do this by taking stock of the top expenditures in this sector:

1. Transportation & Shipping
Transportation expenses make up a large chunk of logistics costs. It encompasses all shipping costs from product sourcing to delivery of the package to the customers. More than the shipping rate, there are a few other fees that fall under this bucket:
Fuel Surcharge
Fuel surcharges refer to the fees transportation companies place on their customers when there are fluctuations in fuel cost. Retailers can calculate it on a base rate and leverage it to negotiate fuel surcharges.
Handling Fees
The coverage of handling fees differs from carrier to carrier. However, this expense often includes loading and unloading fees, entrance charges, and even parking fees. Like the fuel surcharge, retailers have a little bit of wiggle room regarding handling fees.
Duties & Customs
Customs duties

should always be accounted for when transporting goods to international destinations. When computing the total delivery price, retailers must consider the different area-to-area costs.

 

 

Shipping Insurance
Shipping insurance

isn't always a requirement when transporting items to the customer. This extra cost is especially beneficial for retailers that sell high-value, one-of-a-kind safety. It offers a level of security to the customers. 
2. Storage & Warehousing
Many small eCommerce businesses quickly outgrow their home operations. Most of these sellers need a secondary location to store and manage inventory to scale. Unfortunately, in 2022, renting a storage space can be expensive.. Aside from the deposit and the monthly surcharges, most warehouses are empty and still need outfitting. It is a hefty investment that requires long-term lease commitments. 
3. Inventory Management
Managing inventory entails more than just renting a storage space. Inventory management requires taking stock of all items and gathering data on the profitability of each. The more things a retailer offers, the more expensive it is to manage the inventory supplies. 
4. Supplies & Equipment
Supplies and equipment play a role in optimizing a retailer's warehouse use. This expense includes organization tools like shelves, pallets, and racks. It also comprises heavy machinery like forklifts and conveyor belts. For sellers that package their items, the expense also falls under this category. 
5. Labor
The retailer's workforce is the most important asset. After all, without them, there wouldn't be a "handling" in "shipping & handling." This logistics cost includes basic pay, bonuses, and benefits. Payroll management is also part of labor expenses. 
Ways to Reduce Logistics Expenses
It isn't easy to cut logistics expenses. A retailer shouldn't sacrifice the customer experience to save a buck on sourcing or packaging at the end of the day. For sellers that need to reduce supply chain expenditures, below are the best ways to do so. 
Choose a Local Supplier
Most retailers assume that the cheapest procurement route is to source items from China. While the products are almost always more affordable, plenty of hidden costs come with sourcing from overseas. The shipping and transportation expense alone can significantly cut a retailer's profit margins. In some circumstances, working with a local supplier is the most cost-efficient sourcing solution.
Take Stock of the Inventory
As mentioned earlier, a robust product selection isn't always good. The more products a retailer has, the more expensive it is to manage them. In reducing logistics costs

, assessing all available items in the catalog is essential. Identifying fast-moving and slow-moving inventory can help a retailer determine which product deserves warehouse space.
Compare Carriers
Carriers change their prices regularly. It is up to the retailer to remain updated with the changes to ensure that they are getting the best pricing.
Purchase Packaging in Bulk
Branding through packaging is an important marketing too, and it's wise for retailers to take advantage of this. Nevertheless, the packaging isn't cheap. Buying bulk is the best solution to save on packing cost materials. Manufacturers often provide volume discounts for companies that purchase considerable amounts.
Work with Third-Party Logistics Provider
Contrary to popular belief, working with a third-party logistics partner

is a cost-effective supply chain solution. Most 3PLs offer steep shipping discounts, access to warehousing and workforce, and an inventory management tool with remote access.
Logistics is the backbone of eCommerce. A seamless supply chain, after all, has a profound effect on customer satisfaction and loyalty. Understanding what the process entails is the best way to improve services and reduce costs. 
The best way to optimize logistics for most companies is by working with experts. ZhenHub is one of the best 3PL partners your company can work with, as it has a network of supply chain hubs across the globe. Our logistics solutions are grounded on our expertise in supply chain and technology. Let us help your company reach the next level. Reach out to us today to request a free quote to know what we can offer. 
Share Article