The Role of Reverse Logistics in the eCommerce Delivery Process
Time to read:
4
minutes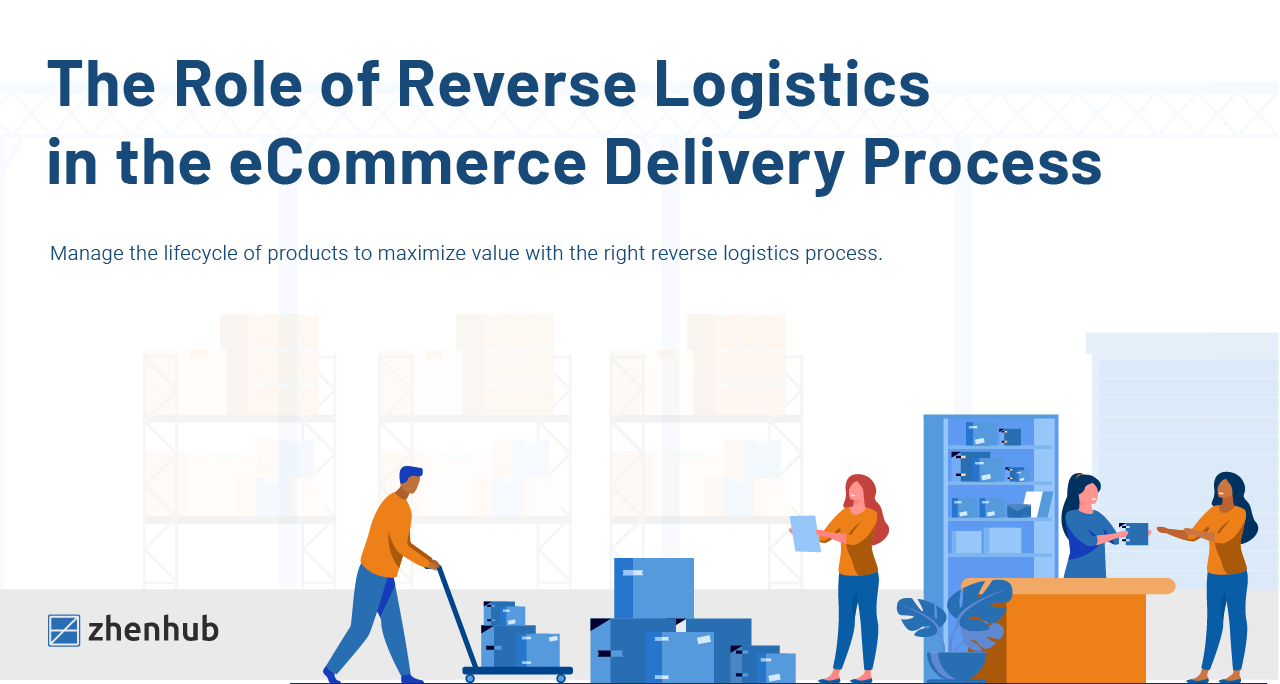 For consumers, a store's return policy, brick-and-mortar or otherwise, is a crucial factor that affects their purchase decision. The better and easier the return process is, the more likely clients will buy and repurchase from a brand.
While this is a good thing, for eCommerce companies handling returns can get complicated. The return rates for physical stores clock in at 8-10%, while eCommerce companies' return rate is double that, at 20%. It takes inventory mindfulness and strategic planning to accommodate returns without impacting the bottom line. Reverse logistics is a crucial part of managing the flow of products coming from the end-user. This article explores reverse logistics, the benefits, the drawbacks, and the proper way retailers can incorporate this process into their operational flow.  
What is Reverse Logistics?
According to Reverse Logistics: Quantitative Models for Closed-Loop Supply Chains by Rommert Dekker, Moritz Fleishmann, Karl Indurfurth, and Luk Van Wassenhove, reverse logistics involves "the process of planning, implementing, and controlling the efficient, cost-effective flow of raw materials, in-process inventory, finished goods, and related information from the point of consumption to the point of origin to recapture value or proper disposal."
Reverse logistics is the opposite of the supply chain wherein manufacturers are the starting point for goods. In this process, products come from end-users, in most cases, the customers. More than returns, the method also entails managing surplus inventory for maximum profit, and it's big business. The global reverse logistics market may reach US$603.90 billion by 2025. It can also save companies millions of dollars if appropriately implemented. 
Difference between Reverse Logistics and Forward Logistics
At its core, the difference between reverse and forward logistics lies with the flow of products or inventory. In forward or traditional logistics, manufacturers or wholesale resellers serve as the product sources. Meanwhile, reverse logistics deal with the procurement of products from customers or "end consumers." It includes returns, repairs, refurbishing, reselling of unsold goods, repurposing obsolete products, and managing delivery failures.
All physical operations and eCommerce retailers have some form of forward logistics process in their operations. While it makes sense for every online store to implement reverse logistics, not all businesses have a reverse logistics flow in place.
Reverse Logistics Process
Reverse logistics come in many forms depending on the operational needs of a business. However, for processes that involve processing returns or repairs, the flow entails these steps:
Item Retrieval
The usual first step in the reverse logistics process is retrieving the item from the end-user. Retailers have several options that can allow their customers to return stocks for repairs or replacement. Businesses can establish drop-off points from local shipping services, or they can arrange for a parcel pick-up.
Repairing, Refurbishing, & Fixing
Once the products are with the retailer, the next step is to repair, refurbish, or ready the items for reselling. This step in the process differs depending on the type of products set for repair or the retailer's inventory plans.
Screening Reprocessed Items
Repaired or repurposed products need inspection before it goes back to the inventory. It's a crucial part of the reverse logistics process because sending out items that aren't up to par with a retailer's standards significantly affects customer satisfaction and loyalty. One wrong package can severely impact a brand's reputation.
Inventory Sorting
Inventory sorting is an essential part of logistics management, whether it's reverse or forward. Sorting inventory allows retailers to have a clear view of the type of products they have and the pricing that accompanies these items. It's also advantageous when products have been returned or repurposed.
Repurposing and Reselling Products 
After mending, screening, and sorting products, they are now ready to be disposed of or resold.
Why is Reverse Logistics Important in eCommerce
Today's consumers are discerning. With a simple online search, they can vet and research brands before making a purchase. What they find about the product does affect their buying decision. And return policies are essential to modern shoppers. For these reasons, 30% of online eCommerce patrons say that they overshop with the intent of returning items that they aren't satisfied with, while 68% of consumers view a brand's return policy before making a purchase. 
Returns, repairs, and stocking products that fail to sell can impact profit margins and potentially suffer without the proper management of these end consumer items.
Reverse logistics is vital for eCommerce platforms because it allows consumers to return items. It can build loyalty and rapport by merely providing generous support.
The Benefits of Implementing a Reverse Logistics Process
Similar to ironing out the supply chain, a straightforward reverse logistics process can benefit eCommerce retailers:
Increased Customer Loyalty
A good returns policy is a great way to attract new customers and build loyalty from existing ones. A returns policy is useful when customers are satisfied with easy returns and when retailers don't lose much from the products sent back to the warehouse.
Reduction of Waste
eCommerce businesses that do not have a reverse logistics process send returned or broken products to landfills often. In the United States, five billion pounds of returned items get dumped in landfills. A reverse logistics plan can reduce wastes and is overall a more environmentally friendly process.
ZhenHub X Lazada: Return to Merchant Option
Early in 2021, we at ZhenHub announced our partnership with one of the world's leading eCommerce platforms – Lazada. Founded in 2012, Lazada Group is a pioneer in Southeast Asian eCommerce and is the region's top eCommerce platform, with over 50 million active customers per year. 
Through the partnership, we at ZhenHub provide a Return to Merchant service for Lazada retailers to ensure a quick and transparent returns process. Our Return to Merchant solution helps Lazada merchants scale their operations and provide an excellent customer experience.
Dabbling in reverse logistics can do wonders for your eCommerce operation. Sign up today to fully maximize Lazada's eCommerce platform as well as ZhenHub's Return to Merchant service! 
Share Article