eCommerce Returns: Management and Prevention
Time to read:
4
minutes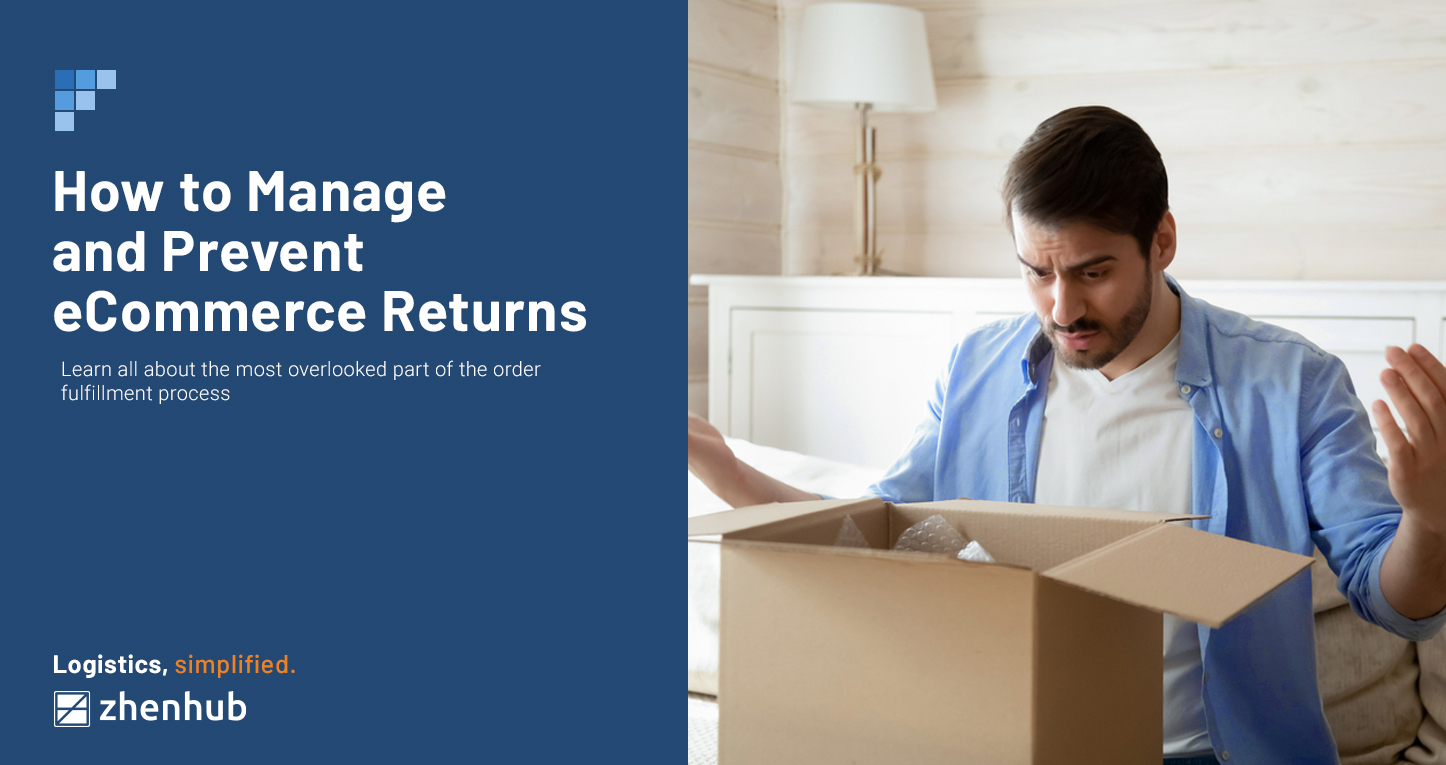 Running an eCommerce business can be thrilling and challenging at the same time. Truth be told, the industry isn't for the faint of heart. Managing a well-oiled operation entails getting intimate with every business aspect. Why? An issue in one stage of the order fulfillment process can impact the rest of the segments. Hence the need to know everything about the business- from shipping to eCommerce returns.
Plenty of eCommerce operators focuses on the first few stages of the order fulfillment process. Retailers spend a considerable chunk of their time receiving inventory, storage, and inventory management. While there is no denying the importance of these steps, all cogs need to work together to ensure that buyers have the best customer experience.

Arguably, returns management is the part of the workflow that is often overlooked. It's unfortunate, considering how 50% of consumers consider a hassle-free returns policy as one of their top purchase drivers.
This article explores the order fulfillment process as well as the most effective ways to manage and prevent product returns.
The Five Order Fulfillment Process Steps
As mentioned earlier, managing an eCommerce operation requires a jack of all trades. Here are the order fulfillment process steps all retailers need to be familiar with:
1. Receiving Inventory
During this first stage, eCommerce operators have to receive products, confirm the number of units, inspect each item, and sort accordingly.
2. Warehousing and Storage
After receiving the inventory, the next step involves sorting the items and systematically storing them in a warehouse or storage facility. Keeping inventory should be strategic, transparent, and accurate. Failing to be diligent can result in shipping delays and even profit losses.
3. Order Processing
For companies that choose to keep fulfillment in-house, order processing entails picking products from storage, inspecting the items for damage, and handing off the orders for packaging.
4. Shipping and Delivery
The penultimate stage of order fulfillment is shipping and delivery. It's where third-party carriers or in-house riders receive the packages and deliver them to the buyers. The delivery cost depends on the size, dimensional weight, and order destination. After the hand-off, retailers must send order or shipment tracking to the customers.
5. eCommerce Returns Processing
The order fulfillment process does not end with the customer receiving their orders. Handling returns is as crucial as any other part of the supply chain. Once a returned item arrives at the warehouse, retailers must inspect it for any damage. If it's in good condition, it goes back to storage for a future order.
Learn more about the order fulfillment process here.
How to Reduce eCommerce Returns
eCommerce retailers have the power to minimize the instances of returns for their operations. While returns are an inevitable part of running a retail business, they don't have to impact the bottom line severely.
The best way to manage eCommerce returns is to avoid them altogether. Here are the best ways to do so:
Implement a Strict Quality Assessment Protocol
One of the most common reasons for returns is damage. Damaged products aren't solely the retailer's fault. More often than not, it's damaged freight that's to blame. Nevertheless, it pays to implement a strict quality control protocol to reduce the instances of sub-par products reaching customers. It can save retailers resources and ensure that their reputation isn't put on the line.
Optimize Product Descriptions
A product's description should include as much information as possible. It should clearly, and accurately represent the item that a retailer is selling. Failing to do so increases the chances of returns and dealing with a disgruntled buyer.
Include Multiple Product Images
Aside from providing concise but detailed product descriptions, including multiple product images are just as important to customers. As much as possible, refrain from using heavily edited or stock images. Include only high-quality pictures with minimal edits and a plain background.
Invest in Quality Packing Materials
As mentioned earlier, most of the product damage happens during transit. Aside from implementing a solid quality control process, investing in high-quality packing materials should be a business imperative. While a retailer isn't liable anymore once an ordered item leaves the warehouse, reputations can get damaged if customers receive damaged goods.
How to Effectively Manage eCommerce Returns
Managing eCommerce returns can be complex, and it's just one process retailers have to worry about in the order fulfillment workflow. However, there are ways to manage them.
Below are some of the steps that all retailers must take to manage their eCommerce returns effectively:

Develop a Liberal eCommerce Returns Policy
A customer-centric returns policy is one of the most significant factors that drive consumer purchase. The easier the return process is, the more likely new buyers would be interested in a brand. An adequate returns policy should include a considerable return timeframe, pre-paid shipping information, and detailed return conditions.
For retailers that run a brick-and-mortar branch, allowing in-store returns is one of the most effective ways to implement a customer-centric returns policy. Not only is this option the most convenient for customers, but it also provides a means for retailers to upsell.
Provide Pre-Printed Return Labels
Forty-seven percent (47%) of shoppers expect free return shipping. It is an essential factor that drives them to support a brand. Providing pre-printed return labels makes the returns process even more hassle-free.
Publish an eCommerce Returns Policy Specific Content
To avoid confusion on the return policy, it is a good idea for retailers to publish content explaining the details of their policies. The content should be easily accessible through the eCommerce website, including frequently asked questions.
Creating a good eCommerce returns policy is at the heart of managing and reducing returns. Optimizing the process can prevent a retailer's operation from suffering significant losses. That said, developing a plan and implementing them are two different things.
Partnering with a tried-and-tested third-party logistics expert is key to ensuring that the returns policy process gets followed to a T. ZhenHub offers a wide array of logistics solutions that fit every need. Our products go beyond returns management. From product sourcing to delivery, we have you covered. Sign up now or get a free quote to learn more about our services. 
Share Article