8 Features to Look for in a Multi-channel eCommerce Platform
Time to read:
6
minutes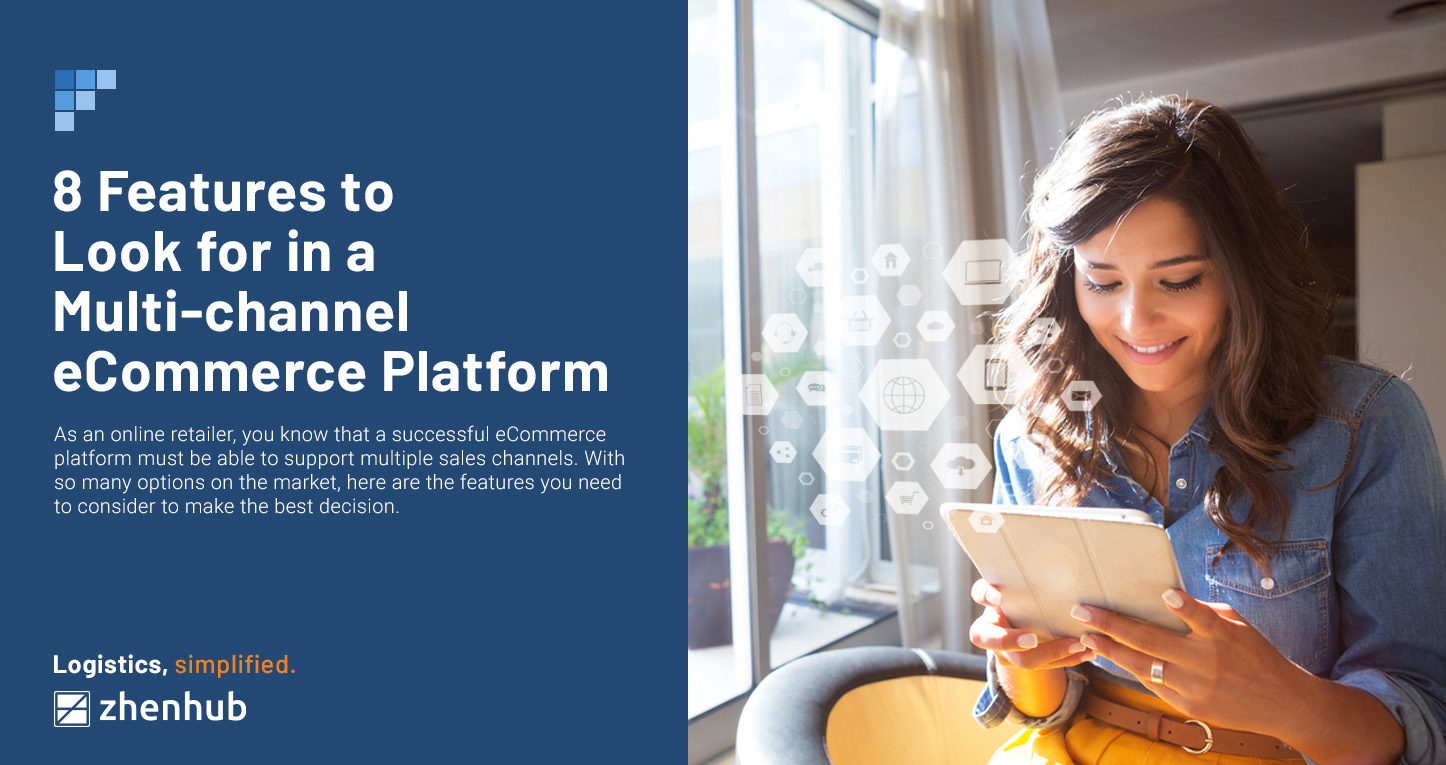 Business owners and managers need a powerful platform to sell across multiple channels to succeed and stay competitive. Therefore, your strategy should include a reliable software solution to help your business grow on various sales channels.
An excellent multi-channel eCommerce platform gives you access to various tools. Your business needs to be reliable across target marketplaces. An eCommerce platform can help you reach customers of different demographics, promote your brands and help it sell products.
Expanding across different online marketplaces can be challenging, requiring additional monitoring and management on other platforms. And their customer journey must be consistent, unified, and enjoyable every time.
Your choice of a multi-channel eCommerce platform has to be able to streamline business management on a variety of marketplaces. It also needs to be easy to use and offer comprehensive control.
This blog will discuss the must-have features an online business must look out for when choosing a multi-channel eCommerce platform.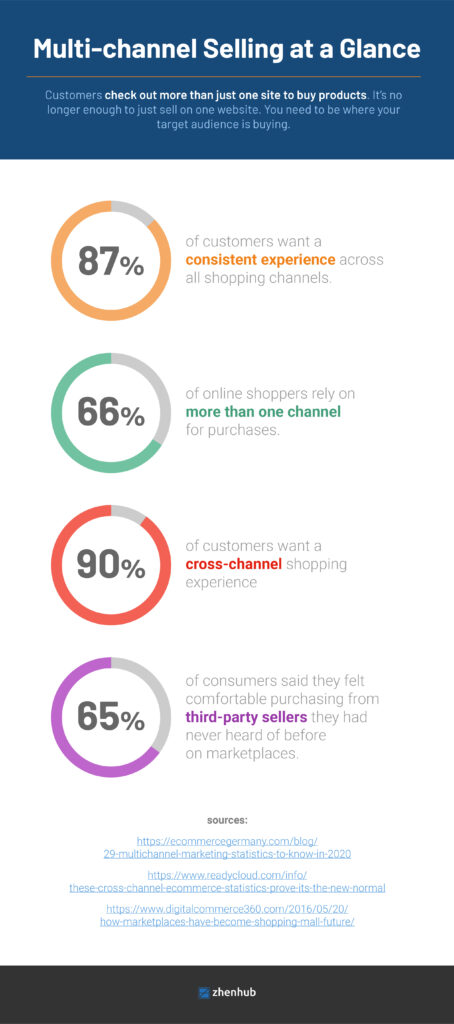 Multi-channel eCommerce Platforms: How They Help Your Business
Selling products online across multiple platforms is game-changing for eCommerce businesses. In 2021, global retail eCommerce sales reached $4.9 trillion worldwide; by 2025, and could hit $7 trillion.
Having your items up for sale in more than one place helps increase your brand's reach and exposure. For example, 66% of online shoppers use more than one channel for their purchases, and 72% of consumers say they would instead connect with brands and businesses through multi-channel marketing.
Software designed specifically for multi-channel selling offers a centralized platform that allows managers to upload listings, control prices, monitor stock levels, and more. This platform saves you time and effort from jumping between marketplaces such as Amazon, eBay, and other sites. Thus it spares you from manually checking vital business metrics and data and updating it on a separate spreadsheet.
Multi-channel eCommerce platforms help reduce redundancies when managing multiple selling platforms, streamlining some of your business processes, and keeping person-hours low.
eCommerce software and services are not made equal. You will find that some platforms are better at inventory management, while others focus on accurate demand forecasting. Choosing the right multi-channel eCommerce platform has much to do with your strengths and weaknesses. It would be best to maximize the software to make you work faster and smarter.
Investing in an excellent multichannel platform requires research, and it needs to be customized to your business requirements, scaling when needed to help power your business operations. In addition, having a single centralized platform makes expansion easier and simple.
7 Essential Features to Look For
There is a lot of multi-channel management software in the market. It's best to get one that makes it easier to sell on different online platforms. Because of the added time and resources needed to manage these platforms, look for eCommerce solutions that allow you to automate and streamline processes.
Marketplace Integration
One of the most important things you need to look for in any multi-channel eCommerce platform is if it can integrate into the marketplaces you're active in. Some of the more common integrations include support for Amazon and eBay. But some businesses opt to sell on niche marketplaces, as 35% of consumers prefer them for apparel, footwear, cosmetics, and home products. Examples of this would include Bonanza and Fullbeauty, to name a few.

If you have plans for international expansion, then the platform also needs to be able to integrate on foreign marketplaces as well.
Listing Management/Automation
Avoid the hassle of logging on to different online channels to list your products. Having centralized software that lets you upload all your products online without switching windows saves you time. Pay extra attention to each marketplace's listing requirements and product taxonomy, as these will sometimes need manual inputs from your end. There are limitations to listing automation, so make sure you understand its capabilities, especially when listing on multiple marketplaces.
Inventory Management
Keeping inventory updated is essential for maintaining positive customer experiences. Whenever a sale is made on any platform, this should reflect immediately on your main stock. Setting sale buffers to prevent overselling and stockouts can be incredibly useful to avoid cancellations and negative reviews. Look for real-time updates and accurate inventory tracking when considering an eCommerce platform.
Workflow Automation
The appeal of using a multi-channel eCommerce platform is its ability to help you manage multiple marketplaces with ease. In addition, automating repetitive and time-sensitive tasks ( i.e., order fulfillment, sale promotions, and bulk editing for catalogs) frees up time to focus on other important business operations. Some may even have AI-powered chatbots that can assist in customer queries and concerns.
Technology and App Integrations
If your system already has other eCommerce software and plugins, getting a platform to integrate is good business sense as you can centralize everything. For example, connecting to warehouse and order management systems can significantly increase productivity since you now have better oversight without switching between apps. Consider integrating email marketing services, customer rewards programs, and shipping apps.
Analytics
For any business to grow, you will need to rely on data and analytics. An eCommerce platform that pulls data from your sales and tracks customer behavior is a valuable tool.. For example, see which products are doing well in marketplaces and which ones trend across different marketplaces. Then, you can create custom customer experiences from targeted sales or special voucher offers.
Ease of Use
Everyone has varying levels of technical proficiency, so you will want a multi-channel eCommerce platform that you can easily navigate and understand. Primary functions should be easily accessible, and quick to do. An intuitive interface and clean design are also important, especially if used regularly.
Support
Support staff should be easy to contact when encountering downtime or bugs on an eCommerce platform. Like most online services, it must have 24/7 support, an intuitive help guide, and FAQs. A direct line that can provide support when needed is a must-have for any comprehensive eCommerce marketplace software.
Expanding and operating on multiple channels leads to more business growth and responsibilities. Delivering a consistent and excellent service on all platforms means you need to be able to adjust and respond to the various changes. That means adjusting and adapting to all of the online platform requirements quickly.
Cross-selling and upselling are more manageable with a multi-channel eCommerce platform. A centralized management platform allows you to oversee your store's performance. Comparing data helps prevent self-competition.
The ability to perform different tasks simultaneously ensures that you and your employees become more efficient in managing various marketplaces while still meeting customer needs.
Choosing the Right Multi-channel eCommerce Platform
There's an eCommerce software out there that's made to accommodate your business, no matter how big or small. However, you will find that while many of these eCommerce platforms serve the same purpose, the features and benefits they offer can be very different.
In choosing the right software to strengthen your online presence across different eCommerce marketplaces, first develop an overall strategy to manage these other online channels.
Think about where you are now and where you want to take your business next year. Setting up and using these platforms will take time and effort to utilize correctly.
Make a decision based on your current capabilities and urgent needs.
Prioritize aspects of your business that the chosen management app or software can streamline, such as inventory management, product listing, or even responsive customer service.
Ensure compatibility with all your current tools and services.
The distribution channels you work on are a big factor in investing in a multi-channel eCommerce platform. Branching out into well-known online marketplaces can be an excellent opportunity if you already have your website. According to Statista, in Q2 of 2021 alone, third-party sellers were able to sell 56% of the units sold on Amazon.
Customers aren't always actively looking for your brand. That's why diversifying your eCommerce sales through multi-channel selling is essential. Reach the customers in places where they are already shopping. As the audience for your products grows, so too does the potential for your sales. An impressive marketing strategy for only one channel can only bring your business so far. But driving more people to other channels helps create a memorable buyer experience. Multi-channel shoppers spend 3% more than single-channel shoppers.
Consider your budget and operational costs. Popular multi-channel management software offers annual subscription plans that can lead to better savings in the long run. You will want to choose a partner platform that leads to the best return on investment.
ZhenHub offers intuitive multi-channel management, allowing you to easily integrate your existing tools with the leading fulfillment platforms. Contact us today or request a free quote to find out how we can help your business manage multiple eCommerce sites and sell on them. 
Share Article