What is eProcurement?
Time to read:
5
minutes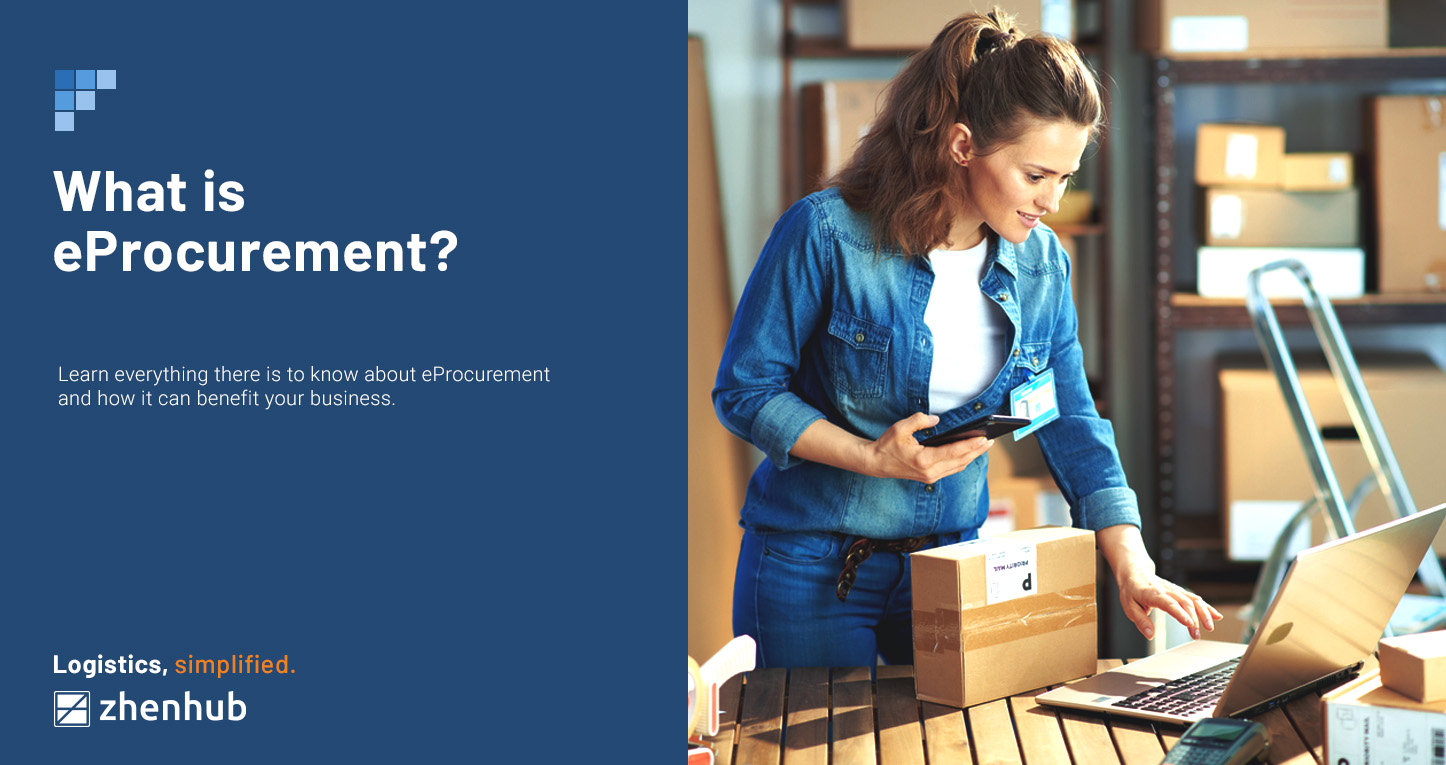 There are a lot of processes and logistics involved in running an eCommerce business smoothly. One business process that can be critical to success is procurement. Many companies find eProcurement a great way to manage their supplier lists and easily compare prices, quality, and service levels. But what is it, and how can it benefit your business?
The supply chain crisis has put considerable strain on businesses, and many are conducting their operations remotely. Electronic procurement can replace traditional pen and paper processes through automation, ultimately reducing costs and streamlining processes. At its core, eProcurement is the buying and selling of supplies and services over the Internet. The main difference between this and eCommerce is that procurement is more for suppliers selling their goods through a closed network of chosen users or retailers.
Retailers and their suppliers now have multiple lines of communication to facilitate faster procurement of goods and faster browsing of a service/product provider's stocks. A properly implemented eProcurement system improves interactions between companies and suppliers, leading to an efficient network
How Does eProcurement Work
Electronic procurement uses technology designed to centralize and automate interactions between an organization, customers, and other value chain partners to improve the speed and efficiency of procurement practices.
This process first saw use in the 1980s as a significant product of the introduction of Electronic Data Interchange (EDIT). This method describes the transference of data and information from one system to another.
From this, companies were able to publish online catalogs for their suppliers. EDIT made communication easy and seamless through a closed network, securing sensitive documents and information.
Enterprise Resource Planning (ERP) systems are designed to integrate supply chain systems and online procurement technologies, further augmenting business operations. ERP systems mainly assist with management procurement processes.
Since there's less friction in the communication between companies and suppliers, many time-consuming procurement operations such as auctions and contract signing get done faster.
Many businesses rely on procurement software today.. The software allows vital stakeholders to personalize and oversee specific steps in the process.
eProcurement offers a range of valuable features to a business: from streamlining their supply chain to simplifying day-to-day operations.
Automates manual processes to free up time and reduce careless, human errors.
Simplifies the procurement process through touchless processes, advanced technologies, and compliant steps.
Gives employees and stakeholders a centralized platform for monitoring and thereby optimizing procurement performance.
Allows for streamlined negotiation between multiple partners and stakeholders.
The Five-Step eProcurement Process
The online procurement process closely mirrors traditional procurement. There are five (5) main digital steps in the procurement cycle that many businesses are familiar with: requirement definition, sourcing, solicitation, evaluation, contracting, and contract administration. All these phases of the procurement process benefit significantly from the speed and ease of using digital platforms.
Online information transferring/e-Informing
It's a two-way exchange of confidential and vital data between external and internal partners. This information exchange could be between two departments within the same company or the staff contacting preferred suppliers. Online procurement is made easier because of the fast and reliable communication foundation.
Online sourcing/eSourcing
Here a company will set and define its requirements before moving forward to pre-qualifying potential suppliers. It's determined by clearly defining specific business requirements and then creating a shortlist of vendors for evaluation.
Online Tendering/eTendering
From the shortlist of vendors, business leadership will begin gathering more information, quotes, and proposals from the chosen suppliers. This allows the company to make sound decisions by thoroughly analyzing each vendor's offerings. A distinct advantage of doing this online is the added transparency during evaluation.
Online Auctioning/eAuctioning
Once a suitable supplier is selected, both parties will negotiate and contract. When both sides reach an agreement, the main business can begin to buy goods and services from the supplier. Alternatively, multiple suppliers can compete to try and secure a contract with the company. Companies can do this in reverse, offering to pay more to ensure they can obtain a contract from a specific supplier.
Online Ordering/eOrdering
The final step of online procurement is this part of the process where the company will begin to authorize requisitions, place orders, and receive items. All contracts and agreements done online will be indexed in an online catalog, allowing staff of both parties to review. Managing supplier and product catalogs, integrating purchase orders, e-invoicing, and e-payment are also commonly done under this step.
Benefits of Using eProcurement
Online procurement is suitable for businesses of all sizes and sectors. It's a great tool that simplifies the tasks of any procurement department. Workflow processes can see an immediate improvement in terms of control and efficiency. Emergent technology such as artificial intelligence and machine learning can automate many tasks.
Overall, an organization stands to enjoy the following benefits when using electronic procurement:
Supplier relationship management is a time-consuming and complicated task. Through automation, staff members focus on other tasks, such as auctioning orders or evaluating suppliers. Tedious tasks can be made touchless, minus the risk of human error. Contingencies can also be set and programmed.
Decentralized procurement processing simplifies many procurement staff tasks. eProcurement improves transparency and visibility across all procurement processes. Supply chain efficiency goes up as all information is easily accessible by stakeholders, management, and shareholders while enabling self-service for end users. As the data can be accessed anywhere and at any time, making centralized strategic decisions is easier. Companies can track purchasing behaviors better, leading to better planning and forecasting.
Shortened Purchasing Cycles
The shorter your cycle, the faster you can get the products you need which can lead to greater profits. It also helps limit downtime and increase productivity which ultimately saves costs in all areas of operation. As all the processes are much faster, you can acquire all your stock in less time, positively affecting customer lead time.
By removing bottlenecks and obstacles, employees can focus on high-value tasks. Automated processes also generate less waste and are less expensive in the long run as fewer materials are needed. The use of online procurement can lead to significant cost savings. It can help you find better vendors and avoid unnecessary expenses, resulting in lower administrative costs. Choosing the best possible supplier means you enjoy better prices for high-quality products, which may come with generous terms and even some incentives.
Optimized Inventory Control
Inventory is among a company's most valuable assets. Operations should control it better to allow procurement professionals to quickly locate products from preferred suppliers. It should also work well with warehouse management, ensuring your items are always in stock and there are no delays in shipment, meaning customers won't be disappointed to find out an item is out of stock. With the number of products and services available online, companies have more options now than before. This benefit, in turn, gives business owners and decision-makers more opportunities for cost-effectiveness.
Protection from Maverick Spending
Maverick spending describes any transaction done outside the specified terms of a contract in procurement. By limiting the interactions an individual can do on procurement software, companies are protected from these types of spending. Improved communication also helps prevent misunderstanding, and having a complete record of contracts online helps with transparency.
eProcurement software is a revolutionary way to improve internal departments' collaboration and interactions with external stakeholders. It provides end-users with all the necessary information, making it easier than ever before to identify what's best suited by vendor or product type while comparing prices across several suppliers at once.
If you're running an online business, consider investing in a reliable electronic procurement service to help out your operations. Be on the lookout for software that is easy to use and learn. After all, it should help you run your business and not take up too much of your time to learn how to set up. Having the right features, reliable support, and comprehensive accessibility should also be significant considerations.   
When it comes to flexible and proven logistics solutions, ZhenHub has got you covered. We offer a robust platform that allows retailers and business owners to manage their inventory, fulfillment, shipping, and more with just the push of a button. Sign up for free and revolutionize the way you do your business online.
Share Article