Understanding the Types of Shipping Surcharges
Time to read:
5
minutes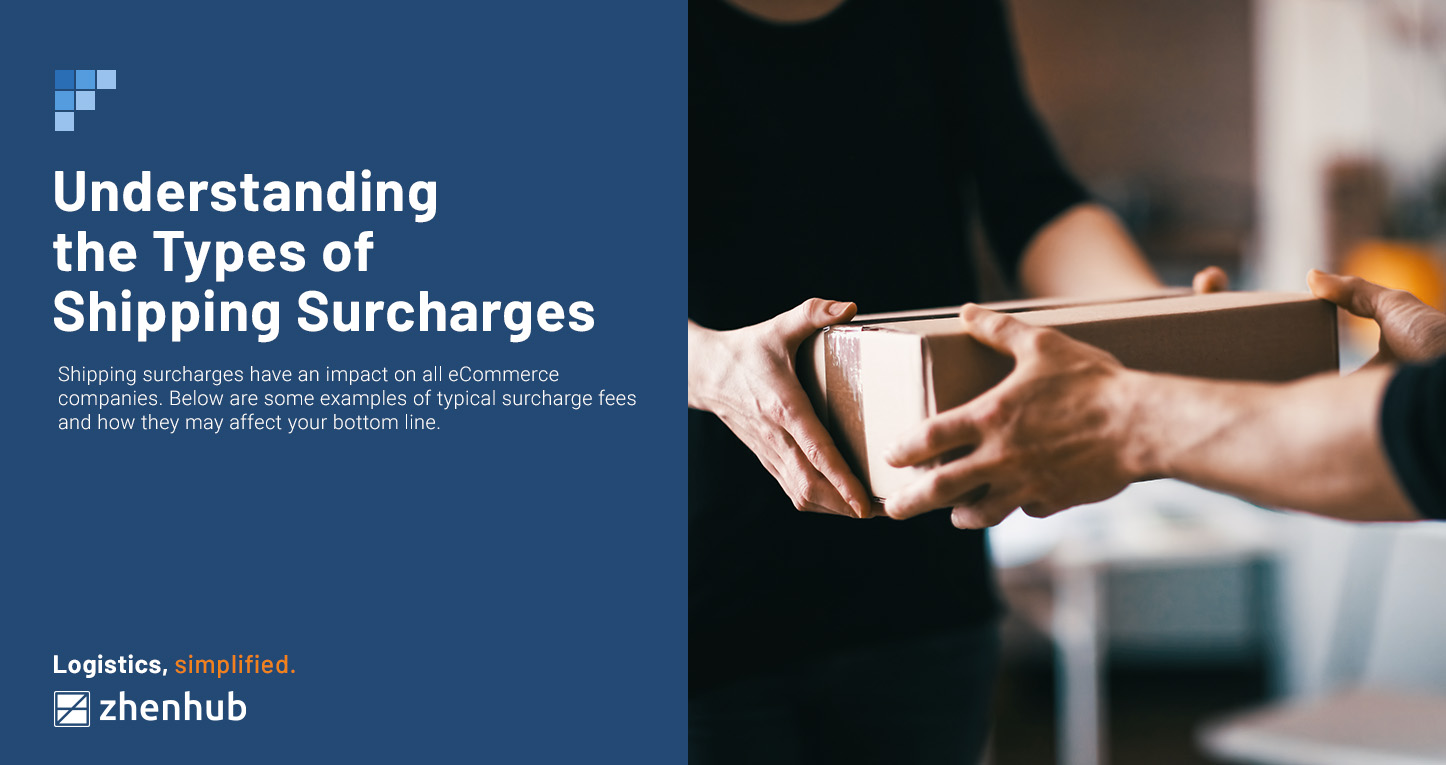 In today's hyper-competitive marketplaces, it has become more difficult for merchants to maintain profit margins due to the rising shipping costs. The numerous shipping surcharges levied by carriers are one of the leading causes of shipping expense increases.. For several reasons, shipping surcharges get added to shipments, and they can dramatically raise the cost of sending products domestically and abroad.
A shipping surcharge is a fee added to the standard shipping charges. It can also be classified as an accessorial fee or an accessorial.  Customers get billed these additional expenses as "service charges" or "handling fees."
Shipping companies impose various fees to pass on fuel price variations and other transportation costs to the client.
There are several additional costs that shippers should be aware of from temporary surcharges (such as holiday surcharges applied during busy shopping seasons) to permanent fees (such as fuel surcharges and oversized package surcharges).
Retailers and customers should know how shipping surcharges affect their shipping costs. Additionally, they should be aware of how these surcharges alter the face of shipping management.
It's crucial to acknowledge that each carrier imposes a distinct surcharge to better learn the breadth and specifics of these extra costs. Even though many of their fees serve the same purpose, companies such as UPS and FedEx have special surcharges.
In addition, freighting companies' shipping contracts contain intricate and frequently overlooked fees. Many shippers are unaware of these fine print details, which can impact possible costs, lead time, and pickup locations. Despite the breadth of options to avoid surcharges or save money, eCommerce firms frequently pay far more on their package overhead than they need to.
Why Do Carriers Have Shipping Surcharges?
The wide variety of shipping fees adds to retailers' uncertainty. Vague fees on base transportation expenses can get confusing. FedEx and UPS impose various surcharges on shipments to cover the expenses of additional handling or transit for a particular item. Residential and signature delivery fees, and charges for deliveries outside of the typical service regions, or for weekend shipments are some examples of extra shipping costs.
Private carriers often update their shipping surcharge prices yearly or biannually. Items such as fuel surcharges typically change every week. This might result in weekly or semi-annual increases in shipping costs for retailers. For instance, if oil prices climb one week, gasoline surcharges will probably rise in the following weeks. UPS and FedEx have increased their shipping rates by 5.9% in 2022, in addition to the hike in surcharge rates.
The shortage of skilled drivers and trucks to meet capacity at the current level of demand is one of the leading causes of surcharges. There are simply not enough competent drivers to replace professional drivers who are retiring, aging out, or changing occupations. Forbes reports that "there is one qualified driver for every 9 job postings. The trucking industry is very fragmented, with the bulk of drivers working at small firms."
The pros and cons of using a private carrier must be weighed by merchants, who must be aware of the variations between service providers.
If using a private carrier, retailers must use their knowledge of ongoing shipping surcharge adjustments to each cargo. Get updated on current carrier shipping surcharge rates and then consider how those surcharges affect shipping prices. The following must all be taken into consideration as well:
The weight of your goods
The location of their delivery
Any specialized handling requirements
Even with options, retailers could still pay more than required. And fees could get bigger if they are unaware of how shipping surcharges influence their shipments.
Therefore, supply chain managers and online merchants need a solid grasp of shipping surcharges and transportation spend management. With this knowledge, they can better prepare for budgeting costs and expenses.
Four Most Common Types of Shipping Surcharges
The wide range of shipping surcharges added to packages can significantly affect delivery prices. They can also make it difficult for retailers to determine how much they spend on shipping fees for each shipment.
Knowing how much shipping surcharges are can help cut expenses while keeping your shipment schedules on time. Merchants can make smarter business decisions for their shipping by familiarizing themselves with the different forms of shipping surcharges.

1. Fuel Surcharges
Carriers impose a fuel surcharge as an additional price to offset the expense of these fluctuating gas prices. They do this to stay profitable regardless of increasing or decreasing world prices. Usually, fuel surcharges are added to the total cost of shipping and computed as a percentage of the base rate.
2. Residential Delivery Surcharge
Residential delivery fees are levied on all deliveries made to residential addresses, including shipments to homes where businesses operate. It also applies to locations that a carrier regards as residential property, such as farms. There can be an extra fee per shipment for each home delivery. This fee is usually added directly to the base shipping fee.
3. Oversize Package Surcharge
A shipment gets an oversized package fee when it exceeds the shipping companies' weight or size restrictions.
An oversize package fee can cause shippers' shipping costs to increase significantly.
4. Saturday Surcharges
Saturday surcharges are added to the standard shipping prices for shipments outside of the ordinary work week (i.e., Monday to Friday). These are examples of expedited delivery fees (time-sensitive situations such as weekend delivery surcharges and overnight shipping surcharges).
Other less common surcharges include signature surcharges, address correction, and weekly service charges. It's best to double-check with your carrier for any additional taxes they may impose on their services.
How to Reduce Shipping Surcharges
You can reduce shipping surcharges in a few different ways. Gain a better understanding of how shipping surcharges affect shipping costs and what alternative options are available.
Shippers can reduce or avoid paying shipping surcharges if they know the many shipment alternatives. Learn how carriers choose and apply fees and which networks are best for particular products.
Consolidate Your Parcels
You may combine the products from separate orders placed by the same client in your order management system and ship them in the same package. Delivering one box is less expensive than sending numerous parcels while remaining within carrier criteria. It can help you reduce your shipping costs. By saving money and lowering transportation costs, it will also assist you in maximizing supply chain logistics.
Be Updated on Terms, Fees, and Processes
Shippers must be discerning how to send their items to avoid incurring high shipping costs. Several elements may be changed and adjusted to prevent excessive shipping surcharges and freight expenses. This includes avoiding fees and taxes connected to large products or customized delivery routes and drop-offs. Shippers may make better-informed decisions when planning routes and processing orders if they know their options. By identifying which ones directly influence costs, budget allocation can be easier.
Audit Invoices Thoroughly
Ensure your carrier provides the service levels you pay for through an effective invoice auditing procedure. Invoice surcharge mistakes may quickly drive shipping expenses, hurting your bottom line. To better manage your shipping expenditure, use an invoice auditing program to find errors and irregularities in your shipping bills.
Renegotiate Carrier Contracts
Carrier agreements are crucial for suppliers and customers and are a two-way street. Carriers need consumers to stay in business, and shippers need dependable support with parcel transportation. Negotiating a cheaper rate or cost may be simpler than many shippers anticipate, as carriers sometimes impose many surcharges and taxes simultaneously. Additionally, removing even a few cents from each shipment will significantly lessen the effect of freight fees.
Freight rates and shipping costs are subject to regular change. It is difficult for businesses to track and effectively manage shipping surcharges independently, even with the most significant data and technologies. Employing a third-party logistics (3PL) provider may assist shippers and merchants in locating the best carrier networks, shipment methods, and transportation service alternatives. By collaborating with outside suppliers, businesses may increase their earnings, lower shipping fees, and better manage their shipping expenditures.
ZhenHub allows you to make the most of all these innovative logistics solutions and more. Powered by a distribution network of global warehousing partners and cost-efficient and trackable shipping services, you can have greater control over your shipping budget. Sign up now and safeguard your company from fluctuating shipping costs with the help of ZhenHub.
Share Article