5 Benefits of Using an Amazon FBA Prep Service Provider
Time to read:
4
minutes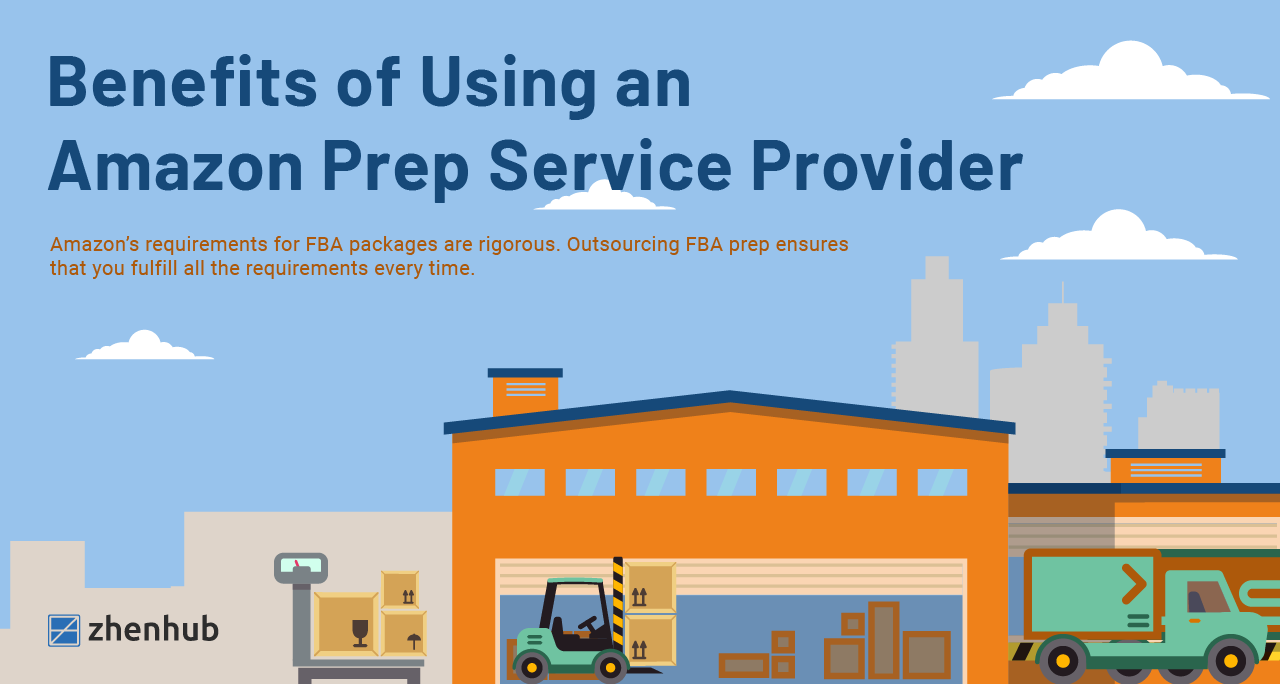 Amazon is currently the marketplace of choice for both sellers and buyers. Through the platform, online shoppers enjoy one-day shipping at the lowest possible prices. Furthermore, the marketplace provides a convenient way to shop for necessities and source unique and rare items. Amazon is also an excellent avenue for smaller eCommerce companies to reach a broader audience.
Through programs like Fulfillment by Amazon, sellers can offer their products with the ease of Amazon's logistics capabilities. Nevertheless, Amazon's requirements for FBA packages are rigorous. Missing the mark can cause delays that can impact customer perception and satisfaction. This article explores the benefits of outsourcing package prep through various Amazon FBA prep service companies.
What is Amazon FBA?
Fulfillment by Amazon, otherwise known as Amazon FBA, is a program developed by the marketplace to provide support to eCommerce stores that sell through their platform. Through this service, sellers can take advantage of Amazon's numerous and strategically located fulfillment centers for their logistics needs.
Amazon FBA sellers have inventory shipped and stored in the marketplace's warehouse. When an order comes in, representatives from Amazon picks, packs, and sends the package off to the customer. It's a paid service, but Amazon FBA fees differ based on account type.
What are the Requirements of Amazon FBA?
Amazon imposes strict rules on the packages from their fulfillment centers. They have different guidelines that govern parcel types. Failure to comply with these policies results in additional fees or, at worse, outright refusal. That said, the requirements listed below do not fully illustrate all of Amazon's package conditions. The marketplace has the right to refuse packages that go against its guidelines.
To truly understand how labor-intensive packing for Amazon FBA is, below are the basic requirements as listed on the Amazon FBA guide:
General Packing Guidelines

Only use a unique Fulfillment Network Stock Keeping Unit. This term is unique to Amazon and is used to identify and track products. In addition, the FNSKU should only correspond to one product and one product alone. 
All units should include a barcode that is legible and scannable.
All products should arrive at the Amazon warehouse fully assembled. 
All products should be in secured individual packaging
Labels are a requirement for items sold as a set. 
Handling Products with Expiration Dates

All units must have labels of the expiration date. The master box should have the matching date, as well.
The expiration date should be legible regardless of packaging material. 
Formatting of expiration dates should be either MM-DD-YYYY or MM-YYYY. 
5 Benefits of Using an Amazon FBA Prep Service
Signing onto the Amazon FBA program provides a lot of value to eCommerce operations using the platform. Amazon has a global reach, and smaller online stores can tap into the platform's audience.
But as we mentioned before, Amazon's FBA requirements are rigorous. For smaller operations, it can be challenging to get inventory ready for Amazon FBA without any help from experts. Using Amazon FBA prep service allows retailers to take full advantage of Fulfillment By Amazon. Below are some of the benefits that come from outsourcing Amazon FBA prep and ship in the logistics process:
Save on Time
Like any other enterprise, retail companies need time to do everything. Business owners need to keep track of operations — from inventory sourcing to quality control and much more. Unfortunately, especially for eCommerce operations in their infancy, ample time is a scarce commodity.

Outsourcing Amazon FBA prep service requirements can save retailers time. Since this tedious work is handed off to experts, it frees precious resources which can be directed to growing the business further.
Forgo the Need for Storage
For those running their business in their residence, space will always be an issue. It is one thing to store all of the inventory in a garage; it is another thing to make a tight space for packing orders based on Amazon's rigorous requirements. And, renting a warehouse can get expensive. The average cost for warehouse space clocks in at $1 for every square foot in the US. This figure doesn't even include operating and utility costs. A retailer can expect to pay around $5000 for a storage solution every month.
An Amazon FBA prep service provider can also take care of inventory storage. Since inventory ships through these third-party services to Amazon, sellers only have to visit their contractors to ensure the quality of their products.
Expert Quality Control
Amazon FBA prep service companies are experts in their field. They know Amazon requirements like the back of their hands. Entrusting inventory to a qualified third-party professional ensures that Amazon accepts the merchandise for FBA every time.
Streamline the Process
Streamlining the Amazon FBA process is key to maximizing this program to its fullest potential. Unfortunately, creating a streamlined workflow takes a lot of time, effort, and patience.
Through an Amazon FBA prep service, retailers no longer need to develop their workflow. Experts have proven methods to fulfill Amazon's requirements. 
Improve Profit Margins
Outsourcing can help speed up resource-intensive operations such as FBA prep and ship tasks. After all, they have years of experience to pull from. Since experts can cut turnaround times and increase production, they allow retailers to service more customers through Amazon FBA. More customers mean improved profits.
Doing everything in-house is no longer the most efficient option. The demand is high, and customers are clamoring for more products. It's an excellent problem to have, and the solution is relatively simple. Choosing the right Amazon FBA prep service can offer the support needed during scaling and growth. Outsourcing streamlines the logistics and order fulfillment process and leaves more room for business owners to explore various means to grow the company even further.
Have you reached that point in your eCommerce journey? We at ZhenHub are eager to support you in your growth! Through our tech-based logistics solutions, you can sell through Amazon FBA and make staggering profits in no time! Request a free quote or reach out to us today and learn more about how to bolster your eCommerce company's success.
Share Article