9 Factors That Affect Shipping Costs in 2022
Time to read:
4
minutes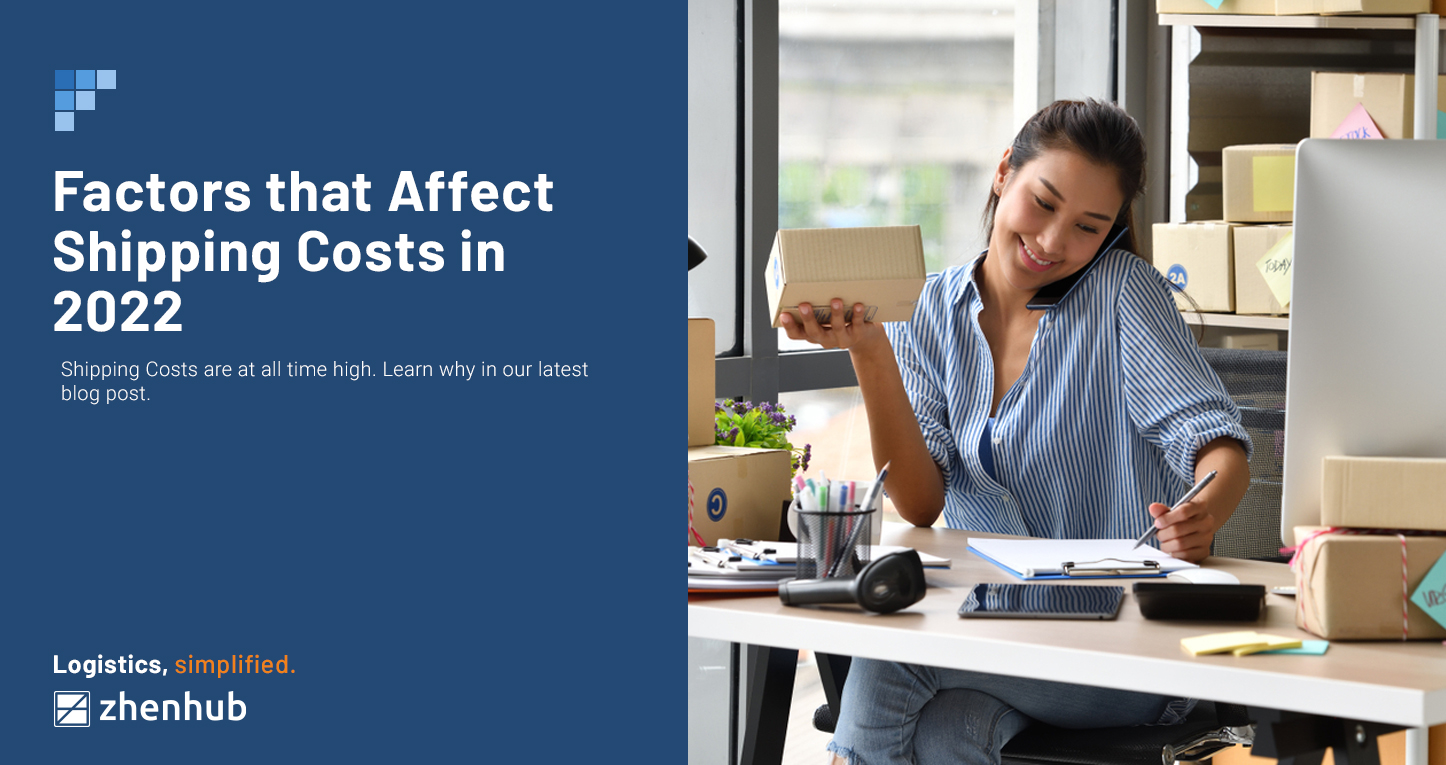 eCommerce boomed exponentially over the last two years. The pandemic bolstered retail spending in the United States, and online shopping now accounts for 14% of the country's total retail sales. This number might balloon to 23% by 2023.
While this boom has been good for business, it threw most online retailers for a loop. While the demand boosted sales, it also introduced a few new challenges including a spike in shipping costs. The unprecedented surge in online transactions caused a further strain in the already stretched global supply chain. Delays have become rampant, and the cost of shipping and delivery increased significantly. This problem isn't just happening in the United States – in fact, it is a global concern.
For retailers, managing the key facets impacting eCommerce shipping affects the bottom line. This article explores the global issues that influence logistics costs as well as operational elements that play a role in determining shipping prices:
International Shipping Costs Continues to Rise
Shipping is one of the more expensive parts of running an eCommerce business. The logistics process can involve many third-party players, from product sourcing to last-mile delivery.
As mentioned earlier, while the pandemic increased eCommerce sales, it also exacerbated an already underlying shipping crisis. Transportation costs are currently at an all-time high. The trend will continue well into 2022, and here is why:
Lack of Ample Shipping Containers
The global supply chain is currently amidst a shipping container shortage. This issue is attributed mainly to key trading ports around the globe opening up at various times. China, the world's manufacturing hub, opened its ports sooner than the rest of the world. While the country is ready to trade, shipping containers are stuck in ports that have yet to function.
Few Alternatives to Ocean Freight
Ocean Freights are still the number one means to transport low-cost goods. But because there is a monopoly on transportation options, freight companies can hike their price without worrying about losing clients.
Sharp Increase in Online Orders
The demand for international shipping skyrocketed in 2020. But it is leveling out as the world enters 2022. However, at this point, the damage has been done. Experts believe that demand will take another year to even out. Until then, consumers can still expect delays and issues with their shipments while retailers will continue to work on reducing international shipping costs.
9 Factors That Affect Shipping Costs in 2022
Striking a balance between affordability and reliability is key to developing an effective logistics process. More than global geopolitical events, several operational factors can affect shipping costs. Knowing the areas to tweak to reduce shipping costs can ensure operations stay afloat even during the most uncertain economic times.
Fluctuating fuel prices play a significant role in shipping costs. Regardless of the type of freighting and delivery service a retailer chooses for their operation, all modes of transportation rely on fuel. Generally, stable fuel prices mean cheaper air freight, ocean freight, shipping container, and trucking expenses. Unfortunately, just like the rest of the markets around the world, retailers can't do much to keep fuel prices down.
Contrary to popular belief, the weather does affect shipping and logistics. Whether it's at the point of origin or destination, inclement weather can cause significant delays and issues with an order. Ports and transportation hubs still charge retailers regardless of the delay due to unforeseen circumstances, impacting customer satisfaction.The same holds for airlines, container ships, and trucking services.
Distance is probably the most important factor affecting a retailer's shipping costs. The farther away the origin is from the destination, the more expensive it is to ship a package. There are several shipping zones to take note of in the US.
For companies that ship across the globe, reducing shipping costs might mean establishing shipping locations in various vital areas.
The dimensional weight of a package influence the cost of its shipping. larger and heavier a parcel is, the more expensive it is to ship. There are several ways retailers can save on shipping even with heavier inventory items. For instance, being smart with packaging and branding can significantly cut costs. Perfectly fitted packaging materials are not only cost-effective but can also keep a product safe.
Sellers who maintain an Amazon presence know that the platform offers 2-day shipping. The eCommerce giant can handle the cost of such speedy delivery timeframes; however, it might not be the case for most retailers. Same-day or overnight shipping is possible, but these options are expensive.
Customs duty de minimis value affects retailers that transact with international clients. Costs can differ from area to area and should be accounted for when computing the total delivery price.
Delivery surcharges refer to miscellaneous expenses that come with courier shipping. These costs can be challenging to account for, so retailers should have a buffer to account for the changes. Surcharges can come in many forms. However, below are the most common:
Area-specific charges for rural, hard-to-access, or remote locations not included in your carrier's range
Handling fees for shipments above a set weight, size, or dimensions
Residential surcharges for any businesses using a home address
Fuel surcharges
Weekend or Saturday surcharges for overtime shipping
Merchants are not required to purchase shipping insurance for all the items they ship. However, offering insurance is a great way to entice customers to buy. This extra cost is especially beneficial for retailers that sell high-value, one-of-a-kind safety. It provides a level of security to the customers.
Navigating through shipping and logistics can be a complicated affair. Developing an effective shipping and order fulfillment process is overwhelming, especially for those new to the eCommerce game. Thankfully, logistics experts are eager to help.
Looking for a warehousing solution? In the market for an intuitive inventory management tool? Need help with last-mile delivery? ZhenHub offers a wide array of tech-based logistics solutions to solve every need. We can seamlessly ensure that packages get from point A to point B. Request a free quote to get things started.
Share Article