One of the key aspects of eCommerce that can make or break you as a business is shipping costs. Why? Because based on a recent study conducted by Convey, 64.3% of the 2,500 U.S. consumers surveyed deemed cost as the most important shipping factor.
As shopping experience continues to shift and become digital-first, online merchants are finding it imperative to come up with shipping strategies designed to satisfy customers' demand without breaking the bank. 
If you are one of those digital entrepreneurs looking to reduce logistics costs through an effective shipping cost-benefit analysis, then you are on the right page.
In this article, we will be going through the basic and various elements that influence shipping costs:
8 Factors That Affect Shipping Costs
• Package Dimensions
Package dimensions, in the world of eCommerce shipping, is also known as Dimensional Weight (DIM weight). This is a common term you will hear, especially if you are working with third-party logistics (3PL) partners like ZhenHub. Dimensional weight is actually a pricing technique that factors in the size and dimensions of a particular item to determine its final shipping costs.
• Package Weight
While Dimensional Weight plays a huge role in calculating shipping costs, you also need to consider the package's weight. This is the net weight of the item, or how heavy the product is. If package weight ends up being higher than the dimensional weight of the item, then it will be the one used to calculate shipping costs rather than DIM weight. 
• Shipment Speed
Amazon Prime's 2-day shipping has become the standard when it comes to eCommerce delivery times. If you're an online merchant whose target is more on a national scale, expedited shipping like same-day or overnight deliveries are now possible and would possibly win you good customer points. However, shorter transit times usually cost more, but you'd be glad to know that customers are willing to pay more for that.
• Target Destination
Shipping zones, or how far an item's point of origin is from its destination, are also used to calculate shipping costs. As expected, the farther the destination is, the higher the delivery charge will be. In the U.S., shipping zones range from 1 to 8.
• Customs Duty and Other Taxes
In addition to shipping zones, you also have to consider country-specific fees, especially for cross-border shipping. This commonly includes import duties and commodity-specific tariffs. In relation to this, it will also be helpful for both you and your customers to know about de minimis value, or a threshold commonly set by other countries wherein no customs duties are applied to imported goods.
• Delivery Surcharges
Delivery surcharges are extra costs that could sometimes come with eCommerce courier shipping. These can significantly increase shipping costs, so being aware of this can be useful if you don't want to be unprepared and surprised with additional fees outside the original quote.
To give you an idea, here are 5 of the most common delivery surcharges:
Area-specific charges for rural, hard-to-access, or remote locations not included in your carrier's range
Handling fees for shipments above a set weight, size, or dimensions
Residential surcharges for any businesses using a home address
Fuel surcharges
Weekend or Saturday surcharges for overtime shipping
• Shipping Insurance
Another extra cost to factor in is shipping insurance. While not all online merchants opt for courier services that come with this, it can be a great selling point especially if you want to guarantee your customers that their orders will come to them safely and soundly. Most shipping and fulfillment companies offer specific plans where shipping insurance is included. On your end, as an online merchant, you can present this as an option to your customers that will, of course, incur additional charges.
• Declared Value
A declared value is the amount you tell your chosen courier as your shipment's worth. It is assigned to both domestic and cross-border shipments. While you have the liberty to declare a value that is below the actual sale price or a discounted rate different from how much the customer paid for the order, courier companies can only be held liable for loss or damage based on a set and specific amount. For instance, both UPS and FedEx offer a per package maximum liability limit of $100, any declared value above that will incur additional costs.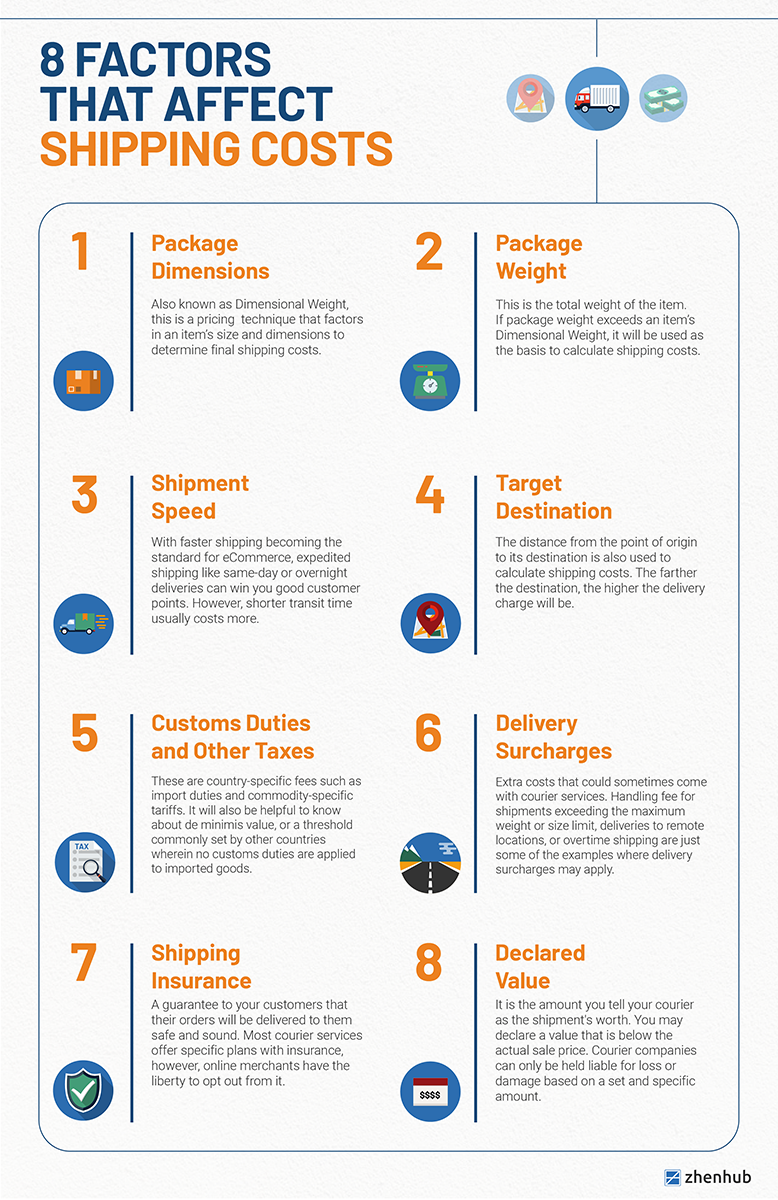 Three Common Shipping Rate Options
By understanding shipping costs, it will be easier for you to come up with eCommerce shipping rates structures that will meet your customers' expectations and your budget. Listed below are the three most common shipping rates in the eCommerce industry:
• Calculated Shipping
Also known as Variable Shipping, this rate structure is the most common out of the three options as it involves charging fees based on a number of variables akin to how shipping costs are calculated. Variables include DIM weight, order quantity, and shipping zone, among others. This means that the shipping rate changes every time, depending on different factors.
• Flat Rate Shipping
Flat Rate or Fixed Shipping means charging customers with a set rate based on category ranges. This type of shipping will require you to group similar products (could depend on weight or value) into categories or classes which will come with their own fixed rates.
• Free Shipping
Of course, it should not come as a surprise that this is everyone's favorite form of shipping. Online retailers have long used this as a selling point to effectively reduce shopping cart abandonment and increase conversion. It may seem like a huge undertaking in terms of costs, but there are many ways you can go around offering this without draining business revenue. One of these is to only offer it when a customer hits a set spending threshold (which you can calculate by doing a cost-benefit analysis of both your shipping rate and shipping costs).
Need a hand on calculating shipping costs? Our logistics experts here at ZhenHub would be more than willing to discuss your budget and options with you. Contact us now to get a free quote!