eCommerce and Coronavirus: What to Expect This Holiday Shopping Season
Time to read:
6
minutes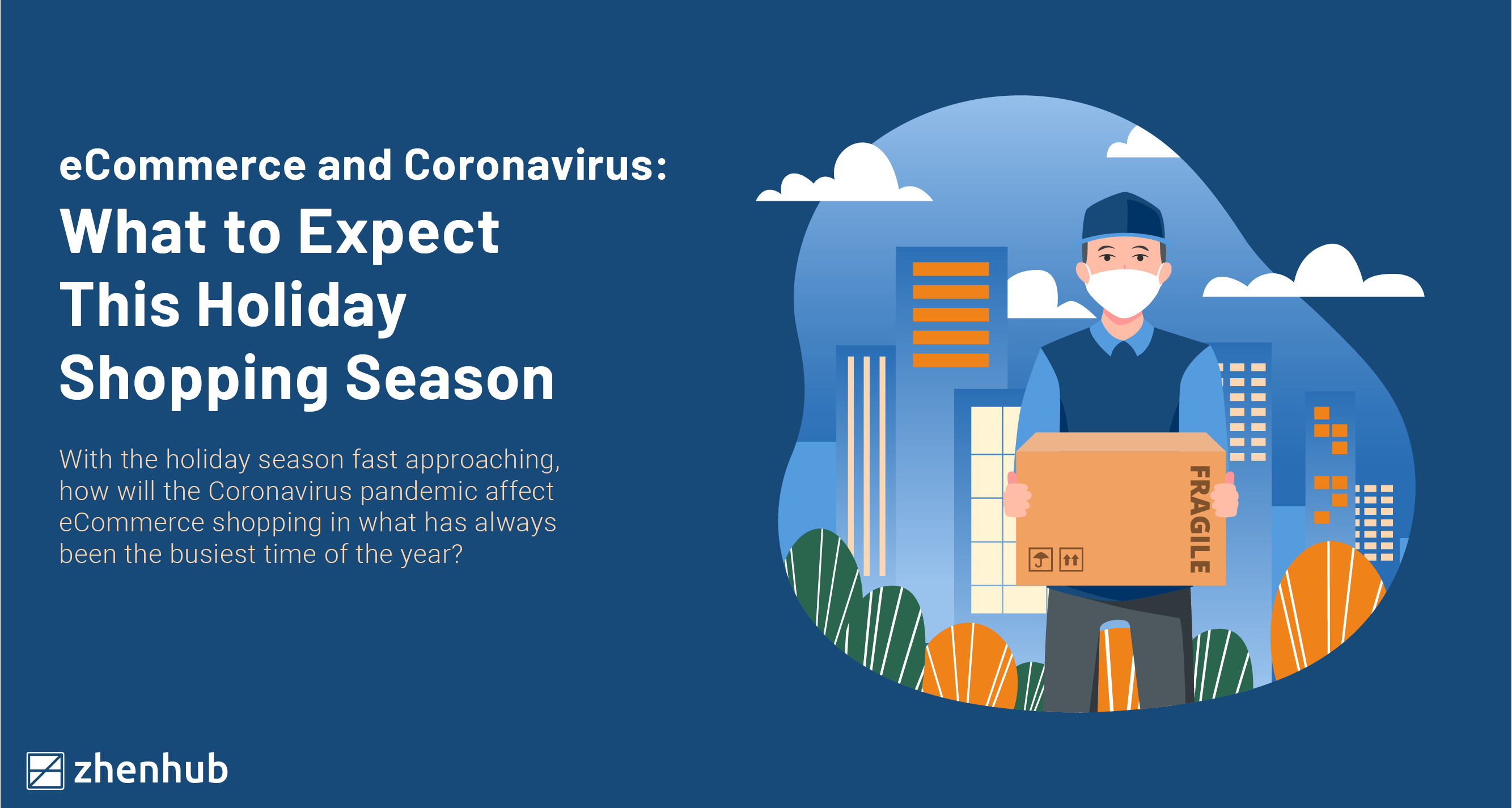 The COVID-19 pandemic will surely go down in history as one of the defining moments of 2020. If this year were a novel, then this global health crisis was the plot twist, forcing mankind to recalibrate expectations and adjust priorities.
When the World Health Organization officially declared the virus as a pandemic, businesses faced the challenge of agility. The need to be digital-first has never been more apparent, bringing eCommerce to the forefront of retail. Today, a business that is not online can potentially suffer the fate of bankruptcy.
Panic and Bulk Buying
During the first few months of the pandemic, we often saw supermarkets and groceries with empty shelves. People reacted to the situation by stocking up on essentials — from face masks, alcohol, and sanitizers to shelf-stable goods like toilet paper, canned goods, and fruit snacks. And while consumer confidence is slowly building up in recent months, 85% of Americans are still worried about a second wave. That's why shoppers will continue to panic and bulk buy as a way to over-prepare for a future that, for now, remains uncertain. 
Health-Minded Buying
Recent market research by Nielsen revealed six key consumer behaviors that are directly caused by the COVID-19 pandemic. Two of these are proactive health-minded buying and reactive health management. People have now started including preventive health and wellness products like vitamins and medicine for common colds and cough as a way to reduce the risk of contracting the virus. This also involves purchasing protective gear (like face masks) and hygiene products (such as alcohol), with sales increasing by more than 300%. With death and transmission still ranking as the top two concerns of consumers worldwide, health-minded buying will likely carry on until a vaccine is created.
Online Shopping
With government-imposed social distancing and limited business operations, shoppers have conveniently taken their transactions online. Listrak, a marketing automation platform, reported that since the U.S. declared a state of emergency due to the pandemic, eCommerce revenue has experienced a 40% spike. As more and more brick-and-mortar businesses are forced to close down, online shopping is nowhere near slowing down, even when the pandemic eventually ends. This has led brands to realize the need to invest in digital innovations designed to create omnichannel solutions and improve online customer experience.
Curbside Pickup
A downside of the increasing demand for digital shops is that online retailers find it difficult to keep up with the influx of orders. As the buying market grows impatient over shipping delays, some businesses have decided to offer curbside pickup as an option. If buyers are unwilling to wait over a week for their orders, they can drive by the store and pick it up at the time most convenient to them. 
Digital Streaming
As remote work became the new normal and people naturally felt safer at home, digital streaming has evolved into the top entertainment option. Big names like Netflix and Hulu are now competing against movie studios and other production houses like Disney+ and Amazon Prime Video. 
eCommerce Sales and Retail Landscape
The pandemic left the buying market with no choice but to explore the digital platform's shopping capabilities, instantly transforming eCommerce from a luxury to a necessity.
Online Sales is Growing
A media and marketing services company Engine survey revealed that consumers are spending up to 10% to 30% more online shopping for grocery and non-grocery items. Product categories experiencing a demand uptake include at-home fitness, pet supplies, dry goods, perishables, healthcare, and medicine. Grocery eCommerce skyrocketed by the second week of the pandemic as consumers turned online to purchase out of stock items from local grocery stores. 
Traditional Retailers are Going Bankrupt
With worldwide lockdowns and social distancing rapidly draining revenue, the pandemic has easily become the number one reason behind the increase of retailers filing for bankruptcy. Data from Digital Commerce 360's August report analysis showed that in 2020 alone, 17 of the 21 retailers that filed for bankruptcy did so during the statewide lockdown brought about by the COVID-19 outbreak. This does not even include small and medium local businesses that closed down stores and branches due to the sudden drop in sales. 
Amazon Traffic is Increasing
The biggest name in eCommerce continues to see an increase in traffic and revenue as the market becomes more reliant on digital means to address its shopping needs. Moreover, Amazon's Small Business Impact annual report revealed that their marketplace sellers hit $160,000 average sales in the past 12 months, a consequential increase from $100,000 average sales in the same period 12 months prior. In fact, since the pandemic hit, Amazon sellers have been reaching record-high sales.
How eCommerce is Adapting
The increasing number of retailers looking to take their business online has created a much more competitive digital landscape. In order to stand out and meet the soaring market demand, eCommerce shops have begun exploring various marketing and operational strategies:
Alternative Suppliers
A business can't enjoy an influx of customers if its current set-up is not ready for it. Forecasting market demand can be a helpful strategy for sellers to prepare enough stock and manage the potential increase in online orders.
Fulfillment and Shipping
Dealing with market demand alone can be taxing. Imagine having to think about shipping, too. eCommerce shipping can make or break an online shop. A customer can be satisfied with the product but be turned off with the delivery methods. Giving this responsibility to fulfillment and shipping experts like ZhenHub will help lessen the load, so online retailers can focus on their businesses without worrying about warehousing, fulfillment, and logistics.
Customer-Needs Evaluation
One of the many advantages of doing things digitally is the opportunity for immediate customer feedback. With social media channels and website chat portals, directly getting reviews and conducting surveys will allow online merchants to continuously improve their products and services, which are keys to repeat customers. 
Touch-free Services
With practicing distance becoming synonymous with saving lives, touch-free services have become a priority for buyers and sellers. eCommerce shops can lower cart abandonment rates by having online payment channels, customer service portals, and delivery tracking software readily available.
Digital Marketing
Online is where the market is. Building a brand presence on social media and optimizing for search engines can be the push needed to increase brand awareness, website visits, and conversions.
Convenience-Focused
Expedite delivery options, 24-hour customer service, user-friendly websites, and easy exchange programs will become more important as customers start considering convenience as a major influence in their buying decision.
Loyalty Programs
Compared to the brick-and-mortar retail landscape, eCommerce is a far broader universe that opens up a lot of choices for consumers. With studies showing that shoppers are more likely to explore their options when online, it is imperative to create loyalty programs to encourage brand recall and repeat customers. Offering discounts, running point-driven, or referral rewards to existing and previous customers will encourage them to stick around.
Holiday Shopping Amidst the Pandemic: What to Expect
From Black Friday and Thanksgiving to Christmas and New year, the holidays have always been one of the busiest times for all retailers. This will still stand true this 2020 despite the ongoing global health crisis. Online merchants should be preparing as early as this month to avoid getting overwhelmed and understaffed on what will be a critical season for them. With the majority of the general public still hesitant to go outside in spite of lockdown lifts, eCommerce will bear the brunt of the holiday-buying craze. 
Here are four things to expect this coming holiday season:
Shipping Delays
The coronavirus pandemic alone was enough to cause shipment delays as eCommerce purchases began to shoot up starting mid-March. This will also be the case as online shopping has now become part of the new normal. With faster deliveries being the top factor that could propel buyers to purchase, retailers must structure their eCommerce shipping to manage, if not meet, customer expectations.
Limited Product Availability
In-stock availability has been one of the biggest challenges of the eCommerce world on the onset of the coronavirus pandemic. In fact, a Digital Commerce 360 research found that 47% of online shoppers have experienced product availability issues. To avoid the risk of opportunity loss, sellers are encouraged to stock up on their high-demand and best-selling products.
Click and Collect
With shipment delays threatening business revenue, expect more brick-and-mortar shops to offer curbside pickup options for their customers. Retailers whose physical shops are still up and operational might want to consider this to accommodate customers who would rather drive by and collect their orders than wait for longer delivery times.
Reliable Customer Service
Refunds, returns, and exchanges will be on an all-time high as soon as the holiday shopping season begins. Sellers need to make sure they have resources ready to attend to customer inquiries and concerns because a negative review can be the thin line between business success and failure.
Right now, there's no guarantee of how the coronavirus pandemic will continue. But one thing is for sure; whether it's in the world of eCommerce or not, people have been known to stay agile and resilient even in the toughest of times. And while industries are forced to fast track their digital transformation to keep up with market trends, online shopping will stay dominant at least until the world has healed.
In need of reliable fulfillment and shipping services for the upcoming holiday season? Don't hesitate to reach out to us for a free quote.
Share Article