Are You Packing and Shipping Electronics the Right Way?
Time to read:
4
minutes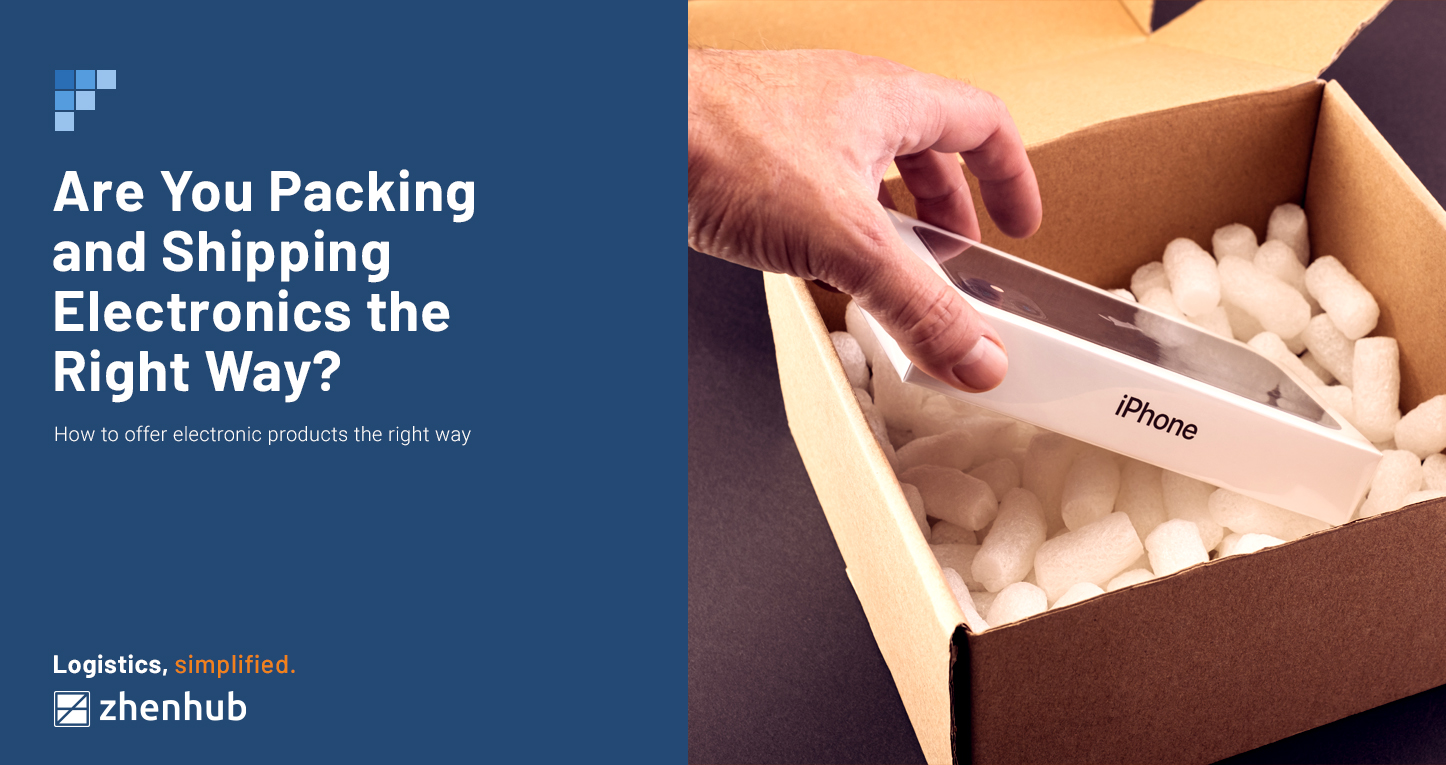 eCommerce has yet to surpass brick-and-mortar retailer establishments. However, the pandemic completely changed consumer behaviors. Since we all needed to stay indoors to keep safe, online establishments were a godsend. According to a Statista.com report, retail e-commerce sales reached US$ 4.9 trillion worldwide. It's expected to grow by 50% over the next four years and top at about US$7.4 trillion by 2025. Unsurprisingly, electronic merchandise was one of the biggest online spends in 2021.
According to a recent report by eMarketer, consumer electronics account for 22% of all online sales. In the next few years, the electronics eCommerce sector would grow into a $150 billion industry:
"Before the pandemic, it was already popular to buy computers and consumer electronics online. That product category will represent the largest share of US retail ecommerce sales in 2020, at 22.0%. We expect US computer and consumer electronics ecommerce sales will total $156.50 billion this year—and nearly half of the products sold in this category overall (49.5%) will be purchased online. Not surprisingly, digital ad dollars are rushing to follow consumer behavior."
And here's another figure. In a Business Research report, the global consumer electronics e-commerce market could grow from $310.23 billion in 2020 to $343.34 billion in 2021.
Offering and shipping electronics can be a lucrative strategy that most retailers should seriously consider. But there is a substantial investment to get into this aside from careful planning. With digital devices being notoriously sensitive and fragile, packing and shipping electronics properly is a core competency a retailer must understand before getting into this market.
Starting an Electronics eCommerce Business: What You Need to Know
Contrary to popular belief, starting an electronics eCommerce business isn't as complicated as it seems to be. There is, after all, thriving demand for these goods. Moreover, there are various tools retailers can tap into to introduce their brand to the market. It is all a matter of building a strategy that works for an operation:
Find a Reputable Source
Product sourcing is arguably one of the essential steps in building an electronic eCommerce business. This step entails more than just finding products that appeal to a retailer's audience. Not all suppliers are created equal. It is imperative to find a reputable and trustworthy source- a product sourcing agent that you can rely on to best represent your business by providing you quality goods you'll be proud to sell under your brand.
Determine the Niche
The electronics industry is varied and vast, but retailers need to find a market that hasn't been saturated yet. As a new player in the field, it can be overwhelming to supply anything related to electronics. Focusing on a niche builds a retailer's reputation as a go-to supplier for a particular product.
Tackling Logistics
Like product sourcing, transportation and logistics play a significant role in the success of an eCommerce business. Consumers turn to eCommerce shopping for the sheer convenience and speed of ordering online, so a seamless order fulfillment process is necessary. Logistics takes on an even more critical role, especially with shipping electronics since most are fragile and expensive. Companies getting into electronics must take care of packing and shipping these items.
Shipping Electronics Correctly
Shipping electronics must be done right especially given that these items often don't come cheap. Protecting these items during transit is essential. Below are some of the steps retailers can take when shipping electronics:
Choose the Proper Shipping Materials
Selecting suitable packing materials is the first step to ensure that no product gets damaged during shipping. The type of packaging that the retailer chooses should correspond to the shipping item. Generally, below are the non-negotiables when packing and shipping electronics:
Strong Boxes
Strongboxes or corrugated cardboards are popular among electronics retailers because of their sturdiness. Corrugated cardboards are made by gluing three sheets of carton sheets together. It offers ample cushioning for the contents inside. They are strong, cost-effective, and are relatively affordable to ship.
Void Fillers
Void fillers can refer to several things. Some retailers use bubble wrap, while others prefer packing peanuts for their packages. Again, the right choice depends on the type of product to be shipped.
Label Properly
When it comes to fragile items like electronics, shipping labels become an even more important element of logistics. Some electronic parts, like lithium batteries, are sensitive to magnets and pressure. Indicating the contents of the box can help carriers handle the package correctly.
It's just good practice to put a fragile label on all electronics packages, including batteries. Without these labels, the items could get damaged and compromised. In some regions, problems with shipping electronics can result in hefty fines.
Be Mindful of Restrictions
One of the most surprising things about packing and shipping electronics is the restrictions on transporting these products. Not all carriers and destinations can cater to these packages. Some electronics get labeled dangerous goods even. Before taking an order, it is best to research and check the rules and regulations of a specific region or locale.
Pack Cords Separately
Most electronics have several components that need to be assembled. It is good practice to pack each part separately. Cords are susceptible to tangles, and small parts can easily be misplaced. It's best to secure and protect the item during transport.
Protect the Batteries
Batteries are notorious for being incredibly difficult to ship. While there are challenges to offering this product, it isn't impossible. These items are hazardous when exposed to different elements. When packing batteries, it is crucial to secure all terminals. Cover each with insulating, non-conductive material.
Getting into eCommerce electronics can be lucrative. With the rising demand, it isn't surprising how everyone wants a share of this profitable market. But getting a piece of this multi-billion-dollar cake can be challenging. However, the returns are well worth the effort – if done correctly.
If you're seriously considering getting into this electronics market,  your best bet is to partner with logistics experts who can take the difficult work off your hands.  ZhenHub is a logistics pioneer with multiple locations across the globe. We have decades of collective experience shipping electronics and orders of every type. You can trust us to support you during these exciting times. Reach out to us today or request a free quote to learn more about what we have to offer! 
Share Article