Understanding the Ukraine Russian War from a Supply Chain Perspective
Time to read:
5
minutes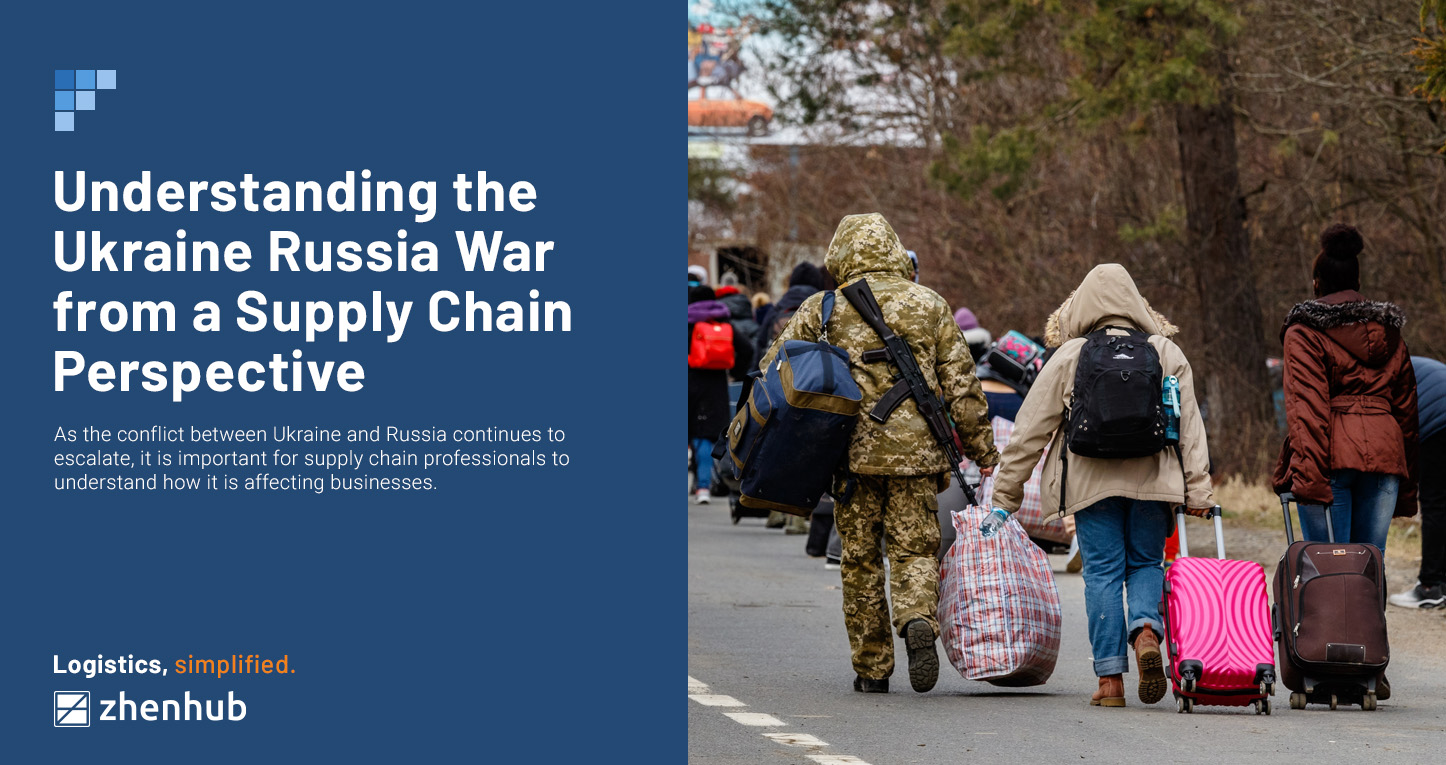 Global supply chains are almost stretched to their limit, and unfortunately, 2022 isn't letting up. As port congestion and the COVID-19 pandemic continue to hammer businesses and industries, the road to recovery seems long and hard. But the world was on its way to a better year.
But before February 2022 could end, Russia invaded Ukraine, bringing the world to the brink of World War 3 and the beginning of a global economic meltdown. Russia was meted with economic sanctions, sending the Ruble crashing but upending global gas supplies.
Now, the Ukraine Russian War further aggravated global logistics. The conflict has disrupted supply chains and left many companies struggling to get their products to the market. In addition, this invasion, or as Russia calls it, "a special military operation," has led to increased costs and a decrease in revenue for many businesses. This article discusses the war's impact on global logistics and how companies can adapt to these changes.
A Brief Breakdown of the Ukraine Russian Conflict
To better understand the global logistics issues we face, we must first understand how and why this conflict occurred. 
Ukraine and Russia share a deep history and culture. And their respective destinies have been intertwined with each other for hundreds of years. Since the dissolution of the Soviet Union in 1991, Ukraine has sought to distance itself from its communist neighbors and appeal to the Western Powers, the United States, and The North Atlantic Treaty Organization (NATO). Russia's Vladimir Putin strongly rejects this move, reasoning that Ukraine is, and always has been, a part of Russia. Reunification is now one of the key reasons Russia is waging this war on Ukraine. Russia wants to bring the former Soviet state to heal and stop it from cozying up to western powers.
In response to this, Putin laid out a set of demands to ensure his country's security. These demands guarantee that Ukraine will never become a part of NATO and the intergovernmental military alliance removes its presence in Central and Eastern Europe. However, these demands were swiftly rejected by the US-led NATO.
On Feb. 24, Vladimir Putin announced that his nation would perform a "special military operation" in Ukraine. Russian convoys made their way to Kyiv, Ukraine's capital city, and rocket attacks hit residential areas and industrial zones.
So far, Ukraine has put up a valiant effort of resistance and received military and humanitarian aid from its neighbor states and countries worldwide. Moreover, president Volodymyr Zelenskyy has been an inspiring figure to his compatriots and outside observers.
Russia and Ukraine held peace talks in Belarus, a country known as a staunch supporter of Russia, but negotiations went nowhere.
Foreign powers have largely condemned the hostile invasion of Russia, swiftly imposing heavy economic sanctions on the aggressor. But, while the world waits and watches the Ukraine Russian War in Eastern Europe unfold, a global logistics crisis is coming to the forefront.
How the Ukraine Russian War Affects Global Markets
Both Russia and Ukraine are significant players in providing raw materials and resources to countries and businesses worldwide. From smartphones to jet planes, many industries rely heavily on these two countries.
Gartner analysts Koray Köse and Sam New foresee critical material shortages, material cost increases, demand volatility, logistics issues, capacity constraints, and cybersecurity breaches as the top concerns of the escalating conflict of the Ukraine Russian war.
"We expect severe shortages of hydrocarbons, critical minerals, metals, and energy. Prices for those items will likely spike, thanks to both the shortages and behaviors such as irrational buying and protectionism. This will, in turn, impact manufacturing operations up and downstream as much as raw material mining."
Russia is considered the world's third-largest oil producer. As Russia got hit with economic sanctions, it increased transportation costs in Eastern Europe and other regions worldwide. Consequently, the United States' dependency on imports has made Russia its second most prominent source of foreign oil. In addition, energy prices have been soaring since last year due to the political tension in the area.
Complex industries such as automotive and high-tech electronics have seen their supply change drastically due to shortages of crucial rare earth materials such as palladium, aluminum, titanium, and steel. The lack of supply affects the current global computer chip shortage, making semiconductors (a product that usually requires palladium) even more challenging to manufacture. It is worth noting that both Russia and Ukraine are among the top copper and steel producers globally.
Even the food industry may take a significant hit if the Ukraine Russian war continues well into the spring and summer, as both countries are bulk sunflower oil producers. In addition, the lack of an abundant wheat harvest could spell disaster for the businesses that produce packaged foods and bread.
Christopher F. Graham, a partner at White and Williams, a law firm headquartered in Philadelphia, says, "The war just makes the worldwide situation for commodities more dire."
The Ukraine Russian war also raises the issue of security and safety for transportation. Multinational shipping conglomerates like Maersk have temporarily suspended all shipments to and from Russia, except for essentials such as food and medicine. As a key city that functions as a vital bridge to Europe and Asia, canceled flights and trips will further delay already strained supply chains.
Lesser flights mean that planes will now have to seek alternate routes, which entail longer wait times and more fuel spent – a significant problem with the continued rise of oil and gas. Cargo planes take in fewer loads to maximize fuel efficiency and total range as a simple workaround. Now, flight networks have fewer trade routes in and out of Europe and Asia.
However, John Grant, a senior aviation consultant for the OAG, remains optimistic about the long-term future of shipping planes. He comments that cargo carriers are nimble, "They can move with demand, so I suspect there will be limited immediate impact."
We're starting to see how a major global power hit with sanctions can affect supply chains and cause logistics issues for markets all over. For example, Western governments have effectively cut off Russian banks from moving money in and out of the country. This decision puts a stop to international trading and transactions.
President of the European Commission, Ursula von der Leyen, maintains that "Cutting banks off will stop them from conducting most of their financial transactions worldwide and effectively block Russian exports and imports,"
Looking at the short-term effects, manufacturers can expect to experience a disruption in the supply of raw materials. While the issue is ongoing, companies may hear from their suppliers that they have low to zero inventory because they outsource their goods from Ukraine and Russia.
Preparing Your Business for a Logistics Crisis
Flexibility and visibility. Quickly adjusting to sudden disruptions to your supply chain and diversified sourcing are key points to consider to overcome logistics challenges.
Drawing up a detailed response plan is a good start. Managing customer demand during a shortage is key to maintaining a positive brand image. Contingency plans can also help you evaluate priorities when supplies are short.
According to Gartner analysts, "In the long-term, supply chain leaders must increase resilience by balancing investments in dedicated teams, processes, and technologies that will enable their organizations to implement end-to-end risk management."
Searching for alternative sources for raw materials helps keep a business more resilient. For example, in response to the possible shortage of neon gas and palladium, Intel says it won't affect them much since they have the flexibility to source their parts elsewhere.
Taiwanese and Malaysian chipmakers have already stockpiled alternative materials from other countries such as the US and Japan while reducing their dependence on palladium. This diversification has helped them mitigate slowdown from region-specific shortages.
It's essential to map out your supply chain so you clearly understand where your suppliers source their materials from, as well as current inventory. The added insight helps with negotiations and also fosters consumer trust. Being aware of every movement in the supply chain helps keep you alert of any changes.
Having better visibility gives you a better overview of which outcomes are more likely to happen. Accurately predicting possible crucial roadblocks offers you the opportunity to anticipate and have more time to react accordingly.
The Ukraine Russian war could become a long-term crisis. Now's the time to reevaluate your company's processes and discover how to make your systems efficient and resilient to respond to future challenges. Contact ZhenHub and or request a free quote to see the different ways our company can help your business adapt and improve with ever-changing supply chain demands.
Share Article