5 Ways to Avoid Damaged Freight
Time to read:
4
minutes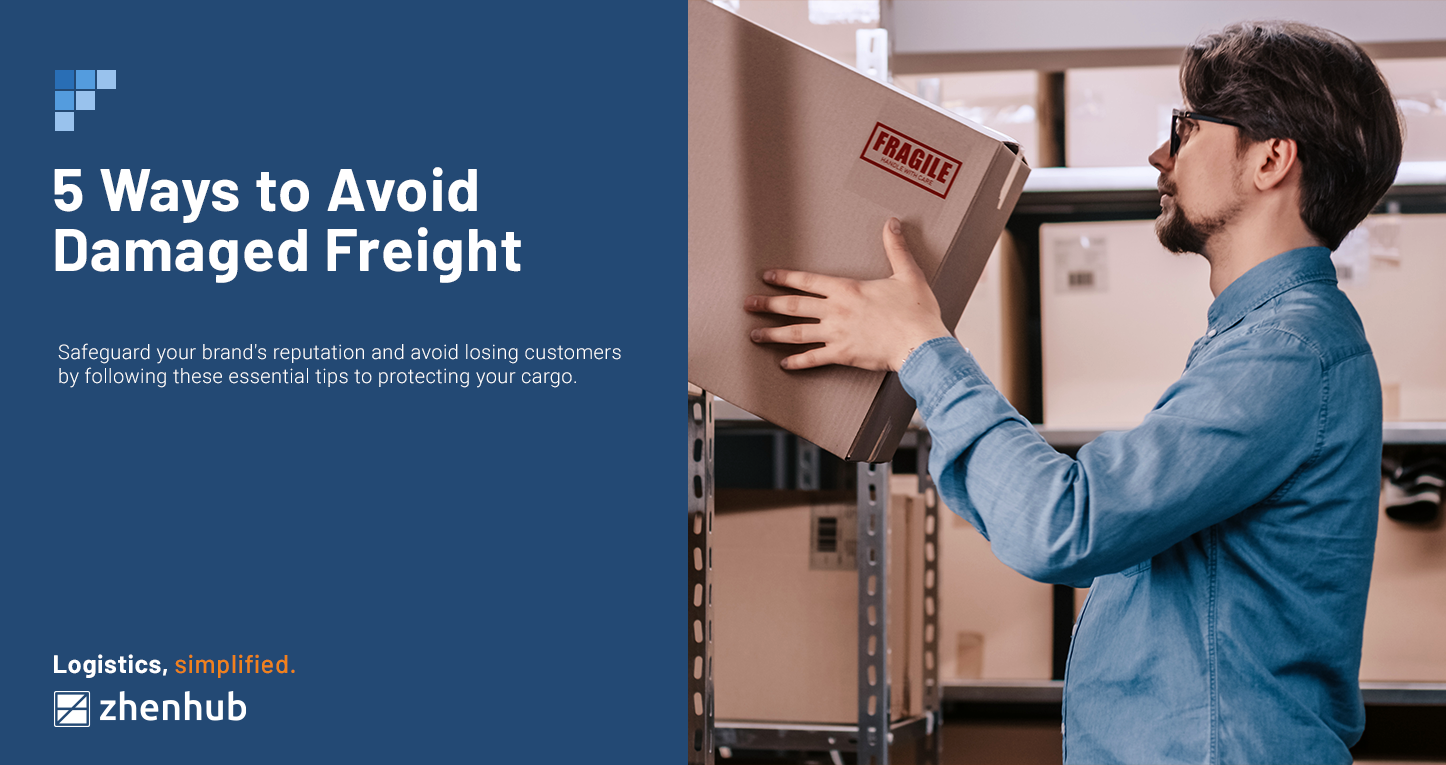 If you're a retailer, dealing with damaged goods is an inevitable part of the business. There are plenty of things that can go wrong in the supply chain, and most of these circumstances are beyond the control of companies. Simply put, damaged freight is a major pain point for most online eCommerce operations.
Protecting inventory during transit is vital to prevent losses. Dealing with damaged freight can be expensive, especially for retailers looking to cut shipping costs.  Most operations take out an insurance policy on their inventory shipments to have some level of protection. However, more often than not, retailers do not get the total amount of damage refunded. There is also the matter of dealing with delays that can negatively impact brand integrity. 
Taking proper precautions helps minimize the instances of damaged freight. This article explores common causes of damaged inventories as well as best freighting practices.
Common Causes of Damaged Freight
Accidents, unfortunately, happen. Even the most diligent of online retailers cannot anticipate and prepare for all types of freighting incidents. However, being aware of the common causes can significantly reduce freight damages:
Plenty of retailers make the mistake of forgoing cushioning when transporting inventory. Since most shipments are in crates, there are business owners that cut corners to reduce costs. Unfortunately, while not all merchandise such as pillows and airbags need cushioning, it is best to err on the side of caution. Most products do not require too much to safeguard from improper handling. Even kraft paper is often enough to protect inventory.
Stacking palettes correctly helps prevent damaged freight. Unlike in warehouses wherein, multiple palettes can be stacked on top of each other, transporting crates do not have the luxury of remaining stationary.
Most trucking companies can be lax with palletization. It's unfortunate since incorrectly stacking pallets can cause them to shift and move during transport. Go over your warehouse equipment checklist and ensure your logistics partner can provide the right palletization to your inventory.
Water and Humidity Damage
Weather conditions can drastically change and can affect products transported over considerable distances. Humidity and condensation can damage goods even if they are loaded inside the crate. Moreover, in instances wherein inventory is left outside for long periods, unexpected rain or snow can cause packing materials to degrade.
Desiccants can be used to prevent humidity from affecting the products and the packaging. Likewise, it is best to forgo deliveries during inclement weather.
Infestation is a problem that most food retailers dread the most. It often happens with shipments to overseas locations. A large number of animals and insects can render an entire freight damaged. Even products that were left untouched can run the risk of contamination. Sturdy packaging helps minimize the risk of infestation in food products.
Another top reason for damaged freight is improper handling. Driver behavior and vehicle condition can affect the inventory being moved, especially during long distances. Even if products are stacked correctly, sharp turns, heavy breaks, and speeding can cause crates to move around in the truck. Any sudden movements can create dents and cracks on fragile shipments.
Proper driving behavior and training can prevent improper handling. Likewise, should a retailer choose to outsource freighting, they should vet and select their partners properly.
Instances of damage freight aren't limited to physical damage to the inventory. Retailers also need to contend with theft or robbery. The liability is determined when the theft happened. Regardless if a crate is insured, retailers still incur the expenses of delays and reshipment.
4 Ways to Protect Inventory Shipment
Twenty percent (20%) of eCommerce returns are because of damaged goods. Taking time to ensure that warehousing personnel and customers receive products in tip-top shape minimizes the expense of dealing with damaged freight. 
With FTL or full-truckload shipment, an eCommerce company rents the entire truck for their shipment. It means that there wouldn't be any additional stops, and the vehicle goes straight from the warehouse to the retailer. It isn't cheap to rent one. Most companies choose Less Than Truckload shipping to cut costs.
Nevertheless, with fewer stops and more room for cushioning, investing in FTL can help prevent damaged freight. It is an excellent option for high-value items.

Cancel Shipments in Cases of Inclement Weather
As mentioned earlier, inclement weather can affect freight integrity. Humidity and moisture can destroy packaging and can introduce mold to products. It's quite alright to forgo deliveries during severe weather. It'll protect inventory and ensure the safety of a retailer's workforce.

There is merit in trusting the expertise of forwarding and trucking companies. However, for high-value items, testing the packaging should be non-negotiable. This includes the individual packaging of each product and the strength of the crates and the pallets. This step might seem minor, but it can save an eCommerce company thousands (even millions) of dollars in damages each year.

Streamline Driver Workflow
Drivers need to prevent late deliveries or go to multiple drop-offs. Unfortunately, road accidents often occur when drivers push themselves to meet tight schedules.
Streamlining the driver workflow process allows drivers to have enough time to tackle each delivery without the need to rush to fulfill another. This optimization includes but isn't limited to improving routes, digitizing paperwork, and adding manpower for unloading shipments.
The liability of damaged freight depends on several factors, including determining when the damage occurred. In most instances, retailers are no longer able to recoup the entire cost of the damaged goods. More than the price tag attached to the products, shipment delays affect customer satisfaction and loyalty.
You can avoid having damaged freight happen or, at the very least, minimize it. The right 3PL partner can help you navigate through the intricacies of shipping. ZhenHub's tech-based products offer various logistics solutions for every need. Check out our website to learn more about our services or get a quote now. 
Share Article