How to Measure and Reduce the Order Fulfillment Cycle Time
Time to read:
4
minutes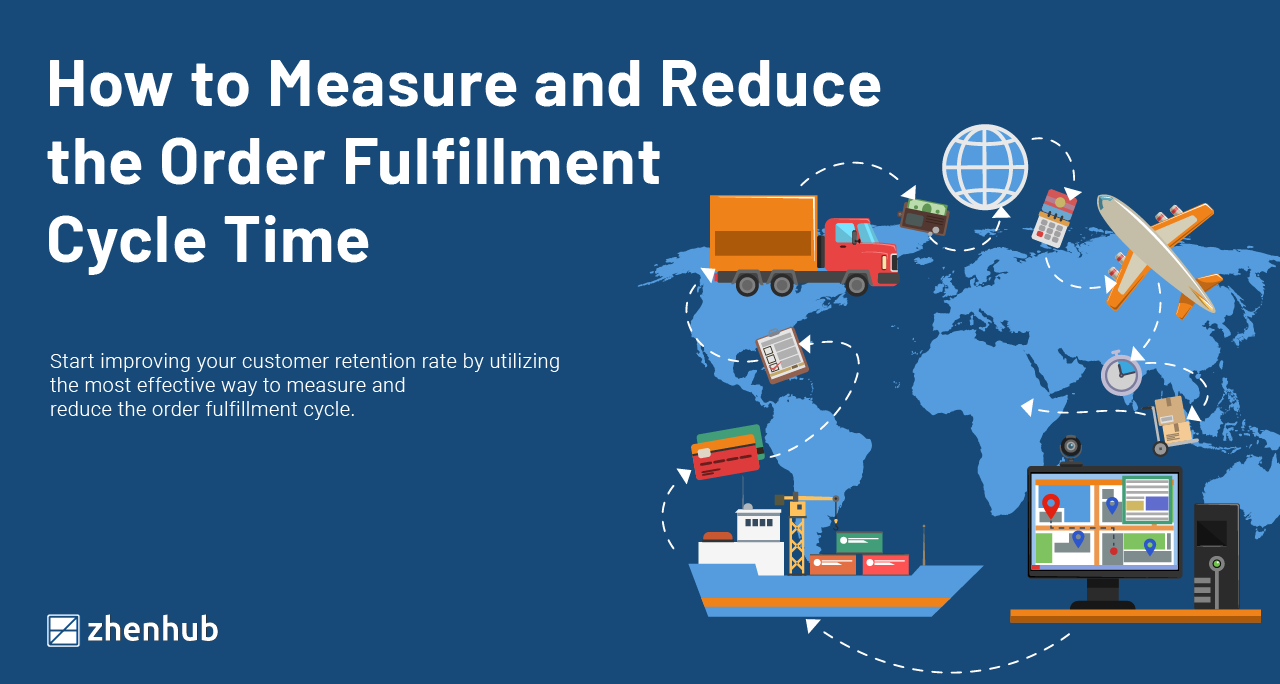 The efficiency of a retailer's order fulfillment process plays a vital role in customer satisfaction and loyalty. The order fulfillment process, which includes inventory, storage, organization, and shipping products, sets an efficient operation apart from those in the middle of the road. When it comes to this crucial eCommerce process, it isn't enough to meet deadlines and ship on time. Online shoppers are no longer satisfied with enough. Improving the order fulfillment cycle can potentially make your eCommerce company into a preferred brand. 
Read on to find out more about the order fulfillment cycle time – what it entails, how to measure it, and the best practices to help retailers take their operation to the next level.
Understanding Order Fulfillment Cycle Time
Contrary to popular belief, there is more to order fulfillment than eCommerce shipping and delivery. The order fulfillment cycle refers to the amount of time between a customer purchasing a product until it gets delivered to their doorstep. It is an important metric that gives a retailer insights into the effectiveness of their order fulfillment process as a whole. 
The order fulfillment cycle time takes into account the entirety of the process. It includes the following steps:
The order fulfillment process begins once a customer places an order through a retailer's website, social media, or a third-party eCommerce platform like Amazon or Lazada. Often, once a retailer receives an order, a confirmation email is sent to the customer.
Depending on an eCommerce store's fulfillment model, the retailer might already have a specific product and everything else that comes with it on hand. If required goods need to be shipped, this step comes after orders get placed to ensure that the sourced goods do not go to waste.
The order manufacturing step comes in various forms, and it depends on what products the store carries. For companies with available inventory, this step entails retrieving the product from the shelf, inspecting it for flaws, boxing and packaging the order, and handing it off to the shipping team or division.
Prepped parcels that are good to go are shipped to third-party carriers. The best shipping option depends on the weight, size, and dimensions of the product. Check out our blog about it.
Computing for the Order Fulfillment Cycle Time
It's crucial to maintain a low order fulfillment cycle time to remain competitive in the eCommerce industry. But controlling the cycle time can be quite challenging as sourcing inventory, and parcel delivery can go beyond retailers' control.
Measuring the cycle time is the first step in optimizing the process. The key factors below affect the cycle time in various ways:
The source time refers to the amount of time between a customer ordering a product and a retailer receiving the raw materials and required goods to fulfill the order. This step highlights the importance of having reliable suppliers and having an efficient eCommerce platform in place.
The production time entails the manufacturing, prepping, and packing of an order. After this step, the parcel should be ready for delivery.
The delivery time refers to the period between a parcel leaving the warehouse to when a customer receives it.
Computing for the total order fulfillment cycle time is simple. It is the sum of the source time, production time, and delivery time. For instance, if a customer orders from a retailer on March 5 and receives it on March 10, the total order fulfillment cycle time is five days.
Optimizing A Supply Chain's Order Fulfillment Cycle Time
Most retailers believe that merely delivering on time is proof of a well-oiled order fulfillment process. Nevertheless, 69% of consumers report that one instance of an unpleasant delivery experience is enough to discourage them from buying from a brand for a second time. This fact leaves very little room for error. 
There is always room for improvement in order fulfillment cycle times, which go beyond shipping concerns. To have an efficient system, retailers need to look at the bigger picture.
The time it takes for raw materials to get to a retailer's warehouse plays a significant role in lowering the overall cycle time. Sourcing materials from local wholesalers or manufacturers can cut the travel time significantly. Doing this would most likely cut shipping costs, as well. While products from local wholesalers can be costlier, it's worth it as it can shorten transit time and lower shipping costs.
Analyze the Warehouse Flow
The layout of a retailer's warehouse can affect the total order fulfillment cycle time. With optimized space, workers can operate within the area more efficiently.
There are several ways to optimize a warehouse. For one, make the distance between coordinating teams shorter. This step cuts the travel time to get a parcel from their team to the next. It is also a good idea to move necessary resources to highly utilized areas. Enabling workers to procure required goods within arms reach reduces handling time.
Implement Supply Chain Technology 
Supply chain technology has vastly improved over the last few years. Nowadays, there is simply no room for manual inventory tracking and storage in a modern eCommerce operation. Various warehouse management systems can automate the sourcing, production, and even delivery process. Employing technology in the order fulfillment process can minimize errors and move operational and business operations at a faster pace.
Improving Your Order Fulfillment Cycle Time is Key to Your Success
Your order fulfillment cycle time can be the difference between struggling to maintain customer satisfaction and benefiting from loyal clients' repeat business. Taking the effort to optimize this process and continually pushing to improve your cycle time can increase your operation's scalability and growth. The pandemic affected entire industries, more so the merchants that relied on just one or two suppliers. Experts forecast more diversification across sourcing, fulfillment channels, marketplaces, and carriers to prevent this from happening again.
At ZhenHub, we aim to provide technology-based solutions geared towards supply chain efficiency. We can help you develop an order fulfillment cycle time customized to your business requirements. Sign up with us today to enjoy our cutting-edge logistics products. 
Share Article