What to Sell on Amazon: Everything You Need to Know About Amazon Product Categories
Time to read:
4
minutes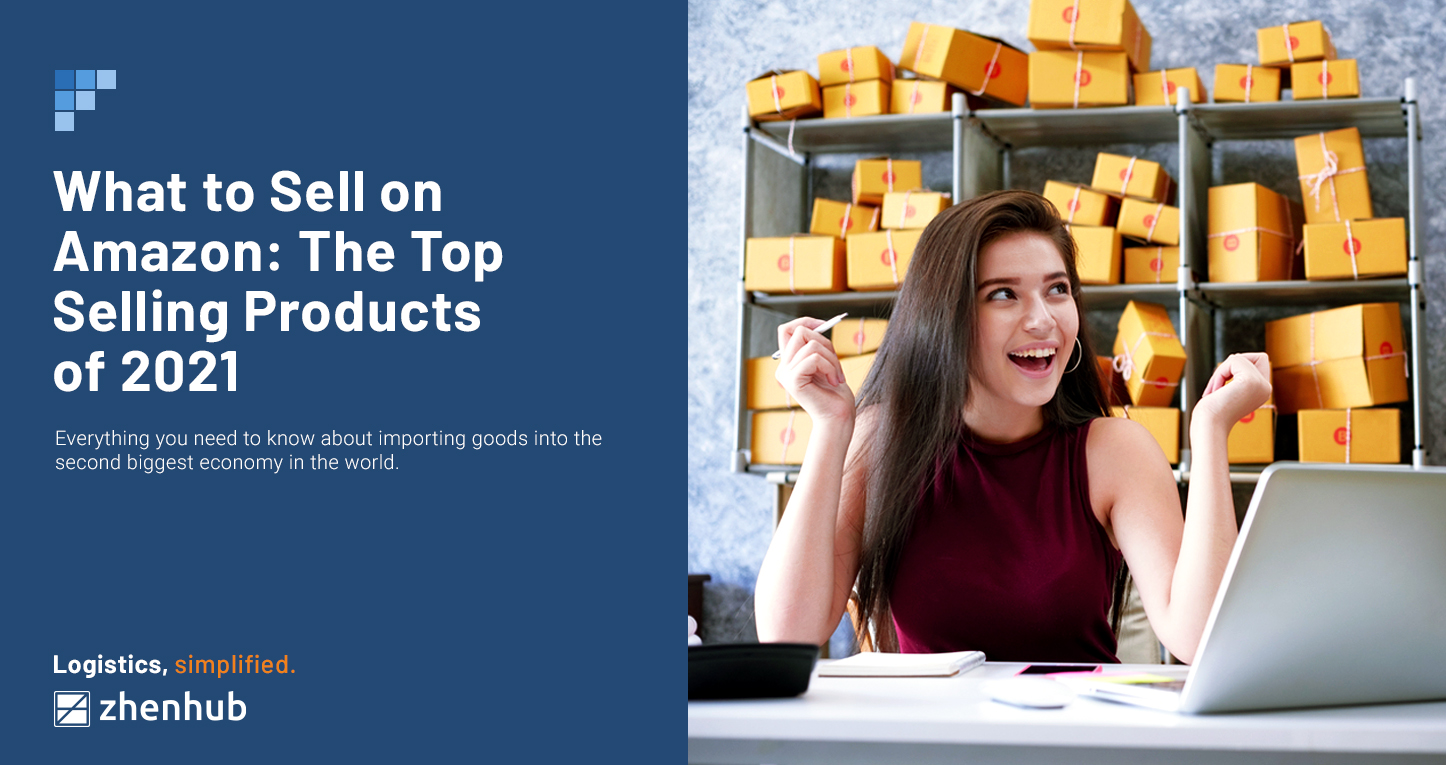 Selling on Amazon is a strategic and logical next step for most online retailers. Amazon, after all, is the world's top marketplace as it gets 197 million visitors every month. On average, Amazon sellers earn $10,000- $25,000 every month from selling on the platform. More than two-thirds of these sellers see profit margins of more than 10% for every sale; 36% enjoy profit margins above 20%. 
By all indicators, selling on Amazon would remain profitable in the next few years. While Amazon is a lucrative avenue for online sellers, the competition within the marketplace is fierce. The products retailers sell on the platform can impact their brand image as well as their profit margins. Choosing what to sell on Amazon can make or break a company. It would be best if you make informed business decisions before going forward.
In this article, learn all about Amazon's product categories, including the most popular products, as well as the best tips on determining the correct catalog for a store.
What are the Different Amazon Product Categories?
Before diving into what to sell on Amazon, knowing the available Amazon product categories is essential. The eCommerce giant imposes some restrictions on it. Professional accounts can only sell some items; likewise, others require approval from the marketplace.
Products Categories with No Restrictions

Beauty Products
Books
Beauty Tools and Accessories
Camera & Photo
Cellphones
Clothing & Accessories
Electronics Accessories
Fashion Jewelry
Grocery & Gourmet Food
Luggage & Travel
Musical Instruments
Office Products
Outdoors
Shoes, Handbags, & Sunglasses
Software & Computer Games
Sports
Tools & Home Improvement
Toys & Games
Video Games

Product Categories with Restrictions

Alcohol
Animal-RElated Products
Automotive & Powersport
Baby Products
Beauty Topicals
Certified Refurbished Goods
Collectible Coins
Cosmetics
Dietary Supplements
Drugs & Paraphernalia
Electronics
Entertainment Collectibles
Explosives & Weapons
Fine Art
Gambling & Lottery
Handmade
Hazardous & Dangerous Items
Health & Personal Care
Historical & Advertising Collectibles
Human Parts
Industrial and Scientific Products
Jewelry & Precious Gems
Laser Products
Lighting
Lock Picking Products
Medical Devices
Medication
Organic Products
Pet Food
Plant, Plant Products, and Seeds
Postage & Stamps
Sports Collectibles
Subscriptions
Surveillance Equipment
Tobacco
Topicals
Video, DVD, & Blu-Ray
Watches
Warranties, Service Plans, Contracts, and Guarantees

What to Sell on Amazon: The Most Profitable Product Categories
Amazon's catalog is expansive, so choosing what to sell can be overwhelming for retailers who want to scale their business. While product offerings vary from location to location, below are the categories that are most popular across the board: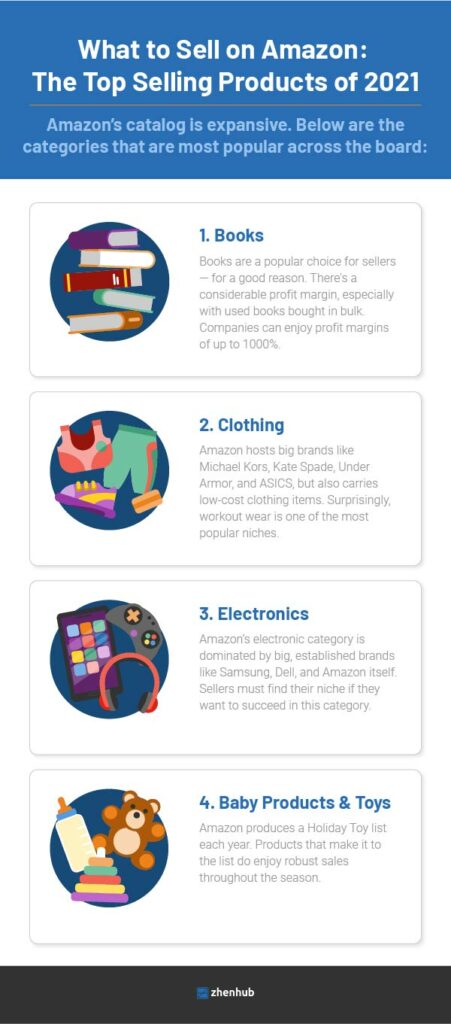 Books
Amazon was one of the first online book retailers in the world. While the company's book and literature offering has extended to digital products, books are still a popular category in the platform.
It is a popular choice for sellers— for a good reason. There's a considerable profit margin, especially with used books bought in bulk. Companies can enjoy profit margins of up to 1000%.
Clothing
Amazon has grown to become a shopping haven for those looking for affordable clothing and accessories. The marketplace hosts big brands like Michael Kors, Kate Spade, Under Armor, and ASICS, but they also have low-cost clothing items, perfect for those on a budget. Surprisingly, workout wear is one of the most popular niches.
Electronics
Established brands like Samsung, Dell, and Amazon itself dominate the platform's electronics category. Be prepared for an uphill battle if you want to enter that market. One way to sell electronics and be successful in it is by finding a niche. Instead of offering a wide array of products, it's best to focus on a particular subcategory within electronics. A retailer can develop a more significant following than competing with brands that offer their products beyond Amazon.
Baby Products and Toys
Amazon produces a Holiday Toy list each year. Products that make it to the list do enjoy robust sales throughout the season. For sellers, this list can be a guide on which products to offer. If a retailer can't provide what's on the list, they can provide a similar item instead.
How To Determine What to Sell on Amazon
There are several factors to consider when you want to sell on Amazon. There are several factors to consider when you want to sell on Amazon. Focus on items that customers are looking for or offer alternative ones. Likewise, shipping expenses and Amazon fees play a role in the store's profit margins. 
That said, below are tried-and-tested ways to determine what to sell on Amazon to turn a profit:

Take Advantage of the Amazon Search Bar
Amazon has a "best-selling category." Exploring this page allows a retailer insight into the products that are currently and historically in demand. A seller can narrow down their product list by going through the category and sub-category. Retailers also need to check out related items within the best-selling category to come up with more products to offer. You can find this in the "customers also bought" part of a product page.
Use Chrome Extensions to Determine Popular Keywords
After going through the best-seller list, take note of keywords that pop out during the research phase. Sellers can use Google's keyword planner to determine a considerable monthly search volume for each keyword. Doing this can tell retailers the level of demand for the item.
Find Products With Little or No Competition
It can be challenging to sell a product that has more than 100,000 search results. Competition is fierce, and it is often near impossible to compete with more established brands.
One of the best ways retailers can stand out is by using popular keywords and making them more specific and niche. For instance, searching for the keyword "women's pants" on Amazon may produce 100,000 search results, but choosing to tag the same piece of clothing as "women's plus size wide-leg pants" has fewer search results. And thus you get less competition.
It's an absolute must for sellers to do their research to be successful on Amazon. There is a lot of profit to be made in the marketplace, but it doesn't come without diligence and hard work.
ZhenHub can help you navigate product categories, restrictions, and more to give you that Amazon-selling edge. Through our eCommerce expertise and multi-channel fulfillment services, you can determine the proper inventory for your brand. Sign up now or request a free quote to know how we can help you take your business to the next level.
Share Article