All FBA Fee Changes That Happened in 2021 (so far)
Time to read:
4
minutes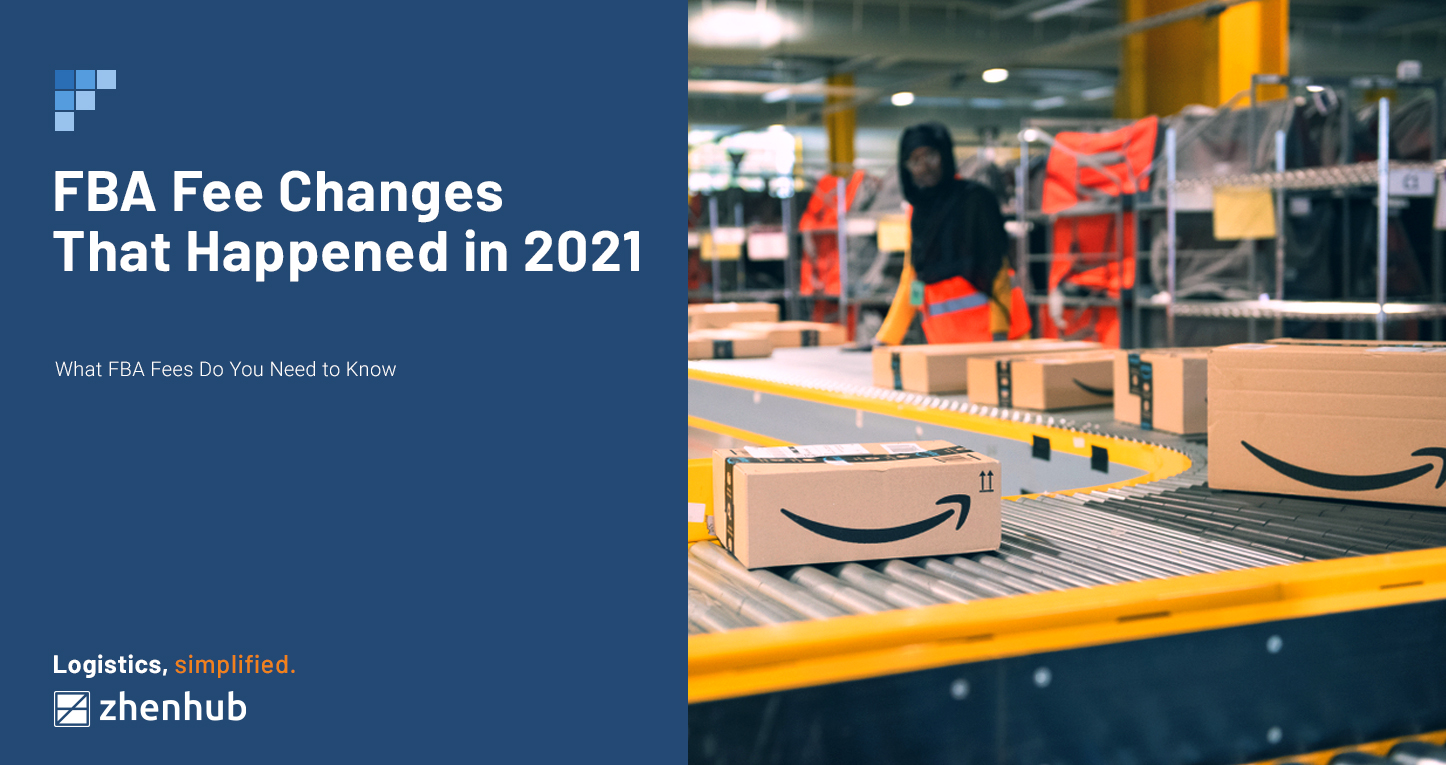 With over 190 million monthly buyers, Amazon has helped millions of retailers expand their reach and cater to a broader clientele. The marketplace allows retailers to sell globally – a near-impossible feat, especially for smaller operations. Aside from these benefits, Amazon also offers logistics solutions for sellers through their FBA program.
Introduced in 2006, Fulfillment by Amazon or Amazon FBA provides retailers a means to sell products through the marketplace without building an extensive logistics process. At the time of writing, over 70% of sellers on the platform utilize Amazon FBA versus Amazon FBM. Those are high numbers and with good reason. It allows retailers to grow and scale their operations without shifting their supply chain model. It gives sellers an edge through Amazon's Prime feature – available primarily through Amazon FBA.
That said, Amazon FBA comes at a price. This time we delve into all the Amazon FBA fee changes that a seller needs to know:
How Amazon Charges Sellers
Before diving into the Amazon FBA Fee changes this year, it's essential to know how the platform charges the sellers. This includes FBM, FBA, Professional, and Individual seller accounts. The charge often is calculated against the size and weight of a product.
Fees for All Sellers
As mentioned earlier, all retailers who use Amazon pay a fee to utilize the eCommerce platform. Those that have yet to opt into Amazon FBAstill need to pay the following:
Amazon takes a percentage for every item sold through the marketplace. The amount varies depending on the category. However, all referral fees are less than 15%, and sellers only get charged following a sale.
Per-Item or Subscription Fee
Sellers on Amazon can choose between two types of seller accounts — individual or professional. Individual accounts pay Amazon $.99 on a per-item sold basis, while professional accounts pay a flat-rate fee of $39.90 a month.
Refund Administration Fee
Whenever a customer requests a refund, Amazon charges the seller for a refund administration fee. This expense is either $5 or 20% of the total amount of return charge.
Fees for Amazon FBA Sellers
There are two general fees that Amazon FBA sellers pay to use the platform: Fulfillment fees and Storage fees. Similar to the available cost of running a shop on Amazon, FBA fees are often calculated based on the size and weight of an item. We'll discuss this at length in the next bullet point.
Miscellaneous Fees
Miscellaneous fees do not apply to all sellers. These are additional costs Amazon charges for certain services.
Closing fees are only applicable to retailers that sell books, CDs, DVDs, and Blu-ray. It costs a flat rate of $1.80 per sale.
Sellers that have a catalog in the hundred of thousands have to pay a high-volume listing fee. There is a flat-rate monthly fee of $0.005 per item, and it only applies to retailers that sell more than 100,000 ASINs.
Sellers who offer book rentals are required to pay $5 for every rental book that they sell.
Amazon FBA Fees
Selling through Amazon FBA is often the most cost-effective logistics solution for sellers active on the platform. The fees are calculated based on three factors: the item's weight, size, and the channels where it gets sold.

In general, Amazon product categories fall into two different sizing categories – standard and oversize. Standard size items weigh less than 20 pounds with dimensions not exceeding 18" x 14"x 8". Oversize items are any items that exceed standard sizing.
Aside from sizing, Amazon FBA sellers pay FBA and storage fees:
Fulfillment fees cover picking, packing, shipping, providing customer service, and processing returns for Amazon patrons. The costs are calculated per unit and can be anywhere from $2 – $130 per item.
Storage fees are based on the amount of space inventory occupies in any of Amazon's fulfillment centers. Depending on the size, this expense can be anywhere from $.69 – $2.40 per cubic foot. There is also a peak season storage surcharge. The platform also charges long-term storage fees for any products that have been in their fulfillment centers for 180 days or more.

FBA sellers need to maintain an above-minimum inventory performance indicator score to enjoy unlimited storage space. Otherwise, Amazon will impose limits.
Amazon FBA Fee Changes in 2021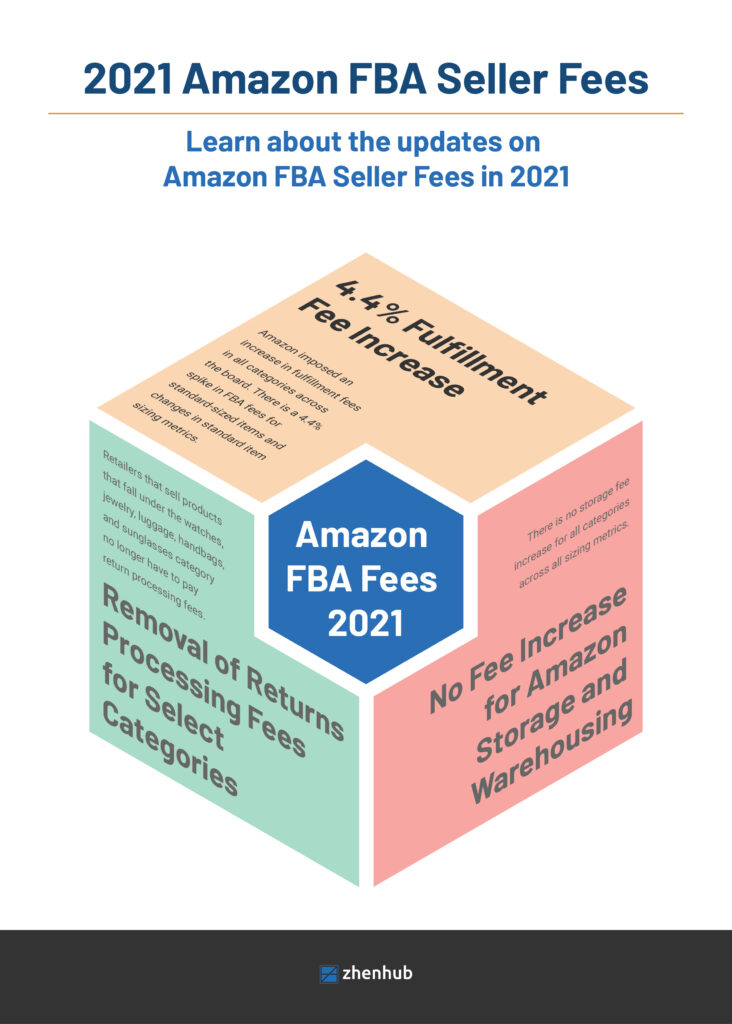 Amazon updates its FBA fee schemes annually. The platform enacted the changes in June 2021. This year the marketplace imposed quite a few new mandates. View the details of the update here, or read on for the summary of all the essential Amazon FBA Fee Changes here:
Amazon imposed an increase in fulfillment fees in all categories across the board. There is a 4.4% spike in FBA fees for standard-sized items and changes in standard item sizing metrics.
Removal of Returns Processing Fees for Select Categories
Retailers that sell products that fall under the watches, jewelry, luggage, handbags, and sunglasses category no longer have to pay return processing fees. Likewise, apparel and shoe categories' fees also have been reduced.
No Fee Increase for Amazon Storage and Warehousing 
There is no storage fee increase for all categories across all sizing metrics. This development is undoubtedly welcome news for sellers considering the hefty storage fee hike of 8.7% in 2020.
Selling through Amazon FBA can be a lucrative decision for online retailers regardless of their scale. It's a great tool to achieve retail success, but business owners need to work on it to benefit. Learning and constantly being updated on any FBA fee changes allows retailers to weigh the overall cost of opting into the program as they scale their business.
Aside from Amazon FBA, choosing to work with a logistics and supply chain partner can help your business reach the next level. From inventory management to warehousing and fulfillment, ZhenHub offers proven tech-based products to solve common logistics problems. Work only with the best. Reach out to us today to learn more about our products or request a free quote to get things started.
Share Article