Notable Product Shortages in 2022
Time to read:
6
minutes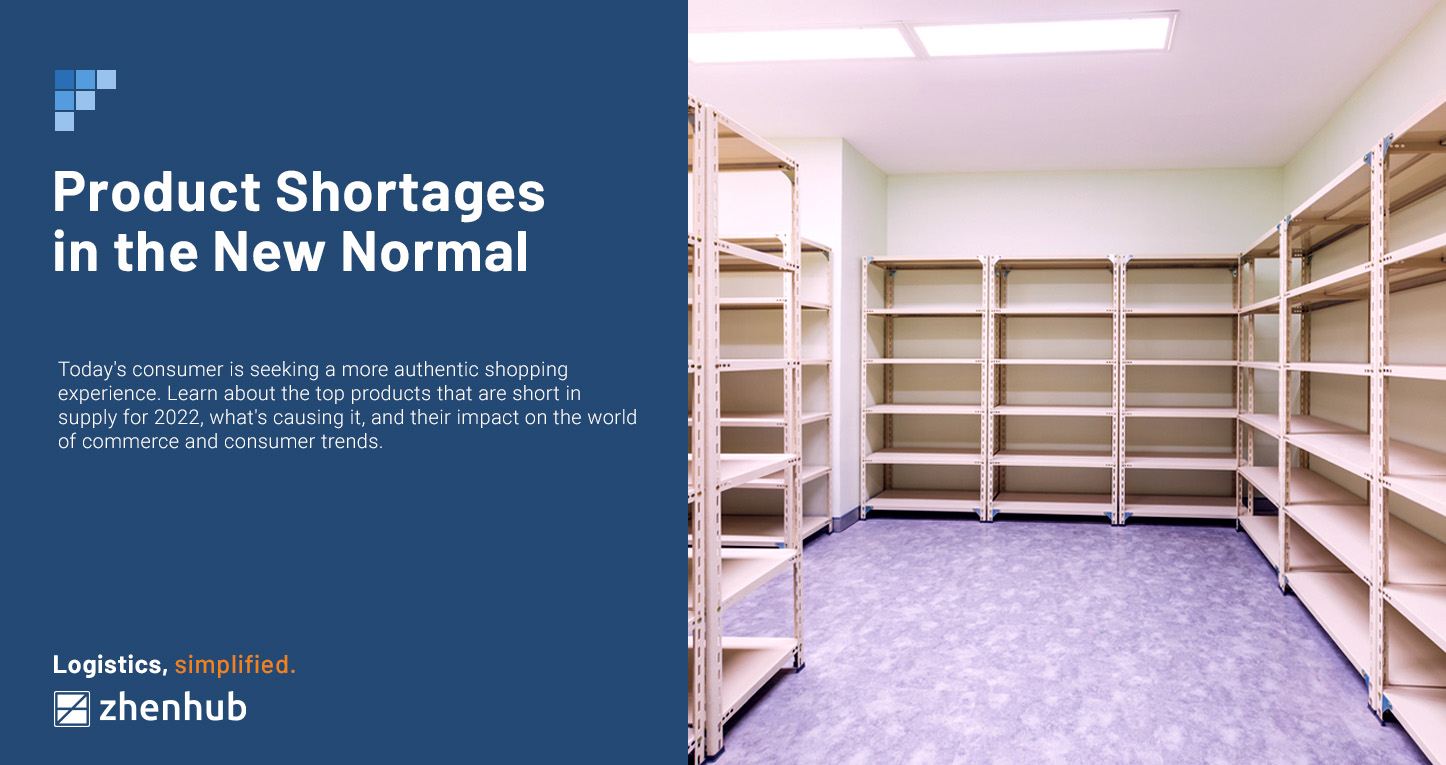 News headlines report more product shortages in stores and markets, and even essential commodities are getting more scarce. Learn why there are shortages and how it's affecting customers and businesses.
Notable Product Shortages in 2022
Major Factors behind Product Shortages
The Impact of Product Shortages
As the world slowly recovers from the effects of the COVID-19 pandemic, industries and manufacturers are finding it harder to meet ever-increasing global demands. Businesses have dealt with supply chain issues that resulted in product shortages since the start of the year. They've adapted to current economic conditions, going to great lengths to stock local grocery stores and online sellers, support suppliers, and partners.
They've done these and more at a high cost.
Stocks take more time moving from one distribution center to another due to port congestion and shipping container shortages. Meanwhile, other businesses have struggled to keep up with rapid changes in demand. Shortages are becoming more commonplace now as products get more scarce and there is not enough workforce to move them.
Supply chains have been stretched to their limits trying to get lead times on track and customer expectations realistic. Emergent solutions such as eCommerce and cloud-based computing have helped business leaders explore new ways to reach customers and streamline their processes.
The world is starting to feel the effects of the supply chain crisis, and consumers are experiencing product shortages first-hand.
4 Notable Product Shortages in 2022
2022 has seen a slow return to a pre-pandemic life. More people are out and about, health restrictions are easing, and many activities such as concerts and sporting events have returned. Companies are figuring out a hybrid working scheme to allow employees to continue working at home and finding time to report to the office.
During the start of the pandemic in 2020, household basics such as toilet paper, hand sanitizers, and disinfectants got scarce due to the incredible demand in response to the health dangers that COVID-19 posed. Nearly two years later, some items got expensive or harder to acquire.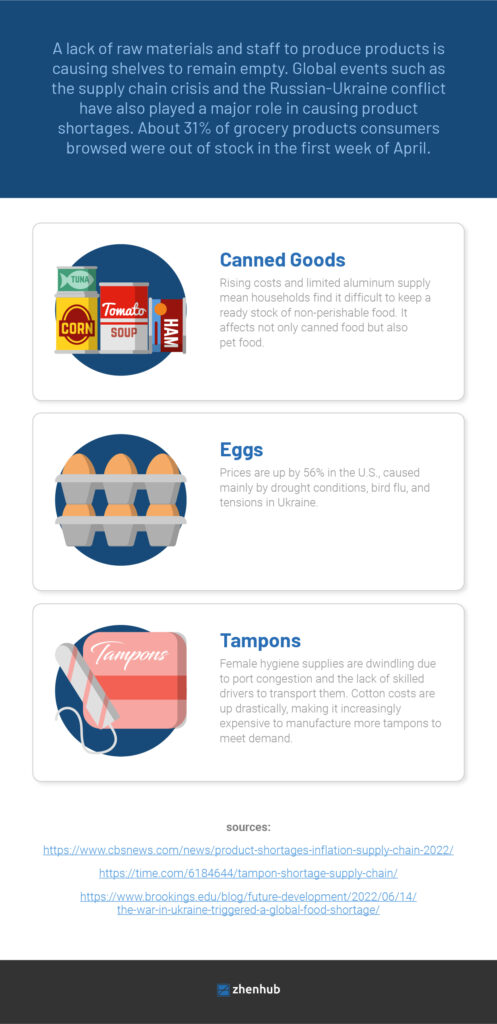 1. Groceries and Food
Empty shelves are becoming common in groceries across North America and Europe. According to Morning Consult's latest U.S. Supply Chains & Inflation report, over half (51%) of consumers surveyed in March 2022 reported experiencing product shortages of specific types of groceries and food, up from 43% in September 2021.
Unlike previous years, however, product shortages vary from different locations. One store may have some items in stock, while others may not.
"It's spotty, it's not a widespread situation," says Katie Denis, vice president of research for the Consumer Brands Association, which represents the consumer packaged goods industry, including companies like General Mills and Kellogg. "It's not like at the beginning of the pandemic when people went out and cleared shelves to stockpile and panicked."
Meat (especially beef and poultry), eggs, baby formula, canned goods, and paper goods are just some goods that got expensive or stocked out at some point.
2. Aluminum
One of the main reasons canned goods are harder to find in stores is the tight supply of aluminum, which is a major component in the manufacture of cans. Popular energy drink maker Monster Beverage found it difficult to keep up with the increased demand for their product. China's efforts to reduce its carbon emission slowed down the production of aluminum and other energy-intensive metals.
Rising gas costs in Europe have also caused a slowdown in production, leading to a shrinking global inventory. Breweries, in particular, increased their demand for aluminum cans partly due to their cheaper cost to transport as compared to glass bottles. Cans are also perfect for storage at home, making them popular for the stay-at-home crowd.
3. Semiconductors
The demand for advanced computer microchips is higher than ever, meaning the semiconductor supply will remain tight. From high-tech cars to 5G-ready smartphones, semiconductors are vital to modern electronics. Semiconductors have a notoriously complicated production process that is difficult to speed up, leading to a huge backlog in many major producers. Companies have started implementing "strip-down" strategies to reduce their dependence on certain chips, meaning their designing products with fewer features to accommodate for low supply.
4. Tampons
Stories of stocked-out feminine hygiene products in stores have gone viral on social media. viral on social media, stressing many buyers in the U.S.
Edgewell, a major personal hygiene producer, said that Covid-related staffing challenges in late 2021 and early 2022 contributed to supply issues. Major North American pharmacy chains such as CVS and Walgreens report stock-outs at several stores.
While tampons and other hygiene product inventory will likely improve, many retailers believe the shortage will last only a few weeks. Kotex, for instance, said they have plenty of stock.
3 Major Factors Behind Product Shortages
There are several reasons some goods are not filling up shelves and shopping carts: natural disasters, the spread of COVID-19, political unrest, and supply chain issues.
CEO and founder Bindiya Vakil of Resilinc, a company that uses predictive analytics to help build and sustain effective supply chains, explains, "Unfortunately, the supply chain is still quite a mess in that it is still playing catch up: Supply can't keep up with demand and we're seeing more and more products going into constrained and delayed stages. Reduced labor and truck driver shortages are in play; fewer people working means a significant drop in production. Whether it's problems at a packaging or processing facility, fewer truck drivers to get the food to the retailer, or not enough hands to stock shelves, ultimately, we'll see the impact at the grocery store."
The availability of these goods relies on three key components: raw materials, human labor, and logistics. If any of these break down, the entire supply chain suffers, leading to product shortages.
1. Lack of Workers
There aren't enough people making, moving, and selling the goods. Like the very goods they produce, there is a distinct shortage in skilled labor which has been caused by changing working conditions and low pay. The U.S. Labor Department reported a 5.5 million difference in job openings as there are workers.
Fewer people working meant production wasn't getting met. With workforce shortages in manufacturing factories, driving delivery routes, and stocking shelves, it makes sense to see even fewer products available for sale.
2. Russian-Ukraine Conflict
The Russia and Ukraine conflict is having a profound effect on global markets. It has disrupted global agricultural exports from Russia and Ukraine. These two countries are grain exporting powerhouses accounting for 24% of global wheat exports by trade value, 57% of sunflower seed oil exports, and 14% of corn from 2016 to 2020, according to data from UN Comtrade. They also supply 30% of the world's wheat.
Blockades and economic sanctions from other countries have taxed an already burdened logistics system, making travel and transportation more difficult and expensive to move goods in, out, and around the region.
What's more, is that Europe is heavily dependent on Russia for natural gas and crude oil. Russia is a major exporter of essential commodities such as precious stones and metals, leaving many businesses and manufacturers without Tier 1 and 2 suppliers. It has led to a rapidly dwindling supply of raw materials for production.
3. Natural Disasters and Climate Change
Floods, heavy snowfall, typhoons, and fires have all caused major disruptions in areas that house many manufacturing factories or transportation hubs. While these events mostly cause short-term delays, these problems can become a long-running issue. The issue is how unpredictable, and sudden disasters can be, and often there is little people can do to change that.
For example, the Texas power crisis caused by heavy winter storms shut down three major semiconductor factories while also closing major railroads, which are important routes for efficient supply chains.
The Impact of Product Shortages
According to a report from Morning Consult, around 41% of U.S adults report that shortages significantly hindered their prospective purchases from all retail segments in March 2022. Delivery speeds are noticeably slower compared to the same period in previous years.
The most pressing concern for consumers is the fear of inflation, with customers paying 8.5% more for goods this 2022 than last year. Yet as prices go up, demand is hardly affected as buyers are still willing to pay for items despite the more expensive price tags.
Business and political leaders want to create more sustainable systems for workers by promoting safer workspaces, comprehensive education and technical skills training, and resilient infrastructure. Some regions even offer generous incentives to companies to encourage them to move and establish production factories to stimulate local economies and provide high-paying jobs.
For consumers, responsible shopping is key to managing product shortages. Retailers are managing inventories, and hoarding is a wasteful practice that may also do more harm than good.
Business owners should set up risk management systems to deal with shortages and explore alternative sources of materials and goods. Investing in technology is a great way to streamline a supply chain and provide a better customer experience overall. By monitoring inventory levels and immediately connecting with suppliers, a business can forecast and adapt faster to sudden shifts and changes in the market due to unforeseen circumstances.
ZhenHub offers robust logistics software solutions that power your business to do more by accelerating growth through advanced technology. Control multiple fulfillment operations from a single dashboard and receive real-time data on your current inventory. It's easy to get started when you sign-up for now!.
Share Article