The Ultimate Last-Minute Black Friday 2020 Checklist for Retailers
Time to read:
5
minutes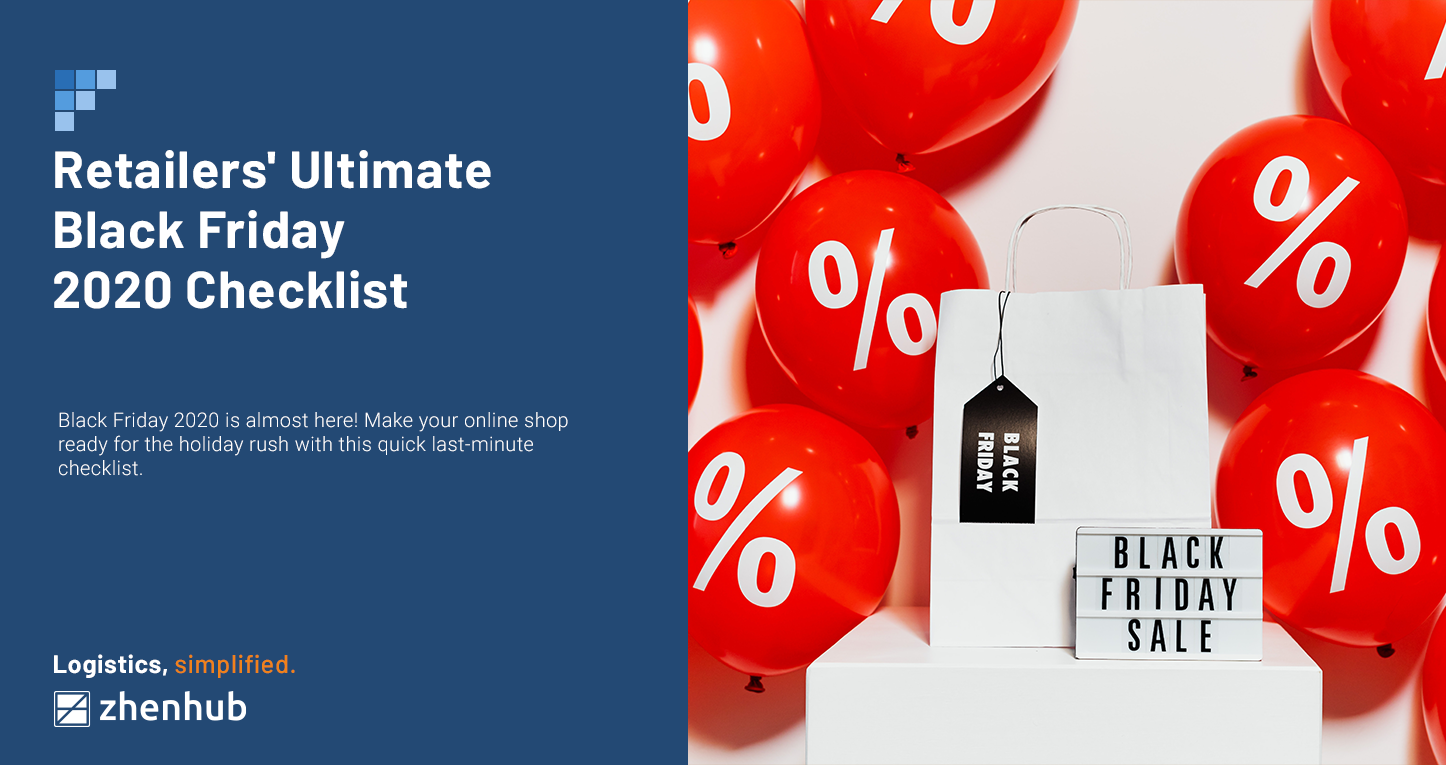 What is Black Friday 2020?
Black Friday 2020 marks the beginning of this year's holiday shopping season. During this time, both online and offline stores drop prices, offer deals, and give massive discounts, making Black Friday the busiest shopping day of the year in the United States since 2005.
As the COVID-19 pandemic rages on, social distancing measures have put the spotlight on the need for contactless shopping. And this consequently raises new challenges for sellers. Sure, adjusting to the new normal may introduce a lot of changes to Black Friday 2020 in terms of in-store foot traffic, but merchants seem ready to step up their game to cater to today's digital-first shoppers.
Why Do Retailers Have to Prepare for Black Friday 2020?
Being the peak shopping season of the year, Black Friday 2020 is not something retailers can just do on the fly. Demand will be at an all-time high. And if merchants want to stay competitive, then planning is critical. The digital shopping process must be seamless, or sellers risk losing business. After all, the holiday season makes up a considerable portion of a store's annual revenue.
The Last-Minute Black Friday 2020 Checklist for Retailers
Preparing in advance will give merchants more time to create buzz and pique market interest. Merchants can also implement contingencies designed to avoid potential hiccups that can be catastrophic for brand reputation and revenue. With two weeks left before the big day, it only makes sense for sellers to do last-minute checks to ensure their operations will run smoothly when the big day comes.
• Collaborate with 3PLs
A Convey study revealed that 84% of consumers would not return to a brand after experiencing one negative shipping service. This just goes to show that delivery fees and transit time are two factors that significantly affect a consumer's purchasing decision. In this light, sellers must coordinate with their partner 3PLs to ensure they are also ready for the anticipated influx of orders. Discussing realistic delivery times and available eCommerce shipping methods will make it easier for merchants to manage expectations and minimize negative reviews. Merchants also need to consider trackability as most buyers want to be able to monitor the movement of their packages in real-time.
• Do a Final Check on Inventory
Stock shortage is one of the most common issues retailers encounter during Black Friday 2020. It's a must for merchants to check whether their available inventory can handle the predicted increase in online orders or not. A top tip for sellers is to revisit their past records and conduct demand forecasts. This will determine the potential steam of online sales and evaluate how much inventory should be produced to prevent loss of opportunity.
• Pre-Pack Products
Time is of the essence when it comes to the busiest shopping season of the year. Pre-packing products ahead of Black Friday 2020 will help merchants shorten their turnaround time for the whole fulfillment process. Sellers may also strike up an agreement to pack items or bundle products in advance to make scheduling shipments with their partner fulfillment company a lot smoother and easier.
• Create Product and Gift Bundles
Grouping related products or commonly bought-together items is another strategy sellers can offer this Black Friday 2020. These product bundles actually enable sellers to give their consumers more value to their purchases. Buyers may see this as an opportunity to save 5 to 7%. Most importantly, it's a good opportunity for retailers to mark up revenue, boost product awareness, and maximize online sales without turning off the market.
• Consider Remarketing
Digital platforms are so saturated with templated marketing messages that only exhaust consumers during shopping seasons. This is why sellers need to make things "more personal" if they want to be at the top of consumers' minds. To stand out from a crowd of competitors, target segmentation and remarketing are effective ways to convey hyper-specific brand stories to particular market groups, making each customer feel more understood and valued.
• Ensure Website Capacity is Ready
Online buyers are not very patient. In fact, a Google research found out that 79% will stop purchasing from a brand if they encounter poor website performance. Come to think of it: who wouldn't get frustrated when a website crashes in the middle of an online shopping spree? With Black Friday 2020 still predicted to be the busiest time of the eCommerce year, merchants must take the necessary measures that would ensure their sites will be able to handle an abrupt spike in online traffic and order placements.
• Respond to Customer Feedback Promptly
Inquiries, refunds, and exchanges will be at an all-time high during Black Friday 2020. That's why merchants need to make sure customer support channels are equipped to handle this in-rush. Besides having an actual person or team assigned to manage customer feedback, retailers can also maximize technology by setting chatbots in place for frequently asked questions.
• Offer More Than One Shipping Method
Having two-day shipping may have been the standard for most eCommerce shops. But offering more delivery options can definitely be more advantageous for online store owners. The weeks leading up to Black Friday 2020 are the best time for retailers to explore expedited shipping with their chosen fulfillment centers.
Don't worry, it would not turn off potential customers. In fact, according to online publishing network Retail TouchPoints, 88% of consumers do not mind paying more for same-day delivery. With this in mind, sellers don't have to worry about additional cost since they can charge it on the shipping fee when a buyer checks out.
• Generate a Sense of Urgency
Generating a sense of urgency has long been one of the most effective marketing tactics for special promos and sales. The idea of scarcity pushes buyers to take quick action due to fear of missing out. While offering discounts for Black Friday 2020 is good, highlighting until when these discounts are valid has been proven to be more effective.
• Guarantee a Positive Checkout Experience
If sellers want to lower cart abandonment rates, a smooth and easy checkout experience is a must. Before Black Friday 2020 begins, retailers must triple-check their online shop's checkout process. Trying it themselves or asking family and friends to do mock shopping can identify potential roadblocks that turn off customers.
• Get Active on Social Media
Consumers often go on social media to see what brands have in store for them for Black Friday 2020. Sellers can take advantage of various platforms by engaging with their target market to boost brand awareness. From deals and bundles to price drops and limited offers, merchants can start publishing teasers on what their customers can expect a few days or weeks ahead of the shopping holiday.
• Be Transparent and Realistic
It is completely normal for sellers to satisfy their customers' demands, but overpromising and under-delivering can easily break consumers' trust. Retailers must remain transparent and realistic on what they can guarantee shoppers to manage consumer expectations. Being honest about delivery times and stock availability will make it easier for merchants to avoid poor customer experience and negative feedback.
• Plan Out Refunds and Exchanges
With sales potentially skyrocketing during Black Friday 2020, it is safe to assume that refunds and exchanges will rise as well. Retailers must be clear about their policies and coordinate with their 3PLs on how to manage these types of requests. Having a set process for refunds and exchanges will make it easier for merchants to take prompt action in the event that it happens.
• Identify Available Payment Methods
Offering multiple payment methods is an eCommerce strategy that can increase a seller's online conversion. From offering traditional ways to enabling a variety of accepted e-wallet payment modes, merchants stand a chance at reaching a wider target market and making more sales.
• Monitor, Track, and Adjust Accordingly
If a retailer is lucky enough to have a partner 3PL with an inventory management software, then tracking online store performance during Black Friday 2020 will be a breeze. Otherwise, sellers need to make sure they can monitor orders accurately. Doing so will allow merchants to identify trends and forecast demand. For instance, getting data on both the top and least-selling products will enable sellers to determine which items will require additional inventory to avoid stock shortage.
More than sales, what merchants need to focus on this Black Friday 2020 is to create a positive online customer experience. There is no such thing as over-preparing. Merchants who plan ahead are positioned to succeed in what has always been the craziest shopping season of the year.
Need a fulfillment center that can keep up with your business this Black Friday 2020? Give our 3PL experts a call or request a custom quote now.
Share Article