8 eCommerce Challenges to Conquer This Holiday Shopping Season
Time to read:
4
minutes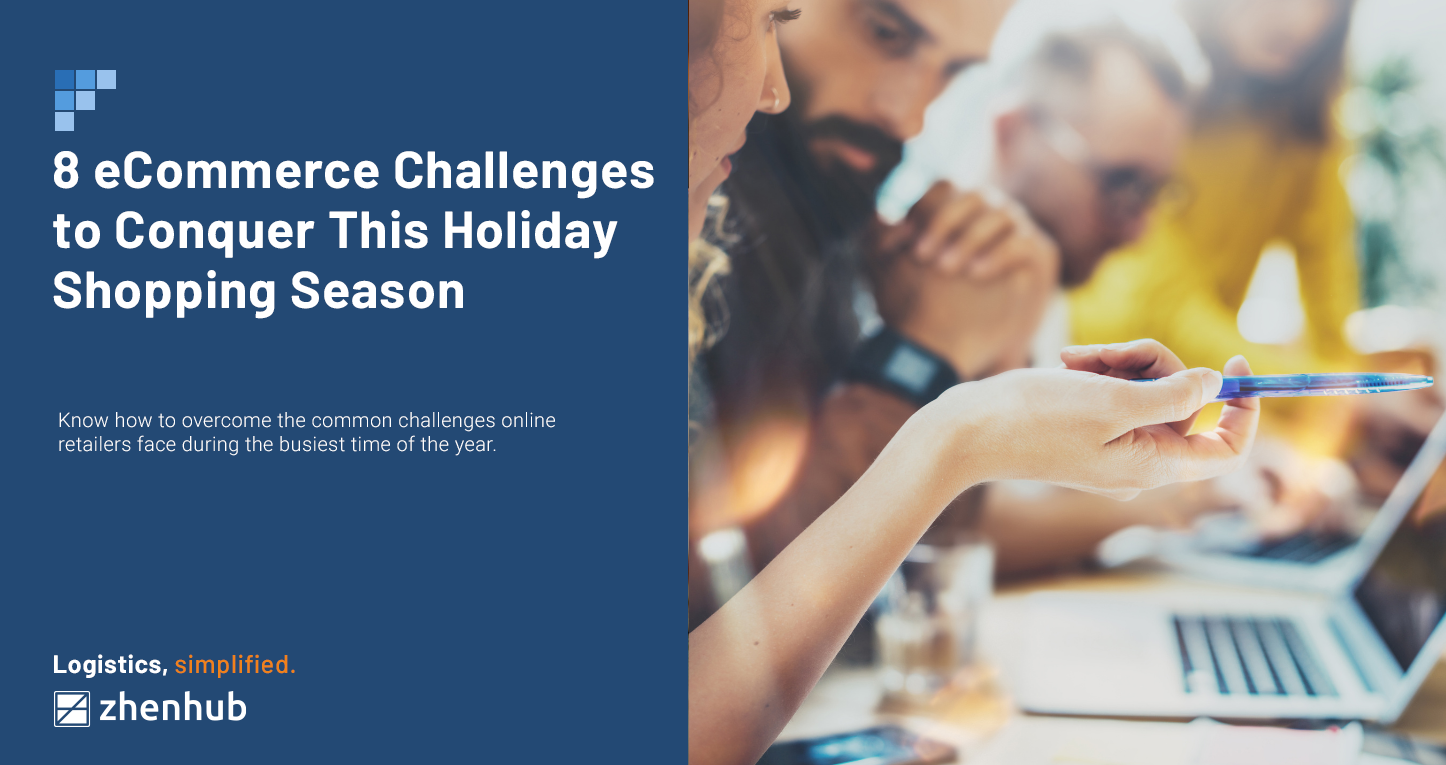 How Holiday Shopping Will Be Different This Year
The upcoming holiday shopping season will be different. Unlike previous years, there will be no more door-busting Black Friday and CyberMonday events. This comes as no surprise considering how the global health crisis has forced shoppers to rely heavily on digital platforms and contactless retail in the last few months.
With no sign of flattening the curve in many countries, the COVID-19 pandemic continues to transform the online shopping behaviors of many people. In fact, a Salesforce study found out that 58% of consumers expect to do more shopping online than they did before, while 80% of business buyers see themselves doing more business purchasing online even in the post-pandemic era.
More than convenience, shopping from the comforts of their homes offers safety and security that visiting brick-and-mortar stores cannot guarantee customers — especially during the rush of the upcoming holiday shopping season.
Challenges eCommerce Face During Holiday Shopping Season
All those months that people spent safely at home have definitely increased their appetite for a more seamless online shopping experience. To make sure online customers checkout whatever they added to cart, sellers need a strategy to overcome the most common challenges that await them this upcoming holiday shopping season.

Inability to handle the online traffic surge
With physical stores expecting lower foot traffic this year due to COVID-19, it is only natural for eCommerce to experience a significant bump in market share. An online store that cannot handle traffic surge would face a higher chance of experiencing slow loading time or, worse, a website crash. And for consumers, this is enough reason to explore competitor brands.
Just look at what happened to Costco last year. The retail giant reportedly lost $11 million in Black Friday sales when their website went down for over 16 hours during Thanksgiving.
To prevent downtime, merchants must first check the capacity of their web hosting plans. This will help them decide whether an upgrade to a higher bandwidth is necessary to keep up with potential site traffic. Online store owners should also set up reliable customer support in case an unprecedented crash occurs.
Disregarding the "mobile" market
A study done by market and consumer data provider Statista revealed that by 2021, mobile eCommerce or m-commerce would make up 72.9% of the total online retail sales. This growing market should motivate merchants to start creating a positive mobile experience for their clientele. From developing mobile apps and having a mobile-responsive site to optimizing social commerce platforms on Facebook or Instagram, sellers are setting themselves up to succeed beyond this holiday shopping season.
Not making the experience personalized
Another advantage of eCommerce over traditional retail is the ability to make the shopping experience more personal. Online sellers' access to consumer data makes this possible as these pieces of information enable business owners to nurture more profound connections with their audience.
Amazon does this well through a suggestive selling strategy called "item-to-item collaborative filtering." This feature uses a data-driven algorithm that's based on a consumer's purchase and search history. It also reviews a specific item and the types of complementary products users commonly view or buy.
Merchants do not have to be a fulfillment giant like FBA to maximize an upsell feature. Many eCommerce platforms and website plugins are now available for a plug-and-play recommendation algorithm, making the personalized shopping experience easy to implement.
A complicated check-out process
The most considerable consumer drop-off rate commonly occurs on an online store's checkout page. Sometimes, an eCommerce shop's conversion rate remains low, no matter how easily navigable its website is. And more often than not, a complicated checkout process is to blame.
The quality of an online store's checkout process is rooted in how easy and seamless it is for online shoppers. Requiring consumers to sign in before checking out is the number one conversion killer. Instead of forcing shoppers to create an account, merchants can enjoy lower cart abandonment rates by simply allowing guest checkouts.
Stock-Outs and Exhausted Inventory
Consumer demand during the holidays may be unpredictable, but one thing is for sure: People are still more willing to spend during this time. Sellers who cannot do inventory planning are more prone to stock-outs, which may lead to a string of frustrated potential buyers. To avoid this situation, merchants should analyze their own sales history, paying close attention to their customers' past holiday shopping behaviors. Identifying patterns and trends can be helpful in terms of anticipating demand to manage inventory effectively.
Having Poor Customer Service
Customer service is an excellent way for retailers to make the holiday shopping experience a more personal one. However, it is often one of the most neglected channels. Poor customer service could be that last straw to convince shoppers to abandon their carts.
Consumer engagement service provider Bold360 has proven this. Based on their study, an online shopper who uses a webchat is more likely to spend 60% more than those who don't. Sellers who have an engagement strategy in place can maximize revenue opportunities while optimizing customer experience at the same time. For instance, a chat portal can function both as a customer support channel and a less-intrusive pop-up for upselling and cross-selling. Being able to answer an inquiry at the right time, in the right way, is a great strategy to increase conversions.
Inefficient Refund and Exchange Program
Unclear and unfair returns and exchange policies can turn off online shoppers. In fact, eMarketer reveals that more than half of consumers will not do business with a brand if the refund and exchange program is too strict or too vague. What retailers can do is to be completely transparent about their provisions. The key is to find the perfect balance where merchants can protect their business without disregarding customer preferences.
Mismanaged Shipping and Delivery Expectations
Buyers often look for free shipping or same-day deliveries when shopping online. So, sellers should consider expanding their shipping methods to appease all types of markets.
It is also equally important for retailers to manage customer expectations. Since the holiday season is also the busiest time for fulfillment centers and courier companies, business owners must clarify to their partner 3PL providers how and when to deliver their orders to their customers. Being transparent on shipping fees and transit time can minimize the chances of getting angry customers and negative reviews.
---
The holiday shopping season is the last leg of the year when retailers can make game-changing revenue. To guarantee a smooth-sailing year-end campaign, retailers must set contingency plans in place. It is not just about conceptualizing holiday deals but also about preparing a strategy to avoid eCommerce's most common pitfalls during the holidays.
If you want a reliable 3PL to keep up with customer demand this coming holiday season, do not hesitate to give ZhenHub a call! Our team of experts would be more than willing to provide you a custom quote for your order fulfillment requirements.
Share Article