How to Choose the Best Fulfillment Company for Your eCommerce Business
Time to read:
5
minutes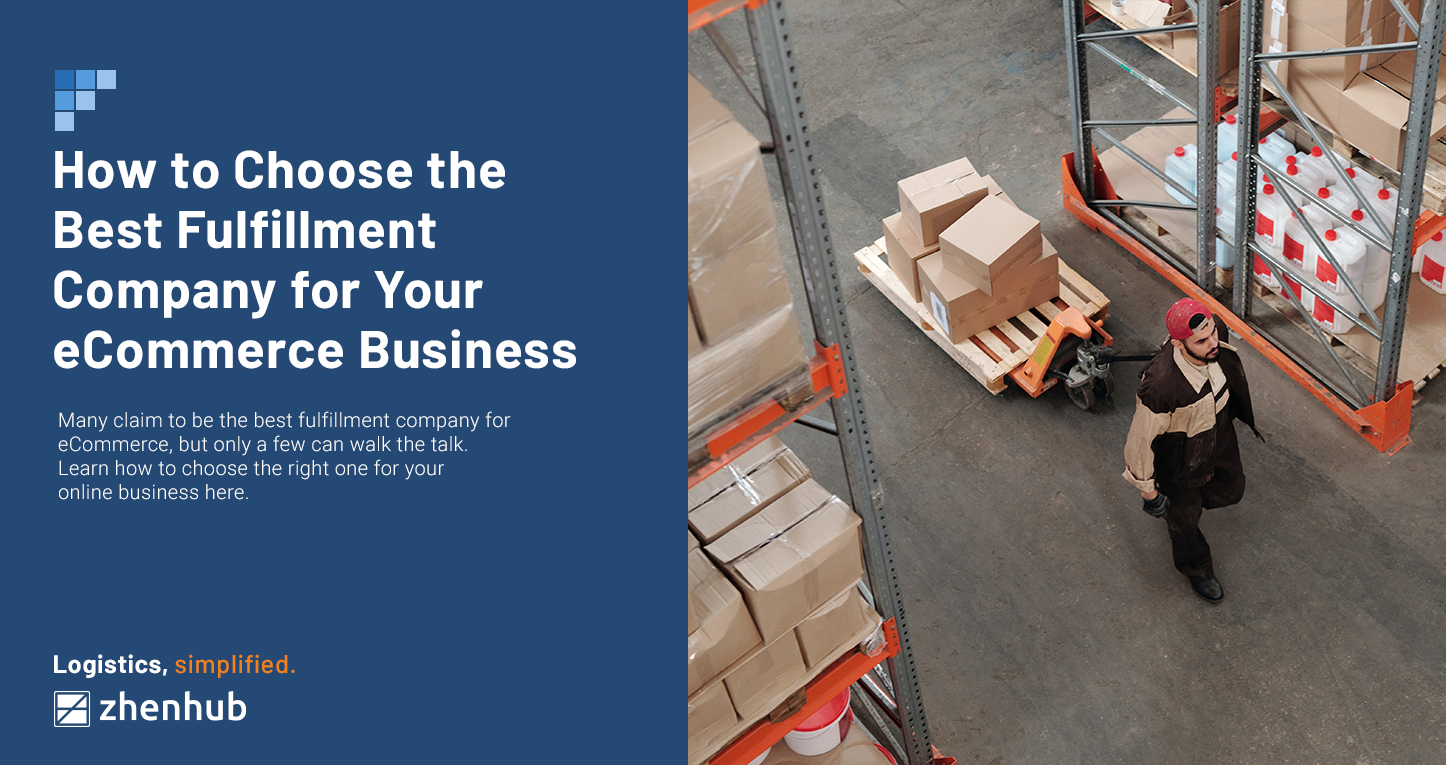 What does an eCommerce Fulfillment Company do?
While self-order fulfillment seems practical for start-up merchants, those trying to scale their businesses are finding out it is not enough. Expanding companies need more help especially in terms of operations. And this is why most of them are trying to find the best fulfillment company for their ventures.
Tapping additional assistance from fulfillment companies can ensure that sales operations are running smoothly even with an increase in market demand. This is possible because third-party logistic (3PL) companies are more equipped in carrying out the complete order fulfillment process. This leaves online retailers with more time to focus on their business expansion without constantly worrying about inventory management, storage, packaging, labeling, and shipment of their goods.
Choosing the Best Fulfillment Company: What to Look For
With so many 3PLs out there, it can be overwhelming for sellers to identify which one offers shipping solutions that would suit their requirements. There are various factors retailers have to consider when it comes to choosing the best fulfillment company. These are 10 of them:
There is more to a fulfillment center than the years it has been in the industry. Just because a 3PL has only been around for five years doesn't necessarily mean it offers less credibility or quality of service. On the contrary, there is even a good chance that start-up fulfillment companies are ahead of their older counterparts when it comes to technology and efficiency. More than company history, brand promise is a far more valuable aspect to evaluate for merchants. It is a reflection of the kind of customer experience they can expect from their chosen 3PL in every interaction and transaction that will occur within the partnership.
Sellers turn to the best fulfillment company to lighten their load. So, it only makes sense to consider how much work in the process 3PLs can take off their plates. The basic responsibilities merchants can outsource to fulfillment companies include shipment pickup, warehouse storage, packaging, labeling, and delivery. Other things retailers can consider are trackability of shipments, insurance, shipping discounts, refunds, and returns management.
An average eCommerce product weighs five kilograms or less. This is why most fulfillment centers offer management of shipments within that parcel weight range. But there are some 3PLs that can handle items with an average order weight of five kilograms and more. If a retailer regularly ships goods with varying parcel weights, then looking for a 3PL partner that features more flexibility or allowed weight range is the best way to go.
Average Monthly Order Volume
The more orders a seller ships each month, the easier it will be to negotiate discounts with fulfillment centers. 3PL companies with a required minimum monthly order can make it challenging for merchants to look for more flexible terms. While they are fulfillment companies that do not have a monthly minimum order volume, retailers have to be ready for this since low shipment volumes often cost more.
SKU, or stock keeping unit, is a variable that can affect how much it will cost sellers to outsource order fulfillment to 3PLs. A larger SKU breadth means there is more inventory to manage. eCommerce businesses with minimal order volume often prefer fulfillment centers that do not have an SKU breadth requirement since these 3PLs can accommodate shipments regardless of SKU number.
The best fulfillment company has a vast network across states and countries. Fulfillment centers with multiple warehouses in different locations can make it more cost-effective for sellers who cater to both local and international markets.
Refunds and product exchanges are part of running an online or offline business. But the process is much more complicated in eCommerce compared to brick and mortar stores. Refunds and exchange management is something sellers need to discuss with fulfillment centers to ensure they have processes and policies to address them.
This generation of buyers expect shipments to be trackable. But of course, not all fulfillment companies have the technological resources to make it available. With transparency being a crucial factor to an online shop's success, going for 3PLs that will enable both sellers and consumers to track shipment movement in real-time is the only way to go.
Insurance can incur additional costs for sellers, but it is something that they can leverage on, especially in the event of shipping issues. Getting insurance will allow merchants to have an action plan ready if a customer complains about broken or missing products due to mismanaged delivery.
Many things can go wrong from the moment a 3PL picks up and delivers a shipment to the customer. 3PLs claiming to be the best fulfillment company guarantee reliable customer service that sellers can promptly and quickly get in touch with.
Common Issues with Fulfillment Companies
Even the best fulfillment company is not perfect. 3PL companies are both human and technology-driven, which means they have their own industry flaws. It is crucial for entrepreneurs to be familiar with the common concerns surrounding 3PL service in order for them to collaborate and set a strategic response plan together.
One of the most common issues sellers have about 3PLs is the packaging. Some fulfillment centers just use any box without regard to the item. And this often results in having customers receive the goods in less-than-stellar condition. To avoid this, merchants must communicate their packaging needs to their chosen 3PL.
If sellers are not too cautious about pricing transparency, they might end up getting unpleasantly surprised with additional fees. What can online merchants do, then? Simple: Obligate fulfillment centers to break down costs to steer clear of hidden charges.
Nothing tarnishes a seller's reputation worse than having partners who can't commit to scheduled shipments. To make sure shipment delays are covered, retailers can request guarantees like refunds from 3PLs.
For sellers, there is nothing worse than having an urgent matter linger unaddressed. The best 3PL will have multiple support channels for easy and instant communication, such as an FAQ page, a website chat portal, or a customer hotline.
Transparency is not just about trackability. It's also about a clear provision of inventory management and shipment process to sellers. The visibility of the stock movement enables merchants to streamline the supply chain, forecast market trends, and improve overall customer experience. Sellers have the right to demand full transparency on how their products are being managed from pick-up to delivery. Good thing most fulfillment centers have available software or order fulfillment dashboards, which allows retailers to access inventory status in real-time, from anywhere, through a simple mobile or web app.
Merchants need to look at their chosen 3PL as an extension of their brand. By outsourcing to a fulfillment center, retailers are essentially trusting them with their reputation. It's only necessary for retailers to do their research, so they can clearly identify their business needs and compare vendors.
If you are an online seller searching for the best fulfillment company and warehousing service provider that can grow with you, look no further than ZhenHub. Here, we make it a mission to provide tailor-fit fulfillment and logistics solutions to each of our customers. Get in touch with our experts and let us discuss what you need to scale your business.
Share Article