Amazon FBA Inventory Storage Limit 2021
Time to read:
4
minutes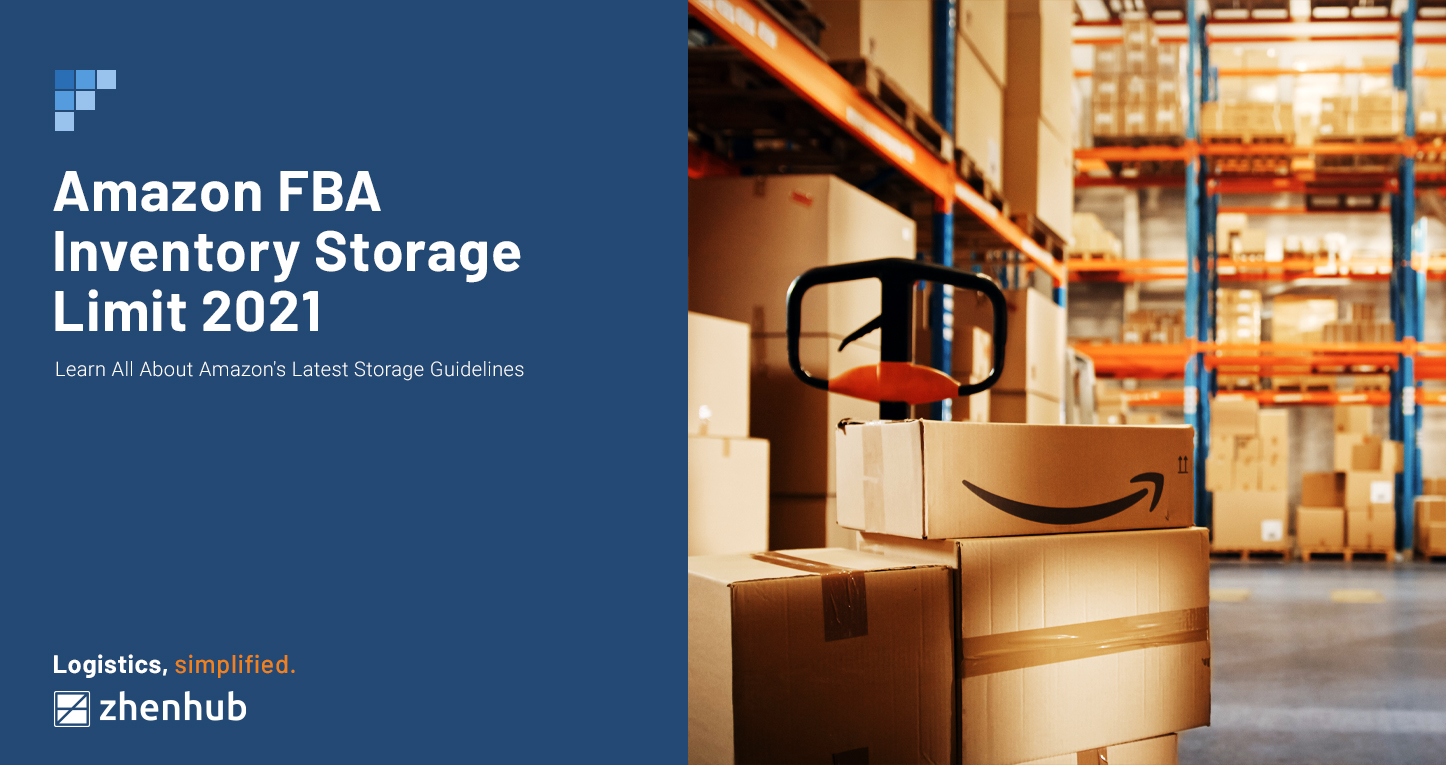 Amazon remains incredibly helpful for smaller and medium businesses competing on a global stage. The marketplace has allowed them to broaden their market reach and increase profit margins. But Amazon is notorious for throwing its sellers for a loop with constant updates and changes on their policies.
The platform recently released updated guidelines on their inventory storage limit policies. These new guidelines would have been another thing to deal with when doing business with Amazon. But with the peak holiday season fast approaching, this new update could prove more challenging than usual. It is crucial for retailers selling on the marketplace to be familiar with the current guidelines for inventory storage.
Amazon FBA Inventory Storage Limit 2021 Updates
2020 saw incredible changes to the eCommerce landscape. From Q2 to Q4 of last year, online sales grew by a whopping 39% — that's a huge spike compared to Q1's growth at only 14%.
This boom has been a boon to eCommerce retailers. However, the demand has pushed Amazon inventory storage limits— which is why the marketplace deemed it necessary to amend its guidelines and requirements to keep up with rising consumer orders:
Amazon FBA Storage Limit Restrictions
Different seller accounts are subject to various storage limit restrictions. According to Amazon, these limitations are necessary to manage fulfillment center storage space better:
Individual Seller Accounts
Individual seller accounts have a permanent limit of 10 cubic feet. These accounts aren't subject to change or an increase.
Professional Seller Accounts 
Professional seller accounts may or may not be subject to Amazon Inventory Storage Limit 2021. Their limits depend on two factors:
Maintaining an Inventory Performance Index above the current threshold. 
Being a new seller with less than 26 weeks of recent selling activity
Professional accounts with storage limits should note that their limits get calculated against three criteria – sales volume, historical IPI scores, and the available space in Amazon's fulfillment centers. Storage limits or otherwise, all professional seller accounts enjoy a minimum of 25 cubic feet of storage for standard, over-size, clothing, or footwear inventory.
It is important to note that with the new storage limit policy, sellers aren't allowed to ship new inventory until its levels drop to storage limits for the specific storage types.
ASIN-Level Restock Limits
From April 2021, FBA restock limits are based on the storage-type level instead of the ASIN level. It means that sellers no longer have restock storage limitations for each ASIN or product. Inventory limits now get based on available space, not individual units.

Amazon calculates restock limits on past and forecasted sales. The marketplace announced that they would routinely assess a seller's capacity based on the factors above.
Available Storage Types
Amazon has yet to announce any changes with the storage types. Sellers are still not able to adjust the category under which their inventory falls. Likewise, each product only falls under one category. The marketplace determines the storage type for the stock based on the physical characteristics of the item:
Standard Size
Oversize
Apparel
Footwear
Flammable
Aerosol
Inventory Storage Overage Fees
Sellers whose inventory exceeds Amazon FBA inventory storage limit 2021 for any given month need to pay an inventory storage overage fee. This fee goes on top of monthly inventory storage fees and, if applicable, long-term storage fees. This penalty is calculated based on the number of days the storage limits exceeded.
Inventory Performance Index or IPI
The Inventory Performance Index determines the capacity of a seller to manage their inventory. It's a score given by Amazon and can be anywhere from 0 to 1000. At the time of writing, the IPI threshold for storage limits is 450. Three factors determine a seller's IPI. Amazon has yet to discuss specifics on how they calculate the score, but the factors below are its main determinants:
Reducing excess inventory
Increasing sales
Ensuring that all inventory or stock is "buyable"
What are Inventory Storage Limits?
To optimize their logistics process, Amazon set inventory storage limits for their FBA sellers. Previously, the marketplace has been lenient with its storage restrictions. It was not until 2020 and the tremendous influx of orders when the platform became more stringent with the policies of its Amazon FBA inventory storage limits.

Amazon evaluates its sellers every month. There are indicators located on a seller's homepage that illustrate the amount of storage space remaining:
Green indicator: Inventory levels are at 75% or less.
Yellow indicator: Inventory levels are between 76% and 90% of the limit.
Red indicator: Storage is reaching capacity. Inventory levels are at 91% or more.
Maximizing Amazon FBA Inventory Storage Limits
For the most part, there isn't much sellers can do to contest Amazon FBA inventory storage limit 2021. That said, there are ways retailers can maximize the storage limits Amazon assigns to them:
Prioritize Most Profitable Products
In April, Amazon lifted its storage restrictions at the ASIN level. Sellers can now choose the products in their inventory that deserve more of their allocated space. To make the most out of the update, it's best for retailers to stock on their best-selling products and process an order removal for slower-moving items.
Amazon evaluates a seller's monthly sales to determine the amount of space they can enjoy in their fulfillment centers. In general, the more a retailer sells, the more space Amazon provides to them.

There are plenty of ways to drive more sales. Listing optimization is an effective way to boost visibility. Likewise, securing an exclusive deal with a supplier can help sellers corner the market with high-in-demand products.
The Amazon FBA inventory storage limit 2021 announcement has been met with mixed reviews by sellers from across the globe. Good or bad, retailers need to adapt to these changes in time for the holiday season. Moreover, they need to prepare themselves for even more updates as the year closes.

Succeeding on Amazon as a small business is a complicated affair. That said, the right logistics partner can increase your chances of beating out the competition. For your Amazon logistic needs, ZhenHub can provide the expertise you are looking to use for business endeavors. Our tech-based tried and tested logistics products produce results, helping thousands of retailers worldwide. Reach out to us today and achieve eCommerce retail success.
Share Article