Everything You Need to Know When Shipping from Taipei to USA
Time to read:
4
minutes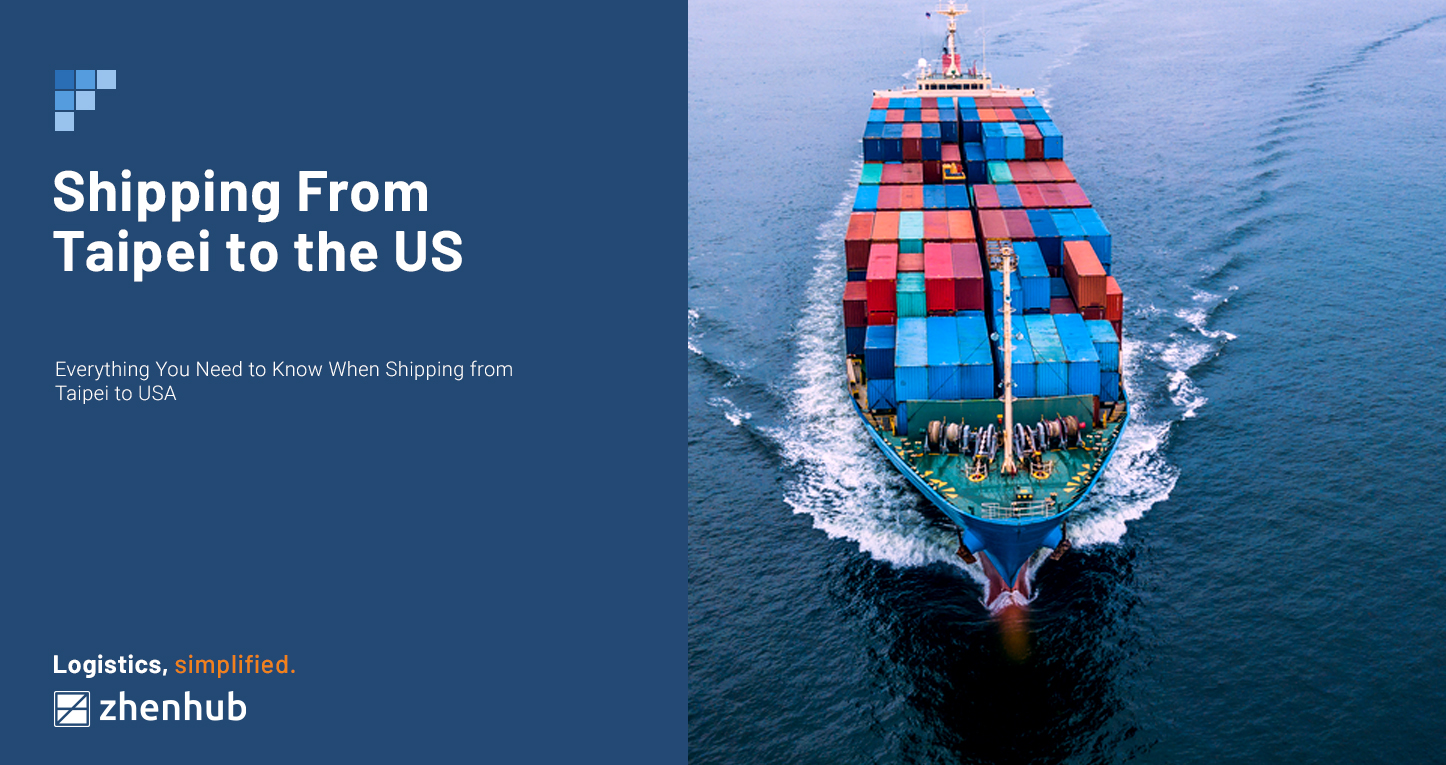 Compared to local logistics, cross-border shipping is a complex process as most countries have specific customs regulations. And global shipping is necessary for eCommerce retail companies to have a leg up on the competition. You can expand your market reach internationally and get increased profit margins. That's why retailers need to be well-versed in these rules and policies to avoid customs problems and shipping delays.
And for the last several decades, China has been the center of all things manufacturing, sourcing materials, and goods. If your company wants to be global, it's essential to have manufacturing partnerships and agencies in China. But now, companies are looking at Taiwan as the next-generation industrial and shipping hub. Why?
For starters, Taiwan is the United States' second-largest trading partner  – second only to China. The country also dominates in tech manufacturing, with over 60% of semiconductor production done within Taiwan. 
It's in the eCommerce retailer's interest to know the best locations to secure inventory at the best possible rates. Understanding the intricacies of shipping from Taiwan to the United States could be pivotal in the present and future international trade. This article explores logistics options when inventory shipping from Taipei to USA, including costs, shipping times, and top ports.
Shipping from Taipei to USA: Freighting Options
The last few years saw the growth of Taiwan as an international business center. As such, retailers have four options when it comes to inventory shipping from Taipei to USA:
Otherwise known as Full Container Load Freights, shipping through FCL Sea Freight is ideal for operations that deal with large products or a large inventory. This option entails paying for the shipment of the entire container. The suppliers seal the items in the container and leave them untouched until they reach the destination country.

There are three types of full-load containers, and they vary based on the size of the shipping container itself. Retailers can choose from 20 ft. (33 CBM), 40 ft. (66 CBM), and 40 ft. (76CBM) size containers.
LCL Sea Freights or less than container load sea freights is the best option for shipments that are low in quantity – amounting to less than 15 CBM. Through LCL sea freights, shipments going to the same destination get combined within a single shipping container. Once the container arrives at its destination, the items are divided and shipped to warehouses via trucks.
Airfreight is the fastest way to ship relatively large shipments from Taipei to the United States. It is best suited for smaller inventory shipments less than 500 kg.
It's the most expensive of all freight inventory options. However, it does give retailers the flexibility of delivery time and costs. But expedited shipping is costly. Customers must pay more if they want their orders to arrive faster.
Express shipping is the fastest means to get items from Taipei to the United States. However, due to sizing limitations, this option can only accommodate smaller shipments like samples and prototypes.
Total Cost and Travel Time of Shipping from Taipei to USA
The costs and shipping durations are often the essential factors retailers consider when choosing the right freighting option for their needs. Generally, the shorter the wait, the less expensive shipping costs would be. 
FCL sea freights are computed on a container basis. The cost usually depends on the distance between the origin and destination. On average, shipping from Taiwan to the United States costs anywhere from $1500 – $3500 per container. Containers reach the United States within a month after their departure.
Unlike the full container load option, the cost of shipping via LCL sea freight is computed per cubic meter. But the wait time is far longer. Shipping companies fill up containers before preparing them for dispatch. Once the ships sail, the containers reach their destination within the month. However, retailers must consider the wait time in choosing the best freighting option for their needs.
Pricing air cargo takes into account the dimensional and the actual weight of the parcel. Carriers often consider the more significant value when pricing the load. Again, the shipping duration is flexible. Retailers can choose from economy, standard, and emergency air shipping options.
Express shipping is computed based on a per kilo basis. On average, retailers can expect to pay at least $500 for a parcel that weighs around 50kgs. With express shipping, packages are delivered right to the warehouse within 1 – 4 days.
Major Shipping Points in Taiwan and the USA
There are several factors to be considered when shipping inventory from Taiwan to the United States. It is crucial to determine the ideal ports where it gets dispatched from and its destination. The best ports are often the location that is central to the supplier's headquarters as well as the retailer's warehouse.
Top Ports in Taiwan

An-Ping
Hualien
Kaohsiung
Keelung
Mailiao
Ma-Kung
Su-Ao
Taichung
Taipei
Top Ports in the US

Louisiana
Houston
New York and New Jersey
Port Newark
Beaumont
Long Beach
Hampton Roads
New Orleans
Corpus Christi
Greater Baton Rouge
Los Angeles
Ways to Keep Shipping from Taipei to USA Costs Manageable
When it comes to eCommerce, shipping and logistics account for a massive portion of the overhead expenses. This expense doubles in magnitude once international shipping gets computed.
It's best to prepare in advance and avoid the peak season challenges to keep costs at a minimum. Carriers put a premium on rush orders made, especially during the holiday season. The hike applies to all types of freight options. 
Likewise, new eCommerce players should work with a logistics company for international shipments. The experts can ensure that all necessary documents are in place and cargo will not be held by customs. 3PL companies can often secure the best prices for their clients. Partnering with a logistics company is an investment at the onset, but it assures considerable savings in the long run.
Again, the process of shipping from Taipei to USA is complicated. Mistakes, even small ones, can end up impacting profit margins and even affect customer satisfaction.
ZhenHub can help you through this challenging transition. With our support and expertise, you can rest assured that your products will get to your local warehouse on time and in excellent condition. We are eager to help! Reach out to us today to learn more about our tech-based logistics solutions or request a free quote to kick things off.  
Share Article