6 Benefits of Using a Multi-Carrier Shipping Software
Time to read:
4
minutes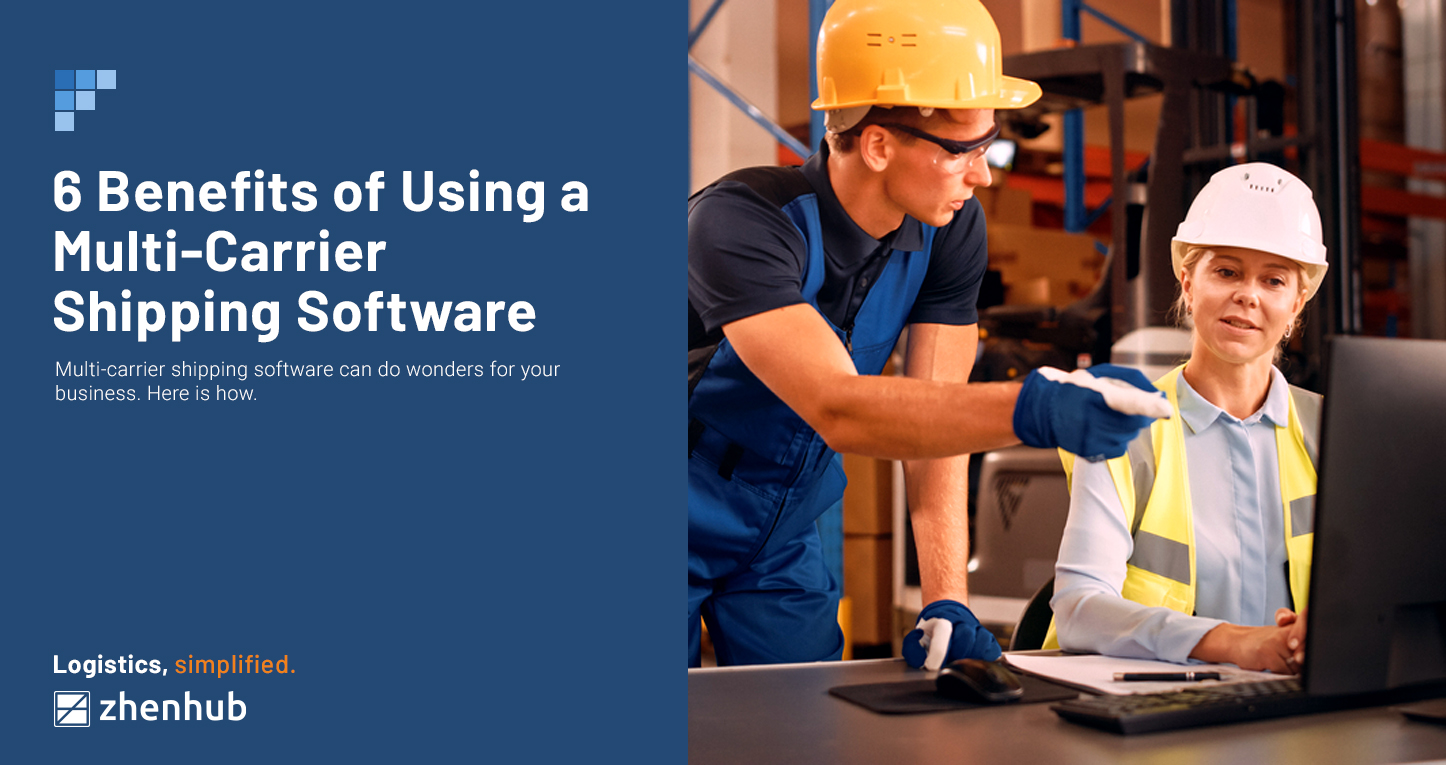 The eCommerce industry is steadily growing despite the global pandemic. It pushed more people to do more online transactions. The eCommerce sales increased from 16% to 19% in 2020. Want more figures? The number of consumers who purchased items online ballooned by 4.4% over 12 months. There are approximately 900 million more online shoppers this year than in 2020.
While we're moving towards the end of this pandemic, the shift in consumer habits is here to stay.
Unfortunately, despite the growing trend, traditional logistics have yet to keep up with the demand. The surge of online orders increased delayed packages and damaged freight. During the holiday rush of 2020, over one million packages did not make it to customers on time. 
There are plenty of factors that contribute to shipping delays. One of those issues was working with only one carrier. In 2021, Carrier-Supplied Platforms should be a thing of the past. Multi-carrier shipping software is crucial to meeting high demands and even higher customer expectations.
What is a Multi-Carrier Shipping Software?
Comparing carrier rates is a time-consuming and tedious task. The cost often doesn't reflect the quality of service. A higher-priced service doesn't guarantee on-time delivery every time, especially during a shopping surge. Tapping multi-carrier shipping software can free retailers from this burden and make the order fulfillment process easy for them and their customers. 
At its core, multi-carrier shipping software consolidates, streamlines, and automates the shipping process. These platforms sync with a retailer's eCommerce website, pull order information, compare carrier rates, and present users with the best shipping option for a specific package.
What are the benefits of using multi-carrier shipping software?
One of the best things about multi-carrier shipping software is its automated feature of comparing carrier rates and choosing the best course of action for each order. It streamlines the shipping process and provides retailers with the most affordable and efficient shipping option.
Below are a few benefits of incorporating multi-carrier shipping software into your strategy:
One of the biggest draws of transitioning to a multi-carrier shipping platform is the reduction of carrier costs. Again, the software will automatically compare shipping prices and provide the best rates. Based on the experiences of most eCommerce retailers that have made the shift, forgoing carrier-supplied platforms saved them 35% on shipping expenses.

More than the comparison, multi-carrier shipping companies offer further discounts through partnerships which is a great way to reduce shipping costs.
Carriers have resorted to two approaches to address the unprecedented influx of packages during surges: refusing to pick retailer packages and hiking their delivery prices. Both of these methods can hurt an eCommerce operation.

Aside from minimizing costs and forgoing the carrier surcharge, a multi-carrier shipping software also minimizes delays. Through these platforms, retailers can rest assured that no carrier would refuse their packages.
Some retailers choose to transact with multiple carriers to avoid delays in shipment. Truth be told, shipment tracking through different carrier platforms can be a nightmare. It leaves too much room for error.

Multi-carrier shipping platforms provide an easier means to track the status of orders. Aside from monitoring the package locations, this software allows businesses to track where shipments are coming from as well as the overall costs of shipping.
Choosing to package orders manually isn't the most efficient or sustainable means to prepare orders for shipment. Often, eCommerce companies outgrow this method rather quickly. Automating the printing of shipping labels also helps reduce human errors, which can be expensive mistakes. But sometimes, even with due diligence, mistakes do happen.
Multi-carrier shipping software automates the manual process of printing and assigning shipping labels. Through this feature, retailers can focus on other tasks without being bogged down by the possibility of a mistake.
Simpler Data Consolidation
As mentioned earlier, eCommerce operators usually transact with more than one carrier through carrier-provided platforms. Dealing with multiple databases and data sources can make it difficult to see the supply chain and even its operation. Multi-carrier shipping software consolidates all information in a straightforward interface. Users can quickly locate all shipments, quotes, and even the entire operation's spend history.
Ease into International Orders
Maintaining an international presence provides a new revenue stream for most online retailers. That said, nothing about global order fulfillment is easy, especially with traditional shipping methods. Each country has its customs or import duties requirement, and it is challenging to ensure that all packages are compliant. 
There is multi-carrier shipping software that can manage international packages. It ensures that all packages, international or otherwise, adhere to the rules and regulations of the receiving country.
Factors that Make a Great Multi-Carrier Software
Multi-carrier shipping software streamlines the shipping process. That said, it is crucial to find platforms that will fit a retailer's specific needs. It isn't a one-size-fits-all, and software that works for one company might not suit another.
Retailers must consider customer service while vetting multi-carrier shipping software providers. Especially for those new to eCommerce, having a partner available to answer any of your questions is key to reaping all the platform's benefits.
Business decision-makers also need to think about integrating automation capabilities. The more automation capabilities a software provides, the better it would scale with a company.
The right multi-carrier shipping software can optimize an operation by leaps and bounds. This shipping strategy can minimize delays and, in turn, improve customer satisfaction. That said, choosing the right software is vital to making the solution work for your business. Thankfully, you don't have to make the decision alone.
ZhenHub offers a slew of tech-based logistics solutions that are customizable to your needs. With years of cumulative experience, we have become experts in seamlessly shipping packages from point A to B . Learn more about our multi-channel fulfillment services by reaching out to us today or request a no-obligation quote now. 
Share Article