ASEAN eCommerce: Local versus Cross-Border Fulfillment
Time to read:
4
minutes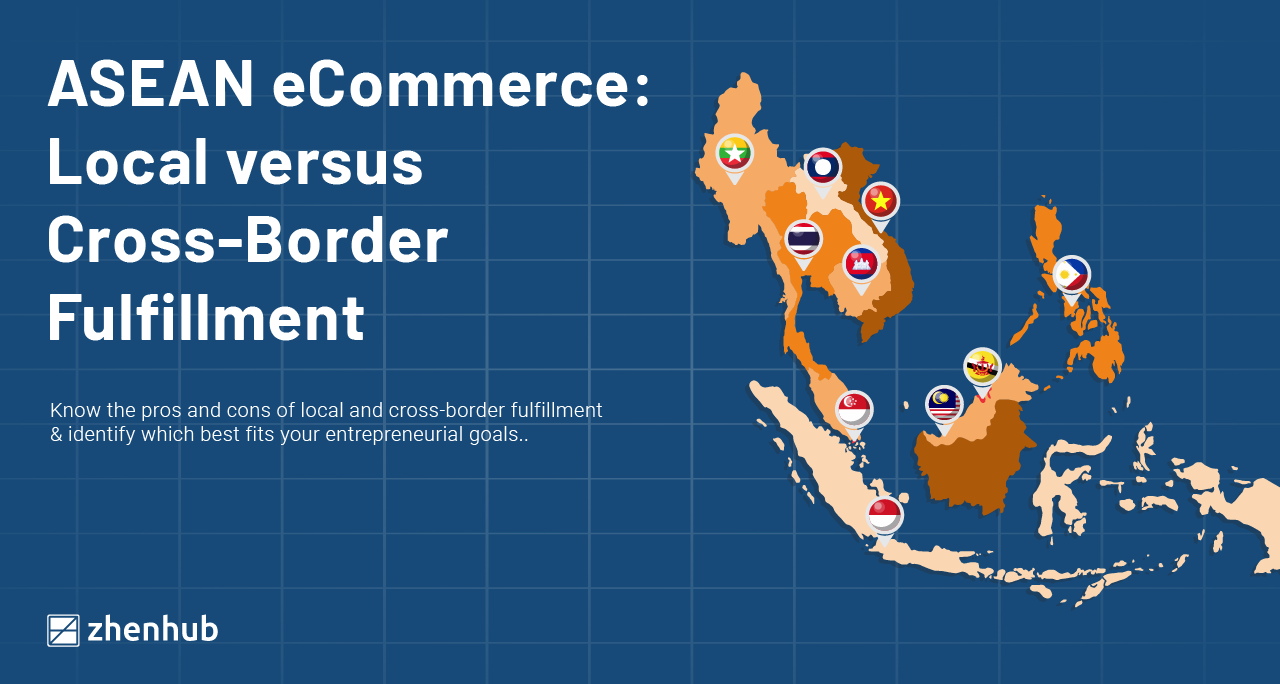 Over the last few years, Southeast Asia grew to become a major player in the eCommerce market. With four million new internet users going online each month, the region's eCommerce expansion rate is undeniably rapid. In a Statista report, this market will generate more than $172 billion in eCommerce revenues by 2025.
Emerging powerhouses like Indonesia, Vietnam, Cambodia, and the Philippines, are going through a digital revolution with an expanding middle class, a growing median income, and a deeper mobile and internet penetration. Southeast Asia is the next gold rush for international eCommerce operations through cross-border fulfillment or localized fulfillment.
Local retailers struggle to provide a steady supply of inventory for the rapidly increasing consumer product demand. The thriving market is indeed prime for the entrance of established and new international eCommerce players. Nevertheless, expanding to a new market, especially one in its infancy, is a challenge even for retailers that have been in business for years. One of the struggles lies in choosing between cross-border fulfillment and localized fulfillment.
Read on to find out more about the differences between the two fulfillment options – the pros and the cons, and determining the correct fulfillment means for an operation.
What is Cross-Border Fulfillment?
Cross-border fulfillment involves shipping inventory from one country to the other. This type of order fulfillment doesn't require retailers to have a physical warehouse within their service locations. Instead, eCommerce companies operate on a cross-border fulfillment model stocking their inventory in a central warehouse with access to their service regions.
Since parcels cross borders, orders go through customs and are subject to different regions' import duties, tariffs, and taxes.
What are the Advantages of Cross-Border Fulfillment?
Expanding to a new market can be rewarding, but there are certain risks. Fortunately, cross-border fulfillment is a cost-effective means to enter into a brand new market without running the risk of significant loss. Below are a few advantages of this fulfillment model:
Ability to Test the Market
Building a physical presence in a new region can be an ordeal. Between vetting locations, renting a warehouse, and hiring a workforce to manage it, it can get costly, especially for smaller operations.
For small and medium businesses, cross-border fulfillment at the onset of the expansion is a great way to test a product's viability or service within a new region. It is a significant first step towards global growth with minimal risks and investment.
Minimal Set-Up Requirements
With cross-border fulfillment, retailers only need minimal integrations and set-up to jumpstart the expansion process. All the work happens in the background. Through this fulfillment model, retailers can tap cross-borders third-party fulfillment partners to work out customs, taxes, international shipping rates, and international returns.
What is Localized Fulfillment?
Localized Fulfillment involves managing a warehouse within the country or region a retailer is doing business with. Since parcels often do not have to cross borders, the orders are not subject to taxes or tariffs. Moreover, given the warehouse's proximity to the clientele, orders fulfilled through localized fulfillment have a shorter delivery time and fewer transportation costs.
What are the Advantages of Localized Fulfillment?
Order fulfillment impacts customer satisfaction significantly, which is why some retailers are adamant about keeping the order fulfillment process local. There are plenty of benefits to doing this. Below are a few:
Since parcels originate from a domestic location, the delivery process through a localized fulfillment model is faster and more reliable. It is easier for retailers to tackle customer complaints or returns since most of the process happens in one location.
The initial investment that goes into establishing a localized fulfillment location is hefty. However, retailers can quickly recoup this expenditure through subsequent transportation costs of the inventory as the parcel delivery. Through this model, retailers don't need to include taxes or other customs fees in their product pricing. They can easily pass on the savings to their customers, thus making their brand more competitive.

Increased Sales Through Local Marketing Knowledge
The ASEAN market, while rapidly growing, is relatively new to the eCommerce industry. There are aspects of eCommerce that businesses need to be aware of in Southeast Asia. For instance, credit card penetration within the region clocks in at an average of 10%. Cash on Delivery is still the preferred mode of payment in the area.
Fulfillment logistics is one thing, but there is more to localization than mere shipping and packing parcels. Choosing to localize fulfillment allows retailers to customize their expansion to fit the region's preferences. It includes mode of payment, platform language, and available currencies.
No One Size Fits All: The Hybrid Approach
There is no one-size-fits-all when it comes to choosing a suitable fulfillment model. Every operation is different, and the choice is usually unique to each business. With that said, there is merit to utilizing both types of international fulfillment methods. There is an argument for integrating cross-border fulfillment and localized fulfillment to maximize a retailer's potential for global expansion.
Introduction Through Cross-Border Fulfillment
One of the most significant advantages of a cross-border fulfillment approach is the minimal set-up costs. Retailers do not have to invest in a physical location within a market. Starting expansion in a new region through cross-border fulfillment introduces a brand to the area without the risk of dedicating too much inventory.
Penetration Through Localized Fulfillment
Once a brand has a foothold in a region, establishing a localized fulfillment model is key to growing sales volume. A brand with a unique-to-the-region marketing strategy, empowered by a localized fulfillment team, has more leeway to expand within a new market. Moreover, as growth becomes more established in an area, managing customer expectations and demands become more complicated from afar. Choosing a localized fulfillment model in the latter stages of expansion is the logical next step.
Expanding the Business Through ZhenHub
Regardless of the model, the best way to implement order fulfillment is through a third-party logistics team. Experienced professionals have the knowledge and infrastructure to help businesses jumpstart expansion. 
ZhenHub has 20 warehouses in 11 countries worldwide, and our locations are near the world's most foremost manufacturers and eCommerce markets. We can help you expand your company's reach to new regions and achieve even greater success. Sign up with us today to learn more about what we can do with your order fulfillment.
Share Article