Guide to Shipping Fragile Items
Time to read:
5
minutes

Opening a long-awaited delivery and discovering your order is broken or damaged is one of the worst customer experiences. It's one of the risks involved in online shopping, and it's a situation both buyers and sellers would like to avoid. Although some things are beyond our control, you'll need to take all the necessary precautions when wrapping and shipping fragile items so that they reach their new homes undamaged.
Monitoring your items in transit can be tense, especially when delicate products are involved. There's a high level of uncertainty from when a box leaves you until it reaches its destination. Due to the increased likelihood that your items will sustain most of the damage, businesses are extra cautious regarding damaged goods.
Nobody enjoys dealing with dissatisfied clients. Be prepared to pack and transport delicate and fragile items correctly. Items such as glassware require additional care. Better shipping practices start with using the appropriate packaging materials and understanding how to protect fragile things. Providing an excellent customer experience also involves discovering the best domestic and international shipping methods.
Understanding The Need for Properly Shipping Fragile Items
Glassware, musical instruments, electronic products, and other delicate objects are fragile goods particularly prone to breaking in transit. While being transported, carriers drop them, toss them onto pallets, load them onto trucks, and even throw them. That's the reality of how shipping works in eCommerce.
Although shipping insurance is always an option, that doesn't address the core issue of breakage. Due to broken products, eCommerce companies can potentially lose money. Damaged goods can lead to you getting more customer service requests. Depending on your return policy, You must pay for the re-shipment (and possibly the returned item). Being stuck with damaged items means you'll have to pay for the unsellable inventory. And worst of all, the negative experience could mean you lose customers and be stuck with a negative brand image.
No business owner wants a customer to receive broken items at their door. Unfortunately, one subpar shipment causes problems across your entire company. Here's why transportation damages are costly for eCommerce merchants.
Bad Reviews
Customers nowadays demand high-quality products to be available at competitive prices and delivered immediately. Satisfying these expectations should be part of any retail company's business goals.
The reputation of your business could be affected if a consumer receives a defective product. Why would they buy from you again? They might tell friends or relatives not to purchase anything from you. These elements may have a detrimental impact on your company's profitability and reputation.
Lost Business
Not all customers are prepared to hold out for a replacement product. Some clients will merely request a refund and never buy from you again. It can also form the impression that you can't deliver things intact. So you lost a transaction from the consumer you presumably had to pay to win but won't get any future transactions, even potential customers.
Costly Returns
Damaged items are frequently returned, adding to the product's production, packaging, shipment, and transportation workload. Employee workloads can increase due to a single defective item throughout the supply chain.
Logistics, in reverse, is an entirely different game. Millions of returned items are shipped back to the originating location every year.
To fix, repurpose, repackage, replace, and reship a damaged good also requires more labor. Much like how it is a hassle for customers to return an item, receiving a returned item can be frustrating for those in the supply chain.
How to Overcome Common Challenges of Shipping Fragile Items
Depending on the item, you have a few factors to consider while shipping fragile goods. The word "fragile" may mean different things to different customers. Some interpret this as that the object might be hefty and breakable. Or it could be delicate and has small parts that are brittle and liable to break. It could also be a liquid that can't be spilled.
It can be intimidating to ship goods to consumers, and delivering fragile goods just adds to the difficulty. Let's break down some common problems that lead to package damage when shipping fragile items and how to avoid them.
Choose the Right Package Size
If you use a box or mailer significantly larger than the item ordered, the thing may move around inside. It could get damaged if padding is insufficient. Shipped items must fit snugly inside their packing to minimize the possibility of damage. Caseloads move side to side or bob up and down while being transported due to road conditions.
Additionally, shipping poorly packaged goods might be expensive. Shipping prices are calculated by carriers based on dimensional weight. You will pay more for shipping if you use a too big box since it takes up more room on the delivery truck.
Ideally, the box should be bigger than the item you're transporting. Smaller gaps are better. Make sure there's enough void fill to prevent products from shifting. For goods, consider double boxing.
Use Cushioning Material
Use padding and void fill to fill empty spaces in the box. Void fill can reliably safeguard your product from damage by absorbing impact. When shipping fragile items, taking up empty spaces makes your products less likely to move around in transit. Use standard packing materials like airbags, bubble wrap, packing peanuts, or crinkle paper. Consider a custom foam enclosure for costly and delicate items that molds to the product's shape. This is typical with electronic devices that are shipped in boxes.
Because void fill can be wasteful, consider environmentally friendly solutions. An example would be cornstarch-based packing peanuts that may be dissolved in water after unboxing. Recycling plain old paper is also a great alternative. Corrugated cardboard is a cost-effective solution that provides ample protection and is quickly produced and procured.
Ensure Proper Handling
Your package will be handled by many personnel along the supply chain. The shipped item should sustain minimal to no damage if each handler is cautious. On the other hand, careless handling of parcels by a driver, handler, or warehouse worker may result in a dangerous situation and damage the product.
A fragile sticker or label will alert the delivery company(ies) that the box must be handled carefully. As long as they don't obscure the shipping label, you can even use multiple stickers to guarantee that carriers notice them.
Make sure to tape the box tightly shut after closing it. It's best to secure it with tape to guarantee that everything remains safe throughout shipping.
Even though it might seem obvious, providing warehouse and delivery staff with the proper instructions on handling parcels with care can significantly reduce the risk of damage. To ensure that products reach clients securely, staff members should handle goods carefully, especially if they are fragile.
Your business can opt to have your products and packaging undergo testing through the International Safe Trading Association (ISTA). This member-based nonprofit organization is dedicated to reducing product damage along the supply chain. Businesses can use ISTA test labs, which are establishments that can predict if products can be damaged during transportation.
Having an ISTA certification is a big deal for buyer assurance. Your packaging has passed rigorous testing and is adequately rated to endure any shocks, vibrations, and other hazards during shipment.
Given how frequently shipments are damaged, it's unrealistic to imagine that an online merchant can avoid reverse logistics or repackaging items. However, using the latest logistics technology, such as automated warehousing systems, can go a long way in dealing with damaged shipments.
Make sure you pick the best courier for your eCommerce business needs when shipping fragile items.
You need to know where to mail them and who provides the best shipping options at the lowest prices. It'll also help to understand the available tracking system and whether picking up the package on their end is practical.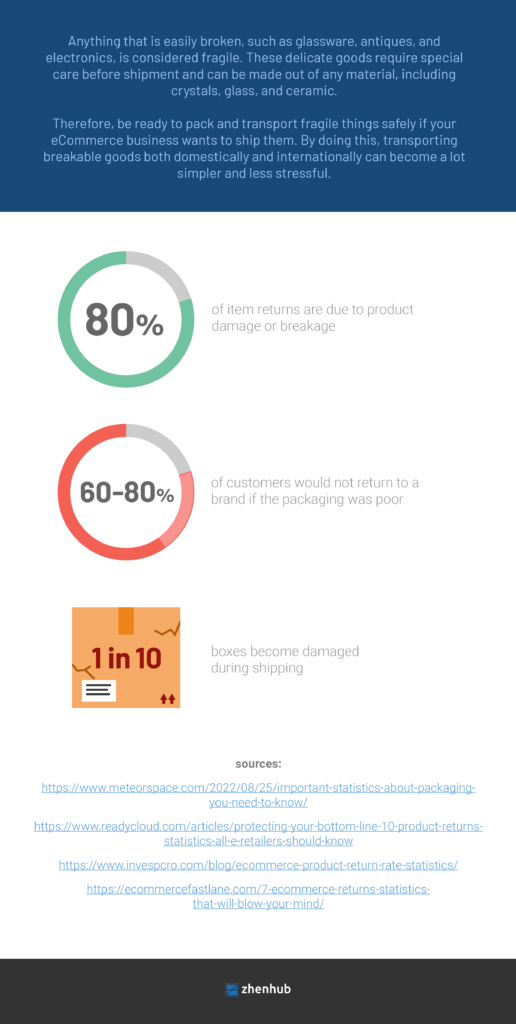 Dealing with fragile items is challenging, but it doesn't have to be difficult for your online store. You can ensure that your products are consistently transported safely and securely if you take the suitable precautions.
If you're struggling with broken goods and shipping fragile items, ZhenHub can help keep your products intact and your customers happy. Our optimized last-mile services make shipping eCommerce products cost-efficient, safe, and accessible. Explore our all-in-one platform when you sign up at our website.
Share Article