A Look at the Growth of the Vietnam Supply Chain
Time to read:
6
minutes

Vietnam is growing as a competitive alternative to meet the ever-increasing manufacturing demands of the global market. Multinational corporations are always keen on lessening their reliance on a single source for their supply chain.
Vietnam is a good source of supply chain diversification because of its reduced labor prices, proximity to China's manufacturing center, trained workforce, and technological improvements.
Vietnam's government is concentrating on opening, deregulating, and privatizing the country's economy to spur growth. These initiatives are all part of a multi-decade economic reform. As part of this economic upheaval, the Vietnam supply chain has streamlined its legal and administrative procedures to foster an environment favorable for foreign investment. Vietnam received US$27.2 billion in inbound foreign direct investment (FDI) in 2022.
A young and relatively low-wage workforce has greatly aided Vietnam's appeal as a location for FDI. It also helps the country have continuous economic reforms, an expanding middle class, and political stability.
But the lack of a strong infrastructure, inconsistent agency interpretation and regulations, and insufficient protection of intellectual property rights hound it. Foreign investment into the nation has recently encountered a capacity challenge. This is because Vietnam lacks the personnel and facilities necessary to absorb the volume of FDI intended for its borders. Regarding economic complexity, Vietnam is presently ranked 58th out of 131 economies as of 2021.
The Current State of the Vietnam Supply Chain
Due to its many advantages, Vietnam is one of the countries that stands to gain the most from the ongoing manufacturing exodus from China. The world's largest manufacturer – China – is strategically close to Vietnam. Second, labor costs in Vietnam are competitive and low compared to most other Southeast Asian nations. These costs range from one-third to one-half of those in China. Vietnam also has a large labor pool. As a result, much of the world's production has moved from China to Vietnam.
Vietnam allocated about 6% of its GDP on infrastructure, compared to the other ASEAN countries' average of 2.3%. Due to this considerable disparity, Vietnam is now the ASEAN nation with the highest infrastructure spending. Despite how encouraging that may sound, there is still a disconnect between Vietnam's infrastructure and its desire for a rapidly expanding economy.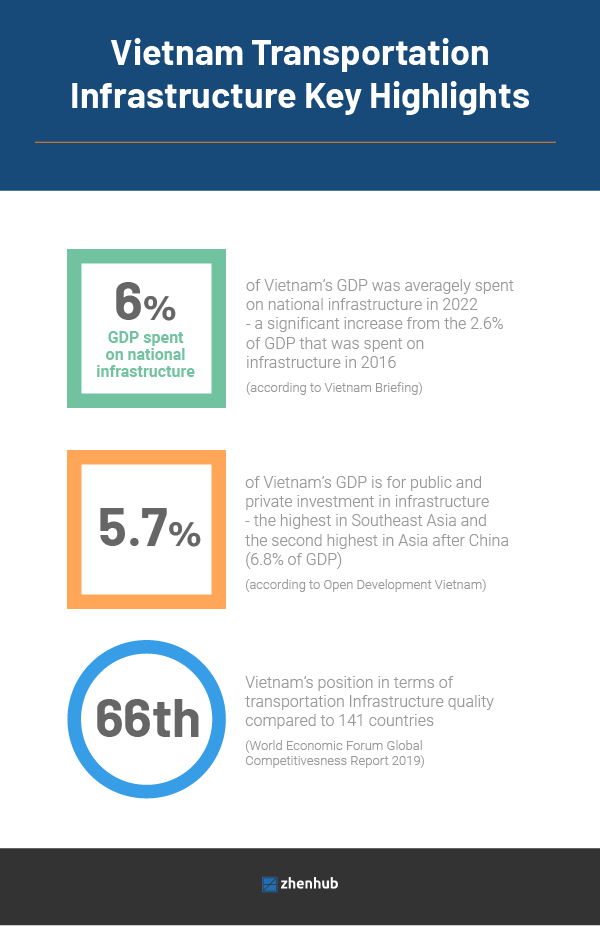 Image Source: https://www.sourceofasia.com/
According to the Global Infrastructure Hub, Vietnam's infrastructure needs US$25–30 billion annually to support economic growth. However, only $15–18 billion (7% of GDP) can be accommodated in the national budget.
Therefore, it is necessary to raise the last US$ 10-15 billion from private investors. Vietnam's infrastructure is anticipated to grow by about 4% annually between 2022 and 2027.
Manufacturing is heavily concentrated in three main economic areas: North, Central, and Southern Vietnam. These regions are more developed and have seen more infrastructure, logistics, and facilities expenditures. In addition, the availability of labor and particular financial incentives are crucial.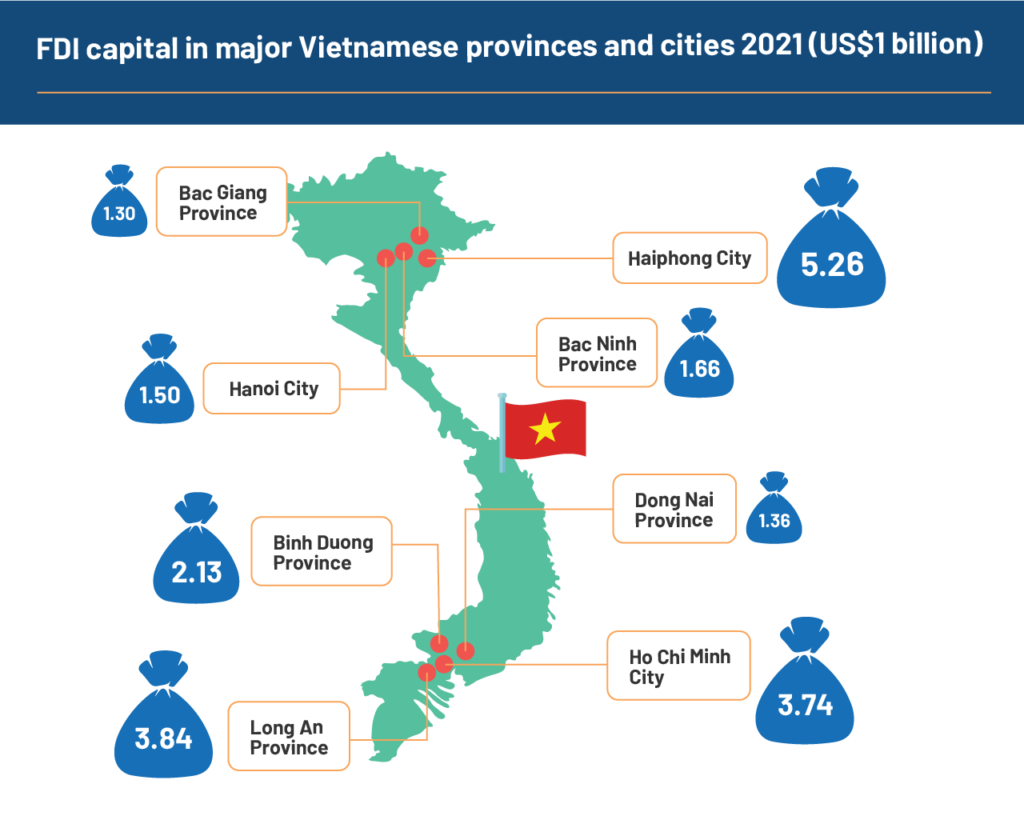 Image Source: https://www.digitimes.com/
North Vietnam
One or more low-cost markets like Vietnam supplement existing manufacturing in China. The Northern Key Economic Region of Vietnam is well-positioned as a hub for these activities. Many businesses have invested there to benefit from Northern Vietnam's lower labor costs while staying close to Chinese suppliers.
The Northern Key Economic Region is dominated by heavy manufacturing, partly due to China Plus One expansion initiatives. Investors in large industries, like the automotive industry, take advantage of the infrastructure and talent concentration. It's also important to note that electronics production is largely concentrated in the North, notably in the Red River Delta region.
Southern Vietnam
The Southern Key Economic Zone features a wider range of industries and services than the Northern Key Economic Zone and greater economic diversification. Thus, businesses in more specialized or niche sectors will find that the South provides a more favorable investment environment. Small and medium-sized enterprises (SMEs) benefit from this, as Ho Chi Minh City is a hotspot for startups and IT entrepreneurs.
Central Vietnam
The main industries in the Central Vietnam area are textile, building, paper, and forest goods. Other industries, such as shipbuilding, logistics, and other high-tech sectors, are expected to grow rapidly.
The Central Key Economic Zone receives a steady supply of trained labor from Da Nang, the region's economic center. It also provides high-quality industries for rent in prominent locations. Da Nang has more advanced urban planning and development than many other Vietnamese cities, benefiting industrial manufacturing. As a result, various investors in the area will likely receive compounding benefits with their investments.
The Vietnam Supply Chain: eCommerce Opportunities
Vietnam enjoys several advantageous bilateral and regional free trade agreements (FTAs). The EU-Vietnam FTA, the UK-Vietnam FTA, the Regional Comprehensive Economic Partnership (RCEP), and the Comprehensive and Progressive Agreement for Trans-Pacific Partnership (CPTPP) are some of the FTAs that make it easy to do business in Vietnam. The Vietnamese government and authorities actively promote the industrial industry through various incentives. Local leaders have pushed for tax cuts or exemptions as well as streamlined paperwork and processes.
These benefits have helped Vietnam gain ground as a viable manufacturing hub and sourcing market, particularly in Asia.
Infrastructure Transformation
In April 2021, the Vietnamese Ministry of Transport unveiled its master plan for the nation's transportation system. Between now and 2030, its expected costs range from USD 43 billion to USD 65 billion. The state intends to catch up to nearby economic powers to provide the necessary infrastructure and sustain the economy's rapid expansion. As part of the master plan, Vietnam will build tens of thousands of kilometers of new expressways, high-speed rail lines, deepwater ports, and international airports. Vietnam's development strategy is modeled after high-income countries like Singapore, Taiwan, and South Korea.
These moves will make it easier for businesses to transport their goods across the Vietnam supply chain easily.
The Rise of Vietnamese Logistics
In December 2022, The Vietnam government signed Resolution No.163/NQ-CP to "promote the synchronous implementation of key to enhance competitiveness and boost the logistics industry in the country."
Government officials will integrate the growth of goods production, import-export, and domestic trade with expanding the national transportation infrastructure. The result is a high-value logistics sector.
Expanding the market for logistics services while enhancing the competitiveness of logistics service businesses will lead to a stronger local economy and increased foreign investment. Additionally, the resolution will use Vietnam's geographic advantages by enhancing connectivity. Improving logistics with sustainable supply chains will transform Vietnam into a major logistics hub in the area. Emphasis will be placed on fostering digital transformation and technology application, as well as improving human resources skills.
Booming eCommerce
The eCommerce sector in Vietnam reached a value of $16 billion in 2022 and might rise to $32 billion by 2025. According to Google's e-Conomy SEA 2022 report, Vietnam will be one of the top three nations luring the most investment into the eCommerce industry. Vietnam's local eCommerce marketplaces, such as Tiki, Lazada, and Sendo, are backed by financial giants such as AIA Insurance Inc, SBI Holdings, and Alibaba.
Screenshot by Lightshot (prnt.sc)
The "eCommerce in 2022" report from the Ministry of Industry and Trade (MoIT) predicts that the average value of online purchases will also rise. This year, it's expected to increase to US$260–285 per person. A young population, high internet usage, and rising incomes are the causes of this.
The majority of the Vietnamese population is under 40 and extremely tech-savvy. These early adopters of digital technology have contributed to a shift in consumer behavior in Vietnam. By 2023, it's predicted that Gen Z will make up 40% of the country's consumption.
Additionally pushing the boundaries of eCommerce, young customers are discovering new online buying options. For instance, Facebook Pages have become a significant customer source for Vietnamese businesses.
This is supported by a digital banking infrastructure that enables free, real-time money transfers and deposits. With all these factors, Vietnam's eCommerce industry is projected to match traditional retail's market size by 2025.
Due to the relatively well-developed infrastructure, the availability of labor, financial incentives, and the assistance of the government, the majority of Vietnam's manufacturing is concentrated in key economic zones.
Although there is still much room for improvement in Vietnam's infrastructure, the benefits are clear. This is especially true given that the Vietnamese government has recently invested more actively in the nation's infrastructure than its Asian neighbors. This results in a significant anticipated expansion in the infrastructure sector for years, which is great news for the Vietnam supply chain industry.
ZhenHub is your gateway into the Vietnamese eCommerce market. Expand into the region with our global distribution network. Using a high-tech digital platform, manage your inventory from anywhere. Sign up for free to access our logistics software solutions.
Share Article