What is a Product Sourcing Agent?
Time to read:
4
minutes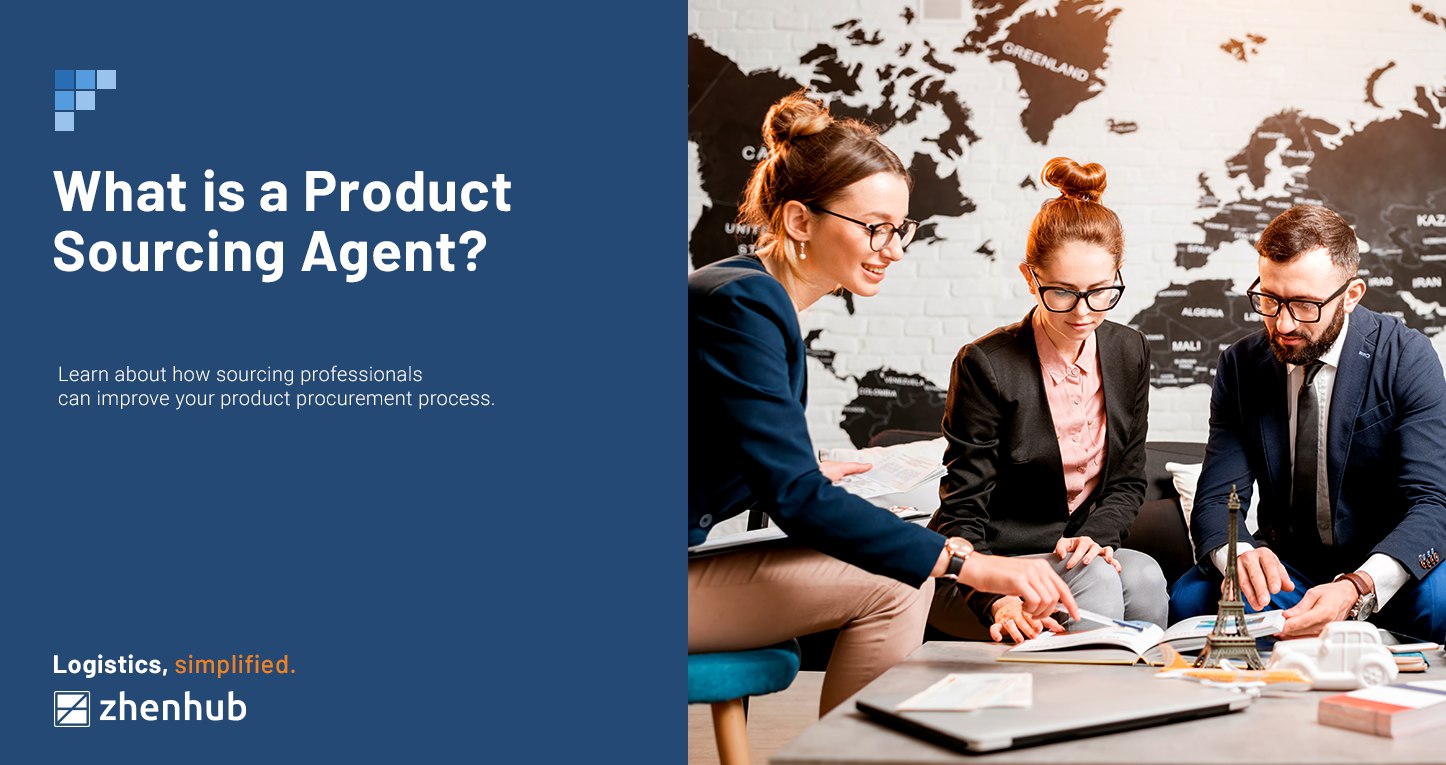 Product procurement is a crucial eCommerce store process. That's why it's essential to locate inventory at a friendly price from reliable suppliers. But for new retailers, Inventory sourcing alone can get complex.
As for most parts of the supply chain, getting the help of specialists can help secure items. A product sourcing agent plays a pivotal role in the international supply chain. This article explores the value of working with sourcing agents in a retailer's bottom line.
What is a Product Sourcing Agent?
A product sourcing agent supports eCommerce companies in procuring raw materials or ready-to-sell products at a competitive price. They play a crucial part in ensuring that a company's profit margin remains strong. Sourcing agents might represent a single eCommerce company or choose to work with several retailers on a contract basis.
While sourcing agents work with domestic clients, a product sourcing agent is vital in the international supply chain. Most of the time, these professionals are locals of the source country. They have a strong business sense, fluent in the local language, and are familiar with biases and other factors that can affect a business transaction.
Distributor VS Product Sourcing Agents
The option to work with a sourcing agent has been around for several years. Yet, retailers still get confused about the difference between sourcing agents and distributors. At its core, distributors purchase products wholesale and distribute them to individual resellers. Sourcing agents, on the other hand, communicates with suppliers and manufacturers to secure a deal between them and the retailer.
Distributors have a limited range of products that they offer. If they cannot get a wholesale deal on a product, they can't provide these items to distributors. Sourcing agents use their connections to find precisely the things retailers need. Depending on their skill and influence, they can even find rare inventory.
Again, distributors have limitations when it comes to the products that they offer. Likewise, they cannot provide customizations to these products as they are already part of their inventory. Sourcing agents connect to both suppliers and manufacturers. They are more likely to offer customized products that fill the needs of the retailer.
Working with a sourcing agent is the most cost-effective inventory procurement option. Since they work directly with manufacturers, they can offer retailers factory prices. Distributors can hike up the prices to profit from wholesale items they purchased, which happens more often than not.
Another advantage to working with a sourcing agent is a retailer's ability to prototype their products. They can assist in finding the best manufacturer and perform quality control and inspection on the prototype created.
A product sourcing agent can also offer quality control, especially if retailers are based abroad. Sourcing agents can represent the priorities of the eCommerce company and ensure that they are getting the most for their money.
Who Can Benefit from a Sourcing Agent?
Most eCommerce companies can find value in working with a sourcing agent. However, these professionals provide the most benefit to the following operations:
eCommerce Companies with No Importing Experience
Importing from overseas can be complicated and overwhelming. There are plenty of moving parts and processes involved in the transaction, and requirements differ from jurisdiction to jurisdiction. Aside from finding suppliers, there are also shipping and logistics requirements. Sourcing agents can smoothly help jumpstart the overseas importing operation of a retailer.
Retailers Offering Multiple Products
The more products a retailer intends to offer in their eCommerce store, the more complicated the procurement process can get. For the most part, it takes communication with five to ten suppliers to secure the best pricing for an item. Say a retailer is looking for ten items; they would need to contact 100 suppliers. A product sourcing agent can lay the groundwork for the retailer.
Sourcing agents are relevant to all types of companies regardless of scale. It includes multinational companies that offer a slew of products in the hundreds. Even supermarket giants like Target and Walmart use the help of sourcing agents to stock their shelves with products.
Retailers that Sell Specialty Products
Aside from the volume of the items needed, sourcing agents can even procure rare and hard-to-find items. These professionals often have a niche in the type of product that they handle.
Advantages of Outsourcing Inventory Sourcing
There are many advantages to working with a product sourcing agent. Companies of any scale can benefit from their help. They are an excellent investment, especially for eCommerce operations looking to edge out the competition.
A seasoned sourcing agent has connections in almost every industry. They can give their clients access to manufacturers and suppliers that offer products at a competitive price at a reliable pace. Since they have these great relationships with these suppliers,
there's less risk for a retailer to be duped out of their investment.
Connecting with different suppliers for different products can be tedious and daunting — doubly so if a retailer deals with international manufacturers. Local sourcing agents can help an eCommerce store navigate through cultural and language barriers when procuring products. They can negotiate more effectively and deliver a message without the risk of being mistranslated.
For small eCommerce businesses, transacting with international suppliers can be a considerable risk. There are plenty of things that could go wrong, primarily when they cannot oversee the production of their items. Moreover, plenty can get lost in translation, literally. Sourcing agents minimize this risk as they act as a liaison between the international supplier and the retailer.
A product sourcing agent can do wonders for an eCommerce store. They can ease a company into international importation and minimize the risk of transacting with overseas suppliers. There is space for a sourcing agent in every operation – if you find the right one that has your company's interests at heart.
At ZhenHub, we believe that our clients deserve the best. Aside from our tried-and-tested tech-based solutions, we can also help connect you with reputable and reliable sourcing agents. Kick things off by getting a custom quote from us now. 
Share Article