How the Semiconductor Supply Chain is Affected by the Global Chip Shortage
Time to read:
5
minutes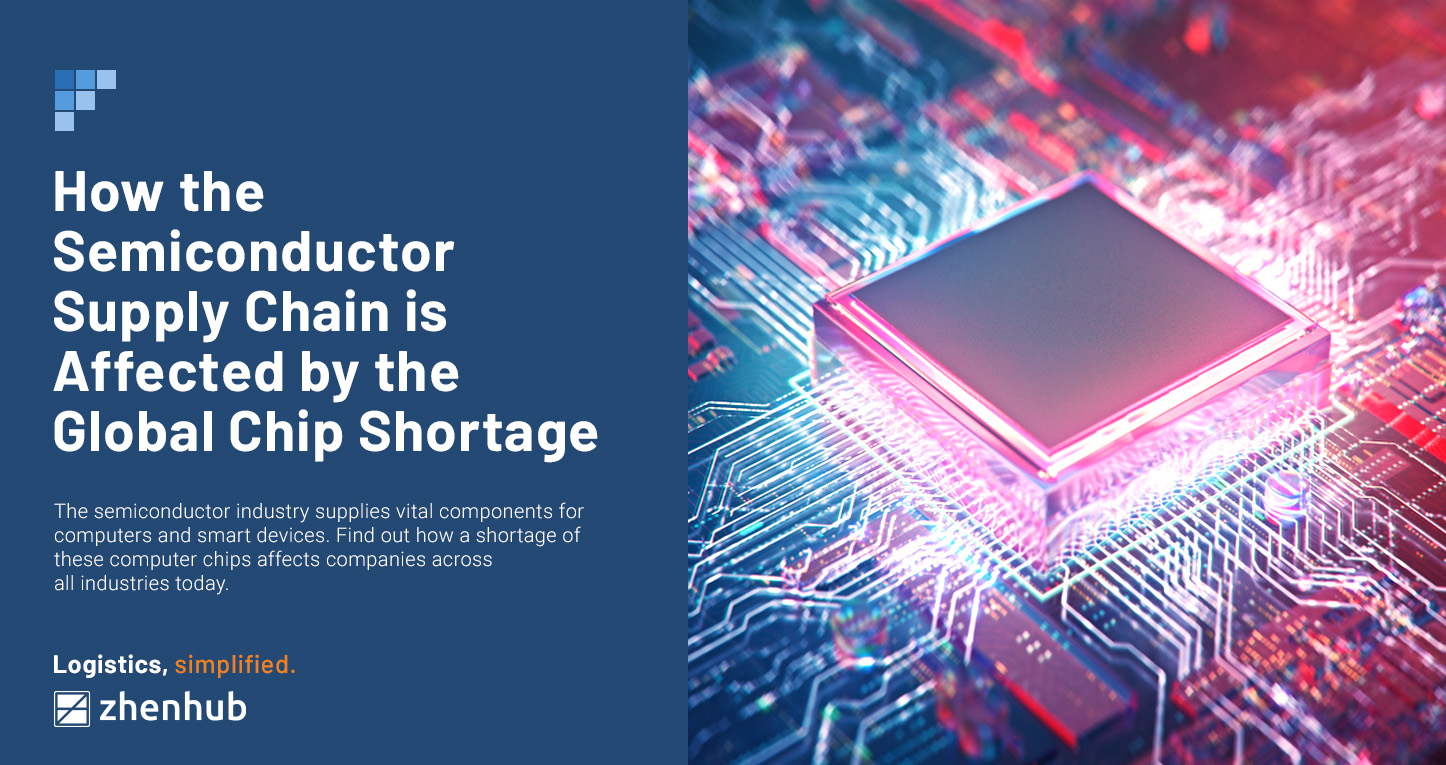 As the supply chain crisis continues to hound global economies, the semiconductor chip sector is one of the industries impacted by this. A massive shortage in the semiconductor supply chain has affected many industries, including electronics and automotive.  These semiconductor chips, or microchips, are essential pieces of many digital consumer products. The demand for these chips has skyrocketed because consumer and industrial needs rose during the pandemic. 
Historically, the U.S. has been the leader in the development and sales of semiconductors. However, the majority of manufacturing is based in Asia. According to the Semiconductor Industry Association, Taiwan and Korea already account for 83% of global processor chip production and 70% of memory chip output.
Because of health and safety concerns over COVID-19, Asian countries imposed strict lockdown measures resulting in factories not operating at total capacity. This unfortunate effect, in turn, created a huge bottleneck in the global supply chain. 
Experts initially forecasted the semiconductor shortage to last until 2023, but Intel CEO Pat Gelsinger expects it to last until 2024.
A key reason for this is the lack of availability of manufacturing tools, which cannot support the higher levels of production that are supposed to meet increased demand.
Gelsinger explains, "That's part of the reason that we believe the overall semiconductor shortage will now drift into 2024, from our earlier estimates in 2023, just because the shortages have now hit equipment and some of those factory ramps will be more challenged,"
Learn more about the semiconductor supply chain's significant challenges and what is in store for businesses moving forward.
A Look Into Semiconductor Supply Chain Issues
Semiconductor shortages are nothing new. However, as with many industries, it was particularly hit hard because of the COVID-19 pandemic. As the world shut down in 2020 and the pandemic caused lockdowns, companies canceled orders, and demand dropped. Many factories based in Asia closed, and production lines ground to a halt. So the manufacturing industry faced a difficult situation: how can they continue their operations safely, and what can they do with significantly reduced demand.
The automotive industry, which makes up a significant chunk of the semiconductor customer base, saw many car companies canceling their orders. Despite this, they used their inventory to make up for losses and build what they could with their materials. Driving utilization levels were at an all-time low, meaning there wasn't a significant demand for consumer vehicles.
Much of the workforce transitioned to a work-from-home setup, requiring PCs, laptops, tablets, and even backup computing devices to help them do their work properly.
Most consumers were stuck at home, so they had to keep themselves entertained. Thus the demand for entertainment devices such as gaming consoles and Smart TVs also grew.
Come Q3 of 2020, the pandemic caused a global domino effect and created a perfect storm of shortage when automotive production started ramping up again. Semiconductor availability was limited and further strained due to increased demand for high-end automobiles that became more affordable due to lower interest rates. These modern cars had several automation features which required microchips.
Manufacturing struggled to keep up with demand, as many major players such as ST, Infineon, ON, and NXP had cut down on production. A delay in the restart and delivery caused significant delays. Other factories had the misfortune of being hit with calamities and onsite hazards. A fire at a Renanas manufacturing plant cost six weeks of production, and there was a water crisis in Taiwan.

The fundamental structure of the semiconductor market share has been both a blessing and a curse. No company owns more than a 15% share of the global market. Because of this fragmented nature, companies could specialize and provide specific parts for individual industries.
While this particular manufacturing attribute helped alleviate some of the production issues, some products will be missing. Manufacturers couldn't ship out products due to an incomplete parts list. While core technologies will be available, no single company has the size or means to provide all the materials for a supply chain system.
Semiconductor supply chains have been designed to be extra efficient using lean manufacturing but at the cost of being vulnerable to sudden changes in the market. The industry is making slow steps towards consolidation, but supplier interdependence is still necessary. Microcontroller chips take months to produce, effectively increasing production times for cars, smartphones, and more. Speeding up this manufacturing process is next to impossible due to the physical limits of handling silicon.
Geopolitics has also played a role in contributing to the semiconductor supply chain issues. The Russia-Ukraine conflict has left manufacturers without raw materials to produce chips. Ukraine supplies 25 to 35% of the world's purified neon gas, and Russia is one of the biggest producers of palladium, a rare metal used for semiconductors. The war has also delayed logistics through the air due to increased transportation costs.
Former U.S. President Donald Trump regulated sales of American-made chips to Chinese firms such as Huawei, ZTE, and more. At the same time, Chinese chip makers were blocklisted, leaving American businesses without another source of semiconductors.
Consumers are learning this the hard way as chips are not commodities, despite the semiconductor industries' best efforts to ramp up production and capacity by increasing the number of factories.
The Impact of the Semiconductor Supply Chain Shortage
A Goldman-Sachs report claims that around 169 industries were hit hardest by the semiconductor shortage, including automotive and consumer electronics..
The average modern car requires up to 1,400 to 1,500 chips, with more advanced models needing up to 3,000 to provide high-tech features.
Ford, one of the largest American car manufacturers, reported a US$3.1 billion loss due to the limited sales of their popular SUVs and pickup trucks in North America. A substantial investment in major chip maker Rivian also contributed to the loss.
Chip shortages have led to several factory closures, leading to a drop in the number of vehicles sold during Q1 of 2022 compared to the same period last year.
Desktop computers and graphics cards (GPUs) were wildly in demand during the early days of the pandemic, and continue to do so. The global CPU giants Intel and AMD have struggled to provide customers with enough stocks of their latest products. Top-of-the-line computer graphics cards were in high demand due to the rise in crypto-currency farming. It did not help that AMD and Nvidia, leading manufacturers of GPUs, released the latest versions of their flagship models to critical acclaim. Many of these components were incredibly difficult to buy, as scalpers employed internet bots to buy online stock immediately. These unscrupulous merchants then sold the hoarded items for exorbitant markups of up to 300% compared to their street prices.
The same problems would plague the video game console industry as people looked to entertain themselves at home. The lack of chips meant that Microsoft and Sony could not match the production of their latest gaming consoles to the record-breaking demand. These companies found themselves unable to create more machines leaving buyers scrambling to purchase any available units.
Smartphone companies have delayed the launches of several new phones, with the more basic models greatly affected by the microchip shortage. The lack of materials has hampered 5G network implementation in supporting the new infrastructure.
The Future of The Semiconductor Supply Chain Crisis
To adjust to the "new normal" of semiconductor shortages, companies have taken it upon themselves to solve the problem. One way is through more means of production. Intel has invested up to $100 billion to open up new plants in Ohio, and Samsung also plans on opening a $17 billion factory in Texas.
2022 is still largely seen as a year of recovery, as COVID-19 cases are decreasing thanks to global efforts to distribute the vaccine. Companies must consider their needs based on several time frames. Planning for long-term resiliency is also a must. Solutions such as diversifying procurement from Tier 1 providers and OEMs, robust technological road maps, and improved inventory tracking and demand forecasting all play a part in helping a business adapt to shortages.
Another factor to consider is designing products to use fewer chips by cutting out high-end features. Visibility and strong supplier relationships can provide businesses with a safety cushion to weather the semiconductor supply chain crisis.
ZhenHub offers a complete suite of logistics software solutions. As your partners, we can coordinate with a global network of distribution partners to reduce shipping and storage costs. Experience increased oversight on inventory and fulfillment operations from a single dashboard. All these features and more await when you sign up at our website.
Share Article