How the Global Computer Chip Shortage Affects Sellers and Consumers
Time to read:
4
minutes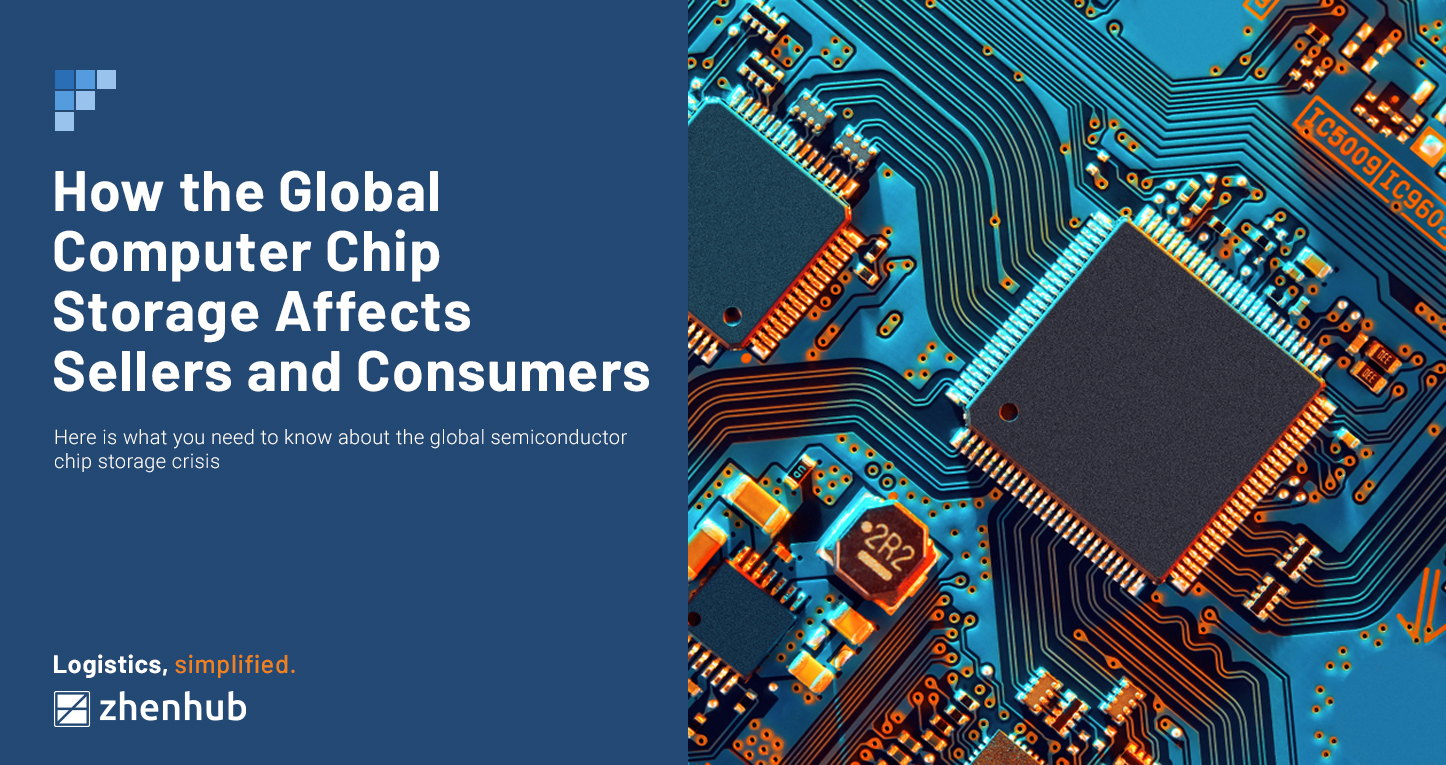 Technology advanced exponentially over the last few decades. Twenty years ago, the idea of a phone with a camera and access to 40 zettabytes of data through the internet seemed like science fiction. Today, almost 10 billion people across the globe have access to this technology. 
Even mundane items like toothbrushes and refrigerators need semiconductor chips to function. With the pervasiveness of "smart" gadgets, the demand for these technologies has gone up significantly. Unfortunately, the world's semiconductor supply chain can no longer keep up with this demand – especially following the monkey wrench that is COVID-19.
This article sheds light on the current global semiconductor computer chip shortage crisis. Learn about the root causes and their implications to the retail industry.
Why Is There a Semiconductor Computer Chip Shortage?
Semiconductor chips are essential to the production of most electronic items. They come in plenty of form factors and get designed for specific purposes. Almost all appliances and gadgets use a semiconductor chip to function in today's modern world. This silicon-based tech marvel is a crucial component, from the simple remote control to massive corporate servers handling gigabytes of data.
The semiconductor computer chip shortage has been building up for a long time; the pandemic only aggravated the situation that even consumers felt the burn. Before the pandemic, there was already an incredible demand for more advanced semiconductor chips to accommodate 5G products. The shortage due to the demand heightened further with the tense geopolitical relationship between the United States and China.
In 2020, the United States government blocklisted Huawei Technologies Inc. from semiconductor sales. As a result, Huawei stockpiled chips before the embargo got enacted. Likewise, the tech company flooded chip makers outside the US with orders to fulfill their product demands.
As mentioned earlier, the pandemic isn't the sole reason for the shortage issue. But it did contribute to the global shortage. At the height of the restrictions and shelter-in-place orders, carmakers shut down factories and canceled semiconductor orders in anticipation of the market slowing down. Chip manufacturers pivoted their production to companies ordering parts for personal electronic devices like phones and laptops. Unfortunately, or fortunately, car sales bounced back faster in some circles in an unprecedented way. 
Carmakers tried to keep up with the demand. However, semiconductor chip manufacturers could not respond fast enough to the influx of orders. Since then, the issue has spilled over to other industries, including domestic appliances. It didn't help that around the same time, a fire broke out in one of Japan's chip manufacturers, Renesas chip fab.
At the time of writing, the lead times for semiconductor chips are at an all-time high. According to a report by the Susquehanna Financial Group as reported by Bloomberg, lead times for semiconductor chips ballooned by 2400%:
"The amount of time it's taking for chip-starved companies to get orders filled stretched to 21 weeks in August, indicating the shortages that have crippled auto production and held back growth in the electronics industry are getting worse. Chip lead times, the gap between ordering a semiconductor and taking delivery, increased by 6 days to about 21 weeks in August from the previous month."
The Implications of the Semiconductor Computer Chip Shortage
The shortage is currently at a tipping point. At this stage, consumers already feel the effects of the silicon wafer crisis. Experts believe that this shortage would affect most industries, especially consumer electronics and the automotive industry.
According to Ben Suh, head of Samsung's investor relations, the company is already preparing for rationing out their products to retailers in the light of the shortage:
"Due to the global semiconductor shortage, we are also experiencing some effects, especially around certain set products and display production. We are discussing with retailers and major channels about supply plans so that we are able to allocate the components to the products that have more urgency or higher priority in terms of supply."
Likewise, in their 2021 shareholder meeting, Samsung's co-chief executive and mobile chief, Koh Dong-jin, warned about the current supply of semiconductor chips:
"There's a serious imbalance in supply and demand of chips in the IT sector globally. It is hard to say the shortage issue has been solved 100%."
The automotive sector has chosen a different approach to keep up with the demand amidst the crisis. A few manufacturers, like Ram Trucks, has decided to forgo high-end features to some of their products to remain competitive in the market:
"Ram has stopped including (the) option on all Tradesman, Bighorn, Rebel, and Laramie models at present due to limited supply of electronic components used in this option," a Ram spokesperson told CNBC.
The situation is dire enough to warrant the attention of several dozen business groups across the United States, including the U.S. Chamber of Commerce. The group sent a letter to Congress pleading for subsidies and incentives for chip manufacturers in the country:
"Congress should pass recommendations in President Biden's American Jobs Plan, which, in addition to the requests for semiconductor research and manufacturing and for critical supply chain efforts, will drive U.S. demand for semiconductors through investments in key semiconductor using industries—including power generation transmission, clean energy, broadband, and electric vehicles—and, in turn, help incentivize private sector investments. In addition, investments in clean energy and water sources should offset the cost of energy for new semiconductor fabrication facilities – both are key inputs in semiconductor manufacturing."
Experts agree that the shortage would continue well into 2022. According to Reinhard Ploss, CEO of Infineon Technologies to CNBC's "Street Signs Europe," the situation would take time to stabilize:
"The current situation, where all verticals are booming, I have never seen before. It is very clear it will take time until supply and demand are rebalanced. I think two years is too long, but we will definitely see it reaching out to 2022. I think additional capacity is going to come … I expect a more balanced situation in the next calendar year."
Retailers, especially those who sell electronics, devices, and appliances, will need a 3PL partner that helps them weather through the mounting semiconductor shortage and supply chain issues.
Read more shipping and logistics news and updates on our  ZhenHub blogs. If you want to learn more about our services, contact us today or request a free quote for your shipping and order fulfillment needs. 
Share Article