The Rise of Contactless Shopping This Holiday Season
Time to read:
5
minutes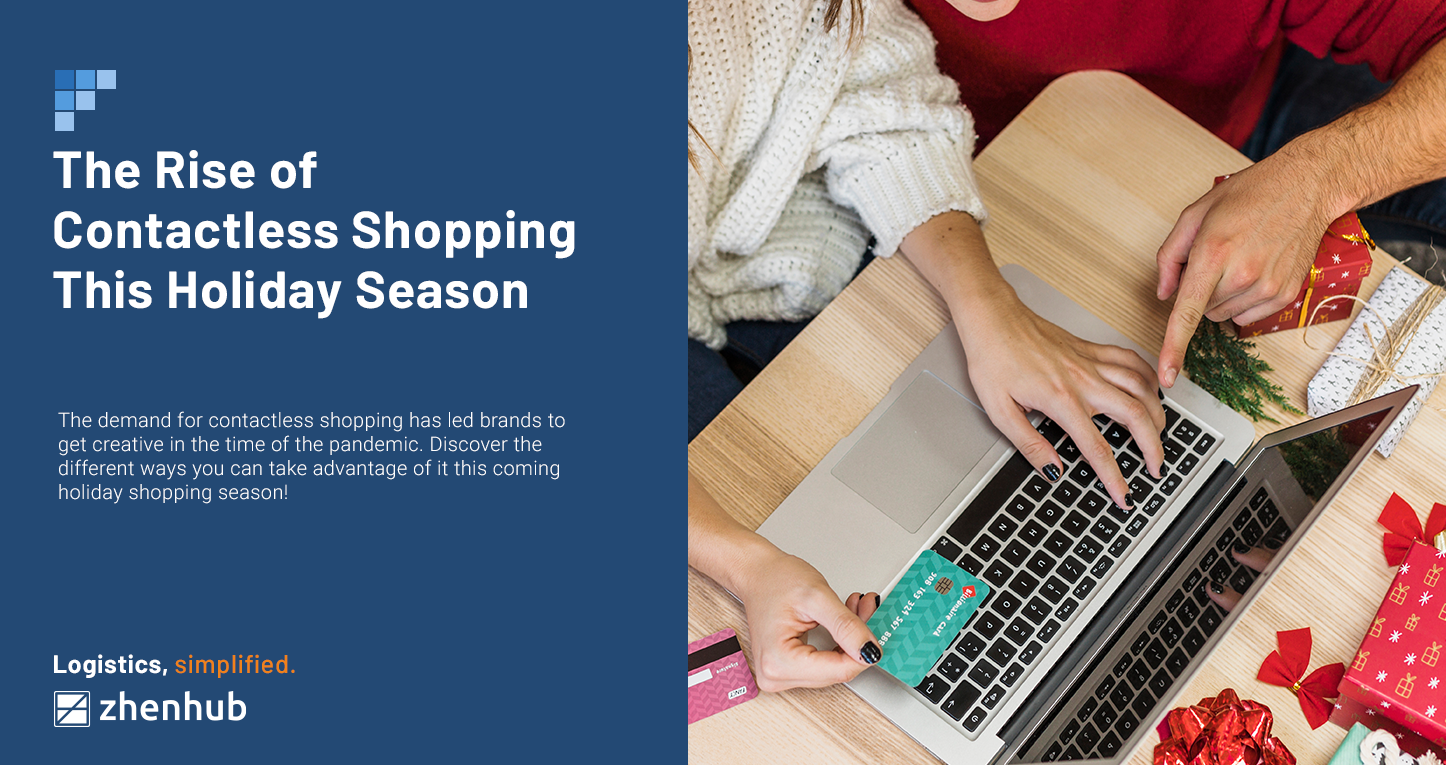 What is Contactless Shopping?
2020 has been a life-changing year. The COVID-19 pandemic is undeniably the year's most significant driver of change, disrupting the way people socialize to the way they shop. Even as businesses start to reopen, health and safety remain to be a top priority. Thus, normalizing the trend of contactless shopping.
And it looks like it's here to stay in spite of the easing of public health measures in many parts of the world. In fact, a Prosper Insights & Analytics survey reveals that 71% of more than 8,000 consumers continue to practice social distancing by shopping less in physical stores.
But what is contactless shopping?
Contactless shopping is not an entirely new concept. eCommerce is actually one of its more famous forms. As the term suggests, this type of retail requires minimal to zero human-to-human interaction. Think of online shops and their digital payment methods. These enable consumers to purchase with just a click of a button, getting purchased products delivered right on their doorsteps.
Is contactless shopping a necessity?
The COVID-19 pandemic has forced retailers to rely on technologies to keep their businesses afloat. Simple safety measures such as staying at home and maintaining social distances in public places have not only changed consumer behavior dramatically and instantly, it transformed the retail industry, too!
Experts believe that contactless shopping will prevail even after the pandemic is over. And the following key factors are reasons behind it:
Conscious Consumption
The global health crisis has made consumers more mindful of the purchases they make. A shift in what is considered "essential" and a "necessity" does not necessarily mean that people are shopping less or cheaper. It just means they are shopping smarter.
Digital-First
Convenience is one of the top reasons why eCommerce has boomed in the last few years. It's what consumers consider valuable in today's situation. And the onset of the pandemic has put online shopping at the forefront of the so-called new normal. Now, consumers choose to go online to shop for both their daily necessities and luxurious purchases — a trend that retailers need to invest in if they want to stay relevant.
Loyalty Shifts
As shopping behavior continues to shift from traditional retail to online, supply chain disruptions become more apparent. Inventory shortages force consumers to explore options and seek out competitor brands when their preferred retailers have stock availability issues.

Brand Trust
Online transactions can be challenging in terms of earning consumer trust. When choosing brands, customers look beyond the quality of the products. They now consider brand values, advocacies, safer packaging, and health practices before purchasing.
Given the prediction that contactless shopping will persist even after the pandemic, it only seems smart to invest in technologies and processes designed to make it possible.
Ways to Execute Contactless Shopping
As health and safety take precedence amid the virus outbreak, the demand for experiences that require little to no in-person contact rises. Retailers are now back on their drawing board, trying to develop strategies to meet the new need for contactless shopping. Listed below are a few ways to implement contactless retail that can help merchants lower shopping cart abandonment rate:
eCommerce
Retailers looking to invest in an omnichannel approach will thrive in the current setup as consumers continue to fulfill their retail needs by going online. Understanding the buying market's preferred platforms and devices will make it easy for merchants to meet their need for minimal face-to-face interaction for health and safety reasons.
Curbside Pickup
Another way for retailers to implement contactless shopping and increase conversion rate is through curbside pickups. This click-and-collect setup gives consumers more flexibility in collecting their purchased items. With curbside pickup, customers still need to go online to place their orders and make online payments before dropping by the store location to personally collect items they ordered.
Online Payments
Online payments have been around for quite some time now. In addition to the typical credit and debit cards, contactless payments are increasingly becoming more popular.

A good example is Walmart, which released a new payment system called Walmart Pay early in the year when the pandemic hit. Taking inspiration from Apple Pay and Starbucks, Walmart Pay is the brand's very own mobile payment method. With this mobile application, Walmart patrons can connect their credit or debit card for an efficient shopping and checkout experience.

Innovations like this can minimize in-person contact while also increasing shopping experience efficiency.
Mobile Apps
Developing mobile applications is no longer just for eCommerce giants like Amazon and Target. Small and medium-sized enterprises are also starting to consider having apps developed for their online stores to improve customer experience and encourage brand loyalty. A mobile app is also an excellent way for merchants to create a seamless and personalized contactless shopping experience. It opens a lot of avenues for automation and efficiency.
Scan and Go Technology
Scan and Go is another form of frictionless shopping that has been around pre-pandemic. This retail experience requires shoppers to carry handheld scanners around while exploring in-store in its earliest deployment back in the 1980s.

Thanks to technology, Scan and Go are now available through smartphones. This form of contactless shopping is best for retailers who have reopened their shops and want to encourage in-store traffic while still being cautious about health and safety. With Scan and Go, consumers can scan items on their mobile devices, virtually add them to cart, pay in-app, and collect them at the counter.
Virtual Try-Ons
Virtual Try-Ons is an AI-powered technology poised to replace fitting rooms. This form of contactless shopping is an excellent solution for retailers in the beauty and clothing industries looking to re-create in-store experiences.

Through augmented and virtual reality, consumers can digitally sample or try on products before purchasing. This type of technology can fill the gap left by online shopping while still abiding by health protocols.

One example of a brand that has successfully carried out this innovation is Nike. The brand released what they call Nike Fit. In addition, letting sneakerheads try on cool kicks virtually on a mobile app, Nike Fit also serves as a digital foot measurement tool. It maps the user's feet for a hyper-accurate scan and footwear size recommendation.
Challenges of Contactless Shopping
While there are many ways to implement contactless shopping, adopting a new technology comes with its own set of challenges. Retailers have to consider five main factors to ensure that embracing contactless retail will do them more good than harm in the long run.
Budget Restraints
Any upgrade in technology can be costly. Merchants must first evaluate the allocation of resources to determine whether their available budget is sufficient for digital adoption or not.

The high price to pay to develop exclusive mobile apps, AI, and AR tech shouldn't let retailers derail their improvement plans, though. They can still do many things to enhance their online presence and pave the way for contactless shopping, such as implementing digital payment gateways or offering curbside pickups.
Timeliness
Business success is all about timing. Pioneering is not always a good thing as retailers who adopt a tech or follow a trend first face more challenges. They are also prone to making more mistakes. Adopting too late, on the other hand, means losing business to competitors who have already earned consumer trust and started building brand loyalty. This is why merchants need to evaluate when is the proper time for them to offer a contactless shopping experience.
Lack of Manpower
While contactless retail might mean minimal workforce, the road leading to it would require people. The development and adoption of mobile applications and other technologies also need subject-matter experts, who can ensure that these high-tech experiences won't confuse the existing customer base.
Customer Journey
To ensure that the implementation of contactless technology will be a success, retailers must consider the customer journey. Understanding the common frictions consumers experience when shopping online will make it easier for merchants to implement solutions to address them. Sellers must remember that contactless shopping is a product of a change in consumer behavior, so considering the customer journey is the best way to approach it.
Cybersecurity Vulnerabilities
Contactless shopping means consumers are required to share sensitive data online, including, but not limited to, their addresses and credit card information. With this in mind, retailers should take extra cybersecurity measures to ensure that customers' data are safe from breaches. They should also be financially prepared, considering that setting cyberdefense in place also means additional operational costs.
While contactless shopping is a pandemic-driven change in the world of retail, a digital-first society will surely make it the norm during and beyond the pandemic. With 2021 fast approaching, now is the perfect time for entrepreneurs to consider restructuring operations and design it to build stronger digital connections, not just for consumer convenience but also for safety.
Are you preparing your eCommerce for Contactless Retail? Let ZhenHub help you out! Our fulfillment and warehousing services are technology-enabled, so you and your consumers can keep track of your inventory in real-time. Contact us now to see how we can help you out!
Share Article