Creating an Effective eCommerce Conversion Optimization Strategy 2020
Time to read:
5
minutes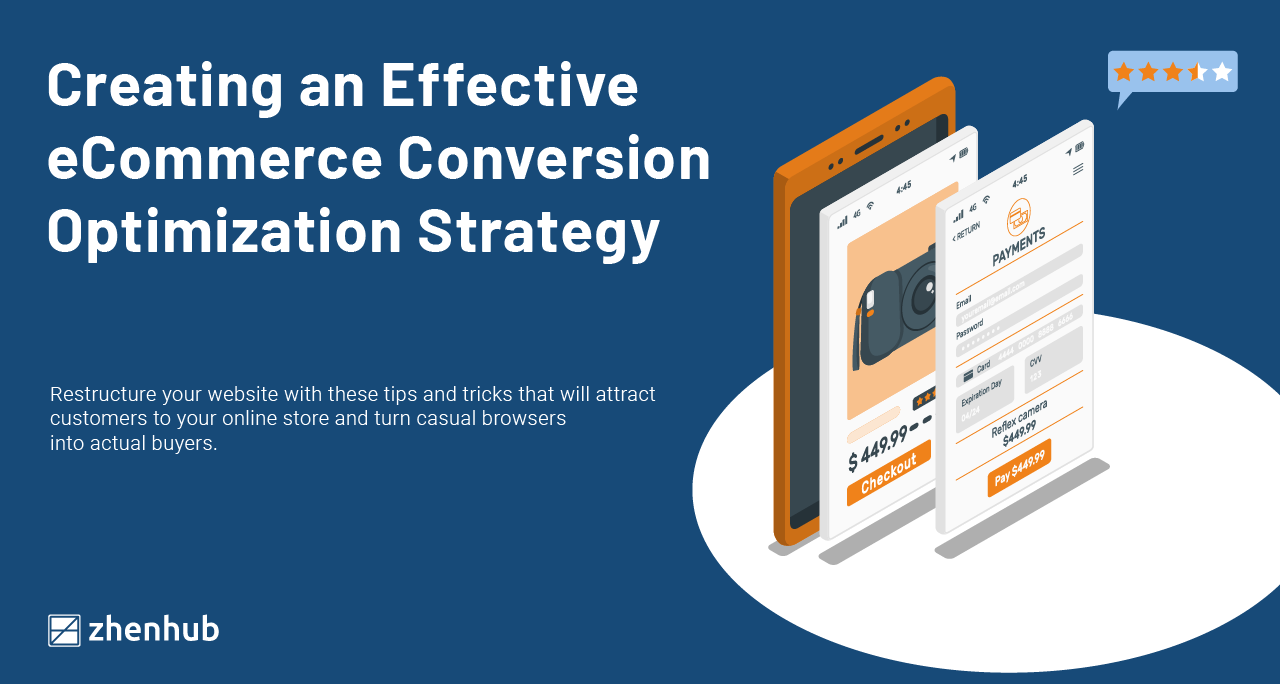 Defining eCommerce Conversion Optimization
eCommerce Conversion Optimization or Conversion Rate Optimization is the process of structuring a website, so it encourages visitors to take a specific action on a web page. These actions can be in the form of account creations, whitepaper downloads, newsletter sign-ups, or, in the case of eCommerce, check-outs. Conversion Optimization is a never-ending analysis of online market behavior — how they navigate a site, the clicks they make, and what encourages or stops them from completing a set goal.
To compute the eCommerce Conversion Rate, just divide the number of successful check-outs by site traffic. For instance, if a website earned 50 sales transactions after generating 100 website visits in a month, that online store's conversion rate is 50%.
eCommerce Conversion Optimization Tips
There are numerous ways retailers can attract customers to their online stores. Something as small as changing the color of a call-to-action button can significantly impact online revenue. For merchants looking to update and upgrade their online presence this coming 2021, here are a few eCommerce Conversion Optimization tips to follow:
Understand Your Market
The cornerstone of every winning marketing strategy is understanding market behavior. Retailers who know their audience find it easier to send their brand message across. High traffic does not always equate to increased sales, especially when a merchant's site does not attract the right market. Three key factors can help sellers determine their ideal market:
Demographic and Psychographic
Demographic data is statistical data that defines the particular characteristics of a market segment. Age, gender, household income, and occupation are common demographic data points used in brand marketing, both online and offline.
A deep understanding of the buyer's journey will help retailers know the best way to approach their online presence. For instance, do consumers like to compare product models before deciding what to buy? If yes, then a "comparison feature" might be an excellent eCommerce Conversion Optimization strategy.
Device and Channel Preference
An omnichannel strategy continues to become the norm for eCommerce. Now, retailers need to consider the devices and channels a specific audience prefers. Should products be available for check-out on other platforms like Facebook and Instagram? Or is a website shop enough? Do buyers prefer browsing items on mobile or desktop? Merchants who have this knowledge will find it easier to optimize their online presence to meet their market's preference.
Know Your Marketing Options
Once a merchant fully understands their online market, the next thing to consider is available marketing avenues. Before the world became a digital-first society, the only online channel merchants could use to market their products is email. Digital marketing has come a long way since then. Small to medium businesses can now compete with industry giants on a variety of platforms:
Search Engine Optimization is one of the more popular strategies when it comes to eCommerce Conversion Optimization. A study by Zero Limit reveals that the first five organic results on Google account for 67.60% of all clicks. SEO aims to put a website on the first page of Google search results by optimizing its content, design, and speed. This involves studying what potential content users will find exciting and identifying what search terms they will use to look for that type of content.
Social Commerce has been making waves the past few months, especially with the release of Facebook Shops. In fact, based on data published by emarketer, 55.2 percent of American internet users under the Gen Z cohort say that social media content inspired their most recent purchases. If a seller's primary audience is more in the younger age bracket, it's best to take advantage of social media as an eCommerce Conversion Optimization strategy.
Email marketing has been around longer than before the term "digital marketing" was coined. Amazingly, when done right, it can still be just as effective. Retailers who have a robust customer database can leverage existing information to make marketing a more personal experience for consumers. A drip campaign triggered by previous purchases is just one example of remarketing that can increase the eCommerce conversion rate.
A retailer looking for instantaneous results and web traffic can maximize the power of pay-per-click ads. This particular digital marketing strategy is available both on search engines and social media. It is an excellent way to increase targeted reach to generate relevant website traffic. With the right keywords and market targeting options, paid ads can be an effective eCommerce Conversion Optimization strategy to turn clicks into customers.
This eCommerce Conversion Optimization strategy involves tapping a social media influencer's loyal following to widen targeted reach. With influencer marketing, retailers can increase brand awareness and encourage conversions through an influencer serving as an endorser. However, this is a more authentic approach to advertising, as the influencer publishes more organic content than planned and carefully curated.
Give Them What They Want
The foundation of every successful eCommerce Conversion strategy is simple: addressing the market's needs. Once retailers know who their market is and where they prefer to shop, the next step is identifying how to give them a positive shopping experience.
Seamless Checkout Process
If an online shop is experiencing a high shopping cart abandonment rate, retailers must first evaluate their checkout process. Are there too many steps before they can complete a transaction? Are they required to create an account just to check out? These are only two of the many questions merchants must ask themselves to ensure that the checkout process is as simple as it could be for the buying market.
Flexible Payment and Shipping Options
Another factor that could influence eCommerce Conversion Optimization is a retailer's available payment and shipping options. Amazon has made two-day shipping the standard for sellers, but if a merchant can partner with a reliable 3PL, they can offer expedited shipping such as same-day deliveries or overnight shipping.
Payment options also play a role in website conversion. In addition to traditional payment methods such as cash on delivery, credit or debit card, and Paypal, many online shops now offer contactless payments such as Apple Pay and Samsung Pay. If shipping and payment capabilities are too limited, sales can suffer as buyers can feel alienated or forced to find other providers to meet their preferences.
Bundles, Discounts, and Promos
There's a reason the holiday shopping season is the busiest time of the year for retailers and buyers alike — it rains deals and discounts. Merchants who offer special bundles, limited promos, exclusive discounts, and free shipping will naturally enjoy higher site traffic and conversion. Through data, sellers can identify what products are usually brought together and sell that as a bundle. Likewise, perfectly-timed deals and discounts, such as payday sale, can also be an effective eCommerce Conversion Optimization strategy.
---
There is so much an entrepreneur can do to optimize their online presence for conversion. It can be overwhelming, but the key is to start with what's feasible and taking it one step at a time. Retailers can do this in phases: Phase 1 will focus on improving site speed; Phase 2 will tackle content and design changes, and so on.
As previously mentioned, small changes can significantly impact conversion. The important thing for sellers to remember is to track every little adjustment they make on the site. Monitoring all updates on the site will make it easier for sellers to identify what works and what does not in the long run.
If you are an eCommerce entrepreneur searching for a fulfillment company to supercharge your online business, our experts at ZhenHub are ready to talk! Together, let us optimize your digital store for conversion. Get a free quote now.
Share Article