Port Congestion in 2022: What's Happening and How is it Affecting Businesses?
Time to read:
5
minutes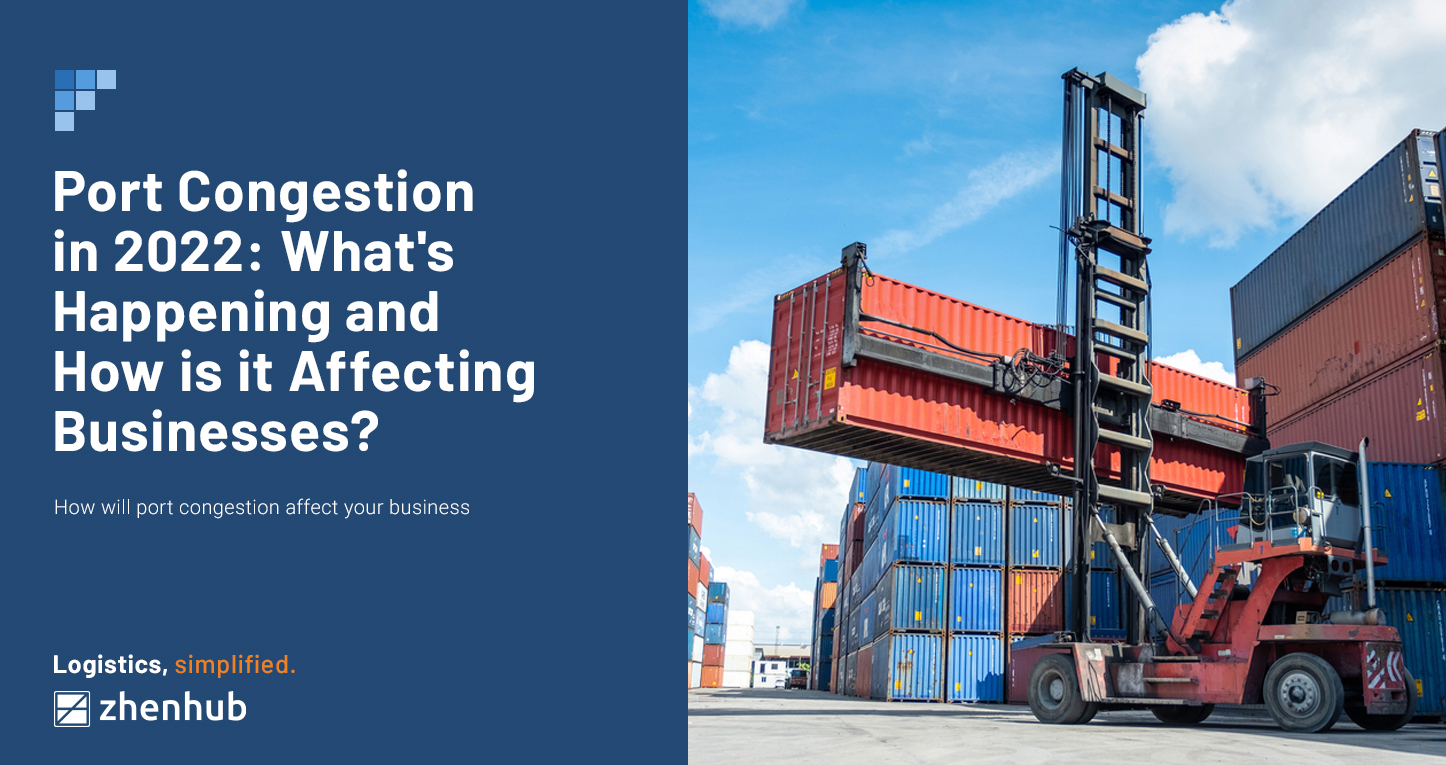 The emergence of COVID-19 and its impact on the global economy is still felt two years after its discovery. While its human cost isn't as devastating as the 1918 Spanish flu, COVID 19 is the new millennium's first genuinely global pandemic. Most sectors had to pivot operations to adapt to the crisis for the last two years. Some are doing better than others. The pandemic has disrupted the logistics industry on such a massive scale. The supply chains have yet to recover or cope with its impact. And it could get worse. Global shipping rates are at an all-time high, and there is a shortage of containers. These have also highlighted issues with port congestion.
This article will explain why you need to know about port congestion in 2022, and the best practices retailers can take to mitigate its effects.
Port Congestion: What You Need to Know
Supply chain issues have been an ongoing problem for years. Global ports were struggling to keep up with the influx of orders even before the pandemic. COVID-19 brought it out to the fore and into the international market spotlight.
2020 saw the perfect storm. Between shutdowns and labor shortages, as well as the increase of eCommerce activity, it isn't difficult to see how the global supply chain was bound to struggle through the pandemic. After two years, experts agree that there isn't an end in sight:
"Port congestion is still very much with us. Not just at one or two ports. And not just on the West Coast.  Of the nation's ten busiest ports by volume, it is estimated that at least seven face congestion regularly.  The causes are varied and complex — labor disruptions, cargo surges from big ships, infrastructure needs, marine terminal productivity, and equipment shortages, among other reasons. 

The result is chronic gridlock at many ports. Ships are stranded offshore for days, even weeks, waiting to unload. Containers are buried in enormous stacks in clogged terminal yards. Trucks wait in line for hours (up to eight or nine hours in some cases) to pick up a single container. And customers throughout the country experience shipment delays lasting weeks. The congestion and bottlenecks reverberate throughout the supply chain, becoming a significant trade barrier for both exports and imports with a corresponding negative impact on the economy," read a part of the letter from the National Customs Brokers and Forwarders Association of America to the Congress. 
But the question on everyone's mind is when will the situation ease and the problems abate. Unfortunately, there seems to be no end in sight. Retailers would still need to deal with congestions and price hikes.  
"It's unlikely to happen in 2022. My crystal ball gets murky further out," said Phil Levy, chief economist at Flexport, a freight forwarding company based in San Francisco.
Similarly, Aaron Alpeter, founder of Izba Consulting, a supply chain consulting, outsourcing, and technology firm, believes that companies will spend more resources for restructuring. It won't be until 2023 and beyond before we see a more stable situation: 
"There's a lot of fundamental restructuring going on as a result of the pandemic-induced demand shifts and geopolitics that we are probably 12 to 18 months away from being in a new steady-state,"
The Global Supply Chain Crisis
As mentioned earlier, port congestions are mere symptoms of a bigger problem. Most of the difficulties got catalyzed by COVID-19. However, in its wake lies the incredibly challenging global supply chain crisis issue.
The global supply chain is a complex system, and so is the current crisis. The pandemic abruptly shifted consumer behaviors. Demand for certain products dried up while other sectors surged. Manufacturers, carriers, logistics providers, and retailers struggled to keep up with the ever-changing needs of the market:

"The supply chains were discombobulated. Shipping capacity was quickly exhausted at the start of the pandemic because everyone planned for a big decline in demand but in fact there was a surge because people wanted to buy things. Then the supply side was hit hard with ports, warehouses and truck companies all short of workers. But you can't flick a switch and get new capacity back on. New ships are not ready until 2023. Shipping supply should normalize within a year but does the economy normalize?" explained Roy Cummins, chief executive of the Port of Brisbane in Australia.
For most businesses, recovering from this crisis would take years. However, Robert Swinney, operations professor of the Fuqua School of Business, believes the most operations should focus on developing resiliency strategies moving forward:
"Companies need to reevaluate their disruption-mitigation strategies and be prepared to invest more in resilience," he said. "In the near term, I expect companies to exhibit renewed vigor in applying resilience measures including sourcing from multiple suppliers in diverse locations, having some excess or backup capacity that can be brought online quickly, and holding inventory as safety stock. And while people often look to inventory first, this is not the only solution. It's one part of a portfolio of solutions, and it needs to be used carefully and selectively in concert with other strategies."
How To Cope with the Rising Logistics Costs
It can be difficult for small and medium online retailers how far-ranging the impacts are. However, carriers are already hiking their prices. For instance,USPS increased its rates earlier than ever before.

At the end of the day, shipping costs are still the number one expense most eCommerce retailers need to keep down to maintain a smooth operation. Reducing this expense entails getting to know every process of transportation:
Reducing international shipping costs in 2022 starts with product manufacturing. At the onset of production, it is essential to keep track of the inventories' dimensions. In addition, make sure that the items are easy to pack and stackable to significantly decrease the costs of shipping inventory from the supplier to the warehouse.
Understand the Destination
Different destinations have various documentary requirements – each with a corresponding cost. Therefore, it's crucial for those new to international shipping to know these costs before entering new territory. It's best to start small, understand international shipping better, and expand accordingly.
Carriers provide a discounted rate for bulk shipping orders. Retailers must vet their potential carrier firms before doing business with them. Take the time to negotiate with the shipping companies to get the best prices. It may take a lot of effort, emails, and phone calls, but the diligence is well worth it.
Work with a Third-Party Logistics Partner
Working with a reputable third-party logistics company is the best recourse for those who don't have time to vet carriers and process international documents. In addition, 3PL providers can ease international shipping obligations. They can take on the entire order fulfillment process from shipping inventory to delivering overseas orders at a discounted price per order.
Learn more about international shipping here.
The world is facing plenty of uncertainties today. The effects of port congestions and the overall global supply chain crisis are bound to affect your retail operation. It's imperative that you're ready for future changes. You'll need to partner with logistics experts that can help you at every turn.
We at ZhenHub have decades of combined 3PL experience. We are supply chain and logistics experts, and we can help you navigate through these trying times. Give us a call today or request a free quote to learn more about how we can take your business to the next level. 
Share Article