Will Global Shipping Rates Continue to Rise in 2022?
Time to read:
4
minutes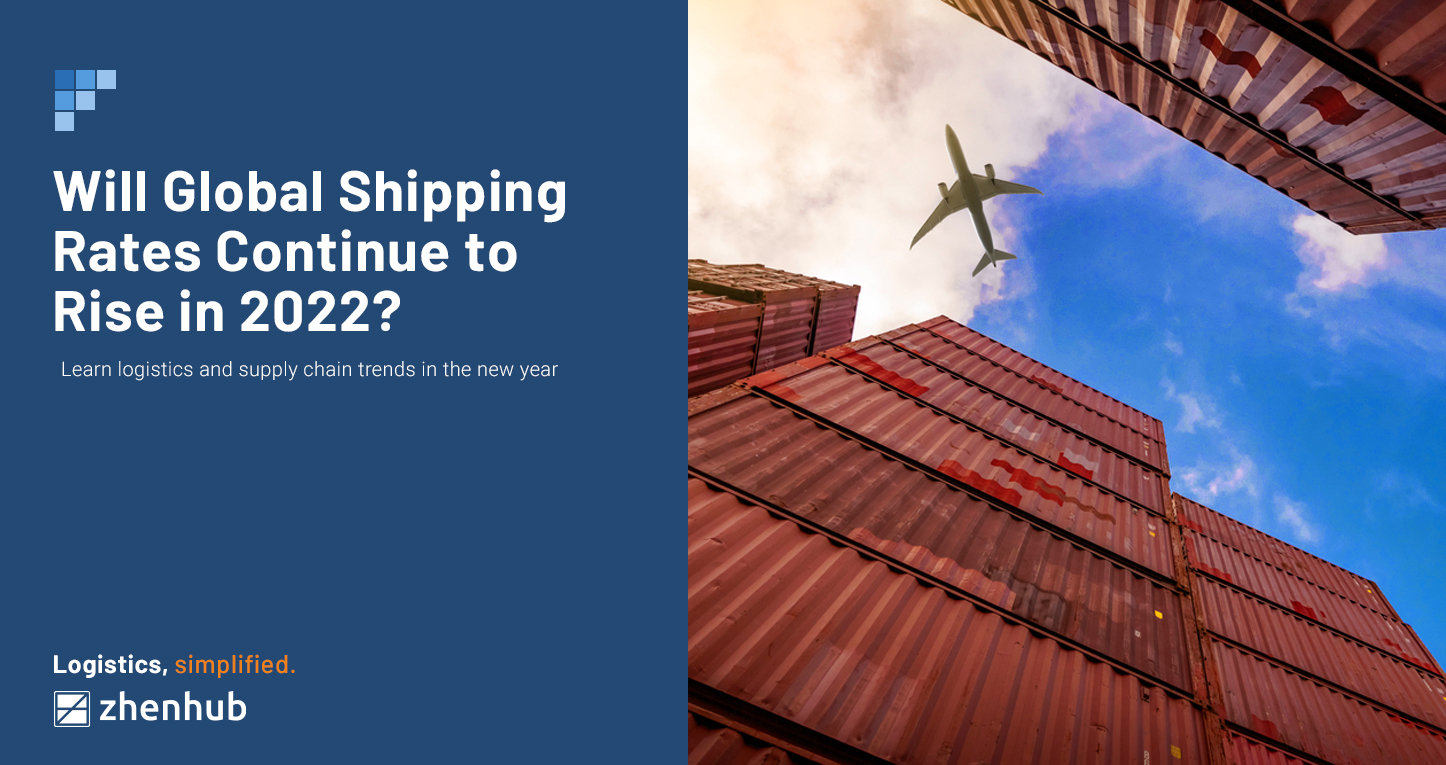 It has been two years since COVID-19 threw the world for a loop. The crisis significantly impacted global economies and the way people lived. It is safe to say that the pandemic has ushered in a new normal. Arguably, these changes significantly impacted consumer behavior.
Over the last two years, eCommerce boomed exponentially. Many people made their first online purchase because of the crisis. The industry rose by a whopping 32% in 2020 alone, bringing in profits of almost $800 billion.
While the shifts in consumer behavior are beneficial to online retailers of all scales, the increase in demand disrupted the logistics and supply chain industry. As a result, global shipping rates and transportation costs spiked over the last few years.
Supply chains and logistics issues will continue to hound companies, and a quick resolution is uncertain. This article explores global shipping rates and transportation as the world enters 2022.
2022 Global Shipping Rates Continues to Rise
In discussions surrounding logistics, experts get divided on the trajectory of global shipping rates and transportation costs. 
According to the World Economic Forum, global shipping rates could ease over the next few months. Since September, there has been a 16% drop in shipping prices as most US ports have ordered longer operational hours to boost efficiency and reduce the backlog. However, shipping rates would still be at record highs throughout 2022. The report said that it will only stabilize by 2023:
"Although rates have subsided, they may remain elevated through the end of the year. Some underlying supply constraints do not have immediate fixes: backlogs and port delays, labor shortages in related occupations, supply chain disruptions moving inland, and shipping industry challenges such as the slow capacity growth and consolidation that concentrated the market power of a few carriers. On the other side, if the pandemic is controlled in the future, the demand for tradable goods might gradually decline as some service-providing sectors, such as travel and hospitality, recover."

World Economic Forum Report
Despite the claims of the World Economic Forum, the ocean freight industry is expecting another round of surges to global shipping rates. Philip Damas, the director and head of the supply chain advisors practice at London-based Drewry, explains that global shipping rates won't stabilize until the market disruptions brought on by the pandemic get addressed:
"Challenges of securing ocean capacity amid current logjams and prospects of hugely inflated ocean freight costs in 2022 are forcing logistics buyers to consider radical options. The crisis has turned the ocean transportation sector into both a seller's market and an inefficient, unreliable sector. Furthermore, shippers pay much more for a deteriorated service—a change which many logistics managers find hard to explain to their company's leaders. At Drewry, we have told our beneficial cargo owner customers to plan for another year of container supply chain shortages and very elevated ocean rates." 

Philip Damas, Founder and Head of Drewry Suppy Chain Advisors
Similarly, air freighting operations are under pressure due to the reduced passenger jet capacities. The market will continue to be demanding, and consumers will shoulder the cost to recoup the passenger travel losses.
"The air cargo market remains very demanding and constantly changing due to the regulatory pandemic landscape, outbreaks of new variants, and escalated vaccine distribution needs. And that means higher rates across the board. Matching capacity to need is going to be the key concern for shippers in 2022—almost regardless of price" explains Niall van de Wouw, managing director of CLIVE Data Services in Amsterdam. 

Niall van de Wouw, Managing Director of CLIVE Data Services
Even parcel shipping got affected by the global upward trend in domestic and international shipping rates. According to Matt Bohn, a senior consultant for Shipware, leading carriers, UPS and FedEx have already announced their updated 2022 rates. Both service providers have increased their prices to leverage new consumer trends:
"The carriers are aware of this, and they're also aware that the new consumer mindset handcuffs shippers into fulfilling more orders or risks losing business to those who can. The carriers leverage this phenomenon to raise rates both via rate increases to target high-frequency items like minimum charges, additional handling, and new delivery area surcharges and also contractually via forced increases or long termination charges, which lock shippers into unknown future rate increases."

Matt Bohn, Senior Consultant for Shipware
Why Global Shipping Rates are Increasing
There are plenty of factors that contribute to the continuing rise of shipping costs across the globe. The trend has already been in an upwards motion. However, the COVID-19 crisis only exacerbated the situation. Supply chains were severely affected, especially at the height of the pandemic in 2020, and the trend will continue well into 2022.
Understanding the key factors affecting global shipping rates is the first step in mitigating costs: 
1. Global Shipping Container Shortage
Currently, global trade is experiencing an unprecedented shipping container shortage. China, the world's leading manufacturing hub, opened its ports sooner than the rest of the world. Unfortunately, most of the shipping containers needed to transport goods are stuck in ports that remain closed. On average, a shipping container costs around $3,500. eCommerce retailers shoulder this expense hence the increase in transport costs.
2. Few Alternatives to Ocean Freight
At present, there are few alternatives to ocean freight, especially when it comes to transporting low-cost products. Retailers that deal with high-cost items can recoup the cost of air or train freights by increasing product prices or shipping costs. But retailers cannot apply the cost strategy to lower value inventory such as RTW apparel, household merchandise, and personal care products.
3. Sharp Increase in Online Orders 
The demand for international shipping skyrocketed in 2020. More people are purchasing their products online, and the increase is unprecedented. Unfortunately, most carriers were not prepared to handle the number of orders coming through daily. To ensure all products get shipped on time, most shipping companies have resorted to increasing their workforce. As with needing new shipping containers, the cost for new staff, including training, gets passed on to the customers.
While it seems that there's no other solution other than passing the cost to the consumer, we do have more information about shipping costs and reduction strategies here.
Navigating through the world of eCommerce post-COVID is challenging. The pandemic has completely changed the face of the industry, and retailers need to adjust to the ever-shifting trends.
ZhenhHub offers tech-based logistics solutions designed to adapt to the changing time. Request for a free quote now or sign up to see what we have to offer- from shipping software and services to warehousing and fulfillment.
Share Article