Lost Packages: Is it the Buyer's or the Seller's Responsibility?
Time to read:
4
minutes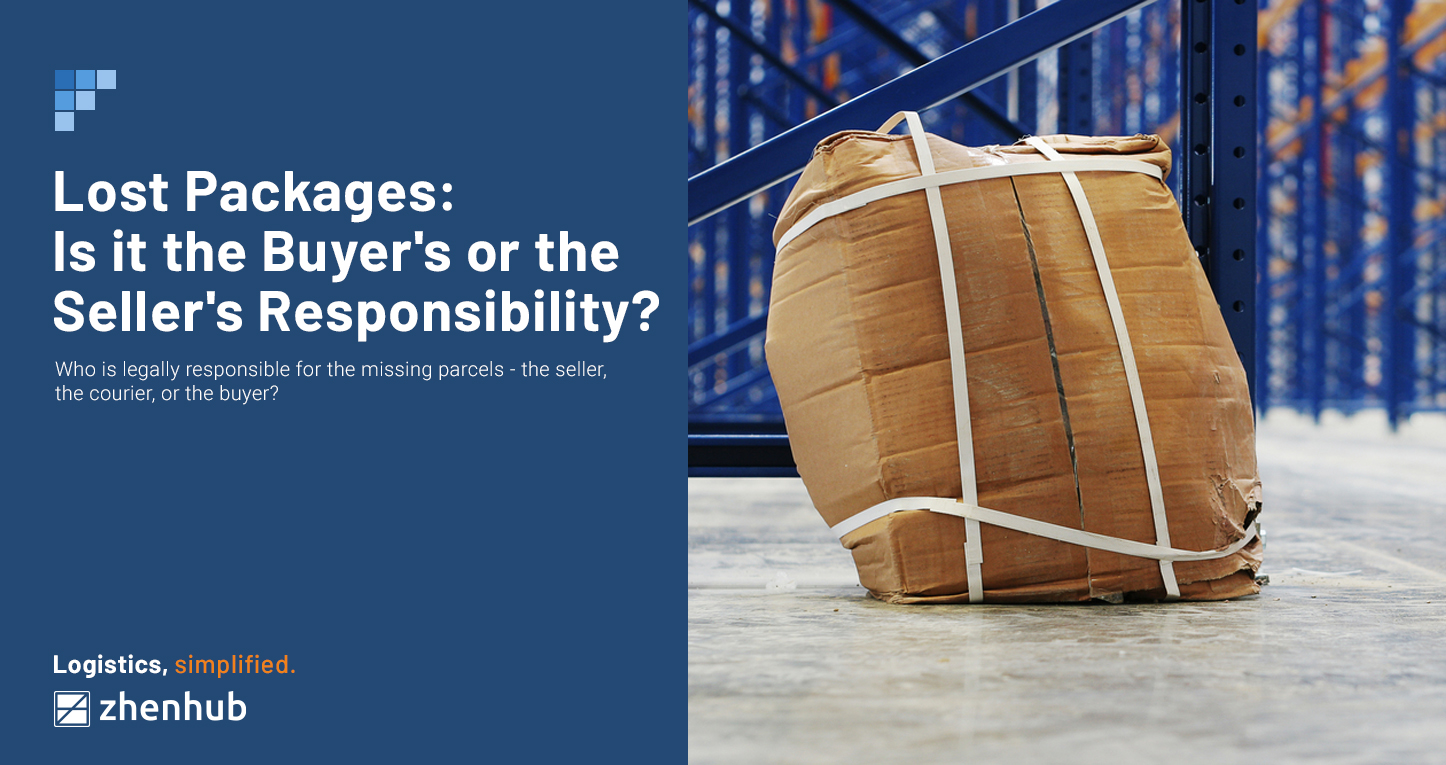 While running a successful eCommerce business is lucrative, retailers need to contend with many uncertain variables and scenarios. Inventory prices and global shipping rates fluctuate, and product demand could be just as finicky. Most small and medium retailers are still trying to find their bearings within the sector.
One of the more tricky aspects of eCommerce is dealing with lost and missing packages. It can get costly as well. A Statista.com report said that there will be 266 billion parcels shipped by 2026. And how many parcels get lost or go missing? Last year, more than 210 million packages were stolen in the US alone.
There is only so much a retailer can do to retrieve their parcels.
The biggest question about lost parcels surrounds liability—who is legally responsible for the missing packages? Is it the seller, the courier, or the buyer? This article explores this question.
Who is Liable for Missing or Lost Packages?
Identifying the party responsible for missing and lost parcels can be time-consuming or challenging at the very least. The short answer is that it depends. Different jurisdictions have varying guidelines when it comes to online selling and purchases.
In the UK, for instance, local consumers are protected by the Consumer Rights Act. A seller and a buyer enter into a legal and binding relationship that ends with the parcel delivered to the consumer in working and good order through the law.
"When you agree to buy goods you enter into a legal contract with the retailer. This means under the Consumer Rights Act, they're responsible for the safe delivery of your order," explains Gary Rycroft, a solicitor, and a consumer law expert.
According to the Consumer Rights Act, the retailer is responsible for any instances of lost packages:
"With social distancing rules, it's increasingly hard to confirm if a parcel has been delivered when the business says it has. However, it's the retailer's responsibility to ensure those goods are in your hands, not just left on your doorstep where anything could happen to them," explains Martyn James from Resolver.
Beyond the missing parcels, the law also protects consumers from damaged products and late deliveries:
"If you're not given a specific delivery date, but a window of say 'three to five working days', the seller must get your delivery to you within 30 days of the order being placed. This is under the Consumer Contracts Regulations 2013, (formerly Distance Selling Regulations)," says James.
Unfortunately, not all regions have online selling regulations in place. In the Philippines, it wasn't until 2020 that congress passed the Internet Transactions Act. This law aims to create parameters on the obligations and liabilities for e-commerce platforms, online merchants, and couriers:
"The ongoing practice is that consumers who buy from online platforms like Lazada, Shopee, and Zalora, are limited to the courier services selected and offered by these e-commerce platforms. In order for the consumers to be able to purchase the items they want, they have no other option but to use the courier services utilized by these online platforms. And sometimes they literally have no choice because only one courier service is offered by the platform," explains Gatchalian.
How to Prevent Lost Packages
As they say, an ounce of prevention is worth a pound of cure. This statement rings true even when dealing with lost packages. As mentioned earlier, eCommerce retailers would have to deal with missing parcels at one point or the other. It's crucial to find ways to minimize these circumstances:
Use Reliable Shipping Labels
One of the simplest ways to prevent lost parcels is through shipping labels. Shipping labels are crucial in getting a package from point A to B without issues. The label should be legible and difficult to tamper with. Retailers should avoid using ambiguous abbreviations and if a box is to be reused, make sure that old tags are adequately removed.
Purchase Shipping Insurance
Shipping insurance protects sellers from incurring any losses if a parcel goes missing in transit. This expense is significant for high-value and rare items. At the very least, insurance should cover the cost of the item and the shipping fee.
Include "In case found" Information
Not all lost packages are stolen. It is best to provide "in case found " information on the packaging itself in such cases. This way, the person who retrieves the package would know what to do with the order. At the very least, sellers should include their name, contact details, and company address.
Managing Lost Packages
Missing and lost packages are inevitable. More often than not, the kind of operation a retailer runs is determined by their response to these unfortunate situations.
There is no one-size-fits-all to dealing with missing parcels. However, it is a good idea to determine the actual status of an item. It is important to remember that just because a customer claims they haven't received an item doesn't mean it is already lost or missing. It is best to wait around a week from the expected delivery before proceeding to the next steps.

After ensuring that the package didn't get lost in transit, it is time to file for an insurance claim. Again, the insurance policy should cover the cost of the item and the shipping rate. Once the claim gets approved, refunding the customer or replacing the package is easier.

Throughout the whole ordeal, do not forget to communicate with the customer. The last thing a retailer wants is to lose a customer because of one instance of a missing parcel.
As eCommerce use continues to rise, the number of lost, stolen, or missing parcels will also increase. eCommerce retailers need to accept that dealing with lost packages is an inevitable part of doing business.
Thankfully, you don't have to go through developing a lost and missing process alone. We at ZhenHub are eager to help. We can ensure that your customers receive their parcels every time by partnering with us. Learn more about our services today. Contact us or request a free quote and see how we can handle your order fulfillment and shipping needs seamlessly. 
Share Article