What is a Smart Warehouse?
Time to read:
5
minutes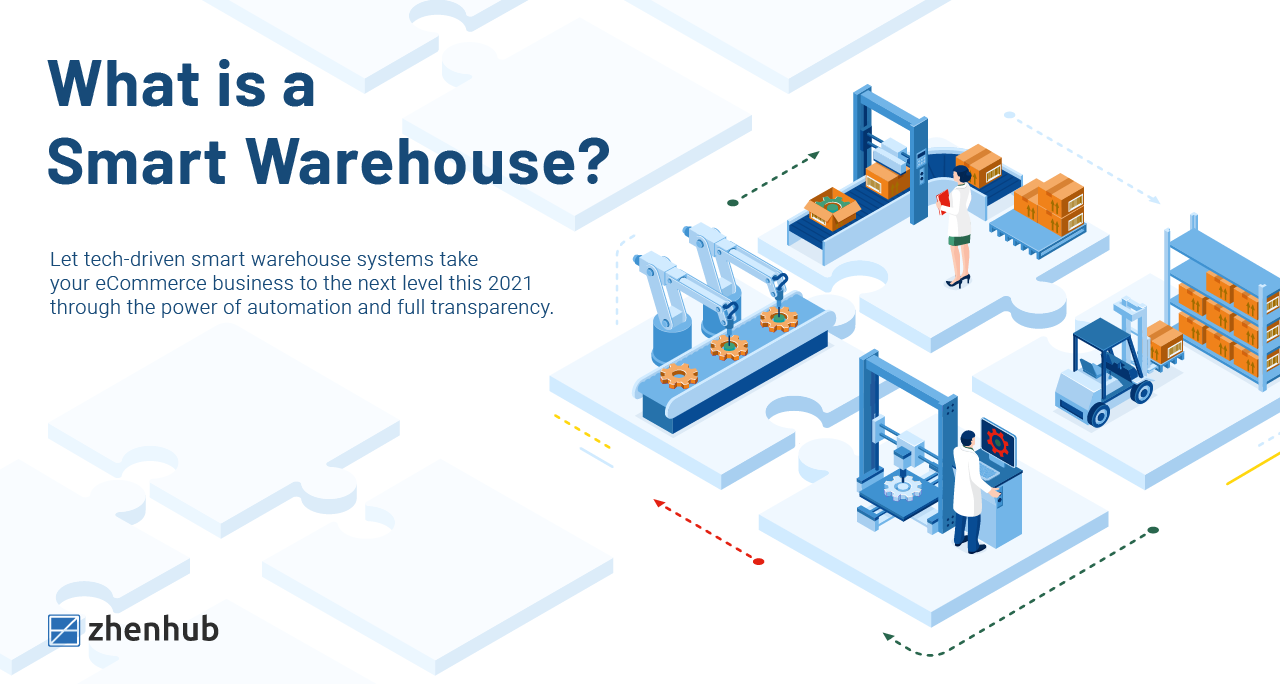 Technology is essential and an inescapable part of running a business. Digitizing organizational operations, making technology, and commerce mesh together are all needed to scale a successful company.
Prevailing global conditions have not dampened interest in digital transformation. In actuality, It has driven it. Between 2020 and 2023, direct investments into digital transformation could reach a total of US$6.8 trillion. According to a McKinsey Global Institute report, about 85% of companies with multi-billion dollar revenues have accelerated digitization. These investments aim to improve operational processes, hasten the ability to take products into the market, and improve customer experience. 
As the global population goes online, businesses need to start looking into specialized technologies to serve and capture this market.
While a relatively new option for business owners, incorporating smart warehouses is fast becoming a technology imperative. This article discusses the inner workings of smart warehouses, the benefits of adopting this technology for eCommerce businesses, as well as a case study on a small business that has successfully incorporated intelligent warehousing through ZhenHub.
What is a Smart Warehouse? 
At its core, a smart warehouse is a large storage facility that houses raw materials and ready-to-ship inventory. What sets it apart from regular warehousing options is using technology to automate storage tasks commonly carried out manually by employed workers. Smart warehouses entail a series of interconnected automation functionalities that work together to improve storage efficiency, increase productivity, and minimize human errors.
Smart warehousing can take many forms. More widely-utilized set-ups can receive orders, identify inventory, sort through available stock, organize the package, and automatically send out the order.
Common Smart Warehouse Systems
Various smart warehouses are available for eCommerce merchants, all of which can be customized based on operational requirements. Below are a few of the most common systems:
RFID
Radio-frequency identification, otherwise known as RFID, is a modern means of labeling and identifying inventory. These digital labels are placed on each SKU as it comes into the warehouse. 
This warehousing system allows business owners to do away with scannable bar codes that take a lot of time and effort to attach and scan. One of RFID's best advantages is its ability to be checked even from far distances. Moreover, this option reduces inventory errors. A quick scan of the whole warehouse can immediately show what products are inside it. 
Artificial Intelligence
Smart warehousing through artificial intelligence takes advantage of the technology's ability to learn. Utilizing AI allows machines to gather, analyze, and pivot operations to ensure optimal warehouse operational efficiency. Aside from this, the use of AI for warehousing can also act as a security measure for the facility. AI-enabled systems can identify errors and breaches almost immediately.
Robotics
Robotics and robotic process automation go hand in hand with the use of RFID. Most smart warehousing systems start with tagging products with RFIDs. Once the tag is in place, robots organize and place inventory for storage, release, and delivery. With AI, automation, robots can easily and quickly retrieve a product within the warehouse based on its RFID tag.
Wearable Technology
Smart warehouses also employ a workforce with wearable technology. This option essentially provides warehouse employees access to critical information without having to report back to their workstations. Depending on the technology available, wearable devices can also start and halt a specific warehouse process.
Warehouse Management Systems
Otherwise known as WMS, warehouse management systems track everyday processes within a storage facility. With the gathered data, the system can provide recommendations and techniques to make the entire operation more efficient and productive. Most WMS systems collect data in real-time. As such, they are useful tools in determining process-problems as it happens. 
IoT
IoT or the Internet of Things is a culmination of all other warehouse systems. It connects most smart warehousing technologies and allows them to share data and communicate with each other. Choosing to integrate all warehousing systems through the IoT minimizes errors since the whole operation works under the same information set.
Benefits of Outsourcing to a Smart Warehouse
Smart warehousing is the logical next step to address global economic trends. While it is an investment, eCommerce businesses can reap significant benefits by incorporating smart warehousing in their operations.
Efficiency
Choosing to automate storage solutions is one of the best ways to improve efficiency within an organization. Automation can potentially reduce overhead costs or have the workforce refocused for higher-value work.
Scalability
As a company grows, it becomes more challenging to take care of orders manually. In choosing a smart warehousing option, businesses can avoid delays and procedural mistakes. Improved deliveries significantly boost customer satisfaction and conversion and increase repeat business.
Incorporating smart warehousing solutions allows a company to scale when needed. With the right mix of warehousing systems, a business can accept large orders, add new inventory, and grow even larger in the future without affecting day-to-day operations.
Agility
Opting to incorporate smart warehousing into an operation is the right step towards building a more agile organization. After all, these solutions allow a business to adapt regardless of the industry and operational circumstances. A smart warehouse system can adapt to the influx of new products, new branding, and new management tools. It can pivot to accommodate the changes without losing efficiency and productivity.
Visibility
Business owners and key decision-makers that know more about their warehouse operations can make more informed and better business decisions. Smart warehousing makes information easily accessible to key individuals within the company.
Minimize Human Error
In eCommerce, delays and errors can significantly impact the reputation and profitability of a company. More often than not, human error causes these problems. Automation can prevent this or, at the very least, significantly reduce the occurrence of these issues. The more automated the system is the fewer errors the business encounters.
Safety and Security
Robots, AIs, and RFID chips can safeguard an operation from breaches and infiltrations. Likewise, it can identify abnormalities within a process, and alert business owners should a risk arise with a fully-deployed and customized system.
Smart Warehouse Success: Loupedeck Case Study 
Smart warehousing has gained traction over the last few years. While there is a considerable investment in implementing automated warehousing solutions, the business outcome is definitive.
Businesses like Loupedeck have implemented smart warehousing from ZhenHub to great success. At the onset, Loupedeck, an eCommerce company based in Finland, had problems managing warehouses based in several locations. As orders came in, management began losing track of available inventory. Moreover, their facility has proven unable to tackle B2B orders as well as B2C shipments. This forced management to coordinate not only with their warehouse but also directly with their shippers.
After identifying the problems, ZhenHub's first step was to establish fulfillment centers closer to Loupedeck's customers. This solution enabled the company to save on operation and shipping costs. ZhenHub also outfitted Loupedeck with an automation platform that allowed team members from all over the world to manage the supply chain. Lastly, a tracking system was put in place so that inventory information would always be within reach. 
The solutions that ZhenHub introduced reduced shipping coordination time by 63%. Likewise, it has decreased shipping costs by 53%. 
---
Key Takeaways
As the world continues to adapt to the new normal and more consumers go digital, e-commerce businesses need to be more agile and scale operations to meet these needs. Automation is key, and smart warehousing provides the perfect solution to most storage and problems. Every eCommerce company needs a reliable partner in accomplishing its bid for automation.
ZhenHub can help optimize and automate your order fulfillment process. From stocking inventory to shipping out orders, we designed our systems for optimum efficiency and productivity. With our help, you can grow your business and scale to new heights. Sign up for our tech-powered warehousing solutions today!
Share Article