5 Industries with Sustained eCommerce Growth Potential
Time to read:
5
minutes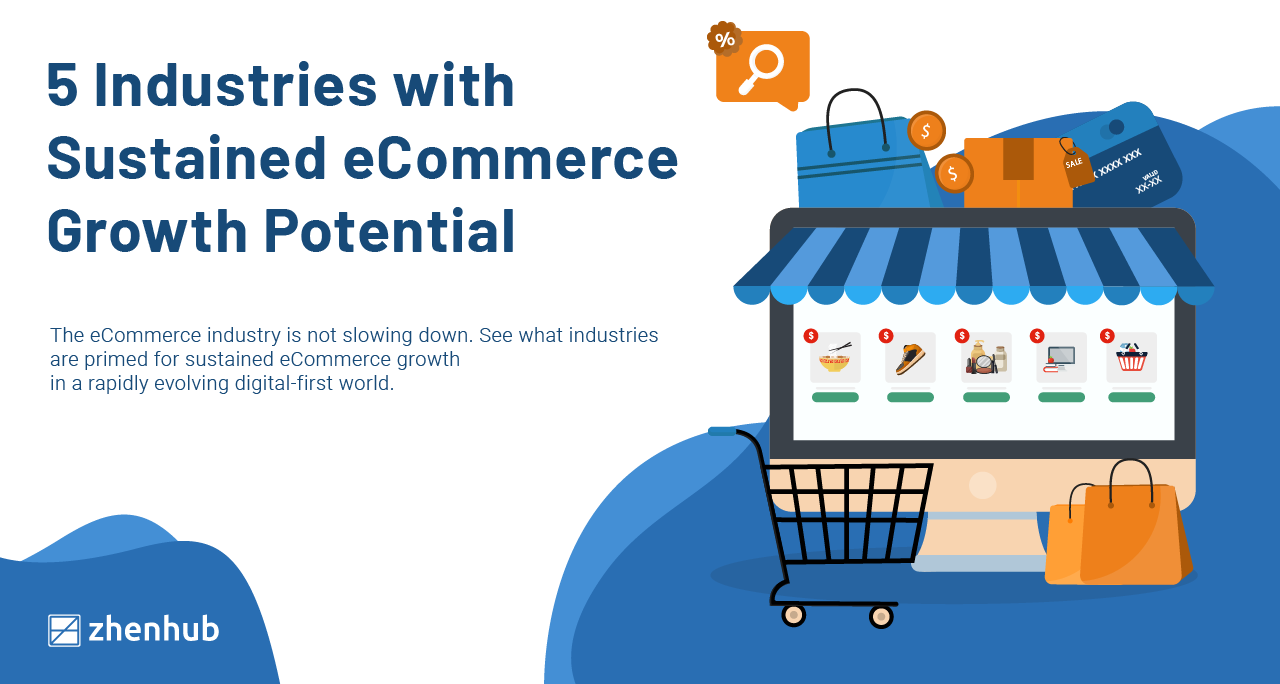 COVID-19 has affected most, if not all industries, in various ways. While several industries have suffered from the shelter-in-place orders and travel restrictions, COVID-19 has given way to the rise of eCommerce.
eCommerce growth is evident with the sales rate showing a steady increase in the last few years. It has boomed from a $1.3 trillion industry to a staggering $4.1 trillion in under five years. Total eCommerce sales are projected to reach the $5 trillion mark by 2021.
The current crisis has pushed eCommerce to new heights. To survive, most brick-and-mortar companies have pivoted their operations and have turned to online measures to gain traction and increase sales.
At this point, it is safe to say that the future of retail is online. There are, however, specific industries that are seeing a promising future in terms of eCommerce growth. This article will explore the booming eCommerce industry during the COVID-19 plight and the sectors that are forging ahead and cornering the eCommerce market.
eCommerce Growth Projection: Online Versus Store-Based
Technology has made the world smaller. With the internet's power, people now have access to an endless amount of information with just a click and a swipe. Technology has shifted the means people transacted and acquired goods in the same way.
Running a successful business entails more than just opening a storefront. With the shift in consumer behavior, having a physical store is no longer the best way to ensure sales and profit.
Even before the pandemic, eCommerce growth has already gained more attention than retail establishments. While the total global sales of brick-and-mortar stores still clock in higher, considering eCommerce's growth rate, it wouldn't be long until the playing field levels out.
Brick-and-mortar sales rose by 3.6% from 2016 to 2017. In comparison, the rise of eCommerce sales in the same amount of time is at a staggering 16%. Pre-pandemic consumer behavior leans towards browsing online and shopping in-store. However, more recently, research from Bazaarvoice has shown an increase in online orders across the country even as restrictions eased.
There is no doubt how the pandemic has aided in the growth of the eCommerce industry. However, beyond COVID-19, many factors contribute to the rise of eCommerce. For one, access to the internet is more prevalent now more than ever. As of October 2020, there are more than 4 billion active internet users across the globe. Moreover, the advent of mobile technology, in conjunction with better online payment methods, has allowed consumers to shop flexibly and conveniently.
The Pandemic-Caused eCommerce Surge
Even before global lockdowns, consumer behavior has already been shifting to eCommerce and has provided most shoppers convenient, 24/7 access to goods and services.
COVID-19 has pushed consumers, even those beyond the target audience, to accomplish most of their shopping online.
Boomers, who are considered the most vulnerable to the virus, have taken to the internet for their necessities – most are shopping online for the first time. True enough, according to research, 50% of online consumers in the first quarter of 2020 are new users. The same study suggests that turning to eCommerce is a behavior likely to be adopted by the older generation post-pandemic.
Aside from consumer behavior, brick-and-mortar stores have also shifted their operations due to COVID-19 restrictions. While not all establishments have forgone their storefronts, some multinational companies have incorporated eCommerce options for their services. One good example of this adaptation is Amazon's Whole Foods. In the last few months, the company has increased its online order capacity and has expanded its curbside pick-up option to 150 branches.
5 Industries with Sustained eCommerce Growth Potential
There is no doubt how eCommerce would become more popular than traditional commerce in the next few years. At this point, however, there are industries within eCommerce that are outperforming others.
Food Delivery
Food delivery services aren't anything new. In the past, restaurants that offer delivery have hotlines in place to take orders. However, the last few years have seen a surge in the number of delivery marketplaces that allowed individuals to order food from a more significant number of restaurants. Amongst the most popular are DoorDash, Grubhub, and Uber Eats.
This industry was initially projected to reach $200 billion in revenue by 2025. However, amidst the COVID-19 crisis, it seems like food deliveries would achieve that milestone sooner. The key to the success of this sector lies in its tried and tested business model – people phone in for food, and food is delivered at their doorstep. It was all a matter of adopting new technologies to the process. Add that to the fact that food is a basic necessity, so it only makes sense that the industry became even more popular given the current situation.
Apparel and Footwear
Apparel and footwear have always been the most popular eCommerce sector, and the pandemic hasn't changed this fact. At the height of the virus breakout, clothing retailers were deemed non-essential; some were even forced to close down due to the significant decrease in foot traffic. Consumers, then, turned online to get their hands on the newest fashion trends.
The Fashion and Apparel sector is expected to grow into a $1003.5 billion industry by 2025. This vertical is the most popular eCommerce sector in South Korea, with 77% of the population shopping for clothes online.
Beauty and Personal Care
The beauty and personal care sector, including makeup, haircare, and personal hygiene products, has also experienced growth amidst the pandemic. This sector's eCommerce growth in terms of market interest could be attributed to influencer marketing, with famous celebrity-based make-up lines prioritizing setting up online stores more than brick-and-mortar storefronts.
Again, beauty and personal care eCommerce is the most popular in South Korea, with 65% of the population reporting to have bought a personal care product online.
E-Learning
One of the most significant impacts of COVID-19 lies with traditional face-to-face learning. Private schools, in particular, have suffered the biggest blow that prompted closures.
With the change in dynamic, alternative means of educational delivery have been put into the spotlight in the last few months. Applications like Verbling and Lessonface are poised to grow even further at the turn of the year. In 2019, e-Learning clocked $200 billion in revenue. By 2026, it is expected that the industry would grow to a $370 billion sector.
Grocery
Before the pandemic, eCommerce platforms catering to packaged food and groceries already existed. However, consumers were not quick to adapt to the service. Aside from the cost, shoppers prefer to physically see and select produce and food options from the store.
Considering high transmission rates in various areas in the United States, research has shown that 50% of American households have started buying packaged food online. In 2019, the grocery vertical experienced a 22% eCommerce growth. With the pandemic, this figure is expected to double as 2020 wraps up.
The end to the pandemic remains uncertain. However, it is highly expected that post-pandemic will still see eCommerce at the forefront of the buying market's new normal.
There is still space within the eCommerce sphere. All it takes is the right logistics partner to make it happen. Sign up now, and together, let's bring your eCommerce business to greater heights this 2021!
Share Article