Tips to Avoid the Chinese New Year Shipping Delays
Time to read:
4
minutes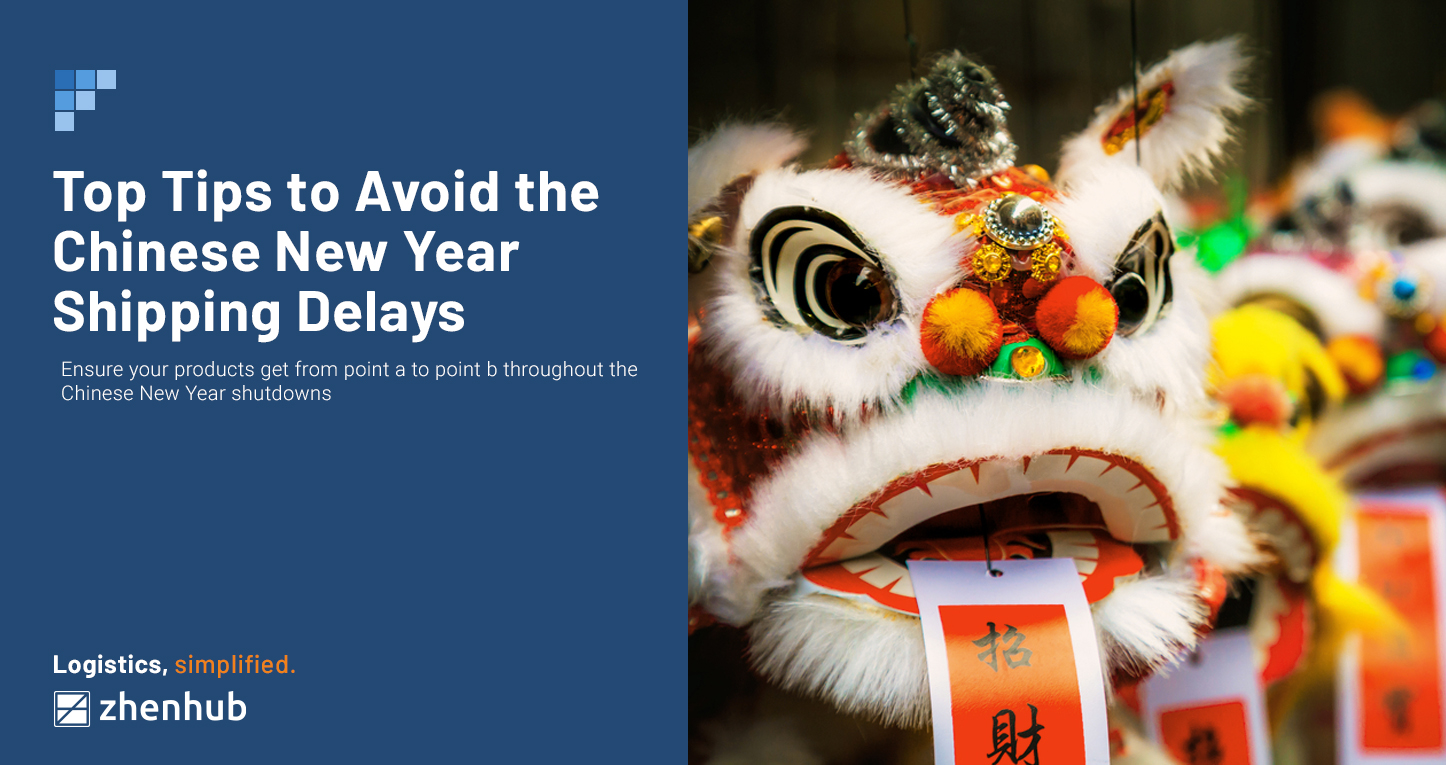 The western holidays might be over (that's November and December); however, the holiday season is just ramping up in China. Chinese New Year is less than a month away. If you've read our previous article on essential holidays and their shipping season challenges, now's the time for online retailers and eCommerce operators to prepare for this important holiday.  
If you're not familiar with Chinese New year, the scale of this most important Chinese holiday and its effects on the supply chain is challenging to say the least. Chinese New Year shipping delays are pretty common since it can be an incredibly chaotic period. The impact of this holiday is global, and most online retailers should expect to be affected even a few weeks after the holiday.
In this article, we'll tell you how big the Chinese New Year is, handle the supply chain, and the best ways eCommerce retailers can prepare for the season.
What is the Chinese New Year?
Otherwise known as Lunar New Year or Spring Festival, the Chinese New Year is the most important holiday in China. This event is similar to Thanksgiving or Christmas in the States or Diwali in India for those unfamiliar. It is a week-long holiday when most employees get time off to spend with their families and friends.
But what sets CNY apart is the immense scale of celebrations. It is known as the "world's largest human migration," with over 500 million workers traveling across the country to visit their hometowns. While Chinese New Year is officially only a week-long, most operations will be reeling from the sheer demand for a few weeks after the event. Unlike Christmas, the date of CNY varies from year to year. Therefore, it is crucial for companies that source their product from China to be aware of the exact dates of the holiday. In 2022, the Chinese New Year starts on February 1. We've provided actual dates when CNY falls in the coming years:
Chinese New Year 2022 – Tuesday, February 1
Chinese New Year 2023 – Sunday, January 22
Chinese New Year 2024 – Saturday, February 10
Chinese New Year 2025 – Wednesday, January 29
Chinese New Year 2026 – Tuesday, February 17
Chinese New Year 2027 – Saturday, February 6
Chinese New Year 2028 – Wednesday, January 26
Chinese New Year 2029 – Tuesday, February 13
Chinese New Year 2030 – Sunday, February 3
How Chinese New Year Affects Businesses?
Over the last few years, China has become a powerhouse in product development and manufacturing. It is now known as the world's factory because of the sheer number of manufacturing operations in its territories.
During Chinese New Year, most factory operations halt to allow workers to celebrate the holiday. This stoppage in business can affect a retailer's supply chain. Here is what to expect:
As mentioned earlier, most manufacturing operations shut down during CNY. Workers are on holiday for at least a week, but retailers should expect a slow down in production weeks before the date and weeks after that.
With the holiday beginning on February 1 this year, retailers expect suppliers to slow down production by mid-January. Only a skeletal workforce would be working the factories by the last week of January. On the 31st, production will officially shut down. Most employees would return to work in the middle of February. It wouldn't be until the end of February when factories return to normal operations.
Compromised Product Quality
With factories on a skeletal workforce leading up to the holiday, operations will be nowhere near-optimal. Often, the remaining staff can't meet the usual volume of work. It may even affect product quality standards.
Likewise, not all workers come back after the holidays. After CNY, some suppliers scrambled to replace staff that went AWOL. These workers do not get the training that they need. As a result, retailers might receive substandard products for the rest of their orders.
Most retailers try to be diligent about preparing for the holiday to prevent Chinese New Year shipping delays. Some get more inventory to prevent items from selling out. While this is a good strategy, the increase in orders can lead to an overload of shipments right before the holiday. With that, shipment delays are sometimes inevitable around this time of the year.
How to Avoid Chinese New Year Shipping Delays
Chinese New Year happens every year. As a result, retailers have time to prepare for the event and ensure that the business remains running smoothly. Below are a few suggestions on how to stay ahead of the rush:
In avoiding Chinese New Year shipping delays, forewarned is forearmed, so data is essential. The ability to forecast the demand is key to managing inventory well. That said, in the weeks and months leading up to the holiday, it is best to order additional merchandise for those in-demand items. Try not to stock up on fast-moving inventory a month before the event. As discussed earlier, Chinese New Year shipping delays are unavoidable around this time. It is best to pad the list and build up a stash throughout the year to prepare for the rush.
Communicate with the Supplier
Communication with suppliers is vital in handling factory shutdowns for retailer sourcing from Chinese retailers. More often than not, these suppliers have experience dealing with the rush. Therefore, it is always best to communicate concerns and issues directly with the suppliers.
Communicate with Customers
Again, delays could be unavoidable during this time of the year. Even with proper preparation, shipments may arrive well after the holidays. It is good to communicate the delays directly to the customers in such cases. If possible, put products on pre-order to set the buyer's expectations. The more transparent a retailer is, the better experience a patron would have from buying from the eCommerce site.
The chaos of Chinese New Year is a stressful time for most online retailers – often only second to the post-Thanksgiving, pre-Christmas holiday rush. As a result, it is tempting to close down the shop to avoid all the hassle the season has in store.
But with the right partners, you don't have to miss out on profit opportunities because of the challenges Chinese New Year brings. ZhenHub offers a slew of logistics solutions that can better prepare your operation for the delays brought on by the holiday. With our support, you can rest assured that packages seamlessly get from point A to B. Reach out to us today to learn more.
Share Article