(Guest Post) 5 Ways to Cover Last Minute Shipping Expenses By Victoria Sullivan
Time to read:
3
minutes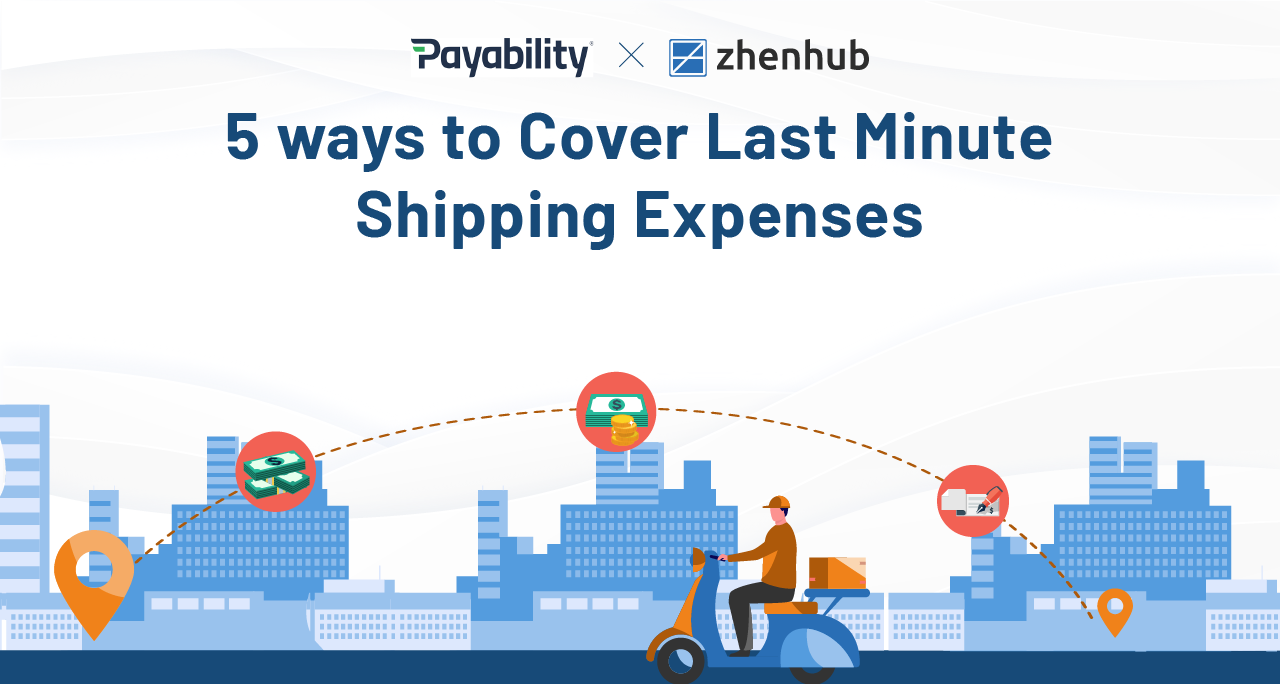 eCommerce sellers are no strangers to surprises in business — from sudden spikes in demand to flash inventory sales to shipping problems like lost packages or damaged goods. In many cases, such surprises lead to unexpected expenses. Whatever the case may be, you need to be prepared.
With that, here are 5 ways to cover last-minute expenses.
1. Savings or Reserves
If you have savings or other cash reserves, you could always dip into those to cover any unexpected expenses that arise with shipping or something else.
In many cases, business owners dip into their personal savings to fund early-stage ventures because they don't yet have working capital to leverage. While this makes sense in a lot of ways — for example, it's immediately available to you with no interest, fees, or applications — there are a few key considerations to make before you rely on your savings or cash reserves.
First, it's not an unlimited source of funds. Second, the money should be saved for true emergencies, so consider the weight of an expense before using your savings for it. Third, if it's a personal savings account you're tempted to use, don't use it. Your personal and business finances should remain separate.
2. Credit Cards
Credit cards are another popular option for last-minute expenses. Assuming you already have a business credit card, you can cover expenses as they happen. Just keep your credit limit in mind and confirm that credit cards are an acceptable form of payment. And, make sure you'll be able to pay your credit card bill in full and on time; otherwise, you'll be on the hook for compounding interest.
Speaking of credit cards, make sure you use a business credit card and not a personal one. Business credit cards come with a variety of benefits. For example, you'll be able to build business credit, which will make it easier for you to get other types of financing in the future.
3. Payability Instant Access
Cash flow problems are all too common for eCommerce sellers. This is largely because selling platforms like Amazon hold payouts for two weeks or longer. Fortunately, you can boost your cash flow by getting daily payouts.
With Payability's Instant Access, you'll get paid on your marketplace sales one business day after making a sale, every business day. So if you have $1,000 in your account on Monday, you'll get $800 of it on Tuesday (the rest is held to cover any returns or chargebacks and released to you when Amazon or the marketplace you are selling on releases the payment).
At the end of the day, you'll get daily infusions of cash that you can use to cover expenses, buy more inventory, and invest in other areas. And it's not a loan — just your payouts, sooner, for a small flat fee.
4. Payability Instant Advance
For larger infusions of cash, you could also get a cash advance based on your future receivables. Cash advance companies essentially buy your future sales at a discount, paying you one lump sum upfront. These are especially helpful for larger expenses and investments.
One such cash advance is Instant Advance from Payability, which provides advances up to $250,000 in as fast as 24 hours without a single credit check.
Payability's application process (for both Instant Advance and Instant Access) is entirely online and only takes 10 minutes to complete. What's more, they factor in your entire selling portfolio when making their decisions and don't pull your credit.
Not sure what the difference is between a loan and a capital advance? You're not alone. Find out here.
5. eCommerce Channel Financing (i.e. Amazon Loan, Shopify Capital)
Depending on the channel(s) you sell on, you might be eligible for financing through a program designed specifically for that channel.
For example, eligible Amazon sellers have access to Amazon Lending, which offers loans up to $750,000 as well as business lines of credit through Marcus. Similarly, qualifying Shopify sellers can apply for Shopify Capital financing, which includes cash advances and business loans.
You can only apply for Amazon Lending or Shopify Capital if you see an offer from them in your respective platform account. While eligibility requirements have not been shared publicly, it's safe to say that a strong sales history and stellar customer service will help you get an offer. Just keep in mind that any offer you get is not a guarantee of funds — you still have to apply and get approved.
As you can see, there are a variety of ways to fund unexpected expenses as well as other investments to take your eCommerce business to the next level. Think about the state of your cash flow, what your ongoing financing needs look like, and how quickly you want to get funds when you need them.
Share Article