How to Get an Amazon Best Seller Badge
Time to read:
4
minutes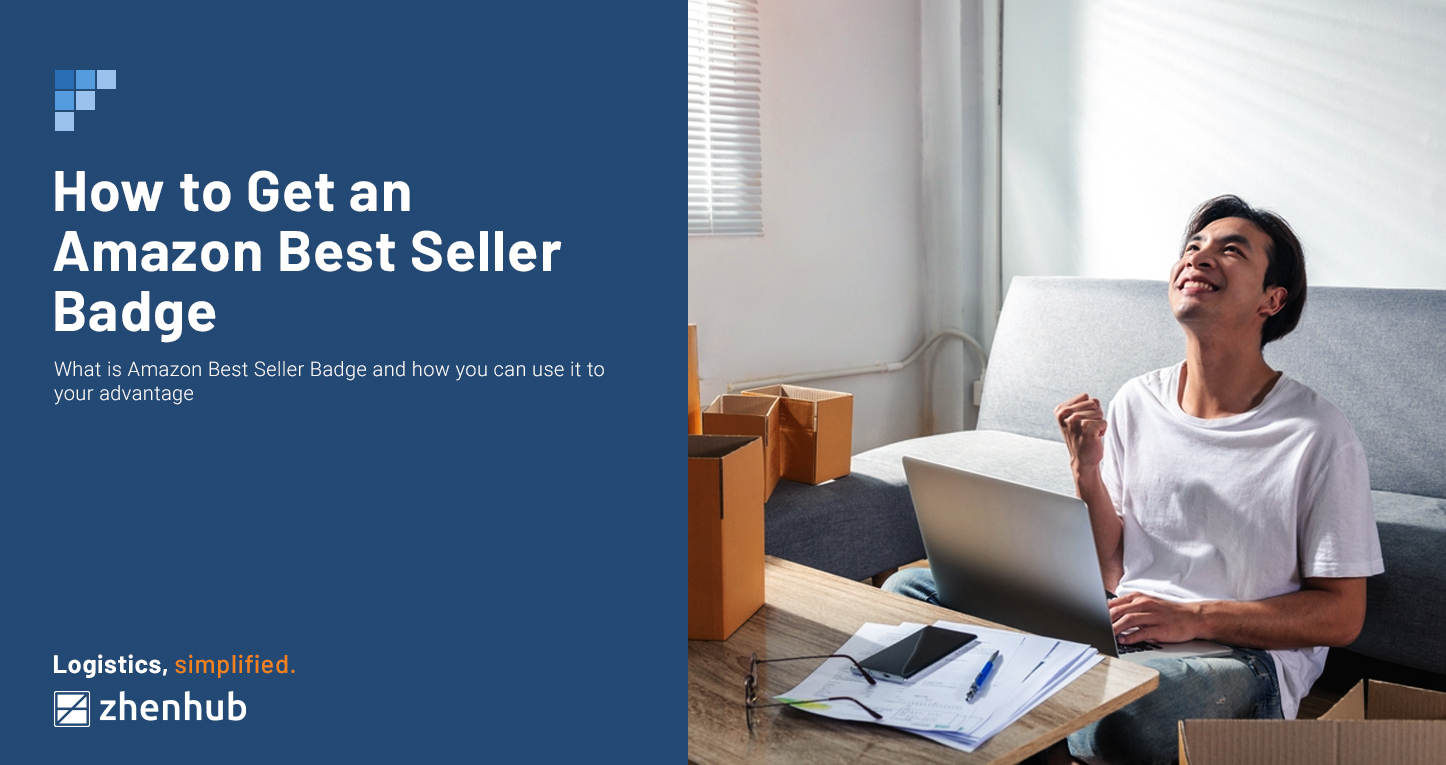 Did you know that Amazon sells 4000 products every minute? Millions of consumers daily turn to the marketplace for their shopping needs. The platform ships 1.6 million packages daily. That's more than the population of Maldives, and Iceland, combined. 
As an eCommerce retailer, selling on the platform is a lucrative strategy. The competition is fierce, but standing out is well worth it. Thankfully, Amazon has been generous in providing its sellers with marketing tools designed to increase sales and amplify their reach. 
The Amazon Best Seller Badge is arguably one of Amazon's best marketing tools to edge out the competition.
What is an Amazon Best Seller Badge?
The Amazon Best Seller Badge, as the name suggests, is a symbol next to product icons for items considered best sellers in any given category. Only one seller was lucky enough to bag the honor when Amazon introduced this feature. 
At present, 100 sellers get the badge in any category. Competition for the badge is fiercer in categories as there's a glut of retailers who want it. But the more specific the category is, the easier for a seller to win the badge. 
Interestingly, the Amazon bestseller list is updated hourly. It means that sellers have 24 chances in a day to have the Best Seller badge on their products.  Getting the badge is pretty straightforward as Amazon awards this honor to the products with the most sales every hour. 
There are several things to note when it comes to the Amazon Best Seller Badge. Qualifying for the badge means that a seller sold the most product within a category for a given marketplace. Furthermore, a top seller in the UK who fails to compete with US sellers would have the badge on their UK page but not on their US page. Likewise, not all categories award badges. Niche categories may not have enough sales data to give sellers the best seller symbol. 
Amazon Best Seller Versus Amazon's Choice
Often, sellers confuse the best seller badge with Amazon's choice badge. There are, however, different criteria for the two badges.
Amazon's Choice is a badge that the marketplace awards to the best product that satisfies a customer's search. But unlike the Amazon Best Seller badge, the selection process for Amazon's Choice isn't clear. Retailers speculate that this recognition is keyword-sensitive. It was initially developed with the use of Alexa in mind. User reviews, low return rates, and eligibility for Prime are also rumored to be factors. 
As mentioned earlier, the Amazon Best Seller badge gets awarded to retailers with the most sales in a product category. Sellers have more control over this badge as there are ways to ensure that a product reaches interested buyers. 
Best Ways to Win the Amazon Best Seller Badge
Unlike any other feature on Amazon, there is no mystery how sellers can win the Amazon Best Seller Badge. It is all about having the most sales for a product within a category. The process is easier said than done, but it doesn't mean that it is impossible. Below are the best tips to get an Amazon Seller badge.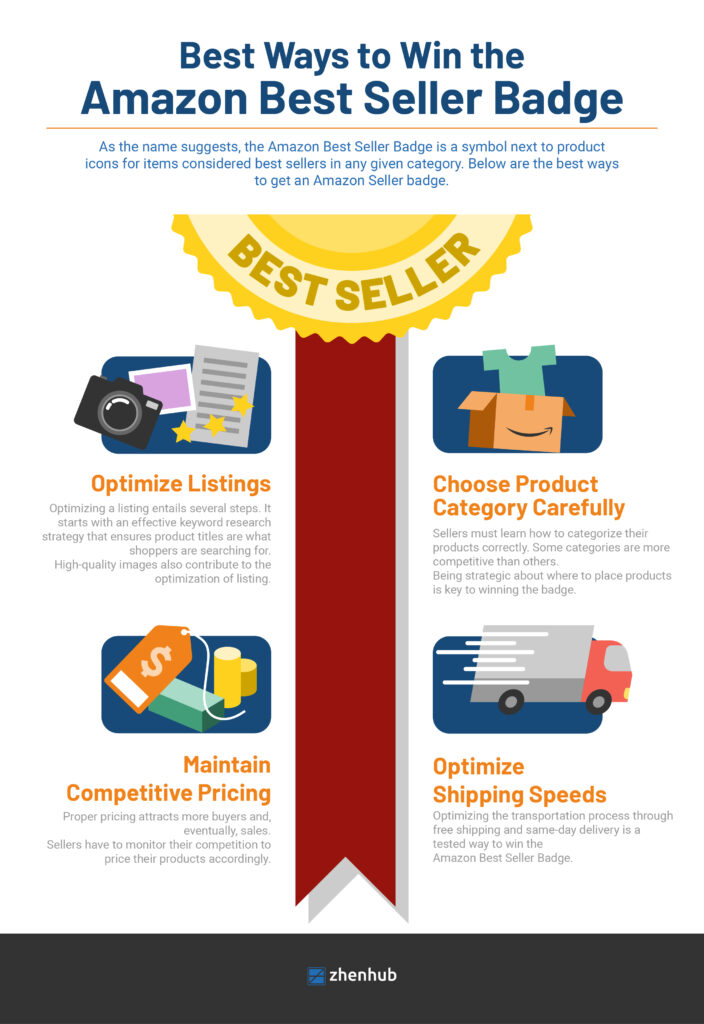 There are millions of products on Amazon at any given time. Items must stand out from the crowd to win the badge. Optimizing a listing entails several steps. It starts with an effective keyword research strategy that ensures product titles are what shoppers are searching for. High-quality images also contribute to the optimization of listing.
Sellers must learn how to categorize their products correctly. If consumers didn't find a seller's items, no sale gets made, and that's a loss already. Some categories are more competitive than others. Being strategic about where to place products is key to winning the badge.
Maintain Competitive Pricing
Proper pricing attracts more buyers and, eventually, sales. That said, when it comes to pricing, it shouldn't be a race to the bottom. Consumers aren't keen on buying the product with the lowest price. They know that if they buy cheap, you get what you pay for, and typically it's substandard or poor quality items.
Sellers have to monitor their competition to price their products accordingly. If a seller decides to price their products higher than the average, they should justify their optimized product listing hike.
According to recent studies, 44% of consumers are more likely to purchase a product if it offers same-day delivery. Likewise, offering free shipping can significantly improve an item's sales. Optimizing the transportation process through free shipping and same-day delivery is a tested way to win the Amazon Best Seller Badge.
Benefits of the Amazon Best Seller Badge
Today's buyers have become more discerning as they have more shopping options now than before. And they're willing to go the extra mile to research before purchasing. Contrary to popular belief, price isn't the only factor that consumers consider before buying an item. Several things influence their purchase decisions.
The Amazon Best Seller Badge assures customers that an item is popular and that other buyers have purchased a product. It also lands an item icon on the first two pages of a product search. This distinction increases conversion rates significantly.
This badge also provides customers with a seal of confidence in a specific product and seller. It can dramatically increase sales and improve a retailer's Amazon reputation. These things are invaluable if you are trying to build a name for your brand in this competitive platform.
Working with logistics experts is the best way to go if you are eager to accelerate sales and improve your profit margins. Through ZhenHub's tried and tested tech-based logistics solutions, you can rest easy knowing you have the time to grow your business without being bogged down by supply chain and logistics concerns. We are eager to help! Contact us today or request a free quote now. 
Share Article