A Quick Guide on Fulfilled by Amazon Returns and Refunds Policy
Time to read:
4
minutes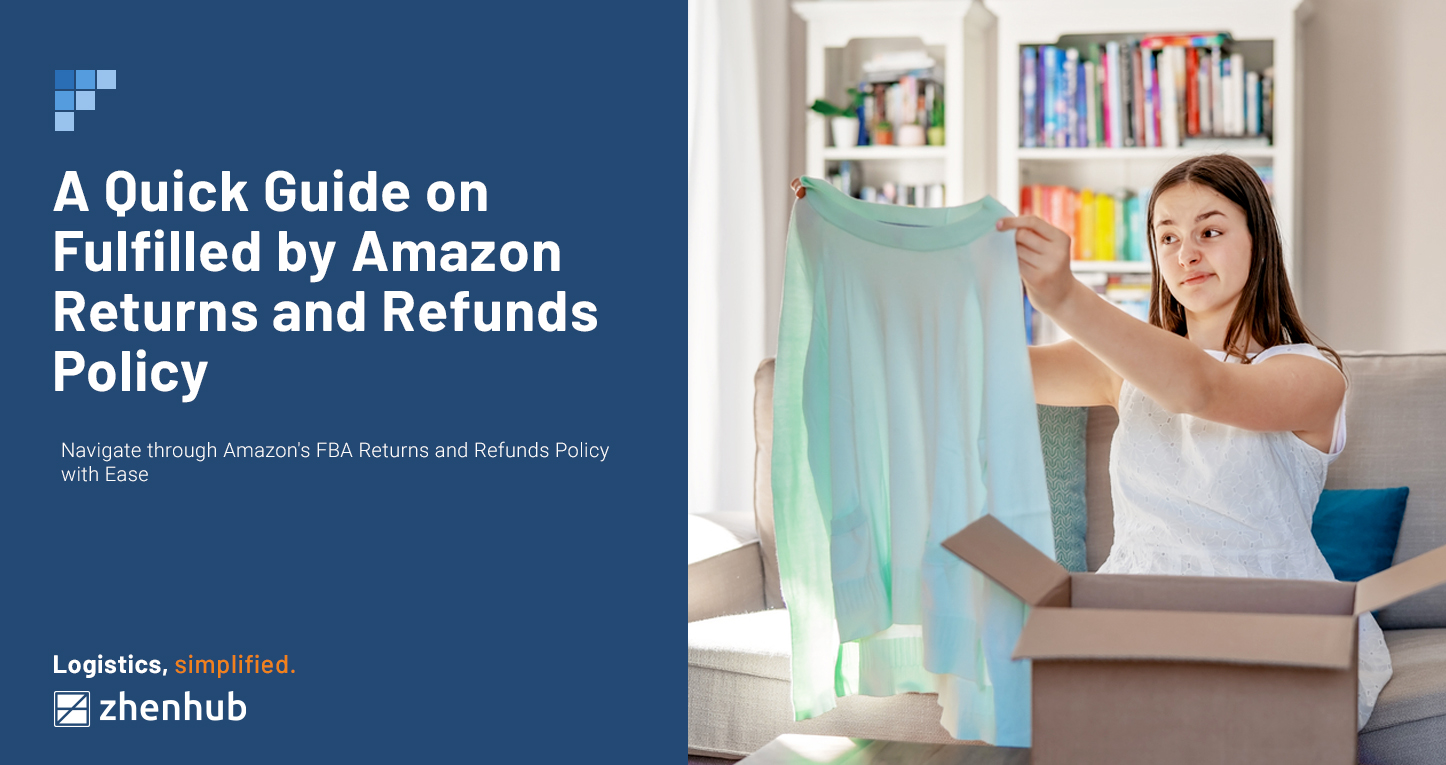 While often overlooked, returns, refunds, and exchanges can hugely impact an eCommerce business. Most customers consider the ease of returns in their buying decisions. Sixty-seven percent (67%) of consumers check a retailer's returns policy before purchasing. Likewise, 92% of buyers would make a return purchase from an eCommerce store if their return request went smoothly. 
Selling through Amazon FBA can be a godsend or turn into a retail nightmare, especially if reverse logistics and refunds are not processed correctly. This article explores Fulfillment by Amazon Returns, including the returns process, refunds process, and the best ways to minimize Amazon returns as a retailer. 
Fulfilled by Amazon Returns Policy
The marketplace processes return and refunds for retailers that sell on Amazon through their FBA program. Through Amazon's Automatic Authorization, sellers don't get notified if a buyer requests a return or a refund on their purchase. Automatic authorization is only applicable for certain purchases. Those that qualify can automatically print their return labels and process their returns on the same day. 
Amazon accepts requests for returns and refunds within 30 days after the purchase. But the marketplace offers exceptions for specific situations.
In most cases, Amazon accepts all requests for returns and refunds. Below are a few of the most common reasons for returns:
Customer Changed their Mind
Customer Received Materially Different Item
Customer Received Damaged Item
Fulfilled by Amazon Returns & Refunds Process
As mentioned earlier, purchases that qualify for automatic authorization can print their prepaid return shipping labels and process the returns on the same day. Once the package arrives at the Amazon warehouse, the item is assessed and categorized between saleable and unsellable. Items deemed valuable get returned to the retailer's inventory.
Unsellable items get further assessed to determine the cause of the damage. If it's Amazon's fault, the seller gets reimbursed for the cost of the item. Amazon will not be liable for the merchandise if the customer damages it, and the seller won't get reimbursed. For any item marked unsellable due to customer or seller damage, retailers must submit a removal request within a month after the item arrives at the fulfillment center.
The refund amount to be awarded to a buyer depends on three factors:
The item's condition
The amount of time the merchandise spent with the buyer
Buyer's payment channel
In returning a product, buyers can choose how to be reimbursed. Return deposits into buyer accounts could take a few hours, days, or even weeks.  It depends on their selected reimbursement channel and their initial payment method:
| | | |
| --- | --- | --- |
| Payment Method | Refund Processing Time | Reimbursement Method |
| Credit Card | 3 to 5 business days | Credit Card |
| Credit Card | Immediate | Amazon Gift Card / Store Credit |
| Debit Card | Maximum of ten days | Debit Card |
| Amazon Gift Card | Immediate | Amazon Gift Card |
Aside from Automatic Authorization, Amazon introduced Returnless Refunds for FBA purchases in 2017. This feature allows customers to keep the item they want to be returned as well as reimburse its cost. Amazon has yet to clarify specific parameters that qualify a purchase for Returnless Refunds. But, often, the marketplace issues this option if the value of the item purchased is too low or the cost of return shipping is too high.
When a customer fails to return an item after 45 days of filing a returns request, Amazon would recharge the buyer and reimburse the seller for the sale. Often, this process happens automatically. But some sellers needed to open support tickets to facilitate the reimbursement.
Exceptions to Fulfilled by Amazon Returns Policy
As mentioned earlier, Fulfilled by Amazon Returns Policy has a 30-day limit to return requests. There are exceptions to the limit. Buyers may qualify for an extension. Likewise, wedding and baby registry gifts have an extended returns threshold – 180 days and 365 days, respectively. 
Certain items can no longer be returned even within the 30-day limit. These include but aren't limited to:
Perishable Goods
Live Insects
Downloadable Software
Gift Cards / Store Credit
Online memberships / Subscriptions
Hazardous Materials
Select Personal Care Items
Pet Food
Live Plants
Personalized Jewelry
Items with no UPC or Serial Number
Dealing with Returns as an FBA Seller
The Fulfilled by Amazon Returns Policy favors the buyers and not the sellers on the platform. That said, the marketplace has introduced several ways FBA sellers can recoup their losses from returns and refunds:
The FBA liquidations program can assist sellers with excess inventory and returns. Through this program, retailers can recover some funds from returned items instead of having their stock destroyed or paying additional storage fees.
Retailers can submit a liquidations request through Seller Central. Amazon would then evaluate the product's average selling price. Afterward, wholesale liquidators pay retailers 5% – 10% of the item's average selling price. Upon a sale, Amazon pays sellers within 60 days of the sale.
Similar to the FBA liquidations programs, the FBA Grade & Resell option allows sellers to recover some funds from returns and refunds. Amazon enables retailers to relist returned products as used items on the marketplace. Once a seller submits returned inventory into the FBA Grade & Resell program, Amazon evaluates the products and marks them according to their condition -Used – Like New, Used – Very Good, Used-Good, or Used – Acceptable.
For those who aren't looking to cash in on their returned items, sellers can opt into the FBA donations program.— it program allows sellers to donate returned or overstocked items to select US charities.
While Fulfilled by Amazon Returns Policy favors the buyers, it can still benefit sellers. Amazon knows that customer experience satisfaction is at the heart of navigating eCommerce with ease. The happier the customers, the more likely they will buy again.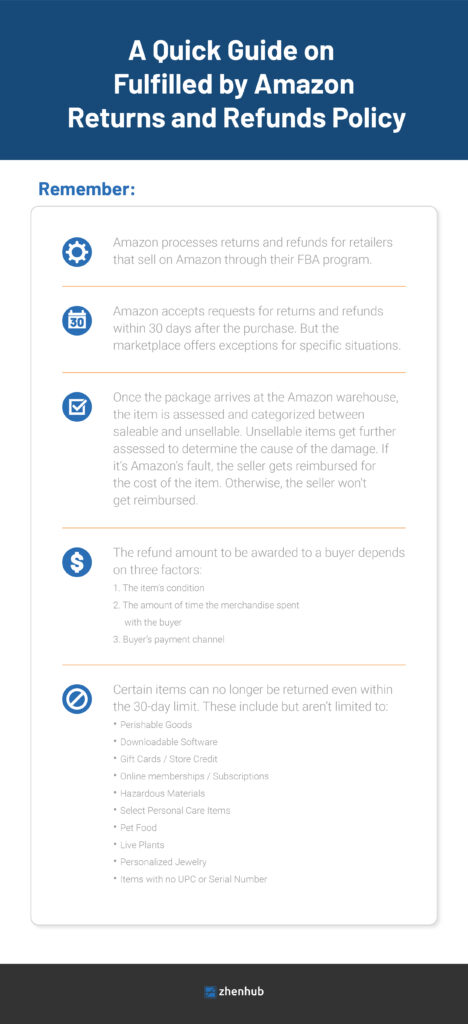 Instead of fighting against Fulfilled by Amazon Returns Policy, sellers must understand the rules and make them work for their operation. We at ZhenHub can help you take stock and take advantage of the marketplace's ever-changing guidelines. Through our tech-based logistics solutions, you can achieve greater success in the world's top marketplace. Reach out to us today to learn more or request a free quote to get things started. 
Share Article