5 Shipping Strategies to Improve Customer Experience
Time to read:
4
minutes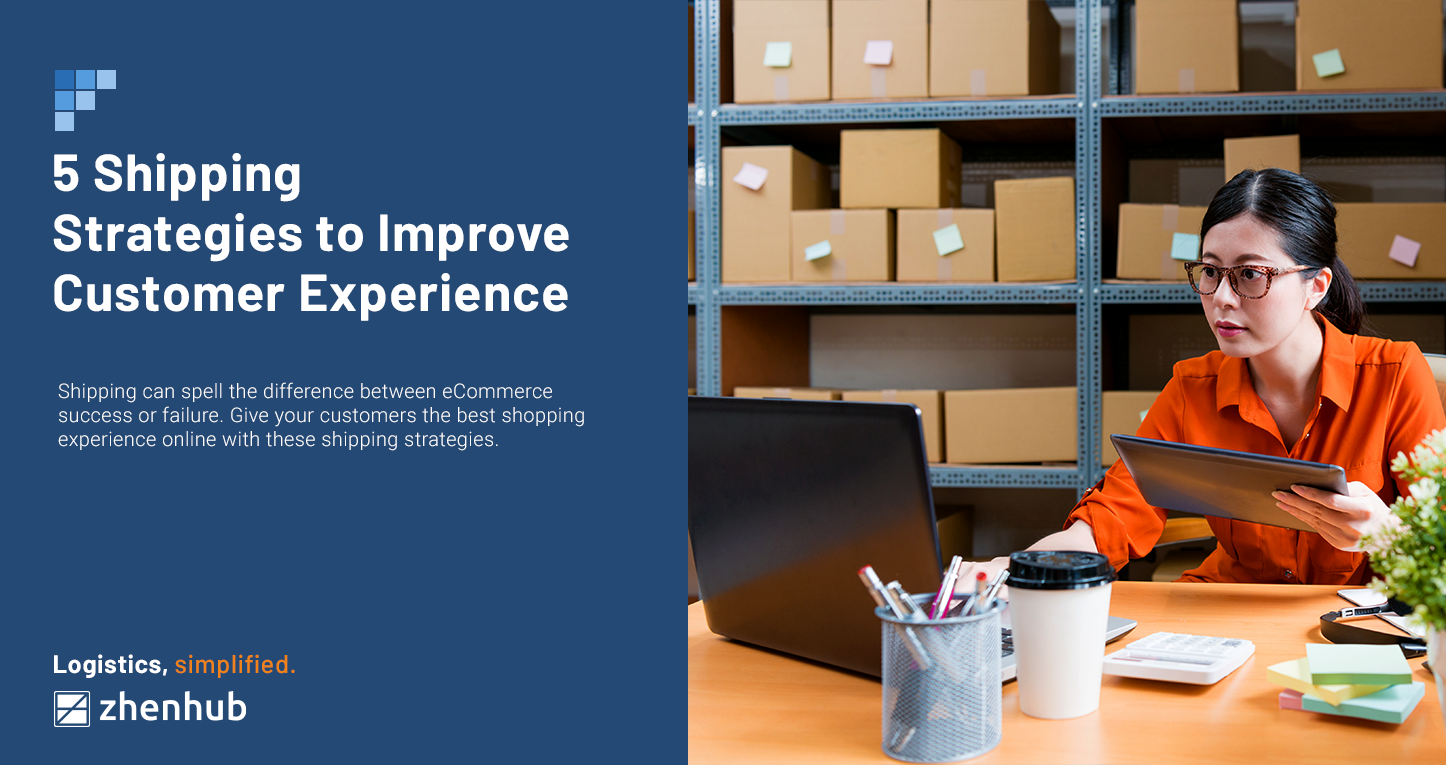 The last few years saw the boom of the eCommerce industry. The advent of online shopping shifted consumer behaviors drastically – more so now during the global pandemic. This year, more than 2.14 billion people worldwide will buy goods and services online, a 29% increase from 1.66 billion people that shopped electronically five years ago.
To keep up with the changing times, retailers must adjust their operations to remain competitive in this ever-evolving market. Developing more robust shipping strategies is key to scaling and growing an online business.
Shipping and Customer Satisfaction
Most retailers know this story pretty well. A potential buyer visits an online store, sees an item they like, adds the product to their cart, sees shipping fees, then hesitates to check out. Without a doubt, eCommerce shipping significantly affects purchase decisions.
Shipping fees kill customer conversion. A recent report said that 28% of shoppers abandon their shopping cart if they have to pay for shipping. With big eCommerce companies offering free, one-day shipping, customers expect the same features even from smaller operations.
That said, shipping is more than just a means to bring a product to the customer. Companies can use it as a marketing strategy to entice potential buyers and keep them coming back. Free shipping is also a potent way to improve customer experience. But it needs a well-thought-out shipping strategy to increase conversion and scale an eCommerce business. So the question stands – which shipping strategies are effective?
Three Shipping Strategies to Implement
A retailer's shipping fees can impact not only their overall customer experience but also their profit margins. Striking a balance between making a profit and competitively pricing items is crucial in surviving within the eCommerce industry.
Online businesses have several options when it comes to shipping strategies. There is no one-size-fits-all solution. Contrary to popular belief, free shipping isn't the end-all and be-all of shipping strategies: it depends on the retailer's needs and goals. Here are a few methods to consider:
Optimize the Website with Live Shipping
A website is a powerful tool that can influence purchase behaviors. The better the shopping experience, the more likely customers would build loyalty with a brand. Optimizing a website entails providing consumers options. It can offer multiple payment means as well as real-time shipping calculations.
Live shipping rates allow customers to pay delivery fees calculated precisely for their orders. Through this strategy, buyers gain control over their shipping fees and the carriers they want to use for the shipping.
Implement Flat-rate Shipping
Flat-rate shipping is beneficial to both business and their customers. This strategy is relatively easy to roll out and takes a lot of guesswork out of computing for shipping rates. This framework works best for companies that offer products of similar sizing.
From a marketing standpoint, customers are amenable to flat-rate shipping because they are dependable. More often than not, buyers would load their cart with products to maximize the flat-rate shipping fee.
While offering to ship for free isn't always the best shipping strategy, there is no denying that customers love it. Most consumers, 93% of online shoppers, would buy more products if free shipping is available.
While it's beneficial to customers, free shipping can cut into a retailer's profit margins. Not all eCommerce retailers can provide this feature for all products year-round. There are ways to incorporate this strategy without putting the operation in the red:
The trick to efficiently implement free shipping strategies is ensuring profit margins outweigh the cost of delivery. One way to do this is to bundle items and offer free shipping on the bundles. This way, a retailer can offload slow-moving inventory while still making profits and providing the utmost customer experience.
Limited-offer Free Shipping
Consumers love buying products on offer. This statement is doubly true for deals that are on a limited offer; a sense of urgency influences purchase behaviors. If free shipping is offered only for a certain amount of time, buyers are more likely to spend more and buy more products.
Offering free shipping for orders that meet a minimum spend threshold is an effective way to minimize profit loss. Customers are likely to add more products to their cart if only to avail of the free shipping option. There is a way to compute the minimum spend threshold. You can read more about how to offer free shipping without losing revenue here.
eCommerce Shipping Best Practices
Good shipping strategies entail more than choosing a framework and going through the motions. Several factors determine the strategy a retailer decides. It is one thing to select the correct shipping method; it is another to implement it correctly:
A retailer needs to determine what his target goals are for the business. Once that is done, you'll need a solid strategy to implement the new framework. Different goals entail a different approach. Some plans include increasing conversions, increasing average order value, expanding target audiences, decreasing delivery costs, and improving operations.
Connect with the Right People
You need a solid order fulfillment team. Assembling the right combination of professionals can ensure that the shipping strategy is effective. This best practice entails finding the best carrier rates and the most competent logistics partner.
Retailers have to remember strategies are not set in stone. Choosing one and finding it to be the wrong fit shouldn't be the end of the pursuit of an optimized operation. There is always room to pivot.
Key Takeaways
The right shipping strategies strike a balance between creating a good shopping experience for the customer and turning a profit. It tackles the needs of the business and the consumer needs. It can be challenging to find a comfortable middle-ground between these two crucial business aspects. Thankfully, you don't have to make the decision alone.
With ZhenHub's expertise and our slew of technology-based logistics solutions, we can help you choose the right shipping strategy and offer support during the implementation. Connect with us at hello@zhenhub.com or request a quote, so we can start transforming the way you do logistics.
Share Article