7 Mistakes to Avoid When Product Sourcing from China
Time to read:
4
minutes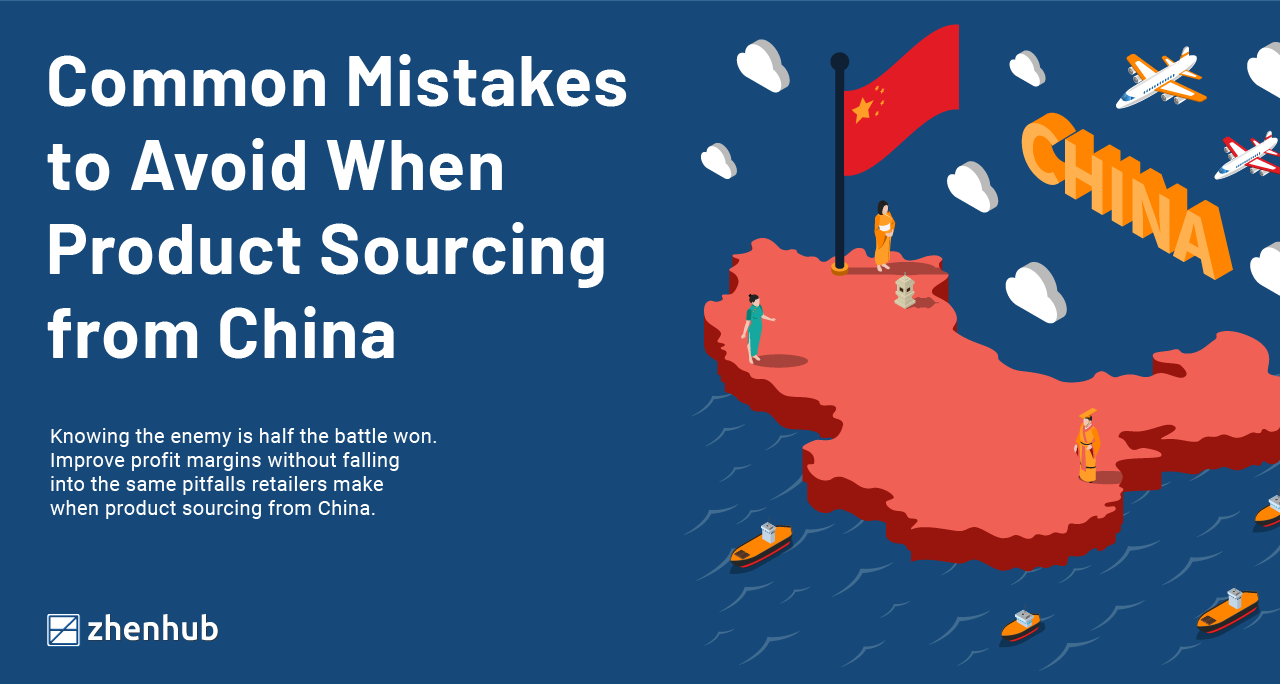 China's import and export industry remains strong despite the COVID-19 onslaught in 2020. China exports even grew by 3.6% and were the only country to post positive growth. It continues to be an attractive destination for retailers looking to source inventory for factory pricing. On average, product sourcing from China can save an eCommerce store anywhere from 10% to 50% on the total cost of the merchandise. The retailer opportunities in this Asian powerhouse are vast. However, it does come with a fair share of drawbacks.
Dealing with Chinese suppliers requires skill and experience. It's pretty well known that you can get scammed and get low-quality products in China. But these are inherent risks that come with transacting with international manufacturers that go beyond the language barrier.

7 Common Mistakes to Avoid When Product Sourcing from China
Mistakes are common, but they are ultimately avoidable. Understanding the risks hinges on understanding common and uncommon pitfalls and learning from them. Below are a few of the most common product sourcing mistakes to avoid when dealing with Chinese imports and exports:
Failing to Develop a Strong Sourcing Strategy
A strong sourcing strategy is invaluable when product sourcing from China. After all, transacting with suppliers and handing off large sums of money to liaisons overseas can get risky. Therefore, it is crucial to create clearly defined goals and requirements for every transaction.
A sourcing strategy serves as a road map in identifying the best product supplier. It should include specifics about the products as well as expectations on turnaround times and quality control.
Lacking Defined Specifications
One of the biggest hurdles when sourcing products is the language and cultural barrier when communicating with suppliers.
Retailers make two mistakes regarding product specifications: failing to define their product expectations and bombarding manufacturers with too many details about an item. The key is finding credible, expert suppliers and providing necessary information.
Most of an eCommerce company's capital goes into product sourcing and inventory. Therefore, it is only fitting to conduct a full audit on the supplier that is getting vetted. A face-to-face meeting at the factory is the best way to gauge a manufacturer's competency. It gives the retailer the complete picture of a supplier's process – from the quality of the raw materials to the treatment of the employees.
Not Ordering Product Samples
Relying on the supplier's good word on a bulk order is not a good idea. You need to have everything in print but sending specifications isn't enough to steer the manufacturing team towards a retailer's vision. You must get manufacturers to send samples for revisions. It also serves as a form of practice for the manufacturer to familiarize themselves with your requirements.
While it is true that you can get huge profit margins with Chinese manufacturers, price should not be the only factor taken into consideration. Focusing on the pricing and low-balling suppliers isn't ideal if a retailer intends to maintain a good relationship with its manufacturing partners. Likewise, this emphasis on costs can take away the focus on creating products. At the end of the day, if the price is too good to be true, perhaps it is.
Failing to Sign a Written Contract
Significant transactions warrant a written contract. Having everything in black and white protects a retailer from any lapses that a supplier might make during the product creation. Likewise, it protects the supplier from any demands that a retailer might have beyond what was stipulated in the agreement. It is essential for bulk and wholesale orders.
It takes a level of experience and skill to transact with Chinese suppliers successfully. It can be challenging, especially for those new to the industry, to secure a favorable agreement. A sourcing agent is a professional that can liaise with a retailer. They have a slew of supplier contacts that their clients may tap into to score the best deals. Forgoing a product sourcing agent can make the process of product sourcing riskier and more stressful.
How To Minimize the Risks When Product Sourcing from China
Learning the risks of product sourcing from China is only one part of the battle. To truly maximize what the Chinese import and export industry offers, developing strategies to minimize risks is crucial.
Before starting the transaction, it is best practice for retailers to itemize their product requirements. This list should be as detailed as possible. It should include the features of the product, the raw material to be used, the dimensions, the budget, and the timeframe.

Moreover, for those new to eCommerce, choosing to work with a sourcing agent can ease a retailer into the world of inventory importing. These professionals are quite the investment, but they are worth their weight in contacts and possible discounts.
Lastly, it is vital to secure a written agreement for every step of the transaction. Doing this will remove, or at the very least, reduce the odds of getting cheated. A contract protects both the seller and the buyer. By no means should a retailer forgo a written agreement at any point of the purchase.
Product sourcing from China is not without its risks and drawbacks. In China or other regions, sourcing inventory internationally is an important business decision and must be appropriately evaluated. However, this option remains to be the most profitable, given ample research and doing due diligence.
For those new to eCommerce, international importing and shipping can get overwhelming. There are plenty of things that can go wrong, and these mistakes can be costly to your overall operation. Aside from your local sourcing partner, it pays to align yourself with a logistics company that knows how the industry works. ZhenHub's full line of tech-based products can be the logistics solution to your needs. Email us at hello@zhenhub.com today to learn more about our services or get a quote directly from our website. 
Share Article