Delivery Exception: What It Is and How You Should Respond
Time to read:
4
minutes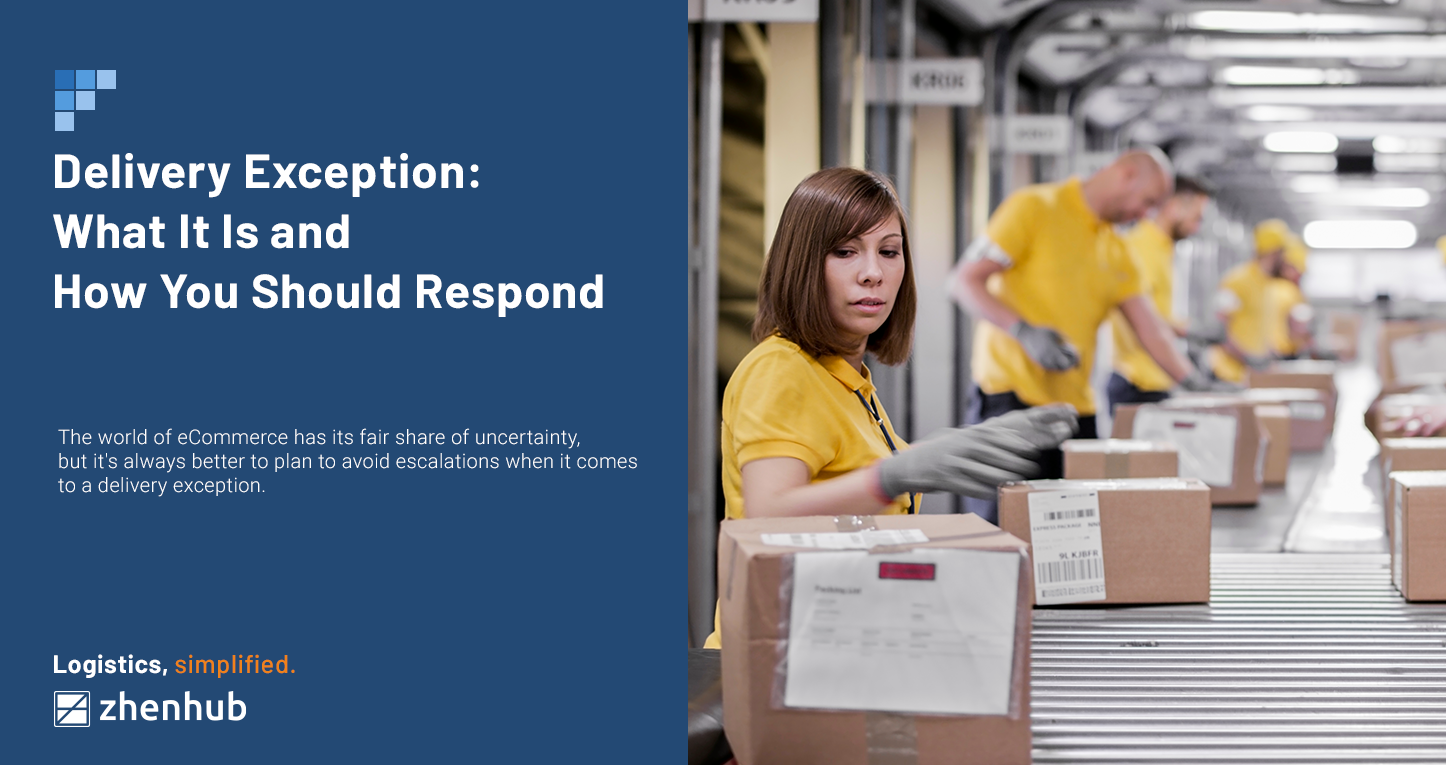 From shipping delays caused by delivery exceptions and many other concerns, eCommerce isn't without its drawback. However, there is no denying how online shopping is part of modern living. eCommerce allows consumers to make purchases in the comforts of their own homes. Likewise, retailers can now reach customers even in the farthest corners of the planet. It has made the world smaller and more accessible.  It's no wonder that eCommerce revenues grew by 30% in 2020.
The customer's information
One of the biggest draws of shopping online is convenience. After a few clicks and a couple of days, hours for some, the product is at the doorstep. Customers have different levels of expectation when it comes to delivery speeds. Based on a survey done in 2019, 44% of shoppers are willing to wait only two days for a parcel while 25% are amenable to waiting for 3 to 4 days. It also shows how eCommerce shipping can significantly lower your online shop's cart abandonment rate.
Retailers can do a lot to ensure that consumers get their packages within two days. However, delivery exceptions remain a reality that eCommerce stores have to address consistently.
What is a Delivery Exception?
A delivery exception status occurs when a carrier cannot complete the delivery due to an issue with either the parcel or the destination. It is important to note that a delivery exception status doesn't always result in a delivery delay, but this particular roadblock does extend the shipping time.
Again, there are several things retailers can do to minimize delivery delays. Delivery exceptions can happen even to the best and most diligent. While the situation isn't something a retailer can directly influence, it still affects customer satisfaction. It is always in the best interest of an eCommerce store to have contingency plans for unintentional and unavoidable delivery issues.
Common Causes of Delivery Exceptions
Delivery exceptions are favorable to neither the customer nor the online store. Below are the most common causes of delays:
Weather Condition
Inclement weather can play a significant role in the delay of a shipment. Even a mere temperature change, be it from the source or the destination, can be an impediment preventing a carrier from completing an order. Typhoons, tornadoes, blizzards, and even floods can render highways and ports unsafe for use.
Customs Delay
Cross-border shipping can be a pain for most online retailers as each country requires various documents for essential products. Retailers need to be aware of every requirement. That's why international orders have delivery exceptions because of possible custom delays.
These include delays at the port, issues with incomplete documents, and mistakes in the tariff codes.
Holidays
Most shipping carriers don't make shipments during holidays. Retailers that service international order should keep track of federal and national holidays in both the area of origin and the destination.
Damaged or Missing Shipping Labels
Shipping labels might seem innocuous, but they play a crucial role in ensuring that a package gets from point A to point B. Tags that get damaged during transit and rendered unreadable prevent a carrier from delivering a parcel. They also shoulder these costs. On the other hand, a retailer's failure to include complete and accurate information on the shipping labels is at the eCommerce operation expense.
Recipient Unavailable
Not all packages require a signature upon receipt. However, those do entail the customer receiving the package in person. If the recipient is unavailable, the carrier will take the parcel back to the fulfillment site to attempt delivery the next day. The number of delivery attempts depends on the service provider. Eventually, if a recipient fails to collect the package, the parcel is returned to the sender.
Potential Outcomes of Delivery Exception
A delivery exception doesn't necessarily mean a package gets delayed. In such cases, three outcomes can play out:
The package still gets delivered
Often, a delivery exception status is nothing more than a logistics firm doing its due diligence. A status update can help a carrier prepare a retailer for any delays that might happen. In most cases, deliveries get done without a hitch or delay.
Package gets delayed
The duration of the delay depends on the cause of the delay. However, for the most part, delays are relatively short. Often parcels are received by the customer the next day.
Package gets returned
A package returned to the sender is the worst-case scenario as far as delivery exceptions go. It occurs when the recipient fails to collect a parcel after several delivery attempts. The retailer or sender shoulders the expense.
The Right Way to Respond to Delivery Exceptions
More often than not, retailers do not have any control over delivery exceptions. What differentiates an effective delivery process and an operation without it is its ability to respond to any circumstances.
Coordinate with the Carrier
Once the status gets updated with a delivery exception tag, it is in the retailer's best interest to coordinate with the carrier. The cause for the status is often available online. However, being able to talk to providers will give more context for the retailer to work with. Knowing the full extent of the situation allows the eCommerce store to develop a plan that minimizes the customer's hassle and possible dissatisfaction.
Be transparent with the customer.
When it comes to mitigating the effects of a shipment delay, being proactive is crucial. Once a retailer has details about the delay, it is best to relay this information to their customers. Depending on the situation, a customer would likely understand what happened. Moreover, if the delay was brought on by wrong customer input & information, reaching out to the buyer resolves the problem more quickly.
Provide appropriate action depending on the outcome 
There are very few things more frustrating than failing to receive ordered products on time. To minimize dissatisfaction towards the delay, retailers can provide compensation in the form of a refund or a discount to the affected parties.
Key Takeaways
Delivery exceptions happen. However, it is your responsibility as an eCommerce retailer that defines the outcome of this less-than-ideal situation. Thankfully, you don't have to tackle eCommerce shipping issues alone. ZhenHub can help take you through the intricacies of the supply chain and logistics. Sign up with us today and be privy to a host of our tech-based logistics solutions. 
Share Article