The 2021 Guide to Getting Import License in China
Time to read:
4
minutes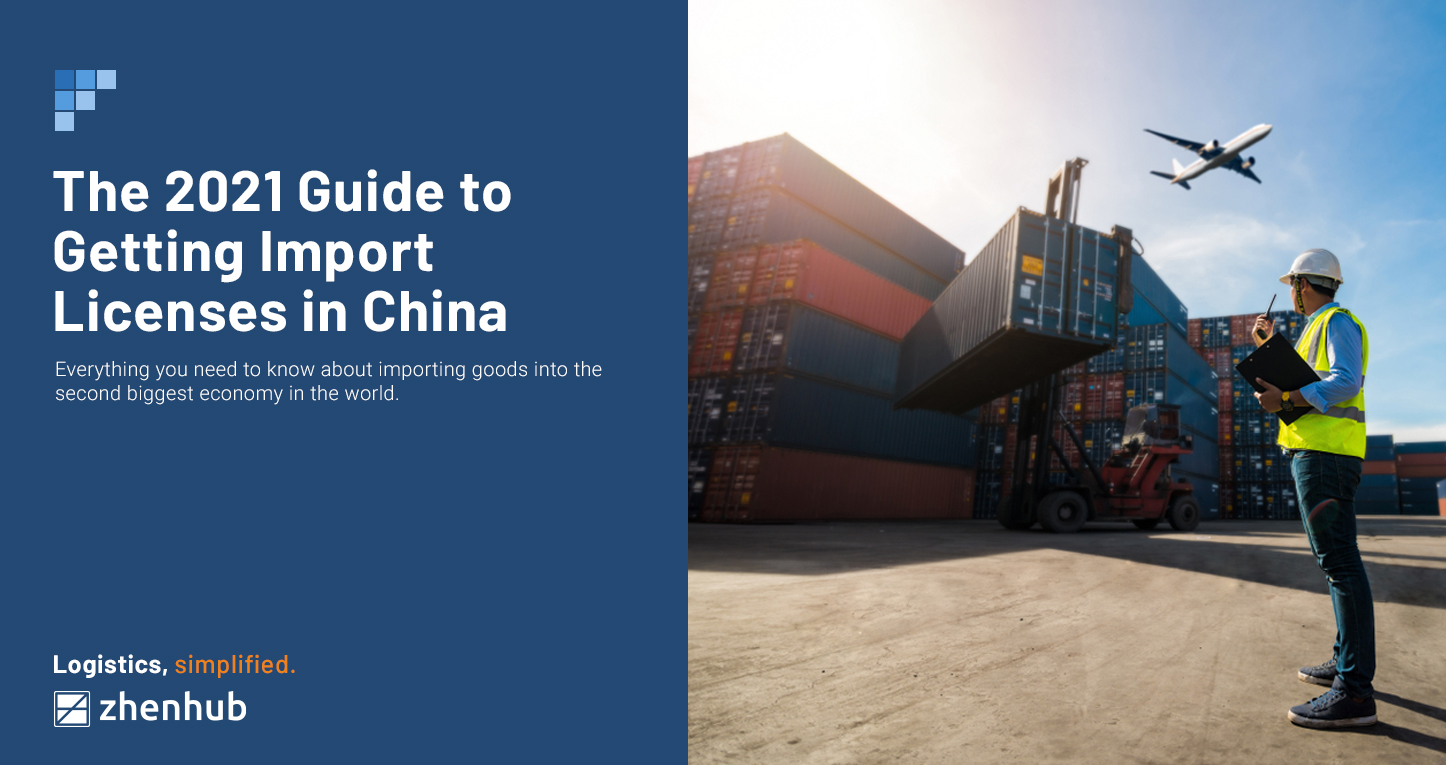 China has been the world's top exporter for over a decade. In 2013, the Asian powerhouse became the world's largest trading nation – finally usurping the United States that held the position for years. While China is the world's no.1 marketplace, importing goods is as lucrative as exporting Chinese manufactured products. 
In 2020, China imported more than $2 trillion worth of goods. At present, the United States is the country's third-largest import trading partner – next to South Korea and Japan. To start importing products into the country, retailers need to apply for an import license in China. Without it, imported products can get held at customs. 
In this article, we discuss all the relevant details necessary for securing an import license in China. 
What is an Import License?
Before we get into details on how you can get an import license in China, it is important to understand what it actually is. After all, simple mistakes when product sourcing from China can result in significant losses for retailers. Here's a simple and straightforward explanation of what an import license is:
An import license or a non-automatic import license, are rights to do import business. The Chinese government requires it to import goods. It's a measure to control the influx of imported products. The documents are non-tariff barriers that ensure the implementation of import quotas. These quotas are set in place to protect local traders and manufacturers.

There are two types of import license in China that an exporter needs before importing goods: automatic and non-automatic import licenses. China's Ministry of Commerce or MOFCOM handles the distribution of both types of import licenses in the country. 
Import License in China: Automatic Licenses versus Non-automatic Licenses
Automatic and non-automatic import licenses are the two essential import documents that an exporter needs to transact with Chinese importers. The difference between the two types involves import quotas and the specific imported goods in question. 
You'll need an automatic license for the importation of "permitted goods." This license type's primary purpose is for documentation and statistical reference. That said, there are certain "permitted goods" that MOFCOM monitors, and these require additional licensing. On the other hand, non-automatic licenses are integral to maintaining import quotas.

Once an exporter receives their automatic import license, they are free to apply for other rights. Each document is suitable for six batches of imports. 
Products that Require an Import License in China
Imported products fall under four categories. The categories differ based on how receptive the country is to receive the specific goods in question: 
Permitted Goods (no monitoring)
Permitted goods that require no monitoring are the most accessible products to ship into China. Exporters that offer these items are only required to secure an automatic import license. Documents disbursed for permitted goods are only valid for six months for six batches of goods. Exporters may apply for a new license once the six months are up. Below are a few products that belong to this category:
Meat products, specifically beef and pork.

Clothing and other textile items
Permitted Goods that are monitored
There are permitted goods that require additional licensing. While they are no quotas in place, MOFCOM monitors the importation of the following products:
Wines;

Poultry products;

Vegetable oils; and

Electrical and mechanical goods
Restricted Goods
Restricted goods are subject to import quotas. As such, exporters who want to ship products under this category need a non-automatic import license. Failing to do so can result in the shipment being held at customs and sent back to its place of origin. Items within this category include but aren't limited to:
Used Electronic products

Substances that carry environmental concerns 

Food, fibers, and animal feed products that have some health risk
Prohibited Goods
Prohibited goods are items that exporters cannot import into China. These products are banned license or not:
Weapons and ammunition

Forged currency

Printed materials, or various forms of media including films, photos, movies, audiotapes, videotapes, CDs, DVDs, computer storage devices, and other things that could harm China's politics, economy, culture, and morality

Poison and addictive drugs

Food, drugs, or other substances that cause bodily harm and are infectious or from epidemic areas

Specific animal products

All living animals (excluding dogs and cats) and their sperm, zygotes, embryos, and other genetic things

Silkworm chrysalis, silkworm eggs, animal blood, and its products, 

Products of aquatic animals

Eggs and their products that are not heat-treated

Fur, mane, bones, horns, oil and fat, flesh, and the corresponding products

Edible bird's nests (excluding canned bird's nests)

Transgenic biomaterials

Plants and plant products:

Fresh fruit and vegetables

Tobacco leaves (excluding cut tobacco)

Seeds, sprouts, nursery stock, and other fertilizable plants

Organic cultivation medium

Soil

Other prohibited goods:

Animal bodies, samples or specimens, and offal from animals

Transgenic biomaterial

Pathogens of animals and plants, dangerous insects and organisms

Human blood and corresponding products
Applying for an Import License in China
It is relatively easy to apply for an import license, but it requires close coordination between the Chinese importer and the exporter. Interested parties need to download and accomplish a form from the MOFCOM website. Once it's filled up and you submit all required documents, the license should be ready in two weeks. It is free of charge.
Information Required for Acquiring an Import License 
MOFCOM requires the necessary information listed below from the importers and exporters involved in the transaction to complete the application process.
Name/company number of importer

Import license number/expiry date

Importer's consignee in China

Country or region of exportation

Country or region of the product's origin

Terms of trade and foreign exchange

Place of clearances

Uses, description, and product code of the goods

Product's specification, unit, quantity, and price

Other supplementary details, and

Issuing authority stamp carrying the text 'automatic import license' in Chinese along with the city of issuance.
Importing products into China almost always requires an import license. It's prudent for retailers to apply for this document even before closing a deal with Chinese companies. Never leave it up to chance. This way,  you avoid the hassle and cost of delays due to customs holding your goods. 
Venturing into importing goods into China is a lucrative yet complex undertaking. To ensure that all your bases are covered, you need partners in logistics that can dot the i's and cross the t's. We at ZhenHub offer tech-based logistics solutions that can fit every need. Contact us today to learn more about what we can do for your business or request a free quote to get things started. 
Share Article