Warehouse Management System: How Zhenhub's WMS Can Help Your Business
Time to read:
2
minutes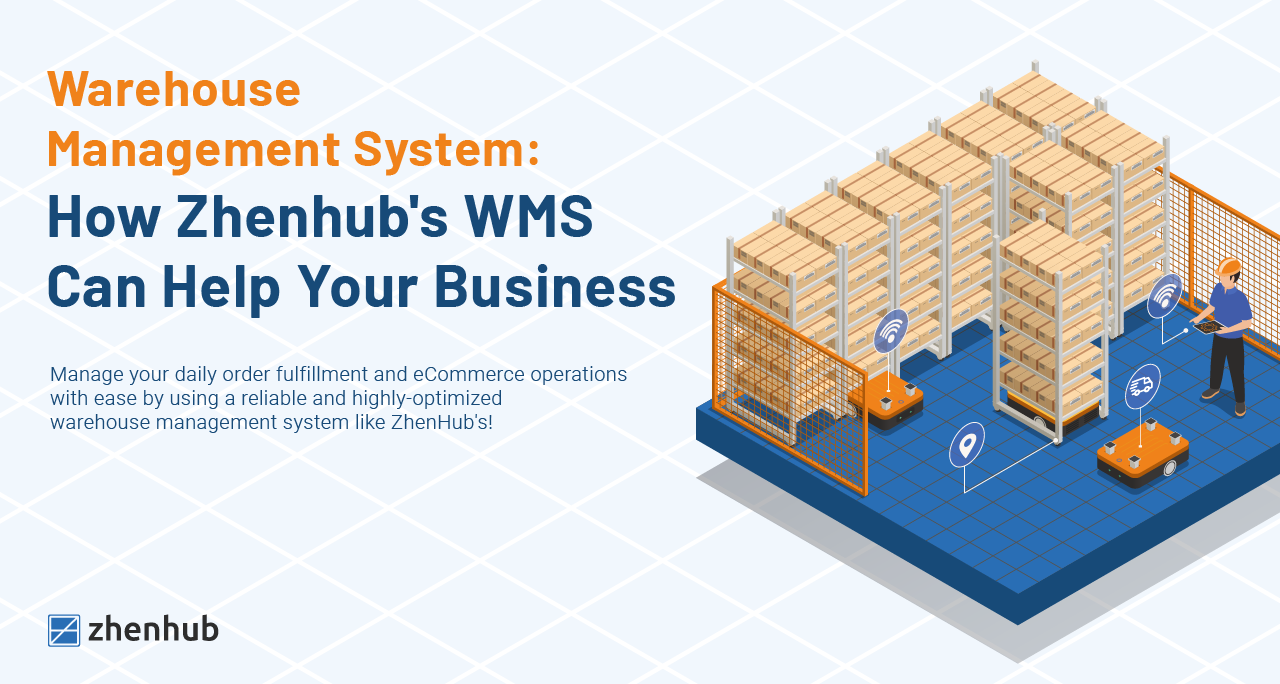 As the internet transformed the way people purchase, businesses also need to adapt and meet changing customer expectations. The constant evolution in eCommerce is exactly how innovations like tech-powered fulfillment solutions came to be. One prime example of this is the warehouse management system (WMS).
What is a warehouse management system?
A warehouse management system (WMS) consists of software and processes that help control and manage day-to-day warehouse operations, usually involving pick-up, storage, and inventory management of products. A WMS offers visibility into a businesses' inventory allowing the ease of supply and fulfillment operations management.  
Nowadays, WMS's functionality has grown from the typical picking, packing, and shipment department to sophisticated programs that allow advanced interactions with devices and yard management. A WMS reduces the likelihood of common errors that could occur during product shipment. The system also helps in quick order fulfillments and instant order tracing within the warehouse. 
The ZhenHub Difference
Depending on the line of business, merchants could choose from a myriad of warehouse management system options available today. However, Zhenhub's warehouse management system can be easily streamlined to fit almost any business and not just the eCommerce sector.
Furthermore, ZhenHub's warehouse management system is built for superb integration and can help businesses connect with multiple marketplaces. It boasts innovative features, a user-friendly interface, and greater functionality for vastly improved warehouse management and fulfillment capabilities.
ZhenHub WMS Key Processes and Benefits
ZhenHub's warehouse management system helps maintain data transparency across the board by enhancing the key processes involved in the tracking and controlling storage materials within the warehouse.
These processes and benefits include:
Receiving goods:

ZhenHub's WMS helps enhance proper shipment handling upon arrival not just to minimize losses but also to save valuable time.

Tracking inventory:

Helps businesses get greater merchandise visibility to better understand the stock and inventory level and availability. This ensures proper resource distribution and avoids overstocking.

Slotting optimization:

Helps leverage factors like weight and demand to arrange warehouse materials properly. This guarantees quick order processing and warehouse management efficiency.

Labor visibility and savings:

ZhenHub's WMS is not labor-intensive. It will help businesses save on labor costs to greatly reduce expenditure.

Improved data reporting:

ZhenHub's WMS software design focuses on the easy generation of accurate reports of sales, shipment, and inventory to help businesses make informed decisions and more accurate forecasting.

Accurate picking and shipping:

LIFO or FIFO? ZhenHub WMS will boost the picking and shipping accuracy to ensure the shipment of the right products to the right destinations at the right time.

Improved visibility:

ZhenHub's WMS gives business owners access to advanced tracking capabilities making it easy to track anything from information to serial numbers, expiry dates, UPC, etc.

Improved customer service:

ZhenHub's

warehouse management system

will significantly enhance the order receipt and processing. There will be a maintenance of service and product quality that will surely boost customer service and improve customer loyalty and retention. 
Bottom Line
ZhenHub's warehouse management system (WMS) promises increased operational efficiency and improved customer service even with its low cost of ownership. This industry-leading WMS will help businesses optimize and automate the inventory fulfillment process. It is dynamic and easily configurable, making it easier to fit the needs of any business. This means greater warehouse visibility and increased efficiency in inventory management and fulfillment while saving labor costs and reducing expenses. 
Experience the difference with ZhenHub's warehouse management system. Sign up now and let our tech and people help take your eCommerce shop to greater heights! 
Share Article