2021 Updated Guide on Shipping from China to US
Time to read:
4
minutes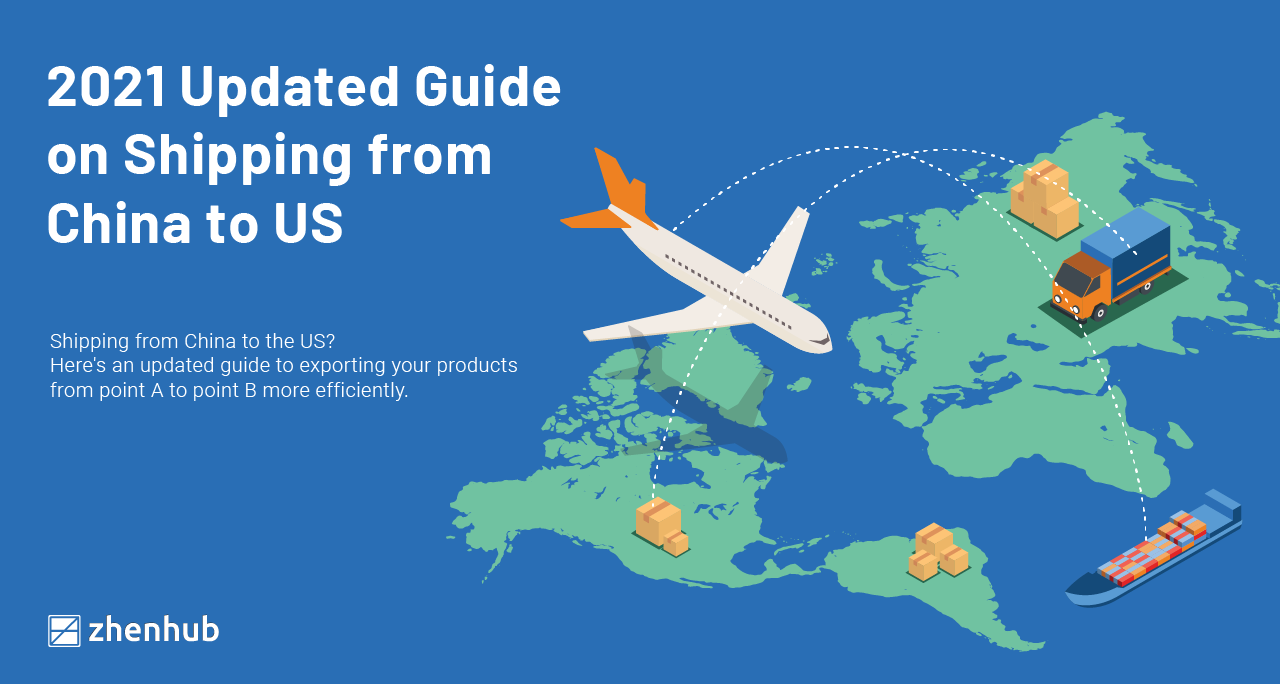 As more people go online, so does the need for goods and services increase. Shipping from China to US, the second-largest economy in the world, will still be a prime source of manufactured goods. Asian markets will become more dominant as they will make up most of the world's top 5 countries by size of GDP in 2024. They might eventually eclipse European nations in terms of global economic importance. But China is no longer the cheapest option when it comes to manufacturing products. Currently, Indonesia has the best wholesale prices. Nevertheless, sourcing products and shipping from China to US remains 5% less expensive than locally-made merchandise.
That said, shipping from China to US is less complicated than retailers assume it to be. This article discusses the best China-to-US shipping solutions for eCommerce retailers.
Standard Methods of Shipping from China to US
Regular Post
Shipping from China to US through Regular Post is the most affordable option for smaller items like paper products. In fact, in 2019 alone, there were over 103 billion parcels delivered. China Post offers services for larger packages. However, retailers should compare courier prices before opting for these as overall costs become cheaper with a courier service. Affordability comes at the expense of speed.
Express Shipping via International Couriers
Otherwise known as express freight, express shipping via international couriers is the fastest option when shipping from China to US. Like Regular Post, Express Shipping is best reserved for smaller and lighter packages as the cost depends on the shipment's weight. Moreover, some retailers have additional fees for delivery to remote areas as well as for handling. The average turnaround time for express shipping is 3 to 5 days. In recent years, there's been a drive towards transparency and sustainable transport services. Couriers that have transparency initiatives and programs gain more prominence and preference.
Air Freight
As the name suggests, Air Freight entails cargo shipped by air. Air Freight shipping from China to US is the best option for transporting products with a total net weight of 100 kg to 500 kgs on a deadline. Products arrive in the United States often in less than a week. Airfreight is faster, safer, and more reliable, but it can be more expensive. While the air freight industry sustained considerable losses due to the pandemic, analysts believe it will rebound once countries lift restrictions.
Sea Freight
Sea Freight involves shipping large numbers of merchandise over a significant distance by sea. It is the ideal choice for cargo that exceeds kgs. It offers more capacity and value than air freight but isn't the fastest shipping option. Factors including the weather, holidays, and customs delays can affect the cargo's arrival time.
Customs Clearance Requirements
Clearance requirements vary from location to location. Shipping from China to US usually entails the following documents: Businesses need to be aware of new policies that may impact customs clearance. For instance, the new VAT collection scheme for parcel imports into the EU made effective on January 1, 2021, will simplify customs clearance for parcel imports and enforce new complexities on an already burdened industry.
Commercial Invoice
The commercial invoice is one of the most critical customs clearance documents. It is a binding contract between the exporter and importer that serves as proof of sale. It is essential in calculating the dues and taxes of a specific shipment. It enumerates the price, value, and number of goods included in the cargo. As more companies digitize their operations, more companies are using electronic invoices. The e-invoicing market had a CAGR (compounded annual growth rate) of around 17% during 2014-2019. And will likely grow even more in the coming years.
Certificate of Origin
This document is necessary when shipping from China to US as it declares manufactured products' origins. It details information regarding the product, the destination, and the country of origin. It is essential in cross-border shipments because it determines if they are eligible for import or subject to taxes. Companies are also looking at integrating blockchain-based information systems. Utilizing this method can immediately determine the origin at the border without a certifying authority. Implementing blockchain can also legitimize trade and promote compliance.
Packing List
An export packing list is a document that enumerates all of the products and packing details that are within a cargo. It is a requirement for all sea freight and airfreight shipments. Customs uses this document to understand how products are packaged and whether it is compliant with the area's regulations.
Letter of Credit
A letter of credit or LC is a document that shows the commitment of a banking institution made on behalf of the importer that guarantees that the exporter receives the agreed-upon payment. Payment disbursement happens when the exporter meets all the terms and conditions within the letter of credit. LCs aren't required. However, it is useful when the credit information of an exporter is hard to obtain. The financial sector is keen on supporting the business as the global letter of credit confirmation market was $4.30 billion in 2019 and projected to reach $4.99 billion by 2027.
Bill of Landing
A bill of landing is a record of all the goods in the shipment. It is a contract between a shopper and their logistics company that acknowledges the receipt of the cargo.
Shipping from China to US is more straightforward with the right team in tow. ZhenHub can help your operation through the process. Sign up for our tech-powered, all-in-one logistics platform, and we can make the shipping process easier for you. Contact us now to learn more!
Share Article