Guest Post – 5 Things Importers Must Know About Product Safety
Time to read:
3
minutes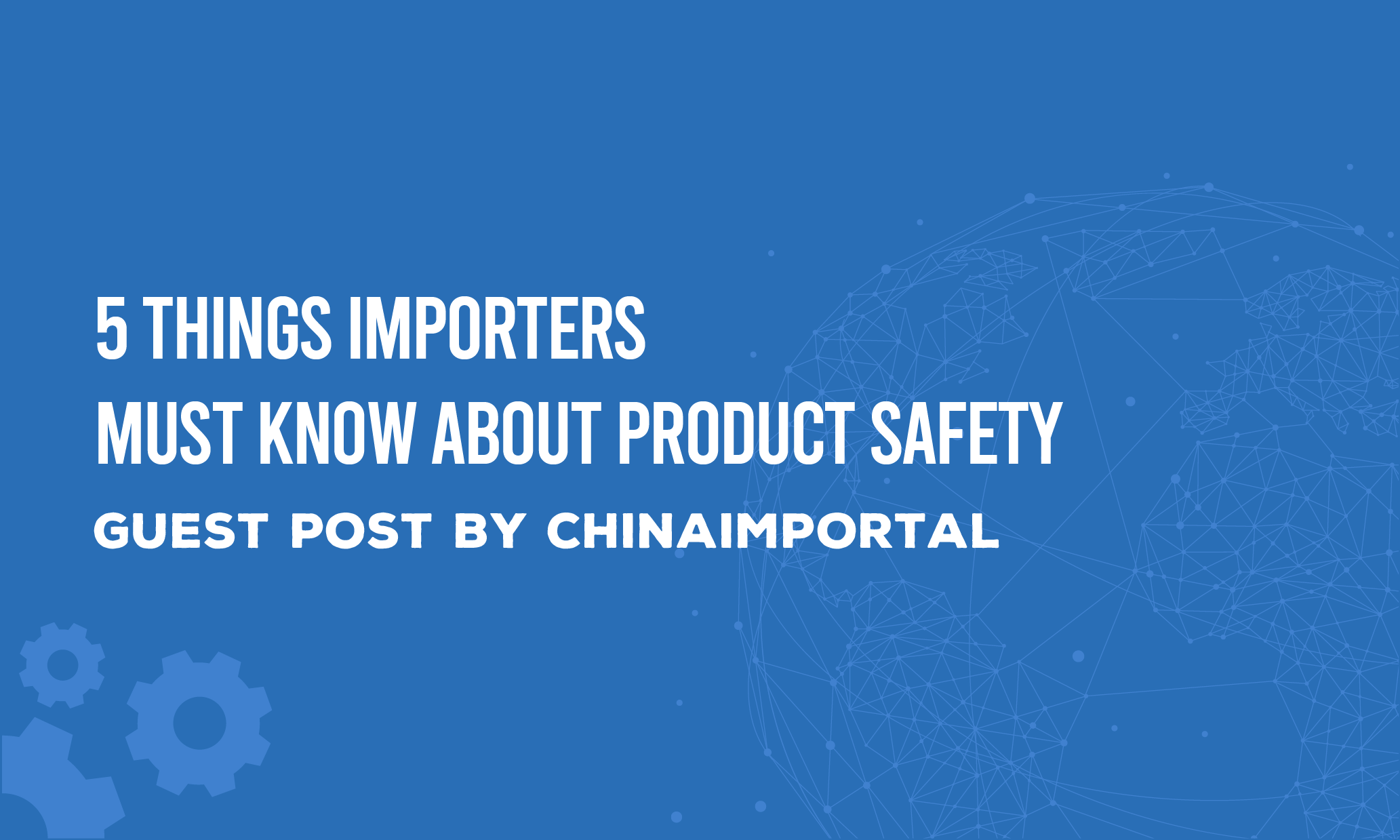 Reading time: 4 min 37 sec
We are very happy to invite Fredrik Gronkvist from Chinaimportal to write a post for our blog and  to help all businesses that are manufacturing their products in China and shipping them to the world.
What are some of the potential potholes or issues that many do not know about?
One of them is definitely product safety. 
Fredrik Gronkvist is a Swedish entrepreneur based in Hong Kong, and the co-founder of Asiaimportal (HK) Limited – a company that operates ComplianceGate.com, a portal with free compliance guides and online tools.
5 Things Importers Must Know About Product Safety
Failing to ensure that your product is safe, correctly labeled and not containing excessive amounts of regulated chemicals is a life and death matter for importers and eCommerce companies.
In this article, Fredrik Gronkvist from ComplianceGate.com and Chinaimportal.com, explains the basics of product compliance and why you shouldn't ask your supplier for advice.
1. You must understand the basics
Product safety standards and other compliance requirements differ depending on the product, and the country or region in which you sell. In some cases, you only need to ensure that the product has a country of origin label (e.g. Made in China) while other products are more strictly regulated.
That said, the overall compliance requirements can be broken down into the following components:
Product safety standards (e.g. ASTM or EN 71)

Chemicals and heavy metals regulations (e.g. REACH or CA Prop 65)

Labeling requirements (e.g.

Care Labels

, CE mark, Country of Origin, FCC mark)

Documentation requirements (e.g. CPC, GCC, DoC)

Laboratory testing requirements
From a more practical perspective, you'll need to follow this process:
Submit product samples for lab testing

Create label files

Create documentation/certification
2. Don't expect help from your supplier in Asia
Confused and unsure where to start, many importers seek guidance from their suppliers in Mainland China or elsewhere in the region.
This often makes things worse, as sales reps working for factories generally only have a vague understanding of product regulations in the US, EU, Australia, and other countries.
As such, they often tell their customers that they got things under control, or that 'their other customers from the same country don't have these requirements'.
Acting based on your supplier's decision can end in total disaster, as the sole responsibility to ensure compliance lies on your as an importer – not them. If the cargo is destroyed by the customs authorities, then that's your loss. Not theirs.
Or worse, if someone is injured, then you'll be financially liable while your supplier will walk away.
Manufacturers are not compliance experts. They may have a vague awareness that product regulations exist, but you should never seek their advice on these matters.
3. Lab testing is the only way to be sure that your product is safe
It's extremely rare that contract manufacturers in Asia have their own in house laboratory testing. In order to verify that your products are compliant you must, therefore, book lab testing, as this is the only way to be sure.
It's worth noting that third-party lab testing is not mandatory for most product categories. Yet, you're always liable if the product is deemed unsafe or found to contain excessive amounts of restricted chemicals or heavy metals.
Verifying that your product is safe is in your interest as an importer.
Lab testing can be booked online, for example from QIMA or Intertek. However, all lab tests are paid for by the buyer – a cost which depends entirely on the number of products and standards. 
4. Amazon is getting tougher on non-compliant products
Hoverboards used to be all the rage a few years back. The only problem was that many models contained high-capacity, yet low quality, lithium batteries which tended to explode.
Amazon reacted swiftly by pulling almost all hoverboard listings and refusing them to get back up until the sellers could provide UL product safety test reports valid for their products.
Guess what, most had none and never sold another unit again.
Amazon is only getting stricter as product safety is a top concern, and they have little patience for smaller sellers trying to list harmful products on their website.
That said, if you look at it from the bright side it'll also help you keep the 'low quality and undercutting' competitors out.
5. And, so is your freight forwarder and fulfillment partner
For years, consumer safety authorities have struggled to keep up with the never-ending flow of imports and cross-border ecommerce shipments. In recent years, governments have been taking steps to shift the responsibility to economic operators in the supply chain.
The European Union recently went as far as specifically mentioning that fulfillment centers will be responsible to ensure that the delivered products are compliant with product safety standards. This also applies to non-EU based companies, such as exporters based in China and the US, selling to the EU.
As such, you can expect your freight forwarder and fulfillment partner to request full compliance documentation.
In fact, this is something we're already seeing happen frequently.
Share Article