5 Ways Fulfillment Services Can Increase eCommerce Conversion Rate
Time to read:
4
minutes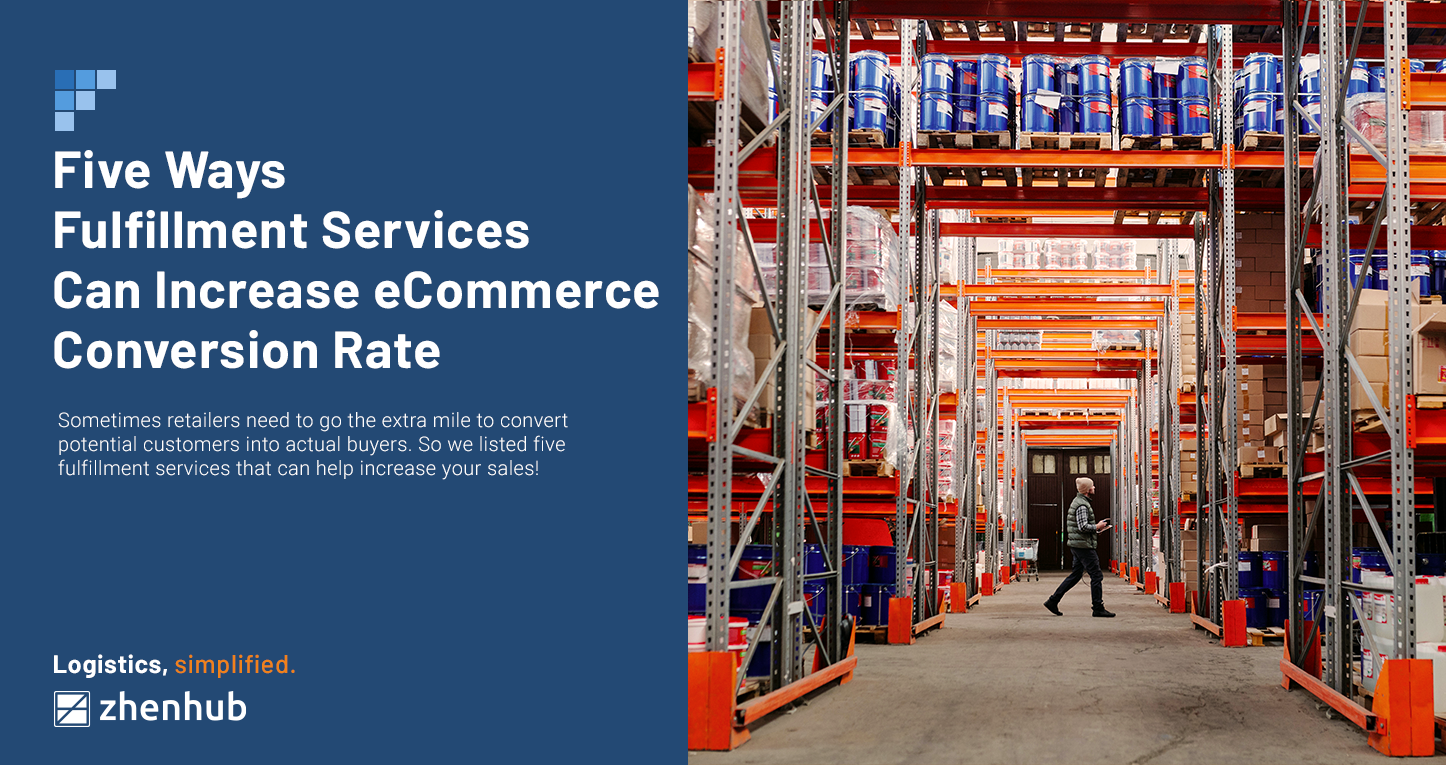 Running an online business requires imagination. Entrepreneurs need to think of ways on how to improve their eCommerce conversion rates consistently. Between developing a marketing strategy and fostering after-sales relationships with existing clients, all these are vital to ensure success and growth.
When it comes to improving conversions and making loyal customers out of curious website visitors, the bulk of the attention goes to marketing efforts. Unknown to many eCommerce operations, a robust fulfillment model can drive up conversions. A reliable third-party logistics company or 3PL is not only necessary when a business is expanding; it can also be a driving force for a business to scale.
Order fulfillment is a large part of providing a good customer experience. A business' fulfillment model can be the difference between a slew of loyal clientele and an overall eCommerce conversion rate flop.
So, what is order fulfillment? Why is it important? How does it affect shopping cart abandonment rates? What are the ways to amp up a company's fulfillment cycle? Read on to learn the answers, explore efficient fulfillment strategies, and understand how all these relate to developing a loyal client base. 
The Role of Fulfillment Services in eCommerce
Order fulfillment involves the process of stocking inventory, packaging products, preparing shipments, shipping orders, and addressing after-sales concerns. It is an essential part of an eCommerce operation because the success of this determines how a customer perceives a company. This is the part where the promises of marketing and sales campaigns come to life.

It is important to have a seamless fulfillment model for small and medium eCommerce businesses. After all, most consumers expect the same level of fulfillment service from all online stores whether they're as big as retail giant Amazon or not.
How high are their standards exactly? A Statista study found out that 63% of online shoppers are willing to abandon their cart if the shipping costs are too high. As if that's not discouraging enough, Oracle's research revealed that 13% of consumers would never buy from a brand again if the expected delivery time isn't met. 
All these data points to one fundamental reality: Shipping plays a significant role in improving the eCommerce conversion rate.
Understanding the Fulfillment Cycle
A fulfillment model can come in different forms. But regardless of a retailer's niche, the order fulfillment process is similar across all product-based eCommerce companies:
Choosing and Receiving Inventory
The fulfillment cycle begins with choosing and receiving inventory. There is nothing to fulfill if there are no products to sell, after all.
Other than fulfillment, an eCommerce operation's branding and marketing strategy heavily influence this step. A store's inventory should align with the demand being generated.
Stocking the inventory depends on whether a decision-maker chooses to fulfill orders in-house or to outsource fulfillment. If it is in-house, merchandise should be at the operation's disposal, while outsourcing it will fall under a third-party fulfillment service.
Storage
Storing inventory is not just about locating the right storage facility to keep stocks. It's also about classifying them, which involves organizing and identifying the best possible storage solutions. Both steps make packing and fulfilling orders more seamless and efficient. Executing this step properly can help retailers to identify the inventory they are low on and mitigate packing mistakes.
Order Processing
The moment a customer purchases a product, the order processing stage begins. Depending on the operation, this step includes retrieving the inventory and preparing the shipment.
This is the most tedious part of the process, especially if a store deals with thousands of packages every day. Determining packaging options and workflow before order fulfillment can do wonders in improving efficiency, which can increase the eCommerce conversion rate.
Shipping
Shipping products can come in many forms depending on the scale of the operations. Smaller businesses with local clientele often do deliveries in-house, while bigger retailers that need several delivery options choose to outsource the task. This step can involve an appointment at the post office or scheduled pickup from a carrier.
5 Ways to Increase eCommerce Conversion Rate Through Fulfillment Services
Customers are loyal to a brand that is consistent in providing them with outstanding service for every order. They may have high expectations, but there are ways to ensure satisfaction:
Ship Close to the Market 
When it comes to having an efficient fulfillment model, location is everything.

While operating an eCommerce shop does not require a physical storefront, merchants will still need space to store inventory. A strategically-located warehouse is a simple way for retailers to address storage requirements while also being able to efficiently expedite order processing. Outsourcing to a fulfillment company can provide sellers a primary hub for order fulfillment – from inventory management to packaging and delivery. If the location is accessible to suppliers, carriers, and customers alike, shipment delays are less likely to occur.

Stock-Up on Inventory
One of the biggest bottlenecks in order fulfillment is not having enough inventory. Waiting for suppliers to fulfill the orders can wreak havoc, especially for an up-and-coming eCommerce start-up that has yet to build a solid customer base.
A good rule of thumb is to order a little more than what is projected so that there would be room to accommodate all orders if marketing efforts prove to be more successful than anticipated.
Offer Free Shipping
Shipping costs can be expensive for a merchant. But, it's a necessary expense that is well worth the investment. According to a recent UPS research, 43% of consumers consider delivery costs as one of the most important factors that determine their online purchases.  
It is best to put caveats on the orders that get free shipping. A spending threshold is the typical approach retailers take to balance cost and benefit. By doing this, merchants can increase the eCommerce conversion rate by encouraging buyers to purchase more to avail of free shipping. 
Foster Open Communication and Provide Updates
Developing a relationship with customers starts with open communication. Transparency, when it comes to order fulfillment, is vital to consumers. Retailers should provide an expected delivery date to all of their clients at the very least.
Consider a Third-Party Logistics Provider
Most eCommerce retailers start as a one-person operation. When orders trickle in one or two a time, order fulfillment is manageable. But accomplishing all orders without delay will get difficult as a business grows. And this is when growing eCommerce shops begin to recognize the value of outsourcing to 3PL providers.
The key to a successful eCommerce operation lies in developing a relationship of trust and transparency with consumers. Without a doubt, a well-developed fulfillment model is an excellent start in converting potential clients to loyal customers.
Partnering with a reliable logistics provider can ensure efficient order fulfillment and commendable customer experience. Experience the benefits of automated and highly-digitized warehousing and fulfillment services by signing up to ZhenHub now!
Share Article