Smart Containers: Advantages and Risks
Time to read:
6
minutes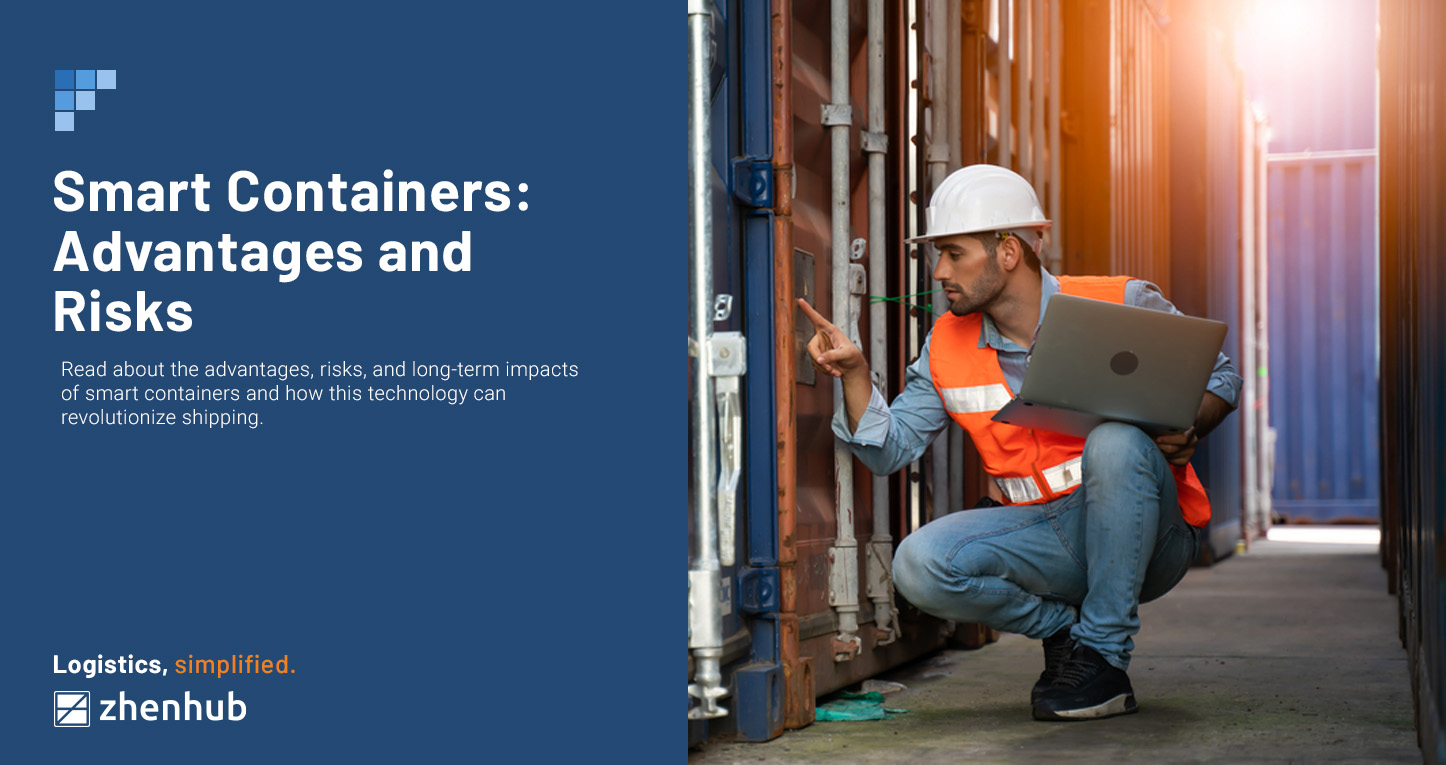 The shipping industry has embraced digital transformation in a big way. With about 1.85 billion metric tons shipped globally in 2020, containers are the backbone for any online seller.
The COVID-19 pandemic is still raging worldwide, and the Ukraine conflict has made global shipping more challenging. Coupled with natural disasters, it has caused severe disruptions and revealed vulnerabilities in global supply chains. 
The shipping sector transports freight around the globe regularly, but delivering 11 billion tons of goods annually is risky. It could get disrupted by many external factors such as natural disasters and supply chain disruptions.
The good news is that developing new strategies and technology adoption allowed supply chains to adapt to an ever-changing world. With streamlined workflows, enhanced performance monitoring, accurate tracking, and more, businesses have moved on from traditional manual processes.
Due to online shopping's rapid rise in popularity, more shipping containers are out at sea, with many being delayed in ports. Another major problem for retailers is container losses. In 2020-2021, 3,113 containers got lost at sea compared to 779 in 2017-2019. That's a significant increase. Damaged and spoiled goods can cause millions of dollars in losses.
One answer to this dilemma is the use of smart containers. These are regular shipping containers equipped with several Internet of Things (IoT) technologies such as sensors and GPS tracking. It's one of the best ways of promoting sustainability and stability in your supply chain.
The interconnected sensors in these containers can sense any movement, which is crucial to keeping your cargo safe. The data that they collect and transmit will keep you updated on the exact status of each order. This technology also correctly documents and reports shipment progress. You'll know the entire process – from production to delivery.
Why You Should Use Smart Containers
Business leaders constantly search for more effective strategies to boost production and avoid errors. Adopting cutting-edge technologies is essential for scalability and progress.
One of the best solutions for logistics issues is a system that allows for an organized information flow. Moving commodities in the supply chain in a more methodical fashion should be done quickly and uniformly. Smart containers can be the game changer for this. They are essential to the digitization of the shipping sector.
"A smart container is just a regular container, but you put a little chip in it that has a connection with a network," explains Jules Kollmann, managing director, Containers and Logistics, ING.
The purpose of fitting containers with various sensors is to enable real-time data collection on just about anything. Thanks to GPS tracking, that includes the temperature within a container and its precise location.
Smart containers offer several advantages compared to regular ones:
Advanced Visibility
Get better shipping visibility with real-time container data accessible anywhere and anytime. Receive data that can accurately forecast when your items are due at the port. It also prepares the way for streamlined container unloading. The overall distribution process gets more efficient as well. It is possible to complete the transportation process faster thanks to the transparency of the entire shipping process. Additionally, it even enhances distribution-related traffic management.
Cargo Quality and Security
Data is continuously gathered and monitored through the sensors of smart containers. The temperature, humidity, door status, and location are all constantly checked. You may remotely inspect the container's contents through your phone, computer, or tablet. This capability is handy for shipping containers that hold perishable cargo, such as produce, food, and other essential goods.
Cost Reduction
With smart containers, shippers can keep an eye on their logistics assets regardless of location. They also help to lower the possibility of loss or damage during transport. It makes it easier for carriers to know what's inside each container before loading up. You can spend less on insurance fees as you'll see where the items are and where it's going. Sensor data provides hyper-accurate information about the location of a container so that you can save time and money on fleet management. It also reduced friction by avoiding multiple repositioning stops.
These smart containers are reshaping multimodal supply chains by improving financial control. It also demonstrates a clear improvement in the efficiency of the global supply chain. On top of that, these technologies promote trade, lower losses, and worldwide economic progress. 
Data Collection
Shipping companies can access real-time data to improve their supply chain operations. Staff can synchronize different networks and software, ensuring accuracy for all stakeholders.
The data collected is automatically entered into digital shipment records, which can be distributed to customers to provide real-time tracking. This data can also better anticipate arrival times at ports for more efficient unloading of containers and distribution.
Setting up an autonomous system is also made possible with the gathered data by smart technology. It uses end-to-end encryption to protect electronic data collection. In other words, this data is secure and protected against fraud because outside parties cannot access it. All parties involved in the shipping can share data transparently and securely. With easy access to independent data, you can better understand the state of your company and make critical decisions for its future.
Improved Crisis Management
The data collected from smart containers can inform you of unexpected events such as accidental door opening or delayed movement in/out of a site. You can use and analyze this information about your container to better predict supply chain processes and concrete planning. Tracking a container's location and condition while sending out real-time data greatly improves supply chain optimization. Sensors also increase cargo safety and security while enhancing customer service through better visibility.
Smart Containers: Challenges and What You Can Do
As with many emergent technologies, using tech-enabled containers does come with a unique set of challenges and risks. You can easily integrate these devices used to track existing containers. However, it's far more costly than utilizing traditional shipping solutions.
The good news is that sensor technology is always improving, meaning the cost will decrease over time and become more accessible to businesses. Having these sensors may also cause some redundancies for existing staff. Since these sensors automatically receive and send data, you can take out manual work completely. Doing this could demoralize some of your workforces and may hurt your brand reputation.
However, another way to look at it is that adopting machines causes a shift to more technical processes. It presents an excellent opportunity to upskill your current employees and equip them with the necessary knowledge to control and maintain smart technologies. They will also need additional training to interpret the data recorded.
Other potential risks of using smart containers that you will need to consider are as follows:
Cyber Security
Smart sensors rely on the cloud and a complex network of satellites to send and receive data instantly. Although uncommon, there is a risk of hacking and malicious altering of data. Businesses should also invest in system security to help prevent breaches. It is also a good idea to double-check if your government has any legislation against cybercrime and provisions that help protect your data.
Implementation
Shipping containers are made from thick steel. Some of the largest shipping vessels can hold up to 24,000containers, with many stored deep inside the hull. It can cause some interference with the sensor's ability to send out data. Delays and inaccuracies may become a problem. Data transmission and long-distance communication will depend on a reliable communication network. Look into partnerships with trusted and reliable network providers with a global presence. Choose companies with robust infrastructure to handle any situation.
Smart Containers for a Stronger Supply Chain
Upgrading your containers benefits your entire supply chain. Also, trust is built with better transparency. Fleet management is improved for depot operators and port authorities. Online inventories are updated faster, and vessel crews can monitor containers remotely.
Data helps logistic service providers and cargo owners involved in the intermodal transport chain plan and carry out actions related to the products. They can also make better decisions faster for the transport carriers carrying the goods.
Having records of environmental conditions inside a container throughout its journey is valuable information to help with coordination and predictability. It also ensures better quality, security, and responsibility in incidents. The various data sources may provide a better picture of how your goods and orders are in transit.
With the world facing many uncertainties and challenges, container shipping companies must be flexible enough to react to fast-changing events. That means using digitally sourced information and focusing on data-driven decisions to move forward and accelerate their growth confidently.
The technology of smart containers is a flexible, user-friendly, and on-demand system that provides standardized procedures for each customer's needs. Adding analytical features makes this an excellent tool for supply chain visibility within any organization.
ZhenHub has the tools and solutions to digitize your business and logistics operations. We can give you access to a distribution network of global warehousing partners equipped with cost-efficient and trackable shipping services. Get complete control and visibility over your fulfillment, all in an easy-to-use online platform. Sign-up at our website and take your first step into the future of logistics management.
Share Article