How will the Coronavirus Outbreak Impact the Global Supply Chain?
Time to read:
4
minutes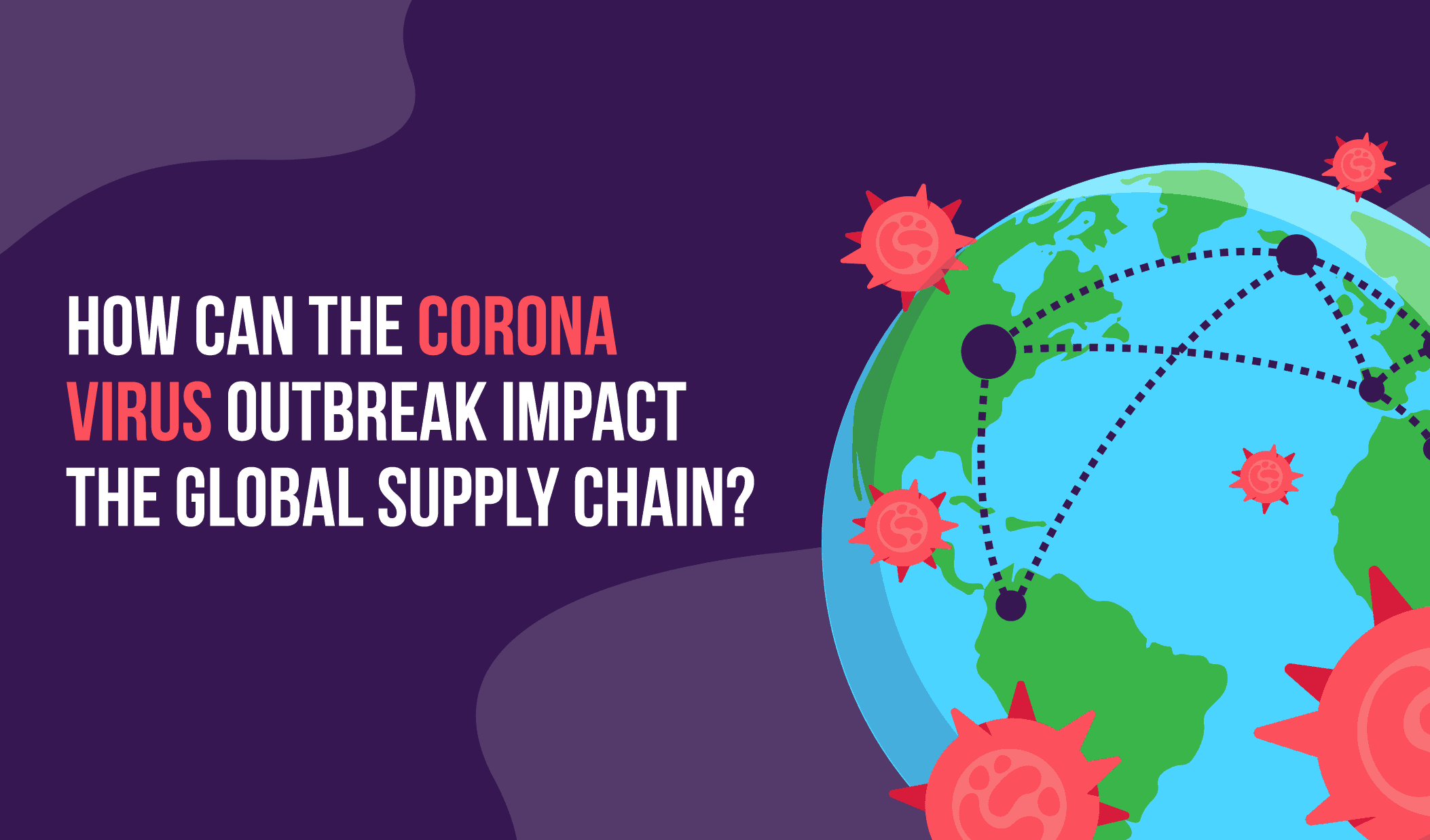 Reading time:  3 min 45s 
China plays a key role in the global supply chain. Its place as a manufacturing hub means that businesses across the world and most especially, ecommerce and retail businesses are heavily reliant on it for their operations. What then happens when a global health crisis of the scale of the recent coronavirus (COVID-19) outbreak threatens to disrupt this key player's strategic role in the global supply chain?
This guide explains how the recent COVID-19 outbreak in China can impact the global supply chain as well as how ecommerce retailers can mitigate this risk.
China, coronavirus and the global supply chain
China, with a population of more than 1.4 billion people, is the world's largest economy next to the US. So, aside from being a key consumer market for manufacturers, China lies right at the heart of the global supply chain. The recent coronavirus outbreak in China is, however, affecting these key positions.
Since its outbreak in Wuhan, coronavirus has spread rapidly, killing more than 2,200 people and infecting more than 68,000 in China. There have also been some coronavirus deaths recorded outside China as well, in France and Taiwan.
It's expected that a condition of this magnitude will have some effect on the global supply chain. This is comparable to some extent with some of the previous pervasive events that have occurred and disrupted this chain from 2013 through to 2018.
According to a Forbe's publication the Supply Chain Insights LLC, Supply Chain Risk Management (Mar-May 2018), ongoing cyber attacks or computer hacking, along with the West Coast port slowdown of 2015-17, and 2017's Hurricane Harvey, were the most impactful events to disrupt the global chain during this period.
If we want to learn from history, then we have to brace up for the challenges ahead.
A timeline of supply chain events linked to the coronavirus outbreak in China
January 23, 2020
The Chinese government imposed a lockdown on Wuhan and the Hubei province for mandatory quarantine to contain the outbreak. This region is home to about 57 million people and 22 million businesses.
February 8, 2020
Couriers in China were told to resume activities and regain 40% of their handling capacity.
February 11, 2020
Both USPS and Singapore Post cut mail routes to China due to low capacity. China Post also started disinfecting offices, postal centers, and processing centers, causing a slowdown of personal and commercial mail.
Feb 14, 2020
DHL and Deutsche Post suspended collection, delivery, and warehousing across the virus-infected Hubei Province. Deutsche Post also suspended shipments to China, Hong Kong, and Macau temporarily.
Feb 18, 2020
Low demand causes Singapore Airlines and Silk to reduce air flights to Seoul, Tokyo, Frankfurt, New York, London, Los Angeles, Paris, Mumbai, and Sydney.
Apple admits iPhone supply will be affected.
Automaker Jaguar admits its supply chain has been disrupted after being unable to get enough car parts being manufactured in China to its UK factories.
Feb 20, 2020
China's factories now operating between 50% to 60% capacity.
Maersk has canceled 50 sailings to Asia since the outbreak.
Feb 23, 2020
The Baltic Dry Index (BDI) is at its lowest since 2016. An indicator of how the virus outbreak has affected the daily price of the movement of goods.
The global economy continues to suffer. While the total cost of this is not known, airlines are expected to lose as much as $32.9bn due to the backlog of freight.
Feb 25, 2020
Several airlines have suspended flights to China, Hong Kong, Macau, Seoul, and other virus-plagued regions.
Analysts expect intra-Asian trade to be the worst hit by the first quarter of 2020.
There's so much disruption happening to the global supply channels. This impact will be felt by both small and large businesses alike.
Supply chain impact from the coronavirus outbreak
The government, in its bid to contain the virus, has placed eight cities in China's Hubei province under lockdown, including Wuhan, the capital seat which is five times the size of London.
According to a Dun & Bradstreet report, the outbreak has affected some of China's main regions where over 90% of active businesses in China are located.
Many of the 22 million businesses in these regions are subsidiaries and branches of foreign businesses. Some are first or second-tier suppliers to about 56,000 companies across the world.
Here's the thing;
These things Factory closures and citywide shutdowns can be expected to disrupt manufacturing and shipping in China. The effects will be felt in international trade, as well as in the global supply chain.
Inventory shortages, as well as significant delays and other disruptions to the global supply chain, are already being witnessed.
China's Minister of Foreign Affairs, Wang Yi admits the Chinese economy will face a temporary slowdown. He is, however, highly optimistic that the economy will rebound once the virus is contained and the epidemic is over.
Coronavirus is no doubt a huge global health crisis. But its impact will reverberate beyond global or epidemiology. The cracks and vulnerabilities in the global supply chain are showing already.
Mitigating the coronavirus effect on global supply chain
The Economist warns that the outbreak could have a lasting impact on the global supply chain should multinationals fail to take the risks of disruption seriously.
What then is the way forward for the ecommerce retailer whose supply chain and entire business are also at risk? Well D&B has some recommendations to help businesses deal with this challenge.
These include;
Conducting a risk-based assessment process to identify and monitor supply chain efficiency and productivity risks.
Conducting detailed supplier assessment to be sure the supplier won't affect the business negatively.
Ensuring complete visibility of your supply chain and actively monitoring Tier 1 and Tier 2 suppliers to preemptively identify associated risks.
Consider the possibility of finding suppliers in non-impacted regions.
Limit your dependence on one supplier in a geographic region.
Bottom Line
You can't risk leaving your supply chain at the mercy of this virus.
While we greatly hope the coronavirus epidemic will be over very soon, there's a need to thoroughly understand your supply chain risks so you can devise proactive and effective mitigation strategies. You can also consider increasing your buffer inventory as well.
That said;
ZhenHub provides top-of-the-class software, shipping, warehousing, order fulfillment, and inventory management services. We stand for consistency and efficiency and will help you bring much more value to your supply chain. You can contact us today to get started.
If you need assistance with reducing logistics costs, you can reach out to our specialists – hello(a)zhenhub.com or submit an enquiry here.
Share Article