Distributed Inventory: 4 Benefits of Using Multiple Fulfillment Centers
Time to read:
2
minutes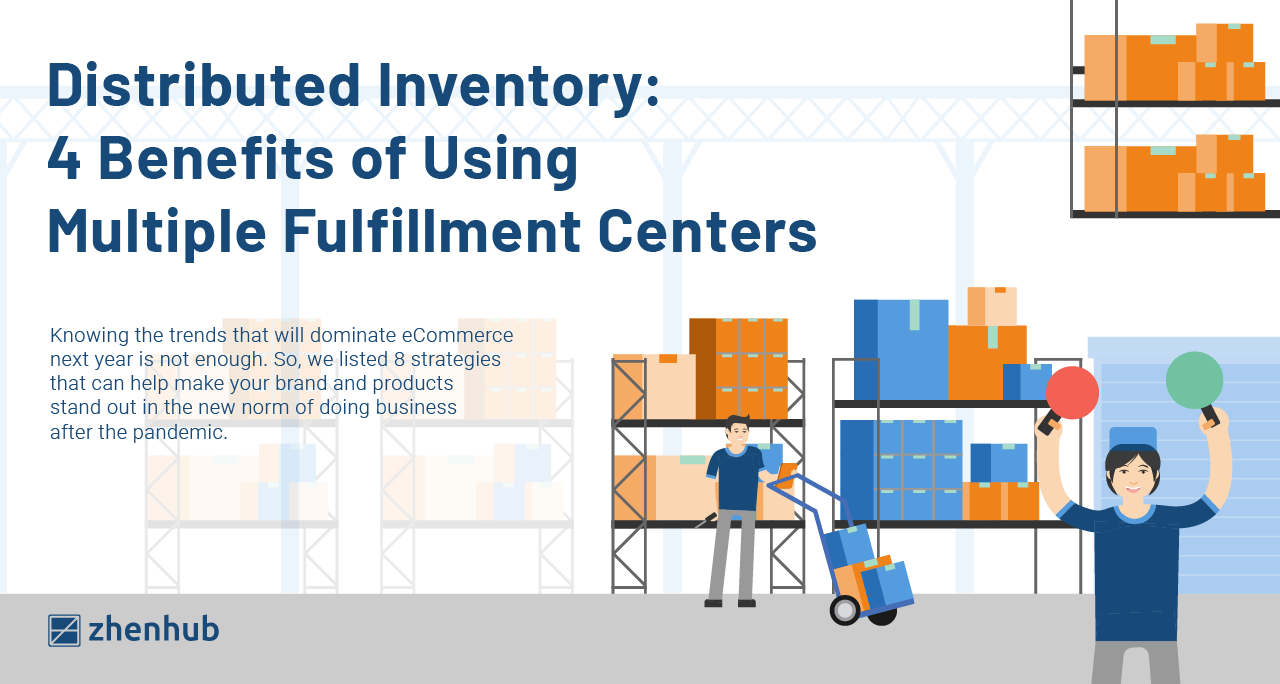 What is Distributed Inventory?
Distributed Inventory is an eCommerce fulfillment strategy that involves outsourcing to a single 3PL provider with multiple distribution centers. When a customer places an order online, the seller's 3PL partner taps its warehouse that has the closest proximity to the buyer to handle product delivery. 
Partnering with a fulfillment center for distributed inventory services effectively maximizes profit by reducing storage and shipping costs. This is especially applicable to retailers who have a broader target audience in terms of geographical reach. 
The Benefits of Distributed Inventory
High-Volume Order Capability
Retailers trying to scale their businesses are likely to experience shipping costs that exceed warehouse costs. In this case, the most cost-effective solution is to run operations from multiple fulfillment centers. Taking advantage of strategically located warehouses is a smart way to manage inventory since best-selling items can be stored and shipped from additional warehouses, while less popular products do not have to collect dust at company expense. 
Online stores with high volume orders can also get access to better inventory management as 3PLs with multiple warehouses typically have their own software for transparency and efficiency purposes. 
Fast and Low-Cost Shipping
When it comes to eCommerce shipping, Amazon is indeed the standard. The retail giant's two-day shipping had set today's consumer expectations. This eventually pushed other online stores to explore and consider expedite shipping. By doing distributed inventory, retailers can leverage on their shipping partner's warehouse locations to ensure orders travel less distance and therefore cost less.
Cross-Border Deliveries
By choosing a 3PL provider with multiple distribution centers worldwide, entrepreneurs can expand their businesses and open their online stores to an even bigger market.
Distributed inventory is also the best fit for eCommerce shops that are already shipping overseas but are looking to cut costs and reduce transit time. This makes it easier for sellers to carry out cross-border deliveries while still meeting the demand for fast shipping. Imagine how much money an American merchant can save if a warehouse in Australia can fulfill an order their customer placed from Down Under for them.
Oversized and Overweight Product Shipping
Larger and heavier products tend to take up more warehouse and truckload space, which is already quite expensive. Using distributed inventory, retailers can save on storage and delivery costs as items will have to go through fewer shipping zones and are less likely to get stuck in warehouses. 
While there is no one way to approach inventory and shipping management, merchants who evaluate order volume and geographic market location can better choose the right 3PL provider. With a detailed cost-benefit analysis and an understanding of market geography, distributed inventory has the power to increase the eCommerce conversion rate and accelerate business growth. 
Are you looking to take your online shop to a global scale? Let ZhenHub help you out! We have strategically located warehouses across the world designed to bring you affordable storage, reliable fulfillment services, and an optimal distribution network. Sign up now and discover how we can make the order fulfillment process a breeze for you and your customers! 
Share Article